NBA Draft Results: Should New Jersey Nets Have Passed Up Wes Johnson?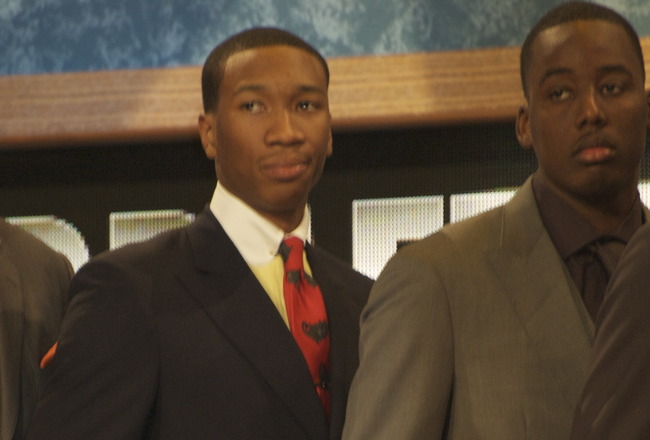 As it sits right now, the New Jersey Nets have a point guard who only plays about half a season, a big man who averages about 18 points per game while taking about 30 shots, and no real go-to scorer.
So what do the Nets do with the third overall pick in last night's NBA Draft? They took an offensive-minded power forward in Derrick Favors, who's probably two or three years away from making a large impact offensively.
Let's evaluate the overall selection of Favors, and the current state of the New Jersey Nets.
What they did
The Nets selected a power forward in Derrick Favors over small forward Wes Johnson with the third pick in the draft. Favors solidifies the future frontcourt for New Jersey, as he will play alongside Brook Lopez.
"I can play the high post, I can play the low post, so I prefer both," Favors said in regards to playing with Lopez.
In drafting Favors, the Nets are hoping to sign a big-name free agent who can handle the ball and score, as opposed to power forward.
Two big names that come to mind here are Joe Johnson and Rudy Gay, who would be a good complement to Lopez, and should help in the growth of both big guys.
What I would have done
I would have taken Johnson over Favors. Johnson is a dangerous player because his skill set is so high, his basketball IQ is high, but most importantly, he's a great chemistry guy.
Johnson played one season at Syracuse (after sitting out one year and only practicing with the team), and was an instant success.
He was humble and polite off the court, with a focus on his studies and basketball. And on the court, he was a huge reason why Syracuse reached its first No. 1 ranking in the polls during the regular season in 20 years.
Johnson is versatile, able to play the wing or in the post, and he's coachable, having played under Jim Boeheim. The Nets still could have signed a free agent like Carlos Boozer (who shares an agent with Johnson), or Amare Stoudemire, to plug the hole at power forward.
Worst case scenario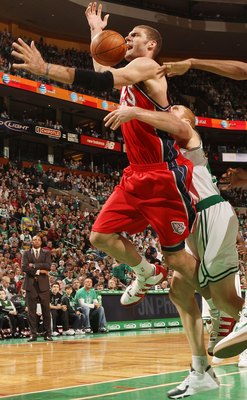 The worst-case scenario for New Jersey will be if they don't sign the right free agent this offseason. Drafting at No. 3, they were pretty much guaranteed to get the player they wanted, knowing John Wall and Evan Turner were going one and two respectively.
If the Nets are incapable of signing a big-time scorer, this pick of Favors over Johnson may now pan out as hoped.
Favors is an offensive-minded forward, but he probably can't shoulder the load with just Lopez; there needs to be one more scorer.
Best case scenario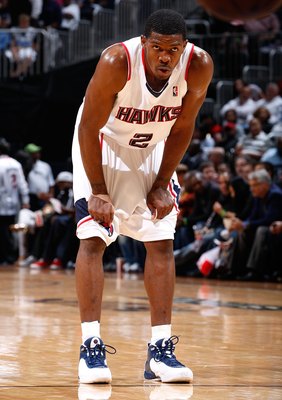 The best-case scenario for New Jersey is Derrick Favors lives up to the hype, and becomes almost like a Chris Webber-type forward that can dominate his position offensively and play good defense, too.
To compliment the scenario, the Nets will land a marquis free agent in LeBron James, Joe Johnson, or Rudy Gay. Devin Harris stays healthy for a whole season, and allows New Jersey to have a guy who can facilitate the offense, and feed his new scoring partner, or one of his young targets in the post.
My grade for Derrick Favors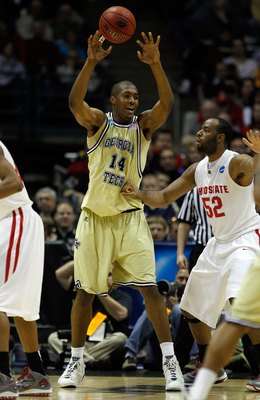 I remember a few years back when Favors was being hyped up in high school as the next big thing. I don't know if I believe it quite yet, and seeing him report to draft camps slightly out of shape doesn't encourage me either.
That being said, I think there were other ways New Jersey could have gone with the pick. They could have taken Johnson, whom Dick Vitale projects as Rookie of the Year, or they could have traded down to select another big guy like DeMarcus Cousins.
I think, without a go-to scorer, this pick won't pan out for quite some time. DeMarcus Cousins may turn out to be the better pro (at this position), and Wes Johnson may turn out to be better than both of them overall.
Overall, there is a lot of upside here with Favors, and until in doesn't pan out, I have to think there's a chance it works for the Nets.
Final Grade: B+
Keep Reading

Brooklyn Nets: Like this team?