Why Bengals WR Jordan Shipley Will Be Carson Palmer's Favorite Target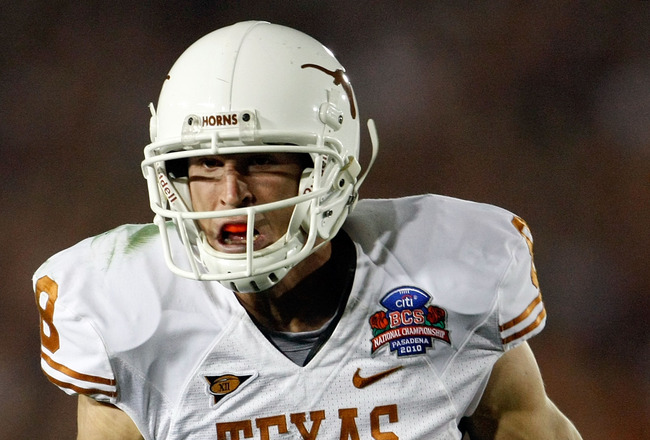 With the 84th pick in the 2010 NFL Draft, the Cincinnati Bengals selected Texas standout Jordan Shipley to help improve the passing game. After finishing 26th last season, the team knew the passing game was an area to focus on in the draft and with Shipley, they may contain one of the top sleepers for the 2010 season.
It may only be June, but the reviews on Shipley and how he's looked during offseason workouts have been nothing but phenomenal. He's already impressing at a level that have many believing the former Longhorn could be a key factor to the success of the Bengals' passing game during his rookie season.
Not only should Cincinnati fans be excited about the arrival of Shipley, but his quarterback Carson Palmer should be too. Palmer has a handful of new weapons in Chad Ochocinco, Antonio Bryant, and Jermaine Gresham to help re-establish last year's horrendous passing game.
However, despite the talent each of the players listed above brings, Palmer may have found himself a new favorite target with what Shipley brings to the table. Here are five reasons why Shipley will be Palmer's favorite target during his rookie season.
Previous Success With T.J. Houshmandzadeh As a Slot Receiver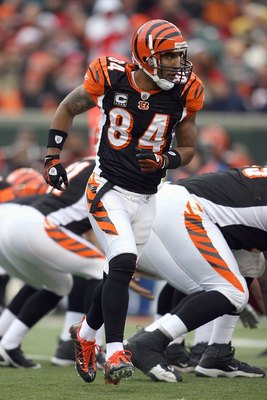 Ever since T.J. Houshmandzadeh's departure for the Seattle Seahawks, the Bengals have been in need of an effective slot wideout. Without Housh, Cincinnati's passing game struggled all season, finishing 26th in 2009.
From 2004-08, Housh caught 445 passes for 5,062 yards and 36 touchdowns. His ability in the slot position helped establish a dangerous passing unit with the Bengals and make life easier for Palmer as a reliable target.
With training camp just over a month away, the critics have already raved Shipley for his impressive workouts during the team's OTA's. If his workouts are any indication of what the future holds, the Bengals may end up with one of the biggest steals in the draft.
Comparisons To Wes Welker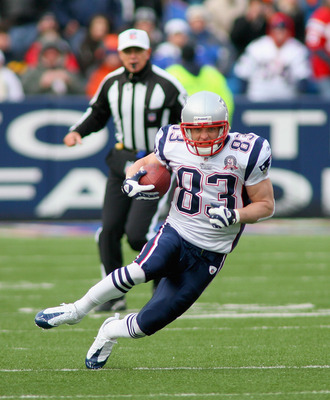 With the type of numbers Wes Welker has recorded over the last three seasons in New England, Shipley should be honored some analysts are comparing him to the Pro Bowl wideout.
It's no debate Welker is the most effective wideout in the slot position and appears to be impossible to contain at times. He's recorded over 100 receptions in each of the last three seasons and has become a reliable target for Tom Brady each week.
One of the main reasons why Shipley is drawing comparisons to Welker is because of his quickness. His time in the 40-yard dash at this year's Combine was impressive (4.60) and with the type of speed he has, defenders may have a tough time containing him.
Shipley's Last Two Seasons At Texas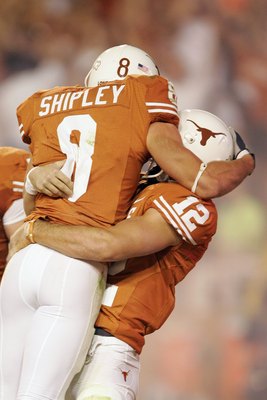 Colt McCoy and Jordan Shipley were arguably one of the top duos in college football in 2009. While they're forced to settle with being rivals now in the AFC North, many wonder if Shipley can establish a similar connection with a veteran quarterback in Palmer.
In his last two seasons at Texas, Shipley was nothing short of fantastic as arguably one of the top wideouts in college football. From 2008-09, he finished with 205 catches for 2,545 yards and 24 touchdowns while helping the Longhorns earn one of the most dangerous offenses in not only the Big 12, but the country.
With Defenders Focused On Other Key Players, Shipley Should Be Open More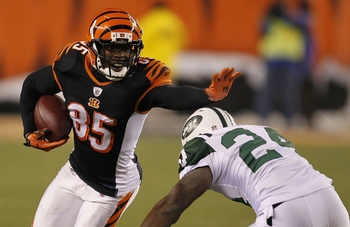 One of the reasons Houshmandzadeh was so successful during his final five years with the Bengals was because of the talent surrounding him. With defenders focusing on stopping other players such as Chad Ochocinco and Chris Henry, Housh was able to take advantage of this to find ways to get open down the field.
Shipley will find himself in a similar situation during his rookie season with Cincinnati. Not only will defenders be concerned about Ochocinco, but the Bengals added key players to the passing game in Antonio Bryant and Jermaine Gresham to provide Palmer with plenty of weapons. With opponents focused on these three players, Shipley has a chance to take advance of defenders the same way Housh did when he was around.
The Age Factor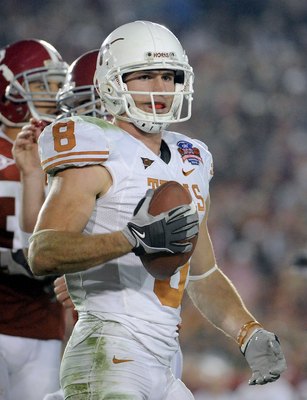 Most players enter the NFL as 21 or 22-year-old rookies with a lot to learn. Not Shipley.
While he may still have a lot to learn about the NFL, Shipley may have a slight advantage on most rookies when it comes to adjusting at a professional level because of his age. The former Texas standout will be 25 in December after he was awarded a six-year of eligibility after applying for a medical redshirt.
Most players take a few years to mature and adjust to the new level of competition in the NFL. For a third-round rookie, Shipley's already amazed his peers each time he's stepped on the field during practices this offseason and has been far more productive than most anticipated at this point. Hopefully, he continues to grow and become a key element to the success of Palmer and the Bengals' passing game this season.
Keep Reading

Cincinnati Bengals: Like this team?