10 Reasons Brett Favre May Hesitate to Return in 2010
Ah the time has come again for ESPN to be taken over by the "Favre Watch" while thousands of analysts kick in their two cents on if he will or won't come back for another season.
The iron man of football clocks in this season at 41 years of age, the injuries continue to mount, and his real life outside of the NFL continues to circle around him. Has the daily grind of a football season gotten to be too much for him?
This list takes all the decisions he'll be weighing over. Read through and at the end, your speculation on his future is as good as anyone else.
Begin Slideshow

»
Like any couple, the less you see your significant other, the more problems and strains arise. While Brett's wife Deanna seems like an understanding woman, the daily grind of football season and the extended periods of being away, will take a toll on any relationship. It's only natural Brett would want to take care of his spouse and spend time with her, before they're too old to travel and live it up.
All the graduations and important events in life continue to happen in his children's lives, whether he's there to see them or not. Brett has two daughters, Brittany Nicole who is 21, and Breleigh Ann who is 10.
He probably missed a lot of things in his oldest's life while on the field, but still has a chance to catch them with his youngest daughter. To add to that, on April 2, 2010, his oldest gave birth to a boy, Parker Brett, making Deanna and Brett grandparents.
The reason Brett came back was to defeat his former team, the Packers, and prove to them that they made a mistake by moving on without him. Favre stepped up and defeated Green Bay twice and outplayed his protege, Aaron Rodgers.
The motivation simply may not be there to come back another season, he owes nothing to Minnesota, and may not want to come back and try again.
The Vikings are currently a heavy favorite to contend for the Super Bowl this year, if Favre steps back into the cleats and fails, there are no excuses left. The offensive line, receivers, and running backs are all there and ready to go, but is Brett willing to shoulder the burden of being the final piece of the puzzle?
While Favre plays football, real life keeps happening around him. He nearly died in a car accident in Mississippi in 1990, he acknowledged he had developed an addiction to Vicodin in 1996 and got treatment.
In 2003 his father suffered a fatal heart attack and in 2004 Deanna announced she was fighting breast cancer. Later that year, his brother-in-law was killed in an ATV accident. And finally in 2005, Hurricane Katrina destroyed his childhood home and damaged his new home in Hattiesburg.
The knocks have just kept on coming, Favre may just be tired of missing out on life and time with his loved ones, living a normal life.
Does Brett have the drive left in him?
Dealing with the grind of another full season with a possible defeat again, such as in the ever-so-disheartening 2009 finish, is probably sitting in the back of his mind somewhere. Having to put in all the work and rehab back from surgery, just to possibly not accomplish his goal again is a result he'll have to consider.
Through all the endorsements with Lowe's Home Improvement and Wrangler Clothing, not to mention his $25 million dollar contract with Minnesota, money is just not an issue for him anymore.
To give up the endorsements and contract money would be difficult all the same, so the money may just play into his decision on whether he feels financially secure.
This season Favre hits the ripe ol' age of 41, making him one of the oldest players in the NFL. Most quarterbacks don't make it past 38, yet he continues to defy all odds and play at a high level. Brett knows however that there is more to life than football and can "turn it off" whenever he feels the time is right. If 41 isn't the right time, than there may never be one.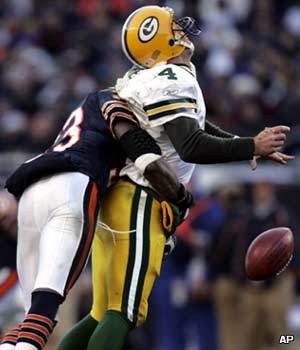 The ongoing physical strains Brett's body puts on him is probably the biggest consideration. He's no spring chicken anymore and the injuries are starting to pile up. Recently coming off an ankle surgery, the previous season saw him facing another shoulder surgery. The man is only human, the big question of how much damage to his body is he willing to endure has to play into his decision.
What else is there do prove? He's won the Super Bowl, he's won three MVPs, and he's been selected 11 times to the Pro Bowl. On the field, he has nothing left to accomplish, off the field is a different story however.
He would instantly be offered a job as an analyst in a comfy air-conditioned studio, and opposed to sweating it out on a treadmill and in training camp, it could be awfully tempting. In time, perhaps even a career in coaching could be in order.