2010 NBA Draft Grades: Grading the Draft Night Suits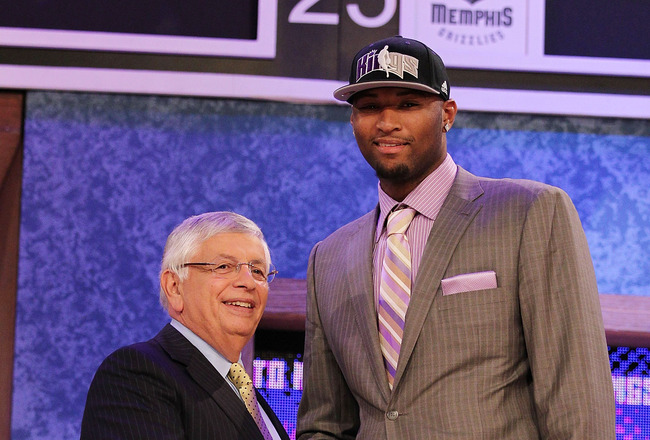 The NBA Draft has historically been one of the most entertaining events in sports, not because of David Stern and his jabs at the crowd and the commentators, but because of the suits.
While last year's suits weren't anything to write home about (aside from James Harden and his debate-inducing bow-tie) there have been some classics in years past.
So how did this year's suits do? There were a few great suits and at least one memorably bad one. Click ahead to see the grades for this year and let me know what you thought of the grades.
No. 1: John Wall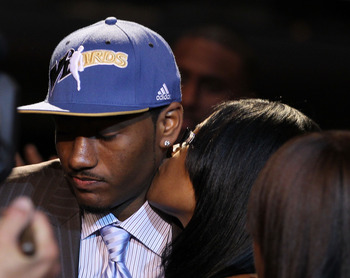 No surprise, John Wall comes in as the No. 1 pick in the draft. And for someone who's going to get the most camera time in this draft other than David Stern, Wall stepped up to the occasion with his suit.
He rocks the pinstripes with a nice blue tie as a nod to Kentucky. He's got the flat pocket square going on that matches his tie, which is nice as well. Word is his mom got him the suit after he got her a house. Not exactly an even trade off, but she did a good job.
Grade: A
No. 2: Evan Turner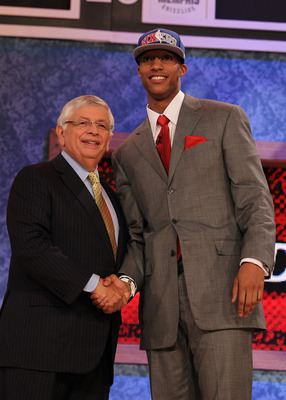 I thought Turner's red ensemble was a little too red, but you gotta give the guy credit for showing some school spirit and it works as Sixers red as well.
The gray suit looks sharp and the specs that Turner was wearing prompted cries around the office of best accessories from the draft, so you know he's doing something right.
Grade: A-
No. 3: Derrick Favors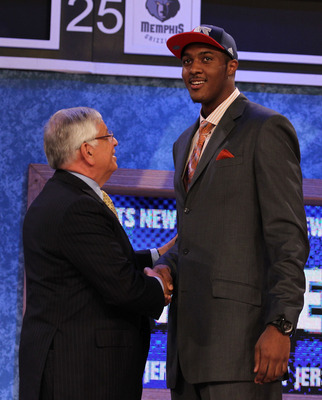 I wasn't a huge fan of Favors' outfit. That tie just has too much going on for my liking. It looks like he grabbed it out of the bargain bin.
The striped shirt underneath is decent, but then his pocket square orange doesn't even match the orange on that crazy tie.
Maybe the Nets billionaire owner can get him something nicer.
Grade: C-
No. 4: Wes Johnson
Just when I thought this was going to be a boring draft as far as suits were concerned, Wes Johnson comes through.
There's just too much to talk about, I don't know where to start. With that bright yellow shirt and red tie... is he colorblind or did he already sign an endorsement deal with McDonalds?
Then those pants. Plaid? Really? They look like pajama pants. Did he just get out of bed?
And what's with the Carlton/boat captain jacket and the green polka-dotted pocket square going with it? Wes Johnson is just an overall mess.
Remember, just because something is memorable and different doesn't mean it's good.
Grade: F
No. 5: DeMarcus Cousins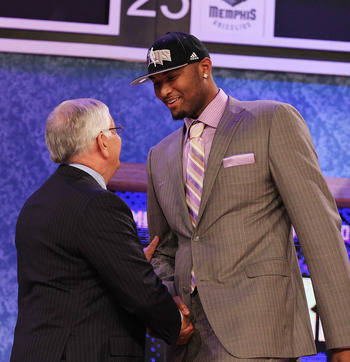 I like that Cousins went with the purple for the Kings. He's got another straight, matching pocket square and pinstripes like Wall. I wonder if the two planned that.
Really, it's a solid suit, I was just hoping for a little more craziness from the most mentally unstable young man in the draft.
Grade: B+
No. 6: Ekpe Udoh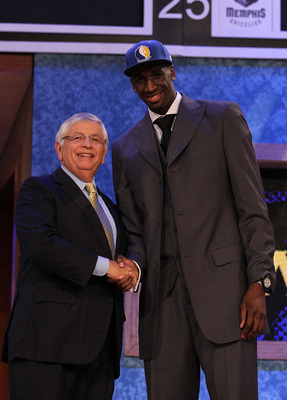 Interesting choice with the black tie and the gray suit. I wasn't even sure that he had a jacket at first when his name was called, but he found it and put it on, then proceeded to give Stern a big bear hug.
It's a sleek look, but I hate that there's no color at all. Especially with someone so dark-skinned.
Grade: B-
No. 7: Greg Monroe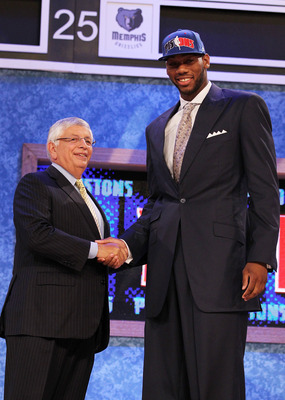 Monroe breaks out probably the most plain suit up to this point. No vest, old-man tie, and plain white shirt.
The one redeeming thing for Monroe? He's wayyyy better dressed than his mom and whatever atrocious outfit she's wearing.
Grade: C
No. 8: Al-Farouk Aminu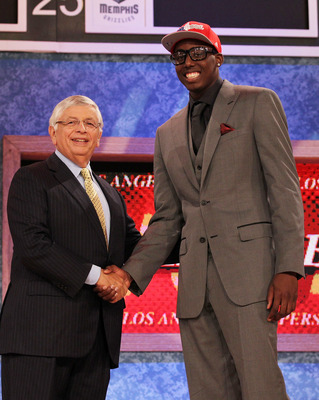 Nice goggles Aminu.
Like Udoh he goes with the gray suit/black tie approach, but he compliments it with a black shirt and gives us a little color in a maroon pocket square.
All that black, it's like he's going to a funeral. Maybe he knew he was getting drafted by the Clippers.
Grade: B+
No. 9: Gordon Hayward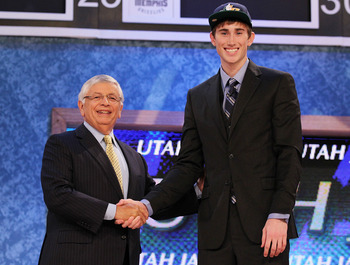 Typical boring white guy suit. It looks like he's going to a school formal. Just not a lot of style there.
At least he's wearing Jazz colors already. They'll love him there.
Grade: C
No. 10: Paul George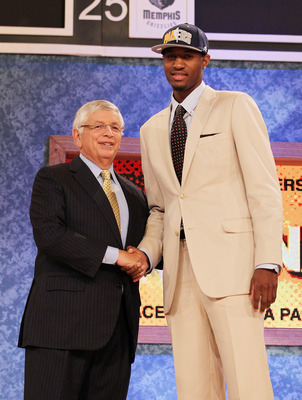 The first cream suit of the draft comes out and I like it. The blue looks really nice underneath as well.
I think the Pacers may have gotten confused when the best white guy in the draft got taken right before their pick, so they just took a player with a light suit instead.
Grade: A
No. 11: Cole Aldrich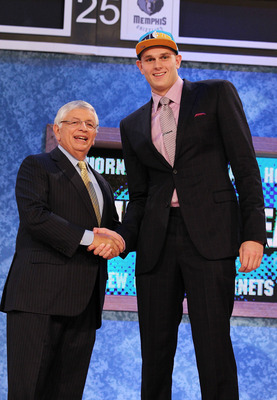 Aldrich comes with the black suit, pink shirt, and a black and white polka-dotted tie. Somehow, it actually works. More stylish than your normal white guy, especially one as goofy as Aldrich.
Good thing he didn't try to plan colors to a team because he was quickly on the move to the Thunder.
Grade: B
No. 12: Xavier Henry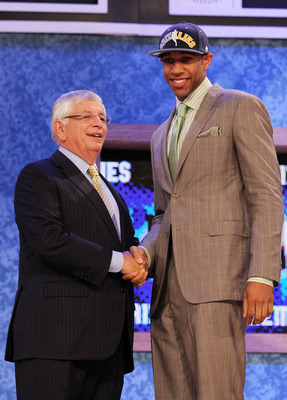 Xavier Henry steps out with a gray pinstriped suit and a lime green combination underneath. Looks like he was planning on heading to the Celtics, although it didn't really work out that way.
Still, I like it. The colors work well with the suit. He also was the first guy to shed some tears, not that it matters. But it's nice to see a guy be so grateful.
Grade: A-
No. 13: Ed Davis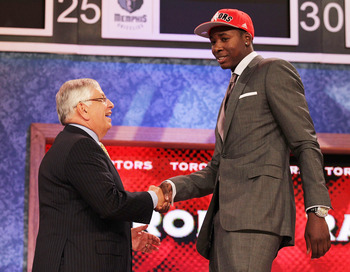 Ed Davis shows up rocking a gray, kind of metallic suit and a straight white pocket square. It's nothing special, but it's still less disappointing than Davis was in college.
Grade: B-
No. 14: Patrick Patterson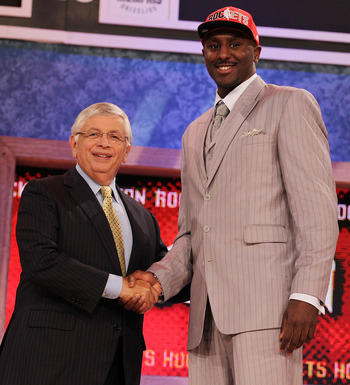 Going with the general trend of pinstripe suits and Kentucky players is Patrick Patterson, coming with a silver number all around.
His pocket square looked kind of wrinkled and sloppy, but I'm a giant UK homer so I'm giving him bonus points for no good reason. Sue me.
Grade: A-
No. 16: Luke Babbitt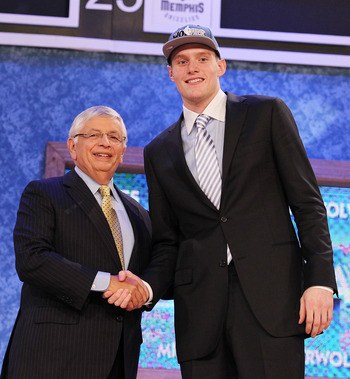 Babbitt had by far the most unfortunate photo of the draft, which made him look like he had down syndrome. Thankfully he looked a lot better in person or the team that ended up with him would have been a little worried.
As far as his suit, it didn't seem too professional. Kind of amateur hour. I like the blue and white tie, but with no vest and the colored shirt with the white collar (which I'm not a fan of), he didn't impress me much.
Grade: C
No. 17: Kevin Seraphin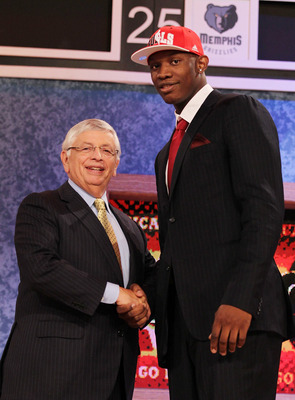 I didn't get much of a look at the Frenchman's suit, but there wasn't anything to write home about.
He had the red tie to go with the Bulls, but they made the pick for somebody else, so that's not much help. I just tend to expect a little more from these international guys. They're supposed to eat sleep and breathe style.
What else do the French have to offer anyway?
Grade: C+
Keep Reading