Up The Middle: The Top 10 Double Play Combos of the 2000's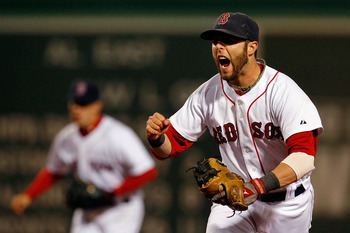 What is the value of a double play?
It seems like a simple question at first, but underneath the surface, incalculable defensive factors muddle up the idea that a double play is anything but a complex and intricate pattern of moving parts.
For those who believe glove conquers all, the middle infield is the most important part of a baseball team. How these two perform defensively can directly affect the number of games a team wins. So which dynamic duo was most valuable defensively this past decade? It's time to find out.
The Guidelines
1.) These rankings are purely measurements of defensive prowess. Offensive ability is not taken into account. Apologizes to Dan Uggla and Hanley Ramirez.
2.) Gold Gloves, as they can be pretty subjective, do not affect my decisions. However, I will use them to reinforce my point, as opposed to throwing a bunch of decimals rounded to the ten-thousandth place at you.
3.) I'm measuring how both players performed together. So no matter how good of a fielder you believe Derek Jeter is, having to rely on the lead gloves of Alfonso Soriano and Chuck Knoblauch didn't exactly put Yankees fans at ease.
4.) The actual requirement for consideration was this: The duo had to log multiple seasons in which both played manned the middle infield positions for at least one hundred games. By these standards, 37 pairs were eligible for my rankings.
This saves me the time of sifting through useless stats for combinations such as Marlon Anderson-to-Brent Abernathy.
An example of a durable player who was unfortunately ineligible due to this qualification would be Miguel Tejada. While with the Oakland Athletics, he played out a full 162 game season on three separate occasions. However, Billy Beane's inability to find a solid second baseman during those years means the A's have no combos eligible.
Or, take Royce Clayton. A very underrated defender, he amassed 100+ games in seven seasons during the 2000's, playing superb defense consistently. Unfortunately for Royce, he was never with a team for more than two years, making him an extreme long shot for consideration.
An Explanation of the Stats Used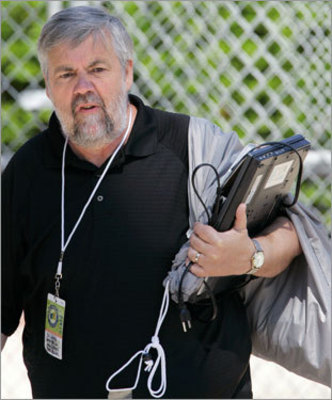 In the research for this slideshow, I found some pretty extensive and confusing defensive statistics. I used them to influence my decision, but I didn't include them here, because let's face it, some people, including myself, have a hard time with big numbers.
The ones I will present in this slide show are pretty simple:
Fielding Percentage:
Pretty simple, one of the most (over?)used defensive stats. Measures the percentage of defensive chances a fielder turns into outs.
Range Factor:
Bill James's way to further efficientize defensive measurement. This time, we take errors completely out of the equation, merely measuring putouts plus assists, divided by innings played.
Innings:
Possibly one of the more important statistics I used. Basically, the reason Alan Trammell and Lou Whittaker are considered the greatest double play duo ever is that they amassed more than 30,000 innings together.
Eligible Combinations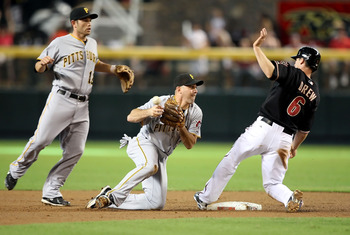 The Field(ers), listed alphabetically by Second Baseman:
Roberto Alomar/Omar Vizquel, Marlon Anderson/Jimmy Rollins, Craig Biggio/Adam Everett, Bret Boone/Carlos Guillen, Robinson Cano/Derek Jeter, Jose Castillo/Jack Wilson, Luis Castillo/Alex Gonzalez, Alex Cora/Cesar Izturis, Ray Durham/Omar Vizquel, Damion Easley/Deivi Cruz, Marcus Giles/Rafael Furcal, Mark Grudzielanek/Alex Cora, Orlando Hudson/Stephen Drew, Tadahito Iguchi/Juan Uribe, Adam Kennedy/David Eckstein, Adam Kennedy/Orlando Cabrera, Jeff Kent/Rafael Furcal, Jeff Kent/Rich Aurilia, Ian Kinsler/Michael Young, Jose Lopez/Yuniesky Betancourt, Mark Loretta/Khalil Greene, Placido Polanco/Carlos Guillen, Juan Rivas/Cristian Guzman, Brian Roberts/Miguel Tejada, Alfonso Soriano/Derek Jeter, Alfonso Soriano/Michael Young, Dan Uggla/Hanley Ramirez, Chase Utley/Jimmy Rollins, Jose Vidro/Orlando Cabrera, Fernando Viña/Edgar Renteria, Rickie Weeks/J.J. Hardy, Eric Young/Ricky Gutierrez, and Michael Young/Alex Rodriguez
Honorable Mentions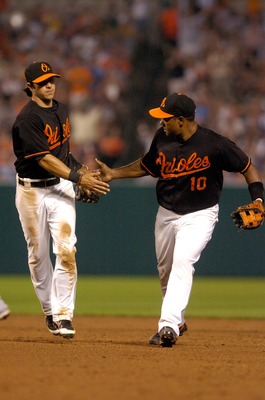 As with any ranking, there were some who were very, very good, but not quite good enough to make the cut. Make no mistake, they were great fielders, but for one reason or another, missed out on the top ten.
They are listed here in alphabetical order by second baseman:
Bret Boone-Carlos Guillen
Alex Cora-Cesar Izturis
Jeff Kent-Rich Aurilia
Ian Kinsler-Michael Young
Brian Roberts-Miguel Tejada
Michael Young-Alex Rodriguez
No. 10: Craig Biggio and Adam Everett, Houston Astros (2005-06)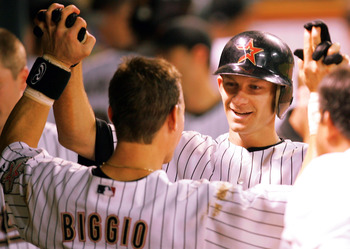 Fielding Percentage: .9832
Range Factor: 3.3
Innings: 6,781.1
In 1992, Craig Biggio moved to second base. On August 30, 2001, Adam Everett was called up to Houston from AAA New Orleans. It would be the beginning of the greatest double play combination in Astros history.
If it weren't for the fact that Biggio spent a fair amount of time in the outfield, or that Everett ran into the brick wall that is Carlos Lee in 2007, these two would be much higher on this list.
As it is, they weren't too shabby. In just two seasons, these guys put up a .983 fielding percentage. And since 2004, Everett has the highest fielding percentage of any player, at any position. Everett also has the highest Range Factor by a shortstop in Astros history.
It could be argued that Craig Biggio is the greatest player in Houston Astros franchise history.
However, Adam Everett could be the best fielder who ever donned the brick red and sand.
Biggio will easily be a Hall of Famer, but in Adam's 2006 campaign, he saved roughly 40 runs more than the average shortstop. When compared to other major leaguers, he just blows them out of the water.
No other middle infielder eligible for this ranking saved more than 25 runs above average in a season. Everett also had a fielding percentage of .990 that year, but was robbed of the Gold Glove award by Omar Vizquel of the San Francisco Giants and the coaches, who valued Vizquel's veteran leadership over the youthful Everett. Everett also led Vizquel and the rest of baseball in Zone Rating that year.
Biggio, on the other hand, was an average fielder. He was a very versatile defender, for sure, but the lack of time shared with Everett up the middle is what cements these Astros as merely the tenth best combo this decade.
No. 9: Jose Vidro and Orlando Cabrera, Montreal Expos (2000-04)
Fielding Percentage: .9824
Range Factor: 4.8
Innings: 11,696.2
It's not hard to be underrated when the majority of your career is played in a separate country from the rest of baseball. Jose Vidro and Orlando Cabrera did just that.
Probably more valuable for their gloves than their bats, these two Expos were possibly the most underrated double play combo ever.
They were very durable, logging 11,696.2 innings this decade, second most. They averaged the most innings per year by far, and had a solid .984 fielding percentage.
They had a high Range Factor for a double play combination. However, their best asset may have been steady hands and solid arms.
When you're comparing the two side by side, it is clear that while Cabrera was a flashier fielder, Vidro was a more solid defender. It's hard to judge two players with different defensive styles, but my pick here would be Orlando Cabrera.
Cabrera is the only Montréal middle infielder to ever win a Gold Glove (he won in 2001), although Vidro could have won one himself, if not for two other, flashier contemporaries playing second base in Florida and St. Louis.
In fact, when Cabrera was shipped to Boston, where he would become a playoff hero, it was his glove that was most beneficial and endearing the Red Sox and their fans.
These two were also very durable, sticking around with one of the most miserable franchises in baseball. They played an incredible 86 percent of Montréal Expos games this decade. To play so well, so long, for a team that was so bad and traded away veterans or watched most of their stars leave via free agency is amazing.
Cabrera continues to play All-Star defense, taking his stellar glove to stops in Anaheim, Chicago, Oakland, Minnesota, and Cincinnati. Jose Vidro is currently inactive, after he was released by the Seattle Mariners in 2008.
No. 8: Ray Durham and Omar Vizquel, San Francisco Giants (2005-07)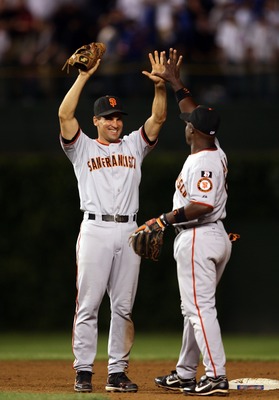 Fielding Percentage: .9851
Range Factor: 4.61
Innings: 7,102.2
Omar Vizquel is the second greatest fielding shortstop ever, and the all-time leader at double plays made, so it's no surprise he appears on this list.
When he teamed up with Ray Durham, they gave the San Francisco Giants a dazzling defense to go with a offensive juggernaut led by Barry Bonds.
The oldest on the list, these two were considered past their prime when they teamed up.
However, they could have been the most ageless double play combination ever. First, Vizquel defied worldly aging by becoming the oldest player to win a Gold Glove Award, at 38 years of age. The next year, he broke his own record, winning his eleventh career Gold Glove in the process.
Ray Durham, who was 33 in 2005, was no slouch on defense either. "The Sugarman", as he had been known to fans in Chicago, had always been valued for his contact offense and his speed on the basepaths. When he came to the City by the Bay, he became an excellent defender as well.
He never finished at the top of the league in defense, but was consistently above average, save for his self-proclaimed "embarassing" 2007 season, in which he "only" had a .978 fielding percentage.
In fact, these two are the pair I am surest about. I think that they didn't overperform or underperform. Their statistics in San Francisco reflected their true talents.
No. 7: Fernando Viña and Edgar Renteria, St. Louis Cardinals (2000-03)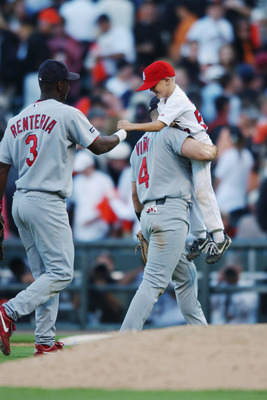 Fielding Percentage: .9746
Range Factor: 4.55
Innings: 9,340.1
Over the last decade, and throughout history, the St. Louis Cardinals have been the best team in the National League. That's why it comes as no surprise that they have one of the top double play combinations of the decade.
From 2000 to 2003, the Cardinals missed the playoffs once. This was largely due to the stellar defense up the middle from All-Stars Fernando Viña and Edgar Renteria.
While known for their bats, these two, especially Viña, were more consistent with their glove work than almost any combination in the National League.
In his three full seasons in St. Louis, Viña never had a fielding percentage below .980, excluding 2003, when injuries took a toll on his body and his defense. Renteria, while never a stellar defender, improved each year he played in St. Louis, going from a .958 fielding percentage in his first year with the Cardinals to a stellar .983 mark in the last of his five years with the Birds on the Bat.
Renteria has had a below average fielding percentage some years, but he has always been proficient at converting base hits into outs, as evidenced by his 4.34 career Range Factor.
The two were very good together, and could have been better, had Viña's career not been derailed by injury in 2003. As with the next duo, they were the only pair to have both won the Gold Glove the same year.
Renteria was part of the rotating shortstop carousel of the 2004 offseason, going to the Red Sox, and Viña played for the Tigers in 2004 before retiring. Had it not been for St. Louis's failure to retain the two, or Viña's hamstring issues, which forced him to retire, these two could have had a couple more years left in them, pushing them even further up this list.
No. 6: Roberto Alomar and Omar Vizquel, Cleveland Indians (2000-01)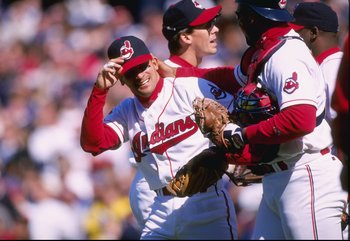 Fielding Percentage: .9890
Range Factor: 4.6
Innings: 5282.2
From 1995-2000, the Cleveland Indians were known for a powerful offense that featured Future Hall-of-Famers like Jim Thome and Manny Ramirez. However, two stellar defenders were also creating highlight reels during the same time at Jacobs Field.
First let's look at Omar Vizquel. He has the highest fielding percentage of any shortstop this decade (followed closely by Royce Clayton), and also ranks top ten in innings, games, and other cumulative statistics. The only flaw visible is that his Range Factor is merely passable, but we won't hold that against him.
Alomar is a much different story. His statistics don't jump off the page at you, but he is accepted as one of the greatest defensive second basemen ever. He gets to the ball faster than Prince Fielder to a Milwaukee brat, and has the arm of JaMarcus Russell, only with the accuracy of William Tell.
As a pair, these two were fantastic. They had a combined .989 fielding percentage, good for best this decade, and could make all the stellar plays you want out of middle infielders, robbing a good share of base hits in their time.
They are one of two middle infield combinations this decade to each win Gold Gloves the same year - and they did it twice. They are surely deserving of a spot on this list, but the fact that they only managed 5,282.2 innings this decade (lowest in the rankings) sets them back a step or two.
Perhaps, as far as fielding prowess is concerned, these two are the best ever to lace up in the same middle infield. But, as with Biggio and Everett, this is a case of too little, too late.
Their amazing two years in Cleveland leave many Tribe faithful wondering what these two would have accomplished had Alomar not been dealt to the New York Mets.
No. 5: Marcus Giles and Rafael Furcal, Atlanta Braves (2001-05)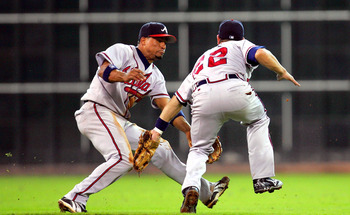 Fielding Percentage: .9727
Range Factor: 5.26
Innings: 9,619.2
These two were the flashiest combination on the list. They had one of the lowest fielding percentages, but one of the highest range factors. Since Range Factor takes errors out of the equation, this shows that Furcal and Giles were able to rob base hits, but had some trouble with even the most routine plays.
It also shows that some balls were fielded by Furcal and Giles way, way out of their defensive zone, and sometimes fielded unsuccessfully. They were by far the hardest to get a read on. I had them as high as third. Then I had them out of the rankings totally. Then I had them seventh. I finally settled at fifth. At least I think I settled. I'm still not sure.
Looking at Furcal, only one thing is for sure, and that's that when it comes to defense, nothing is for sure. Confused yet? If so, call you doctor and get some rest. If not, keep reading until you are. Furcal led the league in Range Factor twice, in 2005 and 2006. He never had a Range Factor below 4.2, which is really saying something. Any shortstop with a Range Factor above four can be seen as a possible Gold Glover. Simple, right? I wish.
During his first five seasons in Atlanta, Furcal topped out at a .970 fielding percentage, which is pretty bad, even at short. Then, in 2005, he seemed to have figured it all out, posting a .981 fielding percentage and saved 18 runs by fielding.
And then he went to Los Angeles. Once in Dodger Blue, he put up a horrid .966 fielding percentage, and gave up nine runs via his lead glove. At least that's how it appears. To befuddle this mess, that was also the second straight year he lead the Senior Circuit in Range Factor. If you're feeling sick, exit the ride now.
Marcus Giles was cut from the same cloth. The second baseman came up to the big-league club in 2001, and led the National League in Range Factor in 2003, which was the only All-Star season in his seven-year career.
His career Range Factor of 5.19 is stellar, especially considering that in 2001 the NL leader in Range Factor was Todd Walker, who put up a 5.09 mark in a split season between Colorado and Cincinnati. He simply outpaced the National League. But then, of course, there was the fielding percentage. His career mark was .982, which is pretty good. As far as who was the better fielder... don't ask. I have a bigger headache than a Chicago sportswriter interviewing Milton Bradley.
No. 4: Luis Castillo and Alex Gonzalez, Florida Marlins (2000-05)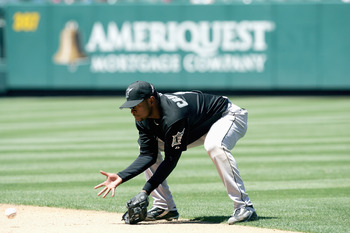 Fielding Percentage: .9785
Range Factor: 3.17
Innings: 13,369
No matter what you've been told by young Mets fans, or how many times you watch Yankees first baseman Mark Teixiera circle the bases last June 12 against their crosstown rivals, Luis Castillo still is a good fielder. Luis Castillo still is a good fielder. Luis Castillo still is a good fielder. Luis Castillo still is a good fielder. This was what my younger brother, a Mets fan, whispered to himself each night before bed last June.
In fact, I would be willing to say he is one of the top fielding second baseman of the past 25 years.
When they teamed the San Pedro de Macoris native with Alex Gonzalez, the Marlins had the top defensive (and pretty darn good offensively!) middle infield in the National League for the early part of this decade.
Underrated by even the most hardcore Marlins fans and the twenty or so people who visited Pro Player/Dolphin Stadium from 1998-2005, they formed one of the better National League combinations, well, ever!
Castillo was recognized by the coaches, as evidenced by his three consecutive Gold Glove seasons from 2001-2003. He was not even recognized once he left Florida by national media outlets, who barely covered his record-breaking 143-game errorless streak with the Twins. He is simply overlooked.
And if Castillo and his .984 fielding percentage are overlooked, then Alex Gonzalez was locked in the basement closet when company came to visit. Having to play during the career of another Alex Gonzalez didn't help, but still, can someone at least get him a name tag.
The younger Gonzalez, nicknamed "Sea Bass" was a fan favorite in Miami, but little known everywhere else. He was never great, but he always improved. His fielding percentage rose dramatically this decade, from an ugly .960 mark in 2000, to a respectable .974 season in 2005.
He will probably never be considered great, but he was a good player to have on your team. The two should be seen as an integral part of the Marlins' 2003 Championship team.
No. 3: Adam Kennedy and David Eckstein, Angels/Cardinals (2001-04, 2007)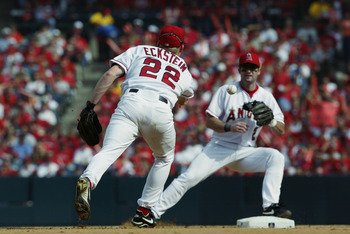 Fielding Percentage: .9803
Range Factor: 4.6
Innings: 10,637
This was a rare case where extended playing time hurt the duo's ranking. When David Eckstein and Adam Kennedy teamed up in St. Louis in 2007, they went from a top 2 combo to the still stellar three spot.
However, their years in Anaheim were some of the best ever.
It all started in 2000. Kennedy had played in the St. Louis Cardinals system as a first round pick, before coming over with pitcher Ken Bottenfield in the Jim Edmonds deal.
He was named the Angels starting second baseman in 2000 as a rookie and impressed, finishing sixth in Rookie of the Year voting.
Meanwhile. David Eckstein was called up in 2001, at the age of 26. He, like Kennedy, was shoved into the Angels starting lineup as a rookie. Unlike Kennedy, who had been picked 19th overall, Eckstein surprised everyone by finishing fourth in Rookie of the Year voting. He became SoCal's king of grit and hustle, and players everywhere admired him for his unconventional route to the majors.
For the 2001 season, this combination was merely above average. However, in 2002, their defensive ability helped lead the Angels to a Wild Card berth and their first ever World Series.
In 2002, Adam Kennedy had perhaps the best defensive season of any second baseman on this list. He alone saved about 3 games for the Angels with his glove.
When they separated following Eckstein's trade to St. Louis, Eckstein and Kennedy should have been considered one of the most consistent double play combination of the decade. Until 2007.
In 2007, Adam Kennedy signed with the defending champion St. Louis Cardinals, whom former teammate David Eckstein had led with a .989 fielding percentage and an All-Star appearance.
Unfortunately, Eckstein was not himself in 2007, fielding .960 in limited time. His 2007 season is the only thing keeping these two out of the top two, or even the top spot.
Now playing for the Padres, Eckstein led the National League in fielding percentage last year as a second baseman, and continues to play solid defense in 2010. They have not, a probably will not, meet up for a third stint.
No. 2: Robinson Cano and Derek Jeter, New York Yankees (2005-09)
Fielding Percentage: .9853
Range Factor: 6.89
Innings: 11,558.2
Derek Jeter's defense is one of the Major League's most debated topics. In my research, I discovered some startling information about Jeter.
His defense was almost purely reliant on whoever was playing second for the Yankees at the time.
When Alfonso Soriano played for the Yankees, Jeter perhaps overcompensated for Soriano glove, and tried to make plays that simply could not be made. From 1999-2003, Jeter's fielding percentage hovered around .965, among the lowest in the league. The low point in this era was a fielding percentage of .961 in 2000, his career low.
However, since Robinson Cano became the starting second baseman, Jeter has been able to concentrate on his own defense and hasn't needed to overcompensate. From 2005-2009, Jeter had a fielding percentage closer to .975, a marked improvement over his years playing with Soriano. He also won three of his first four Gold Gloves in this span.
So how good is Cano? Very good.
No. 1: Chase Utley and Jimmy Rollins, Philadelphia Phillies (2003-09)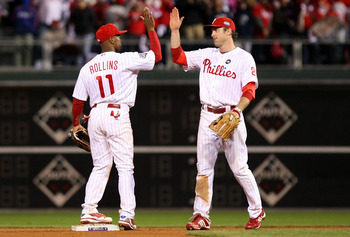 Fielding Percentage: .9855
Range Factor: 5.01
Innings: 15,270.2
Chase Utley and Jimmy Rollins are simply superhuman.
Possibly the National League top double-play combination since Tommy Herr and Ozzie Smith, the two have reached the upper pantheon of defensive greatness.
The numbers prove it. The two rank second or first in nearly every defensive metric readily available and understandable.
The ability proves it. To the untrusting eye of a scout, statistics are not the most reliable way to measure the abilities of ballplayers. But the plays Utley and Rollins make quickly dispose any skeptical qualms about the possibility that their defense is a fluke.
For me, the standout memory of the 2008 World Series, other than several inches of rain, is Utley's remarkable play in the bottom of the seventh inning.
With Akinori Iwamura at the dish, and Jason Bartlett on second, Utley backhanded a sharp grounder and spun to throw Iwamura out at first. But, realizing that he had a tough play to first, and seeing Bartlett being waved home, Utley faked to first and threw a perfect strike to Carlos Ruiz, who tagged out Bartlett, who represented the tying run.
That momentum led the Phillies to win the game and with it, the World Series.
Rollins may not be as good a defender as Utley, but he is certainly one of the better shortstops in the National League.
Rollins won three straight Gold Gloves from 2007-09, His career fielding percentage is a stellar .983. The amazing ability of these two Phillies give Philadelphia not only the top double-play combination of the past decade, but one of the top ten all-time.
Just hitting their prime together, these two should continue their defensive prowess into the next decade, maybe, just maybe, one day making a run at the top combo of all time.
What To Take Away From This Article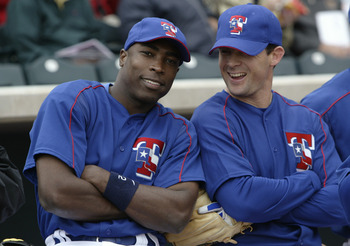 This is the important part of this slideshow. You can read the rankings and not have learned anything at all, but this part is so enlightening, I thought about making it a separate article. Ready? Here it is:
Alfonso Soriano is the most important defensive player of the decade. Sort of.
By important, I mean important to research, not to his teams. You see, it's quite possible that Alfonso Soriano was the worst defender of the decade. There are a couple of things that we can garner from this juicy bit of information.
First, it is extremely important that both halves of a double play duo perform. When teamed up with Derek Jeter in New York, Soriano managed to make the All-Star look like a feeble rookie. The two managed a .973 fielding percentage, worst among eligible duos. It's possible that, for those years in New York, they were the worst double play combination ever.
When teamed up with versatile Michael Young in Texas, Soriano was able to make Young, who had narrowly missed a Gold Glove the previous season, look lost in his first season at shortstop. They managed a .971 fielding percentage, worst on the list.
The second thing, also having to do with Soriano, is that teams are willing to pay big bucks for a play to possibly lose upwards of 7 games with his glove, so long as he can hit.
I give a lot of credit to Frank Robinson. In 2006, he moved Soriano, easily the worst second baseman ever, to left, where he was one of the better leftfielders of recent time. Robinson spared us all the torture of watching Alfonso Soriano fumble more double plays. Then again, he seems to have regressed since then, managing to become the majors' worst outfielder. Congratulations, Fonzi!
Keep Reading