FIFA World Cup 2010: USA vs. Ghana Key Matchups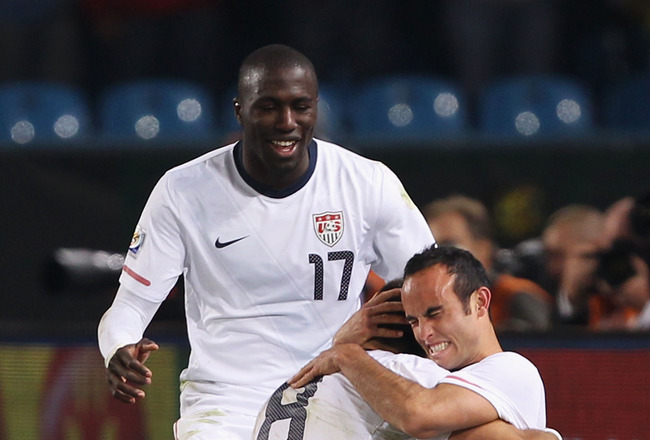 Even if you absolutely despise soccer, if you're an American, Landon Donovan's goal in the 91st minute had to make you feel something.
The United States was four minutes away from getting on a plane and returning home with their tails tucked between their legs. Not advancing from this year's group stage would have been an absolute disaster for U.S. soccer.
But the Yanks found a way to get the win and send the U.S. into a frenzy. Now they are in the knockout round for the first time since 2002.
The Americans enter the Round of 16 against Ghana on Saturday.
Ghana is without a doubt one of the best African teams. Even without Chelsea star Michael Essien, Ghana was able to advance past the group stage for the second World Cup in a row.
Saturday's match is going to be a dogfight. You either win, or you go home. Key matchups at each level will decide who plays in the next round.
Goalies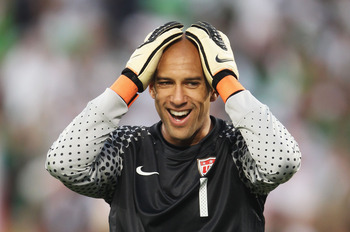 The man between the posts for Ghana is Richard Kingson. The 32 year old has been Ghana's starting keeper for the past several years and has 81 international caps and one goal (what!?). Kingson plays in the English Premier League for Wigan Athletic.
U.S. goalie Tim Howard didn't have to work too hard against Algeria. He made the saves he was supposed to make and barked out orders to his defenders. But in stoppage time Howard made the play of the match.
After stopping a shot by an Algerian player, the Everton keeper ran to the top of the 18-yard box and threw an absolute bomb to Landon Donovan that started the U.S. counterattack. Donovan would go on to score sending the U.S. through to the knockout stage.
Advantage: U.S.
Defenders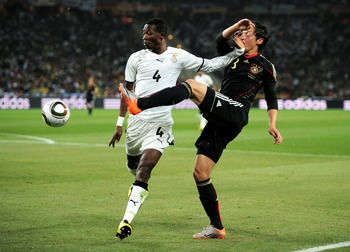 Ghana has been playing musical chairs with its back line this entire World Cup. They have started six different defenders and still haven't figured out who they want.
The only two players who are guaranteed to start are Hans Sarpei and John Pantsil. The two players are veterans who have played in big matches with their clubs, Bayer Leverkusen and Fulham, respectively.
The U.S. finally figured out the best defensive lineup. Sorry Oguchi Onyewu, you are just too much of a risk right now at center back.
Carlos Bocanegra played fabulously in the center and Jonathan Bornstein did surprisingly well at left. Bornstein started off shaky but used his speed to mark the Algerian forwards all day.
Even though Ghana has talented defenders, the uncertainty of who will play gives the nod to the Yanks.
Advantage: U.S.
Midfielders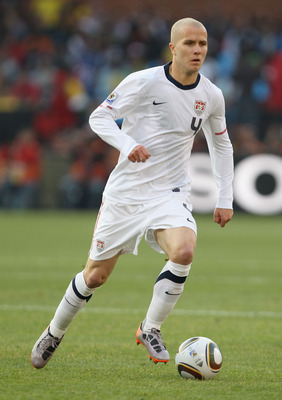 Ghana's midfield has been steady this entire tournament. The same four players have started every game and have played very well together.
The thing that stands out about Ghana's starting midfield is their youth: Kevin-Prince Boateng (23), Kwadwo Asamoah (21), Anthony Annan (23), and Andre Ayew (20).
Kevin-Prince Boateng is a point of interest because he got a chance to play against his brother, Jerome Boateng, when Ghana played Germany. Kevin-Prince has dual citizenship in Germany and Ghana but chose to play for the Black Stars.
The obvious talking point with Ghana's midfield is the absence of Michael Essien. It is truly amazing that Ghana's midfield has played this well despite missing its best player.
Similar to the U.S. figuring out the starting lineup at defense, it appears that the U.S. has finally found Michael Bradley's sidekick at the center midfield position: Maurice Edu.
The U.S. midfield has been the difference for them this World Cup. All four of their goals have come from the midfield, and the two goals that should have counted (Edu vs. Slovenia and Dempsey vs. Algeria) were also from midfielders.
Also, the U.S. has done a great job possessing the ball at times and going forward with the counterattack. The orchestrator of the entire midfield has been 22-year-old Michael Bradley.
Bradley is having an incredible tournament and has been vital to the U.S.'s success in South Africa.
Advantage: U.S.
Forwards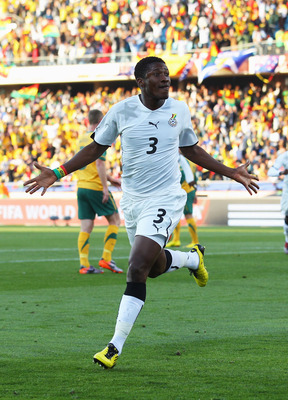 Ghana's main offensive threat is Asamoah Gyan. The striker has 21 goals in 42 appearances for Ghana and plays for the French club, Rennes.
Gyan came into the World Cup red-hot after scoring 13 goals for Rennes this season and has yet to cool down. Gyan is responsible for both of Ghana's goals this World Cup—although they were both penalty kicks.
Jozy Altidore hasn't scored a goal this World Cup but he has had a great tournament. With the Charlie Davies' injury, Altidore knew he had to be the man up top for the U.S., and he hasn't disappointed.
Jozy played a huge role in arguably the U.S.'s two most important goals this tournament. Against Slovenia, Jozy won the 50/50 ball and headed a pass right to a streaking Michael Bradley who tied the game. Then against Algeria, Jozy sent the ball into the box that would eventually be smashed home by Landon Donovan giving the Yanks a 1-0 victory.
Even though Ghana's forwards have scored two goals to the U.S.'s zero, both of those goals were penalty kicks.
Advantage: U.S.
Coaches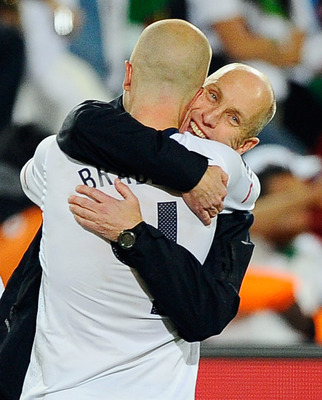 Ghana's manager is Serbian born Milovan Rajevac. Who?
Rajevac has been the head coach of Ghana since 2008 and has been credited with bringing in a more defensive philosophy to Ghana's game.
Bob Bradley a.k.a. B2 has done an excellent job this World Cup. The usual statuesque Bradley was as nervous as any American fan while on the sideline during the match against Algeria.
Bradley finally seems to have figured out the issues with the midfield and defense. And for the first time in forever, the U.S. didn't fall behind in a game (although a shot did hit off the post).
Advantage: U.S.
History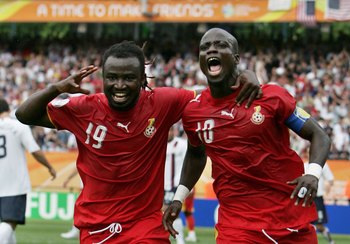 Saturday's match will not be the first between these two in a World Cup.
In 2006 the U.S. and Ghana were placed in the same group and Ghana won that match 2-1. Though these are two different teams this time around,.
First of all, in 2006 Michael Essien was healthy and was dominant in the midfield.
Secondly, the U.S. roster looked completely different. Remember these names: Kasey Keller, Jimmy Conrad, Eddie Lewis, Eddie Pope, Claudio Reyna, Pablo Mastroeni, and Brian McBride?
But you can't argue with the facts.
Advantage: Ghana
Fans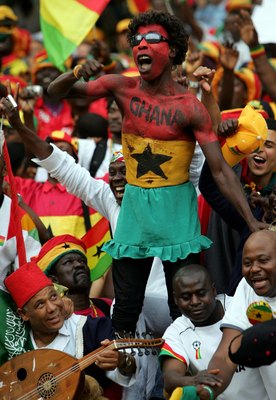 I don't know what Ghana fans are like. I have never met one personally, but from the looks of this guy, they look passionate.
I do know that U.S. fans purchased more tickets than any other country.
Unfortunately, I think the U.S. fans will be drowned out (not by just the vuvuzelas) by South Africans cheering for Ghana.
It appears highly likely that Ghana will be the only African nation to advance to the knockout round. Every African will instantly become a Ghana fan and will be cheering them on.
And let's be honest, America isn't the most popular country with the rest of the world. So one thing is guaranteed on Saturday.
The stadium is going to be loud.
Advantage: Ghana
Nicknames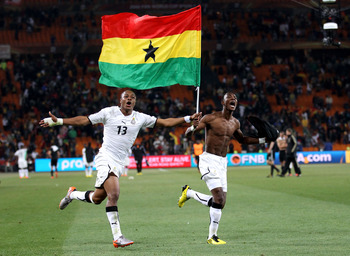 The U.S. has a horrible nickname: the Yanks.
First of all, that would imply that every American is a Yankees fan and that's a personal insult.
And second, Yanks is just lame. National soccer teams have some of the coolest nicknames out there:
Cameroon- Indomitable Lions
Czech Republic- The Locomotive
Ireland- The Boys in Green
Nigeria- Super Eagles
Ghana has a great nickname: The Black Stars.
Advantage: Ghana
Location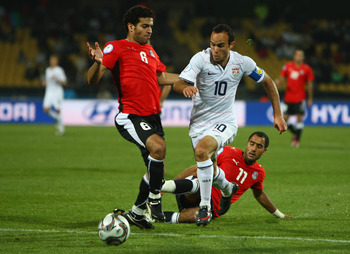 Saturday's match will be played at Royal Bafokeng Stadium. Both teams played in this stadium during group play. They both tied their games there. U.S. tied England, 1-1, and Ghana tied Australia, 1-1.
But the U.S. has played here one other time.
It was at the Royal Bafokeng Stadium where the US beat Egypt 3-0, while at the same time Brazil beat Italy 3-0 which allowed the U.S. to advance to the knockout round of the Confederation's Cup.
The U.S. would go on to beat Spain in the semifinals and lose a heartbreaker to Brazil in the final.
Is it a coincidence that the U.S. is playing here again? I think not.
Advantage: U.S.
Injured Star Player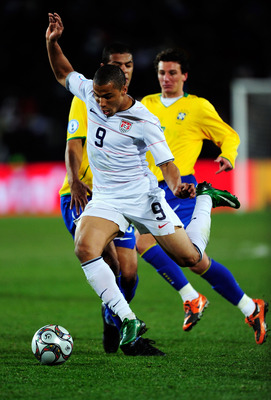 Every American desperately wanted Charlie Davies to do the impossible and get healthy enough for the 2010 World Cup. He fell just short.
Michael Essien was supposed to be the foundation of a Ghana squad that was going to make a deep run. Essien unfortunately tore a ligament in his left knee in January and was unable to make a recovery in time.
I like both players a lot. I'm a Chelsea supporter, but I'm also a proud American.
But I have been told that Charlie Davies loves Twitter which doesn't fly with me.
Advantage: Ghana
Keep Reading

United States (National Football): Like this team?