Six Degrees of Pelé: 2010 FIFA World Cup Connections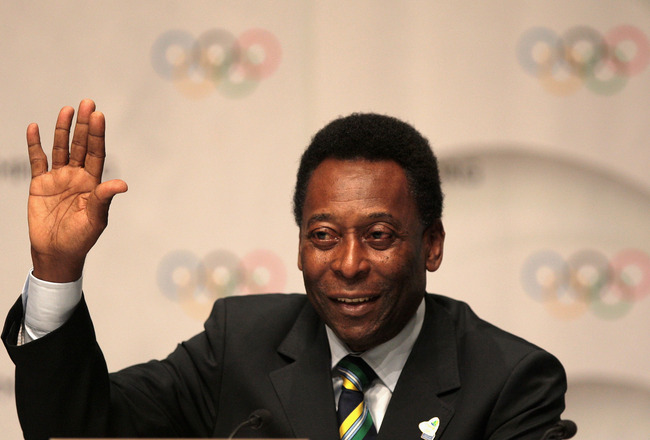 We've all played the six degrees of Kevin Bacon game in which you try to connect a certain actor to Kevin Bacon using his or her film resume, so I thought it'd be fun to give it a go with football as well.
This idea was originally hatched as simply World Cup connections, but the Pelé angle popped into my head as I was typing out the title so I'll go ahead and connect them to the Brazilian legend after highlighting each one.
Enjoy!
Diego Maradona & Huh Jung-Moo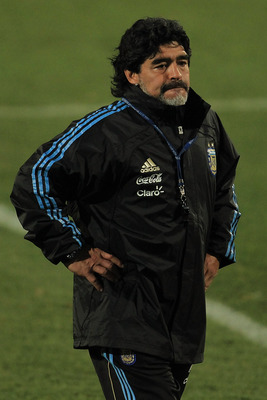 Maradona and Huh met this year as managers of Argentina and South Korea, respectively, but the two also faced each other on the pitch at the 1986 World Cup.
On top of that, Huh was booked for a rather interesting foul on Maradona, who complained that Huh "wasn't playing football, it was more like Tae Kwon Do."
You've got to give him credit for getting the style right too (Tae Kwon Do is a Korean martial art form).
Check out the video below.
Pelé Connection: Who's the greatest footballer of all time? You might not be able to get a concrete answer on this one, but anyone you ask will no doubt mention either Pelé or Maradona.
Argentina vs. Mexico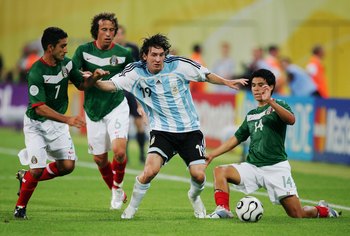 These two teams are set to meet in this year's Round of 16, which equates to a rematch from 2006. Argentina also won their group as well, just like last time.
The 2006 match was an exciting one that saw two goals within the first ten minutes and was still tied 1-1 at the end of ninety minutes. Argentina won 2-1 after extra time.
Pelé Connection: Pelé's last World Cup was the 1970 competition; Mexico hosted the tournament that year.
Martin Palermo, Diego Maradona, & Greece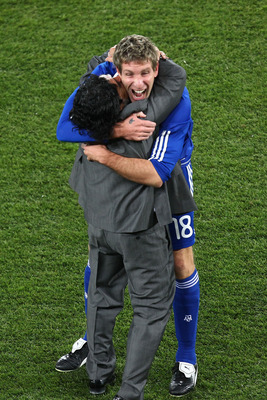 Yet another Argentine connection:
Martin Palermo became the oldest Argentinean to score in the World Cup this year when he notched a goal against Greece during the group stage.
The previous record was held by Maradona when he found the back of the net against Greece in 1994.
Pelé Connection: Pelé is the youngest player to ever score a goal in the World Cup. He was 17 years and 239 days when scored the only goal in a quarter-finals match against Wales at the 1958 competition.
North Korea & Portugal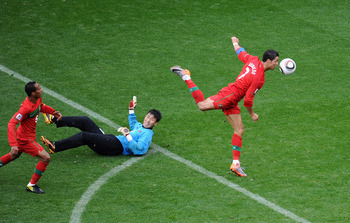 North Korea made it to the World Cup Finals for only the second time in the country's history, their first appearance in the competition since 1966, when they upset Italy to advance to the quarter-finals.
North Korea faced Portugal in the quarter-finals and lost the match 5-3, eliminating them from the tournament.
Following an impressive showing against Brazil in their opening match, North Korea were essentially eliminated by Portugal again in 2010 when they suffered a humiliating 7-0 defeat.
Pelé Connection: Portugal defeated Brazil 3-1 in a group match at the 1966 World Cup, where Brazil did not make it to the knockout rounds, the first time a defending champion ever failed to do so.
USA vs. Ghana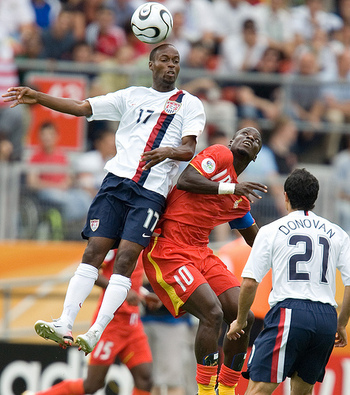 The United States went from the brink of elimination to group winners when Landon Donovan scored the match-winning goal against Algeria during injury time, earning them a spot in this year's Round of 16, where they will battle it out with Ghana.
The Yanks will be looking for revenge too, as Ghana was the team responsible for eliminating USA from the tournament in 2006, when they faced each other in the final match in Group E.
A win would have put the U.S. through to the next round, but Ghana beat the Yanks 2-1, claiming the number two spot for themselves while the Yanks finished last in the group and left the tournament without winning a single match.
This year, they didn't lose a single group match.
Pelé Connection: Pelé ended his club career in the United States with the New York Cosmos in the now-defunct NASL.
England vs. Germany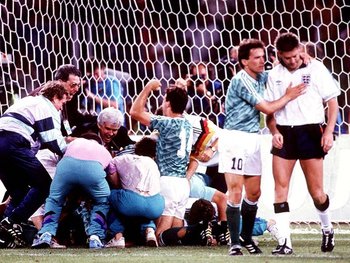 This is one of the greatest rivalries in world football.
England and (West) Germany have met in the World Cup finals four times ('66, '70, '82, & '90), they've always been tied at the end of ninety minutes, and England's never won when it came down to penalty kicks.
The two met in the championship match in 1966 (West Germany won 4-2 a.e.t.) and the semi-finals in 1990 (1-1 a.e.t. with West Germany winning 4-3 on PK's).
They were also tied 1-1 after extra time in the Euro 1996 semi-finals (Germany won 6-5 in the penalty shoot-out).
With so much history, this one's sure to be an exciting match. Is England finally due for a win?
Pelé Connection: Pelé faced England in three different World Cups: '58, '62, and '70. The meeting in 1962 was a quarter-finals match that Brazil won 3-1.
Keep Reading