2010 FIFA World Cup: Why the U.S. Has a Clear Road Ahead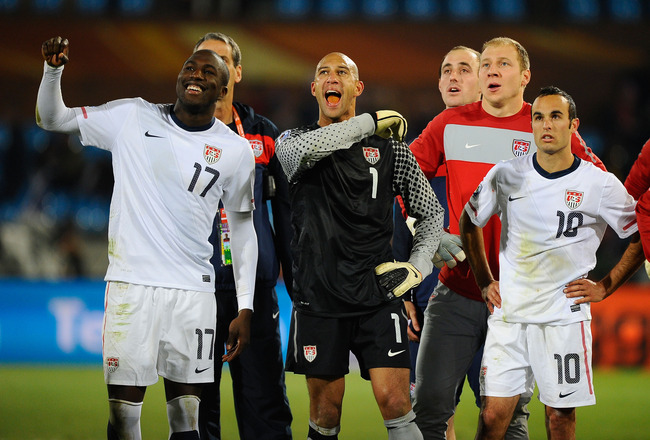 After Landon Donovan's game-saving goal in the 91st minute of play against Algeria, Team U.S.A. is flying high on momentum as they prepare to face Ghana in elimination play this Saturday.
After defeating Algeria on Wednesday, the U.S. finished number one in their group over England, and clinched a spot in the Round of 16.
More importantly, they dodged facing international powerhouse Germany in the second round.
Here's a look at how Donovan's winning goal completely changed the prediction for U.S.A.'s success in this tournament, and why it seems to be fairly smooth sailing ahead for the team that never quits.
What Placing First In Their Pool Means For U.S.A.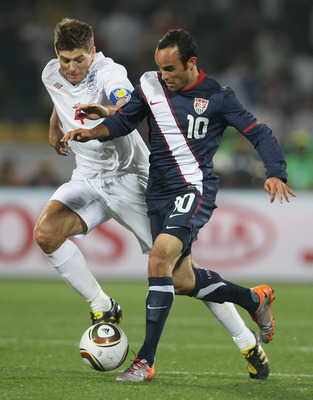 After a shaky first game match against fellow Pool C member England, U.S.A. went ahead to top England in the pool, giving them the number one seed coming into elimination play.
This position is a tournament-changer for the U.S.
By finishing first in the pool, they will face Ghana, the second place finisher out of Pool D, instead of Germany.
While Ghana will be no easy feat, defeating them will be a much less daunting task than defeating Germany.
If U.S.A. does get past Ghana, they will face either South Korea or Uruguay.
South Korea is preferable since Uruguay is thus undefeated in the tournament. Both teams represent tough challenges to U.S.A., but they definitely aren't as challenging as Germany, Brazil, and Spain.
England will have to face much tougher teams than the U.S., and it's all because of Donovan's heaven-sent goal.
U.S. Looking To Change History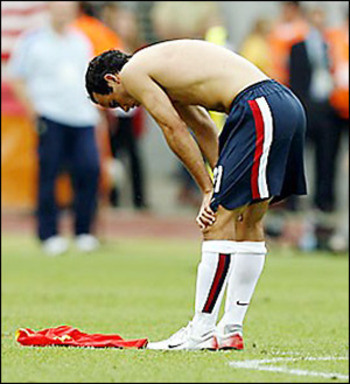 It's been said before: momentum is key.
Right now, the U.S. couldn't possibly get any more momentum.
In addition to their uplifting win Wednesday, the U.S. has history to motivate them.
In the last World Cup (2006), the U.S. suffered a heartbreaking loss to Ghana in pool play, which ultimately prevented their advance to the second round.
Controversy seems to follow the U.S., and 2006 was no different.
Ghana eliminated the U.S. from the Round of 16 after defeating them 2-1 following a controversial penalty call. The call resulted in a converted penalty kick goal.
You can bet that the U.S. hasn't forgotten their only match-up against Ghana, and will be looking to overcome them this time around.
The Match-Up: What Ghana Has To Offer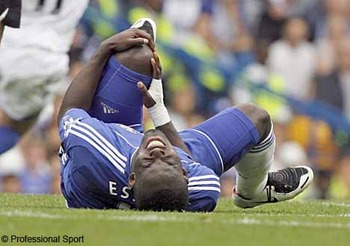 No fan should be writing Ghana off just yet.
Called the quickest team in the tournament, Ghana is young and will have speed on their side.
Also on their side is their entire home continent of Africa, which just happens to be the host of this World Cup.
Representing the host continent will be at Ghana's advantage come Saturday.
That being said, Ghana's superstar midfielder Michael Essien has been sidelined with a knee injury. This has undoubtedly hurt Ghana's abilities, but then again they have made it this far without him.
Penalty kicks seem to be Ghana's best friend.
Thus far, Ghana's only two goals in the tournament came from converted penalty kicks. While no one is questioning Ghana's offensive abilities, they have yet to put a ball in the net without the help of the referees.
The Match-Up: What U.S.A. Has To Offer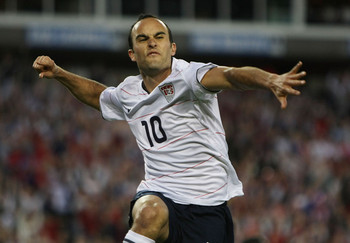 An inebriating victory is driving the U.S. right now, and that ride isn't going to stop anytime soon.
The U.S. team is on fire, and beating Ghana is just the next step in their journey to redemption.
The key in this upcoming match will be allowing their talent and skills to lead the way and overpower their opponent. They need to limit Ghana's scoring abilities and keep an eye on Ghana striker Asamoag Gyan, who has their only two goals of the tournament.
Oh, and they should watch out for those penalties in the box too, as that seems to be Ghana's scoring specialty.
Looking Ahead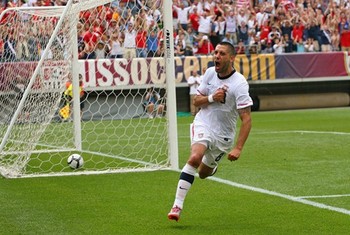 This tournament has been a tournament of ties, especially for the U.S.
Elimination round means ties don't exist anymore, and final scores are ultimately decided by shootouts. Looking at the U.S.'s possible future opponents, it seems that the U.S. would fare well in any shootout.
The incredible legs of Donovan, fellow midfielder Clint Dempsey, and forward Jozy Altidore are sure to beat most goaltenders the U.S. would face.
All have faced just-missed shots and off-the-post heart-breakers. If given the wide open shot, they won't miss.
Don't forget about U.S. goalie Tim Howard, who has only allowed three goals in this tournament. Howard doesn't go down without a fight, and should be counted on to make the save.
Final Predictions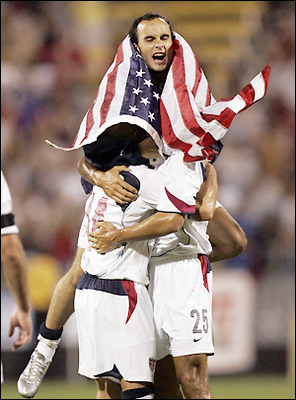 Most experts are putting their money on the U.S. making it to the semi-finals. The road to get there doesn't seem too difficult, and the U.S. has they can handle the tasks ahead of them.
If they do make it to the semis, a much more difficult task will be awaiting them. They would most likely face Brazil, a force not to be reckoned with.
Despite everything, this is the World Cup, and if the U.S. has taught us anything it's that every game is unpredictable, and the game isn't over until the final whistle has blown.
Keep Reading

United States (National Football): Like this team?