Tennessee Volunteers Football: The Five Biggest Summer Challenges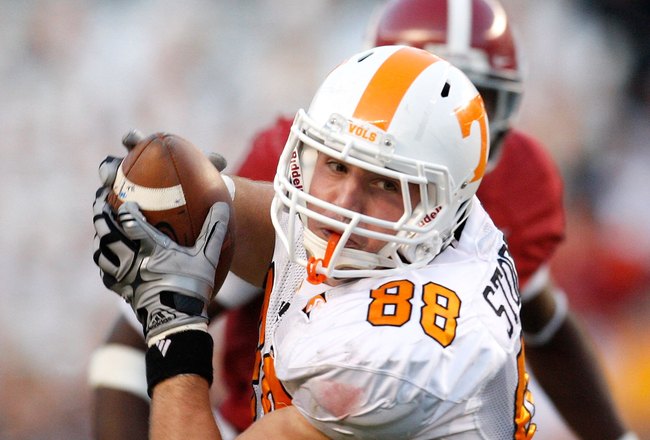 After an up and down spring, the Vols left us many questions for summer.
Many of the new four- and five-star recruits who were Kiffin-leftovers or Dooley-commits didn't participate.
There were also injuries to key contributors like NFL-ready tight end Luke Stocker and sixth-year player Nick Reveiz, who was the heart and soul of the linebackers a couple seasons back.
The non-conference game against Oregon could be a possible upset for the Vols because the multi-talented quarterback Jeremiah Masoli was dismissed.
However, this spark of optimism is just a small light in an abyss of questions.
Is Bryce Brown Going To Return?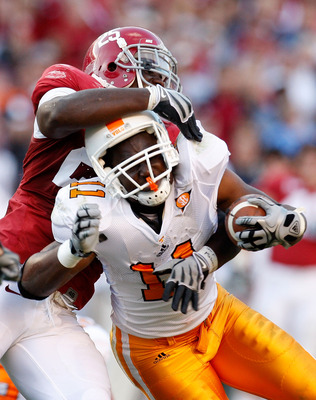 Coming out of high school, Bryce Brown was the straight up No. 1 rivals.com prospect. He decided to leave Tennessee's football program but didn't commit to a Big 12 school closer to his Wichita, Kansas home and (thankfully) decided not to follow Kiffin to USC, which originally recruited him.
A couple days ago, Knoxville sportswriter John Adams reported that starting middle linebacker Nick Reveiz wanted Brown back and that he'd have to work hard but would be an asset at tailback.
Brown has missed a ton of workouts in the spring, but still has summer to learn Dooley's new system.
Because he hasn't been disowned by Dooley yet and isn't visiting other schools, I think that Brown will either go to junior college or be a Vol next year, sharing carries with Tauren Poole, who shined this spring (101 total yards).
Will Dooley Start a Freshman Quarterback?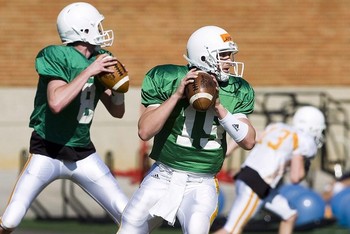 Tyler Bray is definitely a tall, skinny dude (6'6") with a cannon arm (200 yards, 2 TD).
Recruiting analyst Barry Every says that Bray needs to grow into his body, but he can make all the throws with a surgeon's precision. Hopefully, Bray can play like this against SEC defensive backs.
Most preseason annuals like Athlon and Phil Steele have Matt Simms, who has a good arm and played well in junior college but was sacked five times in spring, as the starter. Simms' release and Bray's body mass were question marks that lingered after the spring.
If either of them improves on these weaknesses, they will start.
Right now, Bray should start because he flat out gets rid of the ball faster (two sacks to Simms' five).
Simms has slightly better speed, but in this rebuilding year Dooley should take his chances with the true freshman.
Can the Late Enrollees Make an Impact?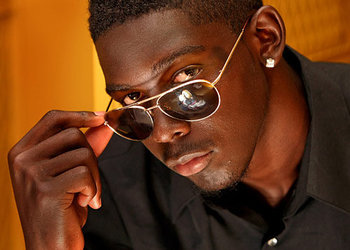 A nice salvage job by Derek Dooley allowed the Vols to finish with a top ten recruiting class and land one five-star and 12 four-stars prospects.
Will these players have any impact on 2010?
Da'Rick Rogers has elite speed (4.4) and height (6'3"), and he could be a great slot receiver alongside Denarius Moore and Gerald Jones, if he can learn the playbook in the summer. His sure hands could take pressure off Luke Stocker in the red zone.
Another late enrollee, receiver Justin Hunter, was featured in SI's "Faces in the Crowd," and if he adds weight to his 172-pound frame, he could be another speedy option for Bray or Simms.
John Brown is an experienced top 50 junior college nose tackle who will definitely be on the two deep at tackle, even if the Vols go with a 3-4 under new coordinator Justin Wilcox.
Dave Clark and Eddrick Loften are defensive backs who can play corner or safety. This versatility could help the Vols on special teams because Loften is undersized at 5'10".
James Stone is projected by some media outlets to start at guard. This in-state prospect dominated Nashville public schools and has the long arms (6'5") and intelligence (3.7 GPA) to get significant playing time on the interior line if he can beat out slightly more experienced players like Cody Pope.
Finally, Rajion Neal has enrolled at Tennessee and is ready for summer workouts. He's another great player from the state of Georgia, but he could get more snaps in 2011.
The Vols' late enrollees aren't too shabby and could fill a couple starting spots and be present in the two and three deep, especially at receiver and defensive back.
Who Will Win the Kicking Job?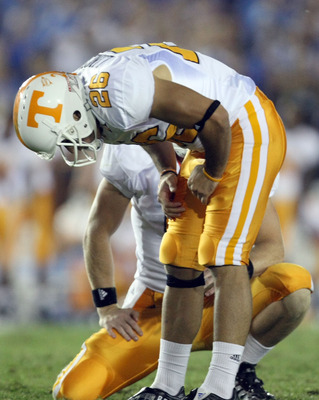 Chip Rhome's three field goals in the spring game turned the competition for placekicker into a three-horse race.
Daniel Lincoln is the incumbent and has had some success at Tennessee.
He made game-winning kicks against S. Carolina and Vanderbilt his freshman year and was named second team All-SEC. His stock dropped after his accuracy was reduced to 55.2 percent in 2009, and three of his kicks were blocked in a two-point loss to Alabama.
He's the most experienced of the bunch, but his confidence and swagger have been on ice since 2008.
Chip Rhome came out of nowhere to single-handedly lead the White to victory in the spring game with his booming but accurate kicks. Rhome was a backup punter at Austin Peay and only handled kickoffs, but his play in spring puts him in the conversation at kicker.
Michael Palardy is the golden boy.
He's the second best freshman kicking prospect and made a 60-yard kick as a sophomore in high school!
His long range abilities could be the second coming of James Wilhoit, who nailed clutch kicks against teams like Florida. Palardy knows he's a star, and if he can have a good rapport with the snapper and holder this summer he could be the Vols' secret weapon.
Who Will Step Up and Be the Team Leader?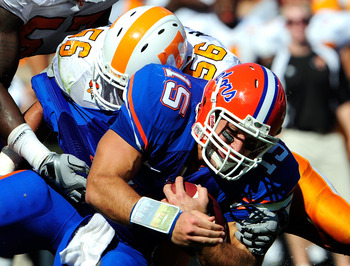 Tennessee's leader in talking to the press is Nick Reveiz.
Reveiz was a walk on from Farragut, Tennessee who led the Vols in special team tackles and started four games last year, accumulating 27 tackles. He earned another year of eligibility, has been outspoken in his support of Dooley, and worked hard to rehab his injured knee.
The Vols' leaders on the field will be Gerald Jones, Luke Stocker, and Chris Walker.
Jones earned the Big Lick Award for toughness, which is a rarity in the age of TO and Chad Ochocinco, receivers who are divas and don't run block. He can get great separation at the receiver position and will definitely lead by example.
Stocker could have entered the NFL Draft and been a third or fourth round pick, but he decided to make sure the Derek Dooley era had a smooth transition. He worked hard on his conditioning this spring, earning the Fourth Quarter Award, but missed the spring game.
Stocker is an underrated red zone threat who had three TDs in his last five games. He will lead by his work ethic and knowledge of the offensive signals, which will help the inexperienced offensive line protect the even more inexperienced quarterback.
Finally, Chris Walker showed great leadership of the White team. His motor and hunger for pass rushing will be a great example for young defensive linemen like Jacques Smith.
By integrating the young players on his roster, Walker has created a rapport with the underclassmen and will be a leader as both captain and pass rusher.
Despite all their flaws in their talent levels, the Vols have great leadership, and with more top ten recruiting classes the talent will come.
Keep Reading

Tennessee Volunteers Football: Like this team?