Ten Times Three: The 10 Greatest MMA Trilogies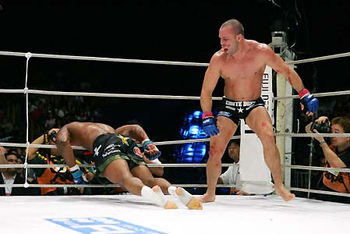 In common society, a trilogy of anything—whether it be movies, books or in this case Mixed Martial Arts —a third installment is a rare occurrence
For two fighters to make it to their third fight and have the audience still compelled enough to pay their hard earned dollars to see this encounter after they've witnessed it twice beforehand is very hard to pull off.
It takes a combination of growth and evolution amongst the two participants, a grudge and a reason to have these two men fight it out one last time to settle the score.
In this slide show I will look at what I believe are the ten greatest trilogies in Mixed Martial Arts history, enjoy.
10. Tito Ortiz vs. Ken Shamrock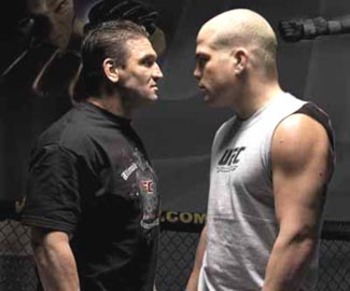 UFC 19 was where it all began; this arrogant rookie with five fights on his record just defeated Lions Den team member Guy Mezger who, at that stage in his career, was the only blemish on young Tito Ortiz's career.
Ortiz defeated Mezger just seconds shy of the 10 minute mark of their bout, but the real story began post-fight when Ortiz put on a T-Shirt which read "Gay Mezger is my Bitch" while flipping the bird to the Lions Den corner.
This enraged the former UFC Superfight Champion who has never been known for keeping his cool. Shamrock leaped over the cage fence and got in the face of the rebellious rookie demanding he cease his disrespectful actions.
Three and a half years later it all came to a boil, since the Mezger encounter at UFC 119 Ortiz had taken on the bad boy persona and ran with it going 5-1 with victories over the likes of Wanderlei SIlva and Evan Tanner while Shamrock had been outside of The UFC going 2-2 with his most notable victory being over Alexander Otsuka.
Most insiders knew for all there bouts that Ken Shamrock was past his prime and didn't have much more than a punchers chance at beating Ortiz for all three of their encounters but it drew a large amount of fans towards the product and made the media look at this sport as a bit more than human cock-fighting.
9. Wanderlei Silva vs. Kazushi Sakuraba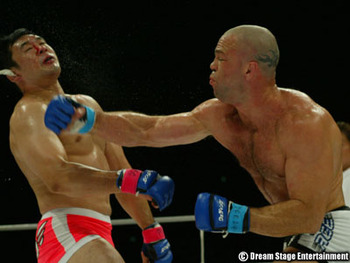 All get in your time machine and head back to March 25th, 2001. The Professional Wrestling industry just changed forever when Vince McMahon brought long time rival World Championship Wrestling, Crazy Town was tearing up the music charts with their one hit wonder "Butterfly" and Invader Zim was about to debut on Nickelodeon.
But also we had seemingly one dimensional striker Wanderlei Silva facing the closest thing there is to God in Japan in Kazushi Sakuraba.
At this stage in his career Kazushi Sakuraba was 12-2-1-1NC with victories over Vitor Belfort, Carlos Newton, Guz Mezger and anyone who crossed his path with the surname Gracie.
Wanderlei Silva on the other hand wasn't known as the devastating striker he would become, Silva was 14-3-1NC seemingly on the biggest role of his career with victories over Dan Henderson and Guy Mezger coming in his past three fights.
Although Silva was a star on the rise knocking out everyone in his path of destruction it was still believed that Kazushi Sakuraba would submit Silva with relative ease. The first time they met Silva finishes Sakuraba with a brutal soccer kick and put his name on the map in a major way.
These two would meet again eight months later to determine who would be the very first PRIDE middleweight champion. Unfortunately Sakuraba suffered a broken clavicle and withdrew after the first round. Up until that point it was a much more contested bout than the first clash.
So the question was up in the air; How would the fight end if Sakuraba wasn't forced to pull out? Almost two years later that question was answered when Silva and Sakuraba faced off in the opening round of the PRIDE Middleweight Grand Prix 2003 when it took Silva a little over five minutes to dispose of Japans hero and advance to the next round.

8. Mirko Filipović vs Josh Barnett
Once upon a time in a land far far away there was a six-foot tall Croatian that nobody wanted to fight. Men would sell their mother on the black market before willingly agreeing to face off against Mirko Filipović.
At this time Mirko "Cro Cop" Filipović was the most feared striker in Mixed Martial Arts, defeating the likes of Yuji Nagata, Kazushi Sakuraba and Heath Herring compiling a 12-2-2 record with 10 of the 12 victories coming by way of knockout or technical knockout.
Josh Barnett on the other hand had compiled a 15-1 record fighting throughout the United States and Japan, Most notably in the UFC where he defeated Pedro Rizzo, Semmy Schilt, and Randy Couture.
His UFC 36 bout with Randy Couture was for the UFC Heavyweight Championship, Barnett finished Couture but would later be stripped of the Championship when he tested positive to an illicit substance.
In October of 2004 many believed that Josh Barnett was the man to stop this house of fire they call "Cro Cop" however on that night Barnett would sustain a shoulder injury merely 42 seconds into the bout making Mirko Filipović the victor.
367 days later it was time for these two to meet again. Barnett had taken a year off to recover from his shoulder injury while Mirko had went 3-1 defeating Mark Coleman and Kevin Randleman. This time around Mirko would better "The Baby Faced Assassin" for fifteen minutes to leave with a Unanimous Decision victory.
Merely a year later their paths would cross again, this time in the Final of the PRIDE Openweight Grand Prix 2006. On this night "Cro Cop" left no doubt in the minds of those watching that he was the better fighter stopping Barnett seven minutes into the very first round and not allowing this one to go to the judges score cards.
7. Randy Couture vs. Vitor Belfort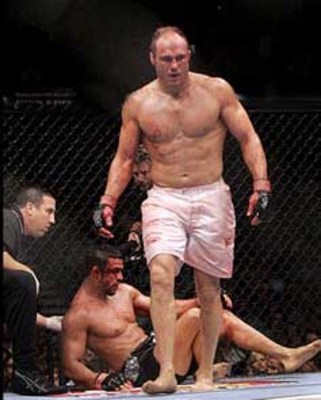 In 1997 Randy Couture wasn't "The Natural" he wasn't "Captain America" he was just a former Olympian who they gave a chance in the UFC. Vitor Belfort on the other hand people believed was the future of the sport after being 4-0 and winning the UFC Heavyweight Tournament.
It was believed that Randy Couture was just a sacrificial lamb to this hungry Brazilian but as history would show us when you give Randy Couture no chance is when he is at his best. Couture canceled out Belforts boxing advantage by using his now famous clinch and eventually defeated him by TKO stoppage a little after the eight minute mark of the bout.
These two would meet again a little over three year later at UFC 46. In the time between Randy Couture became a house hold name in the UFC defeating Chuck Liddell, Tito Ortiz, Josh Barnett and Pedro Rizzo just to name a few.
Vitor Belfort on the other hand fought twice more in the UFC most notable in his demolition of Wanderlei Silva before making the jump to Japans Pride FC organization. There he fought the likes of Heath Herring, Chuck Liddell and Kazushi Sakuraba before returning to the UFC in 2003 dominating Marvin Eastman.
In January of 2004 it was time for these two to meet again inside the octagon, but this time Randy's UFC Light-Heavyweight Championship would be on the line. Unfortunately merely seconds into the rematch the seam from Belfort's glove cut Couture's eye which forced the doctors to stop the fight and leave the world with millions on unanswered questions.
Seven months later it was time for the rubber match, both men had left with the upset victory over the other and now it was time for the score to be settled. On that night Couture bettered Belfort for fifteen minutes before the fight was ended by doctor stoppage due to an injury sustained by the Brazilian Jiu-Jitsu black belt.
6. Tim Sylvia vs. Andrei Arlovski
In 2004 the UFC heavyweight champion Frank Mir was involved in a tragic motorcycle accident which caused a break in the champion's femur and tore all the ligaments in his knee and needed major surgery.
It was unknown if the talented 25-year-old Heavyweight standout would ever return to action so the UFC created an Interim Heavyweight Championship for the two top contenders to battle it out for in Mir's absence, those two men were Tim Sylvia and Andrei Arlovski.
At this stage in his career Tim Sylvia was sporting an impressive 17-1 record with victories over Ricco Rodriguez, Wes Sims and Ben Rothwell. His opponent held a 7–3 record and was looking dominant on a three fight win streak.
The first encounter saw Arlovski submitting Sylvia with an achille's lock merely 47 seconds into the very first round to be crowned the Interim UFC Heavyweight Champion.
Arlovski would go on to defend the Championship twice against Justin Eilers and Paul Buentello. Once it was official that Frank Mir was unable to compete against Arlovksi in their rumored October clash he was stripped of the title and Andrei Arlovski was named the Undispuited UFC Heavyweight Champion of the world.
While Arlovski defended his Championship Tim Sylvia remained active going 3-0 and earning himself a rematch with the kingpin of the Heavyweight Division; Andrei Arlovski. The second time around it was Sylvia who stopped Andrei by TKO stoppage a little over two minutes into the very first round but there were still lingering questions about who was the superior Heavyweight since Arlovski controlled the fight before being caught by big Tim Sylvia.
With each man earning a victory over the other it only made sense that the rubber match would be coming. However I don't think anyone saw it happening this quickly as eighty four days later these two top Heavyweights were ready to battle it out one more time.
This time around neither man was able to finsh the other and went the distance in a twenty-five minute UFC Heavyweight Championship match that will remain in the memory of fight fans for some time to come. In the end it was Tim Sylvia who left with a Unanimous Decision victory and was the Undispuited Heavyweight Champion of the world.
5. Shinya Aoki vs. Jaochim Hansen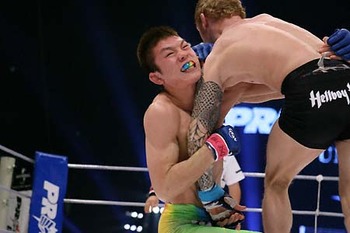 In 2006 consensus top three Lightweight in the world at this point and time Shinya Aoki challenged then undefeated prospect Gilbert Melendez to face him at PrideFC's year end Shockwave 2006 event, for unknown reasons Melendez declined the fight with Shinya Aoki to face Tatsuya Kawajiri.
Instead of getting the fight he wanted Aoki got matched up against at that point unproven Norwegian kick-boxer Joachim "Hellboy" Hansen. At this stage in his career Shinya Aoki was sporting a 10–2 record with victories over the likes of George Sotiropoulos and Seichi Ikemoto and was considered to be one of the top Brazillian Jiu-Jitsu practitioners in the world.
Joachim Hansen on the other hand held a 14–4–1 record with victories over Takanori Gomi and Caol Uno. Hansen had yet to prove that he could hang on the ground with a fighter with an elite ground game and he had his chance to show what he had against Shinya Aoki.
Unfortunately for Hansen Shinya Aoki had very little trouble submitting him two minutes into the bout with a Gogoplata.
The two would not meet again until the finals of DREAM's Lightweight Grand Prix 2009. Under tournament rules both men fought twice in the one night, Aoki fought fifteen minutes with Caol Uno to leave with a unanimous decision while Hansen made quick work of Kultar Gill.
A much fresher Joachim Hansen knocked out the Brazillian Jiu-Jitsu black belt at the four minutes and nineteen second mark of the very first round to be crowned DREAM's first ever Lightweight Champion.
Aoki would win four of his next five bouts to earn himself a shot at Hansen's Lightweight Championship defeating the likes of Vitor Ribiero and Eddie Alvarez. During this period of time Joachim Hansen was inactive and in his return bout he has to face the man he beat to capture the Championship.
The rubber match answered a lot more questions that the first two bouts did but still left a few lingering ones, Joachim Hansen was winning most of the fight in my opinion and was expected to pick up a Decision victory to retain his Championship but with four seconds remaining Aoki slapped on an armbar to steal the victory and the Championship away from "Hellboy".
4. George St-Pierre vs. Matt Hughes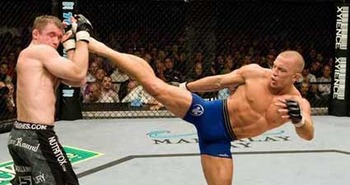 It wasn't that long ago that Matt Hughes was unquestionably the best Welterweight the world had to offer. Hughes had a very impressive 36–4 record and had beaten some of the best the world had to offer including BJ Penn, Sean Sherk, Hayato Sakurai, Carlos Newton, and Frank Trigg just to name a few.
George St-Pierre on the other hand was this undefeated Canadian who was really yet to be tested, he had a 7-0 record and a victory over Karo Parisyan to his name but St-Pierre wasn't the accomplished Mixed Martial Artists that you see today.
Following contractual disputes between the UFC and then UFC Welterweight Champion BJ Penn he left the company to compete in Japan and Hawaii so the UFC vacated the UFC Welterweight Championship and put it up for grabs in the UFC 50 clash between George St-Pierre and Matt Hughes.
The young St-Pierre was controlled by a much larger, more experienced Mixed Martial Artist in Matt Hughes before Hughes submitted him with an arm bar with one second remaining on the clock of the first round.
Matt Hughes would continue his reign of terror of the UFC Welterweight Division defeating Frank Trigg, Joe Riggs, Royce Gracie and the returning BJ Penn and was seemingly unstoppable at this point in his career.
George St-Pierre went on a win-streak of his own defeating five game challengers the likes of BJ Penn, Frank Trigg and Sean Sherk to be named the number one contender for Matt Hughes' Welterweight Championship.
This time around it would be George St-Pierre who defeated Matt Hughes a little over a minute into the very first round via TKO stoppage. This was seen as a huge upset for the time due to Hughes' dominance over the Welterweight Division for years.
Hughes would bounce back from his defeat to the young Canadian with a victory over Chris Lytle, George St-Pierre would not have the same luck as he was knocked out in what many believe is the biggest upset in Mixed Martial Arts history by Matt Serra to lose his Welterweight Championship in his very first defense.
Matt Hughes and Matt Serra were coaches on Season Six of The Ultimate Fighter and were expected to fight at UFC 79 for Serra's Welterweight strap however Matt Serra sustained an injury training for the bout and was unable to defend his Championship against Hughes.
George St-Pierre would step up on three weeks notice for the rubber match to determine the Interim UFC Welterweight Champion with the winner facing Matt Serra once he recovered. St-Pierre once again bettered the NCAA Division I wrestler before submitting him with seconds remaining in the second round.
3. Antonio Rodrigo Nogueira vs. Fedor Emelianenko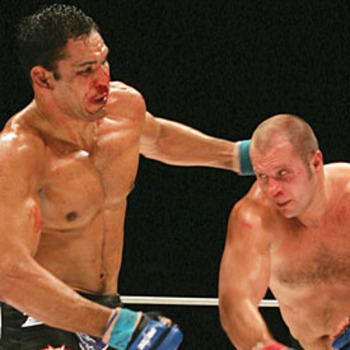 In 2003 there was no question who the top two heavyweight fighters in the world were; one was the Pride FC Heavyweight Champion, his name was Antonio Rodrigo "Minotauro" Nogueira. At this point in his career Nogueira was 19–1–1 with victories over Dan Henderson, Heath Herring and Mark Coleman.
The challenger was a seemingly unstoppable Russian by the name of Fedor Emelianenko. Emelianenko held a 13–1 record at this stage with victories over Ricardo Arona, Renato Sobral, and Heath Herring.
Most of the Mixed Martial Arts community believed that Antonio Nogueira had the clean edge with his Brazillian Jiu-Jitsu which would be the key to him retaining his Heavyweight gold. However Emelianenko took it to the large Brazillian for 15 minutes to be crowned the Pride FC Heavyweight Champion.
These two would meet again in the finals of the 2004 Pride FC Heavyweight Grand Prix. This bout unfortunately would end in a no contest merely minutes into the epic encounter once Nogueira hit Emelianenko with an accidental headbutt and Fedor wasn't able to continue the fight.
For obvious reasons the rubber match was set up four months later at Pride FC's year end Shockwave 2004 Event for Emelianenko's Heavyweight Championship.
Like the first encounted both men were unable to finish the other and after fifteen minutes the fight was once again left to the judges score cards who gave the victory to "The Last Emperor" after he controlled a majority of the fight but was unable to put the warrior Nogueira down.
2. Wanderlei Silva vs. Quinton Jackson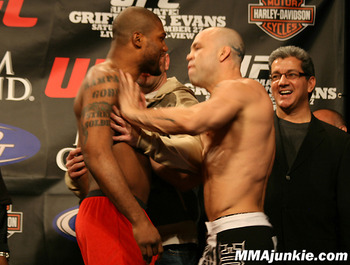 A war of words had began between these two 205 pound juggernauts before they ever faced off against one another, Jackson began insulting then Pride FC Middleweight Champion Wanderlei Silva in pre-fight interviews immediately following his first victory in Pride over Yuki Ishikawa.
Wanderlei Silva at this stage was on the role of his career with a 24–3–1-1NC record and victories over some of the biggest names the sport has to offer the Brazilian was one of the most feared strikers in the game.
Quinton Jackson was not intimidated by the fierce striker and worked his way up the ranks compiling a 19–3 record with victories over Chuck Liddell, Kevin Randleman, and Igor Vovchanchyn before facing Silva in the Final of the Pride FC Middleweight Grand Prix.
A much fresher Quinton Jackson entered with a vengeance but a little over six minutes into the very first round Jackson got caught with a series of knees from a thai-clinch.
Following back-to-back victories over Ikuhisa Minowa and Ricardo Arona Jackson earned himself another shot at Wanderlei's Pride Middleweight Championship.
This time around Jackson would suffer a much worse fate when he was knocked out after Silva landed approximately 5 knee strikes to Jackson's head, causing him to fall into the ropes, unconscious and with blood pouring out of his face.
The war of words between these two men continued in various interviews for years and the animosity was obvious, fight fans around the world begged for the third fight.
Four years later both men are a part of the Ultimate Fighting Championships promotion and the time was right for the score to be settled and these two to battle it out one more time on UFC's biggest card of 2008.
Unlike the last two encounters this time it was Jackson's night to shine, "Rampage" stopped all the talking and closed the trilogy with one punch a little past the three minute mark of the first round.
1. Randy Couture vs. Chuck Liddell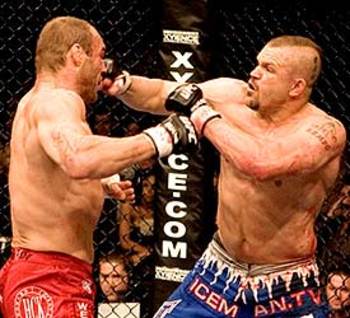 When the history books are closed on this great sport two names that will always be remembered are Chuck Liddell and Randy Couture.
Randy Couture was a former UFC Heavyweight Champion and following back-to-back losses to Ricco Rodriguez and Josh Barnett many believed he was over the hill and should hang up his gloves. "The Natural" thought differently though and decided to drop down in weight to 205 pounds and try his luck in the Light-Heavyweight division.
At that point Tito Ortiz was the UFC Light-Heavyweight Champion and training partner of Chuck Liddell. Ortiz stated that they were close friends and their friendship wasn't worth risking for a big money pay day but after Liddell pressured for a shot at Ortiz's 205 pound Championship and Tito got into a contractual dispute throwing every excuse in the book not to face Liddell the UFC created an Interim UFC Light-Heavyweight Championship to be contested in a bout between Chuck Liddell and Randy Couture.
The first encounter between Randy Couture and Chuck Liddell was highly competitive clash which went into the third round with the bigger Couture controlling Liddell before handing Liddell his first ever TKO defeat and becoming the first man to hold gold at both Light-Heavyweight and Heavyweight.
Randy Couture would continue on to defeat Tito Ortiz to unify the UFC Light-Heavyweight Championships before losing the title to Vitor Belfort and re-capturing it merely months later in their theird encounter.
Chuck Liddell on the other hand didn't compete in the UFC for almost a year following his loss to Randy Couture as he went over to Japan to represent the UFC in the Pride FC Middleweight Grand Prix 2003 defeating Alistair Overeem before being stopped by Quinton Jackson in the Semi-Finals.
Upon his return to the UFC Liddell defeated Tito Ortiz and Vernon White to earn himself a rematch against Randy Couture for his newly won UFC Light-Heavyweight Championsip.
The UFC set up this fight by having each man participate as coaches on the first season of The Ultimate Fighter. In the end Team Liddell was the more successful team and that luck translated well when Chuck Liddell stopped Randy Couture via TKO to capture the Light-Heavyweight Championship for the very first time.
Ten months later each man had another victory to his record and the UFC decided it was time for the rubber match. On that night Liddell once again showed off his dominance knocking out the fourty-three year old in the very first round.
Keep Reading