The Top 23 To Wear Michael Jordan's #23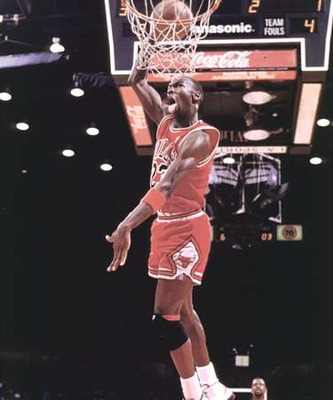 This past season, LeBron James announced that he would be giving up his number 23 in tribute to Michael Jordan. He did this in hopes that no other player would wear it and that the league would retire the number in all venues.
While it is still up in the air whether or not David Stern will have all arenas not in Miami or Chicago retire his number, it can be known that there were more than just two guys numbered 23 that could play some ball.
Here are the top 23 players who wore #23.
23. Gary Grant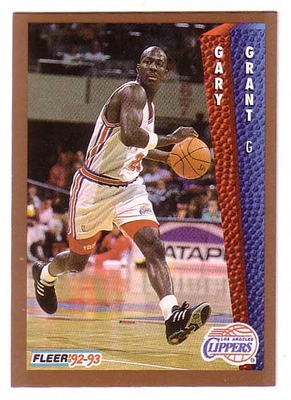 Nicknamed The General, Grant spent thirteen seasons in the league. He was considered a non factor for the most part in his career.
He did establish All-Star worthy numbers in his second campaign by putting up 13 points, 10 rebounds and 4.4 rebounds per game. He would see his numbers diminish due to an overloaded back-court named Mark Jackson. Still, he was solid enough for the last spot on our list over Terry Catledge.
22. Joe Bryant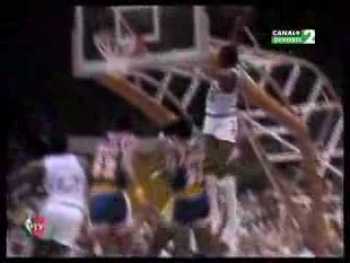 The father of Kobe Bryant, Joe could do more than produce title winning children. He had a respectable jumper and could take it to the rack if given the chance (watch this dunk over Kareem on video if you get the chance).
Bryant had stints with the 76ers, Clippers and one year to finish it off with the Rockets in the NBA.
21. J.R. Smith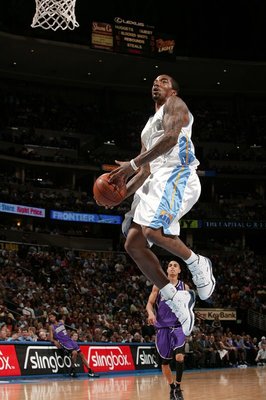 The long range threat that goes by the name J.R. Smith has improved his scoring this year to his highest total to date (15.4). Points would not be what makes him stick on this list though, it is his decent field goal percentage he has shot since he moved to the Rockies.
He wore #23 while playing for the New Orleans Hornets for two seasons. Remember, he is only 24 and continues to improve. We can only hope his mental can keep up with his physical development.
20. Roy Hinson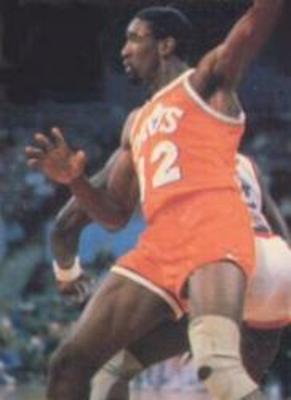 Hinson, is an overlooked player in that he left the NBA at the ripe age of 29 after being productive. I found it curious that he was the star Nets player in my NBA All-Star Challenge Game Boy game at the time (1990).
Funny enough, he was a pretty solid player. He wore #23 with the 76ers and Nets as he had a career high 19.6 points per game in his third year with Cleveland. The injury bug was a problem of his, but when healthy, he was a solid contributor.
19. Kevin Martin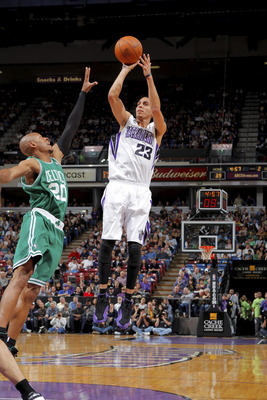 Kevin Martin is still in his formative years in the league, but he has been able to put the ball in the hole quite successfully. Martin is still looking to get more Playoff experience than his lone trip in the 2005-06 season.
In 2008-09 he averaged 24.6 Points Per Game illustrating his scoring portfolio. Now with the Rockets, the former 26th overall pick of the 2004 draft will try to bring hope to the lone star state.
18. Jason Richardson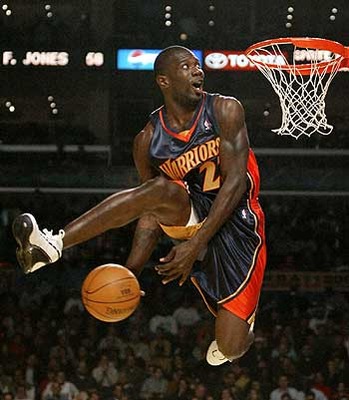 A man with plenty of hops, it was no surprise Richardson has won the NBA's Slam Dunk title. The former Spartan was an All-NBA Rookie First team and has been solid at all three of his stops in the league.
His career average of 18.3 Points Per Game puts him 96th All-Time currently. One cannot forget the clutch shots he hit in helping Golden State upset Dallas in the first round of the 2007 NBA Playoffs. He's worn #23 his entire career.
17. Cedric Ceballos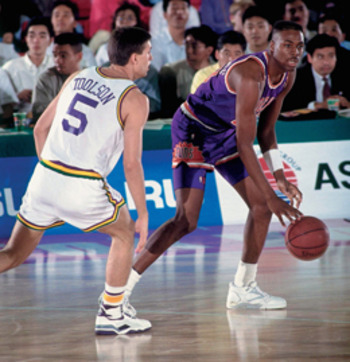 Another former Slam Dunk Champion, Ceballos was an All-Star during his stint with the Los Angeles Lakers. Ice was his established nickname, but his game was solidified in the heat of Phoenix and L.A.
He wore #23 on all five of his stops in the league. Ceballos now does the pump up of the crowd at Suns games a la Nick Anderson.
16. Truck Robinson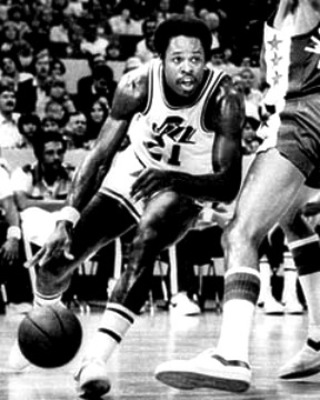 Leonard or "Truck" as they called him was a spark while playing for the Bullets, Jazz and Suns. His 1977-78 season earned him All-NBA first team and this is overlooked by most including me.
I never had a clue Robinson made an All-NBA team but lets look at his stats for that season: 22.7 PPG, 15.7 RPG and a league leading 44.4 minutes per game. Pretty much just busting his ass every minute of every game that season.
That season alone almost makes me want to rank him higher, but with tough competition otherwise he makes a mean #16 pick. He was #23 while on the Knicks.
15. Wayman Tisdale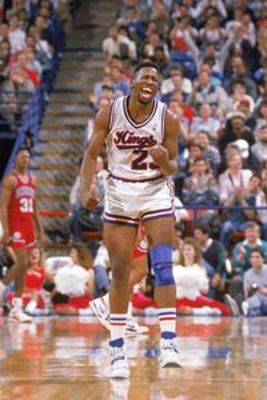 The late Tisdale was more than just a great Jazz player. He had the smooth jazz jumper of a career 50 percent shooter.
The former second overall pick out of Oklahoma, Tisdale was the one bright spot on the Kings before Mitch Richmond showed up. He was consistent and would produce dependent upon the minutes he was given. He wore #23 with the Kings, Suns and Pacers.
14. Michael Adams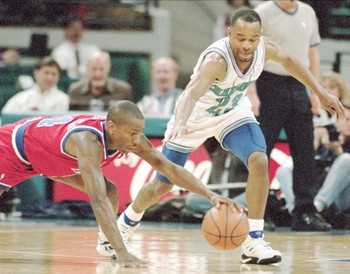 Michael was a small man at 5'10'' and 162 pounds but he held up. Adams only wore #23 with the Charlotte Hornets and those were far from stellar seasons in his career.
He started his career slow, but once he moved to Denver the sky opened up for him. He was elected to the 1992 All-Star Game with Denver, where the year prior Adams put up: 26.5 PPG, 10.5 APG and 4 RPG. He was always great at forcing turnovers as is shown by this photo.
13. Jeff Mullins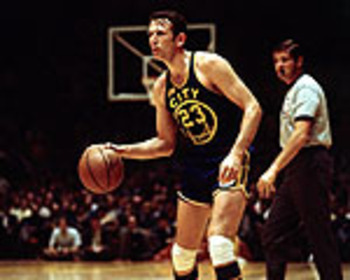 Jeff Mullins, not Chris Mullins, was a power for the Warriors of the 70's. He made three straight All-Star appearances from 1969-71 and was a member of the 1975 champion team.
The late 60's and early 70's were his productive years, with a four year period where he averaged over twenty points per game. He ended up averaging 16.2 Points Per Game over his career.
12. Frank Ramsey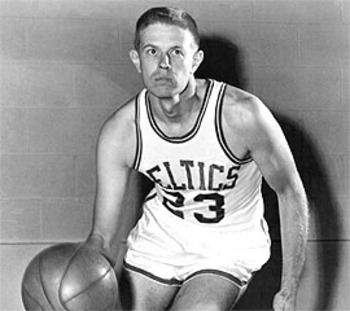 A little known fact is that Frank Ramsey was elected into the Hall of Fame in 1982. He always scored in the teens which is all he needed to do on a team which featured: Bob Cousy, John Havlicek, Bill Russell, K.C. Jones, Sam Jones, Tommy Heinsohn and Tom Sanders.
He did his part in winning and that is enough to justify his position assuming he would score much more on a lesser team.
11. Steve Jones
Steve "Snapper" Jones was a stud during his days in the ABA. He made three straight ABA All-Star games from 1970-72. More recently, he has been known from his days of telecasting for the NBA on NBC.
But, when he was in the ABA he was a productive man. He only spent one year in the NBA and it was a subdued season of 6.5 Points Per Game with the Blazers. ABA should encompass any description of Jones.
10. Norm Van Lier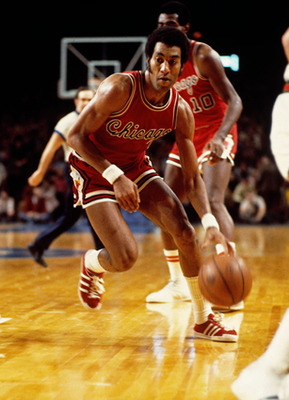 Statistics could not fully take in the impact of Van Lier. Before Michael Jordan or Reggie Theus, Norm was the strong play making Bulls player.
He was key in getting them to the Conference Finals and taking on players such as Oscar Robertson. His career averages of 11.8 PPG, 7 APG and 4.8 RPG aren't pedestrian either in evaluating someone named Norm.
9. Maurice Lucas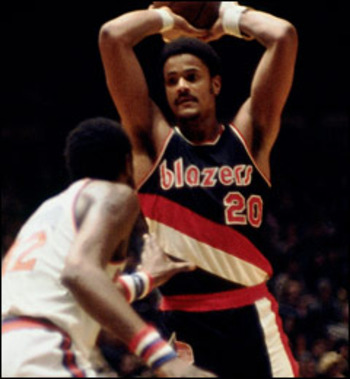 A great defensive player he was All-NBA defense twice and was a force on the boards averaging 10.8 per game through his NBA/(ABA Two Years) career.
He helped Bill Walton and Jack Ramsay win the Blazers lone title in his first season with Portland. He had a 14 year career overall. Lucas wore #23 while playing with the New York Knicks.
8. Ron Artest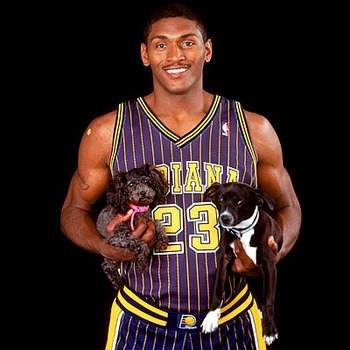 This picture might best display the person or persons that is Ron Artest. Just coming off a title and a shout out to his therapist, he still played decent this year.
He has been good his whole career, which is why his Defensive Player of the Year has to be factored into any list you make in ranking players. Defense wins championships and Ron can finally say that. As for the puppies; It must have been an Indy thing going on for Ron.
7. Marcus Camby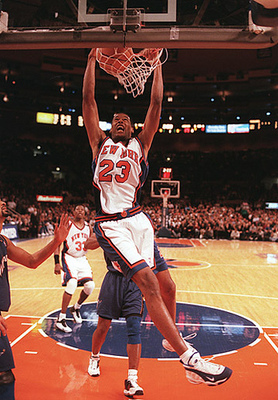 The 2006-07 Defensive Player of the Year, is a block magnet and rebound hunter. He might be the most underrated player of this generation. I say this in terms of what he does for his team is similar to what was asked of Bill Russell during his time.
With less offense than Russell, he has still played in a similar manner to his team's needs like Russell has. He is not Bill Russell, let me state that, but no All-Star appearances makes the games a joke without giving him one.
He showed up in the 1999 Playoffs with the injured Patrick Ewing out and still plays at high level today with the Trailblazers. He's wore #23 with the Knicks, Nuggets and Clippers.
6. Mark Aguirre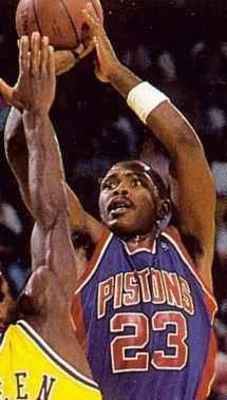 The 1st overall pick of the 1981 draft, Aguirre had 13 productive years. A member of Detroit's back-to-back championships, he hit tough, important shots like Vinnie Johnson in helping Detroit clinch the titles.
In '83-'84 he finished second only to Adrian Dantley for the scoring title and would continue to produce the whole time he was in Dallas making the All-Star team three times. He only wore #23 in Detroit. (He also had some funky haircuts with the Clippers if you can see video or pics.)
5. Calvin Murphy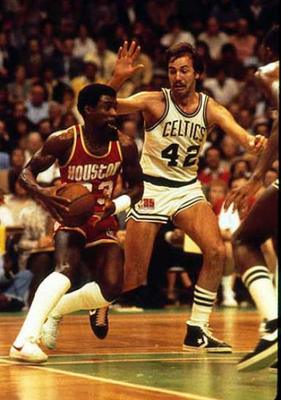 The 5-9" guard from Niagara University was small, but played large. His 5-9" frame held up in the rigors of the league as he would get his justified All-Star appearance in 1979.
Overlooked by many, Murphy actually averaged over 7 assists per game for two seasons within his scoring outbursts. He shot 48 percent for his career including 52 percent in his fourth year. Small, quick and agile he made on the move hits worthy of notoriety. He played his whole career with the Rockets.
4. Alex English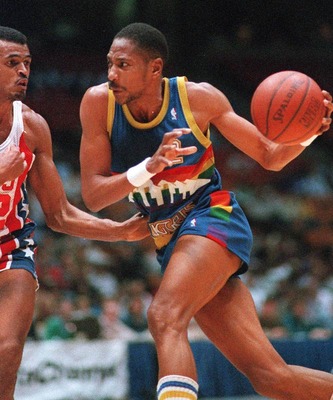 A member of Doug Moe's scoring machine (English, Kiki Vandeweghe, Dan Issel), he helped put together a massive scoring machine that was hard to stop.
He was consistent throughout his career in putting the ball in the basket and helped the Nuggets stay within the top three teams in scoring every year. "The Blade" sliced defenses to eight straight All-Star Games. He wore #23 with the Milwaukee Bucks in 1977.
3. Mitch Richmond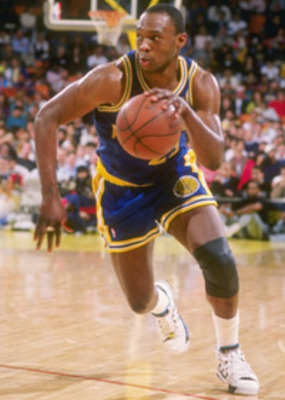 Part of the Run T-M-C, Richmond was an All Decade caliber player in the 1990's. He could score and after Dominique Wilkins was subdued, he was the closest rival Michael Jordan had in winning scoring titles, minus Karl Malone.
He would win a celebratory title with the Lakers to end his career, but that downplays the quality of player Richmond was in Sacramento. Just as male pattern baldness was beginning to hit him, his ability to hit a jumper grew. Watch old flicks of Richmond in Sacramento and you'll be privy to what Richmond was as a player.
2. LeBron James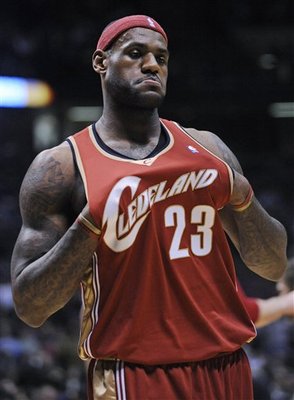 Proudly displaying his number 23 in this photo, he is the player on the fastest rise towards greatness right now (Sorry Kevin Durant).
LeBron with a true number two will have titles and it is as simple as that. Even without titles, he is still one hell of a player. All take him any day of the week for a pickup game.
He as reported before will be giving up his number 23 this offseason as he prepares to play for the Memphis Grizzlies. Yeah, like that's going to happen.
1. Michael Jordan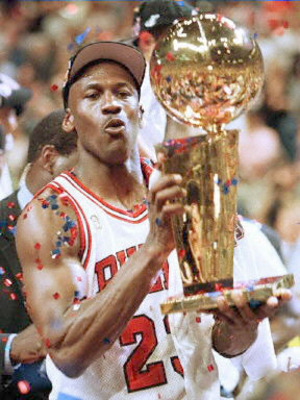 What else needs to be said about his airness? Other than I found out that he is a big root beer man. BIG TIME. Found this out through word of mouth that he is fascinated/obsessed by root beer as has been posted in his tweets. Anyways, off tangents, Jordan is number one because he is the reason for the list. Enough said.
Keep Reading