AFC North Depth Charts and Evaluation: Pittsburgh Steelers Defense Pt. 2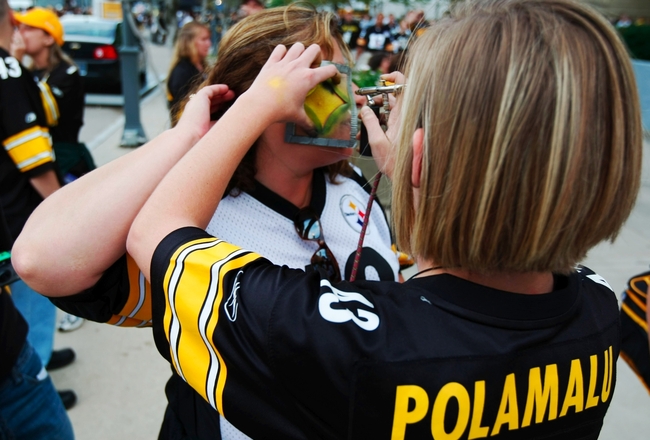 Here is the link to Part 1: Offense
http://bleacherreport.com/articles/403436-afc-north-depth-charts-and-evaluation-pittsburgh-steelers-pt-1-offense
The Steelers' defense was less than stellar last year in the fourth quarter but people seem to have forgotten the fact they were still fifth overall.
Here are the players who earned that fifth ranked defense.
Defensive Line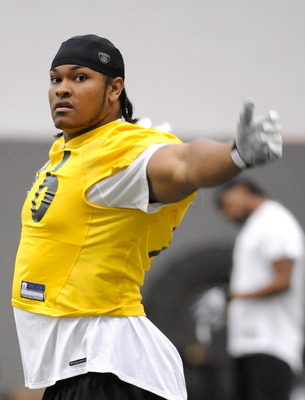 Let's start with the starters, shall we?
First of all, there is Aaron Smith who made his presence felt by NOT playing. Many people did not realize just how important the run-stopper is to the team, but He is a big reason the Steelers are top three every year. He is a very unselfish player and one can say he'd average more than ten sacks per year if he didn't try to help out his teammates more, sacrificing personal stats by taking away blockers.
Next up is Brett Keisel. People forget just how great Keisel is. He is a very large, powerful man who is a very quick specimen. He is MUCH faster than people realize and he is among my favorites. One could pick him over a large majority of DE's out there. He is great for the pass-rush, but like Smith, is unselfish and will take up blocker which will help the linebackers get 30+ sacks per year.
As far as the starters go, Casey Hampton may be one of the best at his position. A huge player at about 340 (If I am not mistaken), he instantly commands a double or triple team. That surely helped Lawrence Timmons to the seven sacks he had last year. Casey Hampton is among the best Nose Tackles in the NFL and has he played for a team like the Vikings, he could have been more appreciated. Pat Williams gets a lot of credit, but I think that Hampton is actually a better player and would have done very well as a 4-3 Defensive Tackle.
Of course, the big knock against the starters is their age. All of which are above31 (Keisel Turns 32 in September).
As for their future replacements...there is Ziggy Hood to begin with. He was among the best and highest thought of Defensive Tackles in the 2009 draft. His only problems were his instincts toward getting to the ball, but he showed great skill through the season. He played well in his limited snaps, which were increased with Aaron Smith's injury. It has also been published on a number of sites that he has actually been playing very well so far in the mini-camps and is becoming a competitor to take Brett Keisel's starting position at Right End.
After that, there are very few options for the Steelers. There is Ra'Shon Harris who was a rookie las year, but he hasn't shown all that much promise. Nick Eason played well when he was playing, but he doesn't have much of a future with the Steelers.
I say that the regular starting lineup remains with Ziggy Hood playing as the reliever for them. They are getting older so he will probably play a lot of third downs across the line.
Linebackers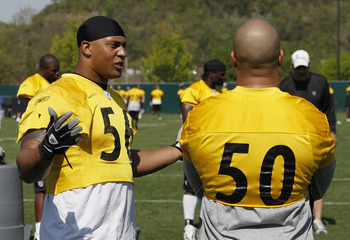 This has always been the Steelers position of strength. There is no arguing it. They do linebackers like Petty does cars. This is evidenced by them taking three linebackers in the draft.
The Steelers linebackers were by far, the best in the NFL last year. They may not have gotten a bunch of touchdowns or anything, but they did more than a lot of people think.
Let's begin with the best player amongst the group, LaMarr Woodley. He is universally regarded as one of the top three outside linebackers in the NFL. His pass rush skills are second to none and quite frankly, there is no one who does it better at his position. He is the best Left Outside Line Backer that there is truly no competition. He comes to work every day and completely dominates everyone. I remember seeing some plays where he would have to go through three guys to get a sack....and he did.
Also, many people forget just how much more difficult it is to get a sack from the left side. The Right Outside Linebackers get a ton of sacks for one reason. They are coming from the Quarterback's blindside. That means he can not SEE them coming. Coming from where Woodley plays, it is pretty safe to say they are looking directly at him. If he played Right outside, he would be thought of as the best in the NFL. He is a great cover linebacker and plays with great tenacity. I am a huge fan of LaMarr's, as evidenced by my rather lengthy talk about his position. He is the best bull-rushing Linebacker around.
But...that is not to say that James Harrison is good in his own right. He led the league in forced fumbles two years ago and was very close to leading the league in sacks as well. he more than earned that Defensive Player of the Year win. He didn't have the best season following that, but when you have a large production drop to 10 sacks and four forced fumbles...you know you have a great player on your hands. He is great rushing the passer and is, like almost everyone on the roster, good at zone defense.
Now to the middle linebackers.
James Farrior has been one of the most consistent and long- running players on the Steelers defense. His problem, however, is that he is getting very old for his position. He has clearly lost a step and is beginning into the twilight of his career. He is making a great mentor for the other players, but he is not among the best linebackers around nowadays.
.After him there is Lawrence Timmons. Along with a number of other people, there is a ton of potential in this kid. He is very fast and powerful. A physical freak, he can outrun many running backs and has great acceleration. He also has very good hops which help him in his pass defense. Tomlin is a man who likes to get smaller, faster Inside Linebackers who are good against the pass. It's a good move since the league is almost becoming a complete passing clinic.
The only knocks Timmons has on him are his instincts toward finding the ball carrier. Nothing else. He loves to hit hard, and if he could just do better locating the ball-carrier he'll do great. He also gets plenty of sacks, with seven last season.
I did not go into great detail with the rookie linebackers drafted, but I will talk about the main two. They drafted two outside linebackers. Jason Worilds and Thaddeus Gibson.
Both are very good pass-rushers who are converting from Defensive End to Linebacker this season. I personally like Gibson more due to his size and skill against the run though. They need to develop against the pass, but other than that...they are solid players.
Cornerbacks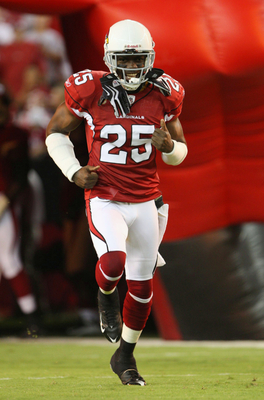 For most of Steeler Nation, the cornerback position became the greatest spot of concern last year. The main weakness was DeShea Townsend's age and William Gay's...ability to cover anything.
Seriously William Gay could cover someone in a 4x5 box. He was constantly abused last year by almost every single receiver he had to go against. I really don't feel I need to go into too much detail about him, knowing my fellow Steeler fans' thoughts toward him. He was not good in man coverage. He was ok in zone and as a nickel corner, but outside of that, he did almost nothing to help the team.
DeShea Townsend was a very good cornerback for many years with the Steelers. He is good in man coverage and a very nice zone player. His problem, however, was his age. He is 34, if I am not mistaken, and that is very old for a position that requires a lot of raw athleticism. He is good, but would be best served as a backup in case of injury.
Now to the starters...
Ike Taylor. That name is synonymous with a lot of heartache across Steeler nation. I honestly think it was more of a problem in the safety work that hurt the cornerback production. Known very well for his excellent hands (the most powerful of sarcastic statements), Stone Hands Ike is actually among the best in the league. He isn't Nmamdi Asomugha, but he is a fantastic man player. He does a very good job knocking the ball away. He can't catch, but I can forgive that as long as his man doesn't catch either. I am a big fan of Taylor's. His only problem is his age, which is a recurring theme amongst the Steelers defense. He is pushing 30, but is still a very fit and fast player. I expect him to rebound nicely this year.
Lastly, we have the man in the picture, Bryant McFadden. He helped lead the Steelers to a 12-4 record and an eventual Super Bowl victory over the team he left for. His contract was up, and no one was able to reach an agreement. He moved on to the Cardinals where he played well quietly almost the entire season.
The Steelers realized they needed a new cornerback and instead of drafting one, they went with the smart move and traded for McFadden. Now, the Steelers have realigned a secondary that won a Super Bowl and I expect plenty more from this group coming into the 2010 season.
Safeties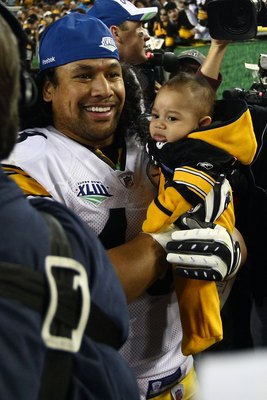 During the off-season, a number of people had wanted the Steelers to draft a good FS to replace Ryan Clark. They probably should have considering Clark's age, but Clark will still play well for another year or two.
The safety position was clearly a spot of concern last year. Polamalu was hurt for almost the entire season so, of course, one must have a skilled safety behind him, right? Wrong.
Tyron Carter became the weak spot for the defense on almost EVERY play excluding one interception return for a touchdown against the Broncos. He was always taken advantage of by the faster players and really was not that good in the box. His coverage was mediocre at best and he didn't do much as far as tackling. Luckily, the Steelers brought in Will Allen, a Free Safety to do the backup job for both positions.
As for the starters, though...
Ryan Clark is a very well known big hitter and is often thought of as one of the dirtier players in the game due to his habit of crushing people mid-air. You can just ask Wes Welker about that one. He is good in coverage and had three interceptions on the year. He is among the best safeties in the game on run support, which helps his value greatly. He should start and deserves to start another year or to.
As for the man lining up next to him, Troy Polamalu has become a consensus best in the game player. He is talked about almost across the board as the best safety in today's game and is among the greatest of all time. He had great hands, is a perfect player in zone coverage, and has fantastic instincts, knowing where the ball is at all times. He, too, is one of the best safeties in run support and is a sure tackler. There is not enough to say about how important Troy is to the Pittsburgh Steelers defense.
I say Clark starts, Polamalu starts, and Will Allen gets backup duty in the event of an injury.
Kick/Punt Returner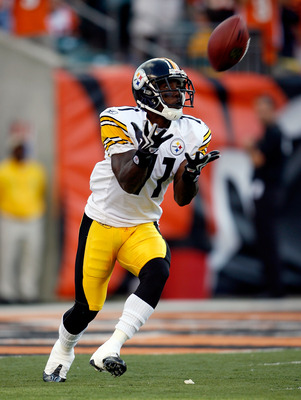 Stefan Logan, Antwaan Randle El, and Emmanuel Sanders. Those are the names most people are hearing competing for the kick return starting job.
Stefan Logan did a great job last year and had he been given better blocking, he could have had at least one touchdown. He may be small, but he is VERY fast. He reminds me a lot of Darren Sproles. Great quickness, enough power to get through some weaker tackles, and of course....blazing speed.
Randle El was a very good play on punt returns in his heyday, but I just do not see it anymore. He isn't as strong, quick, or fast.....all of these are things NEEDED to succeed as a return man. He should not be the one.
Emmanuel Sanders is coming into the NFL this year a later round draft pick out of SMU. He caught more than 90 balls last year on a bad team. He is a lot like a Wes Welker of sorts in that he has great hands, great speed, is nice after the catch, and can be trusted to make that tough short yardage catch in traffic. Those things should help him in trying to be a return man. He is fast, isn't afraid of contact, and is just an overall nice return man.
He should do punt returns while Stefan Logan handles the kick returns.
Also, I must say that I would love to have Joe Burnett handling kick and punt returns, but I just don't think the Steelers will allow it. He did have five special teams scores in his short career so I think he would still excel in the NFL. I love Logan, but between the two, it's a tough choice.
Punter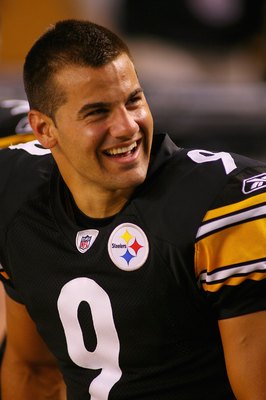 Daniel Sepulveda. One of the best punters in the NFL. One could look at his many accomplishments, such as being an All-American as a reason for it. He earned such accolades for a number of reasons.
1. His tackling. I am going to be straight-forward...tackling is important in special teams, no matter what position you play. See the next slide for more talk about the importance of it.
2. His powerful leg. This past season, he was second only to the best punter in the league in yards per punt for much of the season. The reason being the fact that the Steelers would occasionally stall out early so he had plenty of yards to work with. He dropped off because of another problem the Steelers had.
3. He is amazing punting it into the top 20 yard mark. He was among the league-leaders in punts at the 20. This is obviously very important due to field position. The more yards they have to go to get points...the more yards your defense has to stop them. His per punt average was hurt due to the Steelers stalling mid-field...but that also helps his In the 20 stats, so hey...good with the bad.
I fully expect him to be among the top punters again this year. He may not have been worth the Fourth round pick yet, but I see him earning it soon.
Kick Off Specialist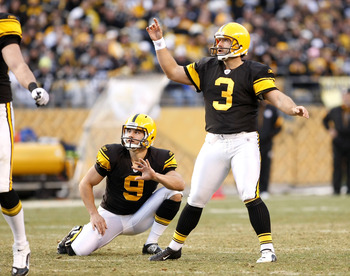 The only argument against him would be that he does not know how to kick off. If someone could only teach Daniel Sepulveda (the aforementioned Punter) to kick off, the Steelers would have won more games.'
The Steelers lost at least two games because Jeff Reed is not at all an active tackler. They lost the Bengals game. They lost the Browns game. Those two would have put them into the playoffs and the world would be a better place.
The reason Sepulveda is great is that he is not afraid to try and lay someone out. He did back in his days at Baylor. I will leave some video at the bottom of the slide.
It's not just abotu the fact that he would prevent a number of touchdowns. It the fact that he would prevent such great field position. I distinctly remember a kickoff against the Ravens where Chris Carr (I think that was his name) returned it up to around the fifty yard line. One reason was some other blown tackles, but if Daniel was in there, he would not have gotten past the 40.
The Steelers need to teach this kid to do kick-offs and will truly benefit the team in the long run.
That's it for the Steelers...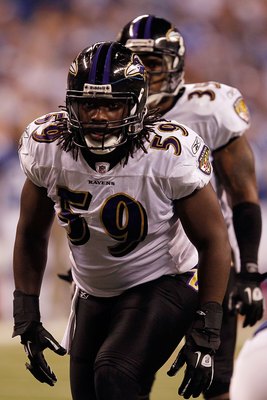 Alright guys. Surely, most of you tuned out once you hit punter, but that's ok. If you made it this far, you get a cookie!
Anyway, I have completed the Steelers' depth charts now. From here, I am looking to take the Ravens' offense up next. Thank you guys for reading. I appreciate it. Feel free to comment.
Keep Reading

Pittsburgh Steelers: Like this team?