Houston Texans: Five Training Camp Position Battles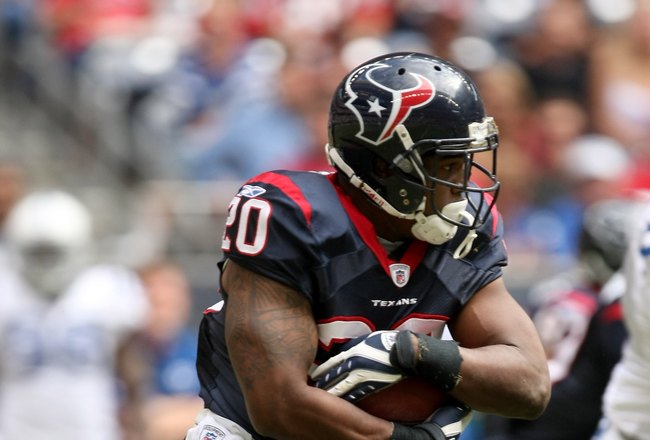 Summer may have just started, but that doesn't mean we can't begin talking about football season.
After all, training camp is just a little over a month away.
The Houston Texans will be working hard to get over the hump and into the playoffs in 2010. Beginning in late July, several key position battles will take place that will, hopefully, solidify areas of concern for the Texans.
Here are the top five position battles heading into Texans' training camp next month.
5. Offensive Guard
When you rank 30th in the NFL in rushing by averaging 92 yards per contest, changes must be made along the offensive line somewhere.
One major problem on the O-line arose when Mike Brisiel lost his starting spot after injuring his foot early last season. Prior to getting injured, Brisiel started every game for the Texans in 2008, and he was the full-time starter in 2009 until he got injured.
Chris White and Antoine Caldwell each started in place of Brisiel last season.
Although White started more games than Caldwell last year, Caldwell, a third-round draft pick in 2009, is currently listed as the starter at this time.
Wade Smith was also signed from the Kansas City Chiefs in the off-season. Smith started nine games at guard for the Chiefs last season.
If Brisiel makes a strong comeback, then he should reclaim his starting spot. This will be a very heated competition in August.
4. Kicker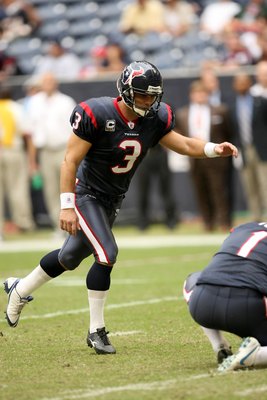 Neil Rackers was acquired in the off-season to challenge for Kris Brown's starting spot.
Rackers had a very successful career in Arizona, and he will provide a great challenge to Brown, who has struggled in late-game situations.
Brown made 21 field goals out of 32 opportunities last year, which gave him a career-low 65.6 percentage. Texans fans will probably never forget the two missed kicks against the Colts and Titans last year.
Although those late-game kicks would have only tied those contests, many people believe that Brown's misses caused the Texans to miss out on the playoffs once again.
Therefore, Neil Rackers is in Houston to challenge Brown. Rackers battled a groin injury late last season, but still converted on 16 of 17 field goal chances in his final season in Arizona.
Rackers was a consistent performer for the Cardinals. He made 40 kicks in 2005 and was named to the Pro Bowl that season as well.
If Rackers gets healthy in time for training camp, he could definitely push Brown out of his starting duties.
3. Left Defensive Tackle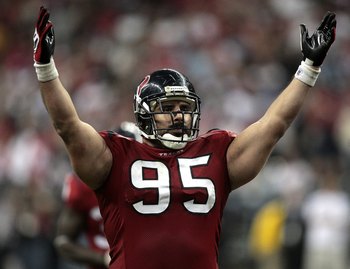 Rookie Earl Mitchell will be looking to displace veteran Shaun Cody from his starting position on the defensive line.
In 13 starts last year, Cody only amassed 21 tackles and 0.5 sacks. Texans fans shouldn't expect much from Cody. Even Lions fans were happy to see him leave Detroit.
Mitchell is a third-round pick out of Arizona, where he totaled 6.5 sacks last season, in addition to 44 tackles. As a former tight end and fullback at Arizona, Mitchell has the athletic ability to contribute immediately for the Texans.
The Texans will certainly need Mitchell to use that athleticism and to grow up quickly if they want a productive player lining up next to Amobi Okoye this season.
2. Left Defensive End
It's no secret that Mario Williams is holding down the fort just fine at right defensive end.
However, questions linger as to who will be starting opposite Williams in 2010. Antonio Smith and Connor Barwin will be fighting for the starting spot in training camp.
Smith started 15 games last year. He totaled 4.5 sacks, 34 tackles, and forced two fumbles in that time.
Barwin may have only started once last season, but he did a terrific job of spelling Smith. Barwin had 4.5 sacks, in addition to four passes defended.
The Texans would be smart to continue the rotation at defensive end with Smith and Barwin. However, they should not be afraid to start giving the young Barwin more starts and playing time. If Smith falters this year, Barwin appears to have all the tools to be a dangerous threat across from Mario Williams.
1. Running Back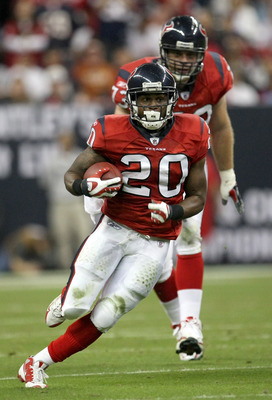 You don't draft players in the second round to make them backups, which is why Ben Tate could displace Steve Slaton and Arian Foster atop the rushing depth chart.
Slaton struggled last year prior to suffering a season-ending neck injury. Slaton rushed for 417 yards and had 417 receiving yards in 10 starts last year.
Foster filled in admirably by gaining 246 yards in the last two games of the season.
Despite the success Foster had last year, the most likely scenario would put him third on the depth chart. Foster and Tate both run with very similar styles, and Tate will probably be favored to get the starting spot over Foster.
The biggest question in the Texans' backfield will be if Slaton can come back healthy and is able to hold onto the ball. Slaton lost five fumbles last year.
If he does make a strong comeback, I expect Slaton and Tate to be the primary ball carriers next season. The Texans should try using these two backs in a similar fashion to how the Saints used Reggie Bush and Deuce McCallister.
Keep Reading

Houston Texans: Like this team?