On the Field with the New York Mets: Interviews before Batting Practice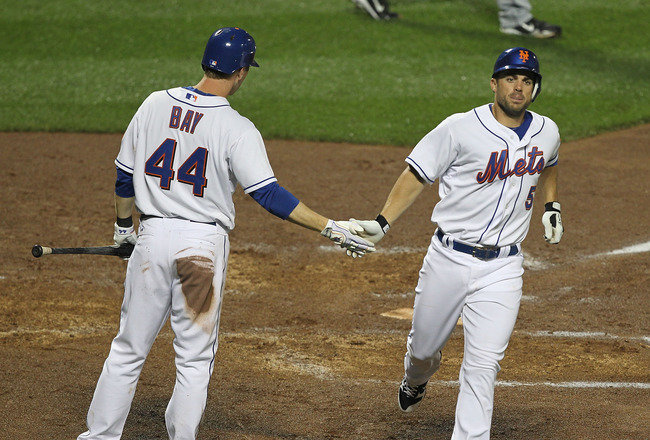 On Tuesday night I was fortunate enough to get the chance to speak with a number of the New York Mets about the 2010 season and their expectations for the second half of the year.
I spoke with Jason Bay about his power outage, Ike Davis about life as a rookie, and David Wright about the "Gaga for Wright" promotion at Citi Field to try and get him to the All-Star game.
You can read about what the players think about the return of Carlos Beltran here, check out the stars' expectations here, or read about what Santana, Wright, Bay, Francoeur, and Co. think about trading for Cliff Lee and Roy Oswalt here
With those links out of the way, here are some other news and notes from batting practice with the Mets.
Swing Away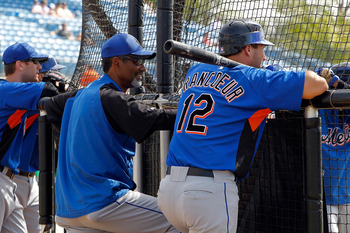 Jeff Francoeur has been up and down in right field all year, although it appears he will still have a job in the outfield when Carlos Beltran returns.
Here's what he said about the problems with his swing and what it is comparable to.
"I think technically I was just in a horrible place and that can happen. I play a lot of golf and I've been there before with my golf swing where it's just so bad. I feel like my baseball swing is where my golf swing was. I made some tweaks for 3.5 weeks there in May, but it's tough. I kinda figured something out to get it going and I just want to continue that and carry it on."
Rocking the Vote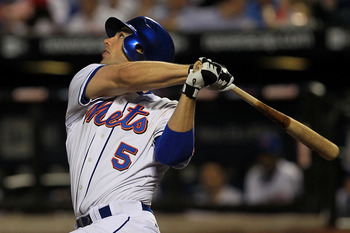 The first 25,000 fans at Citi Field on Wednesday night will be waving giant foam fingers in a PR attempt to drum up support to send David Wright to the 2010 All-Star game.
Here's what the Mets third baseman had to say abpout what it would mean to him.
"I've been very fortunate, very lucky, already to go to four, and each year you want it more and more. This year is really no different. I take a lot of pride with what I do on the field and if you would have told me as a kid that I would be able to go to an All-Star game, much less four or hopefully five, I would have told you that you were crazy. I love the support that I'm getting from the fans and hopefully they can put me over the top."
Ironing Out the Kinks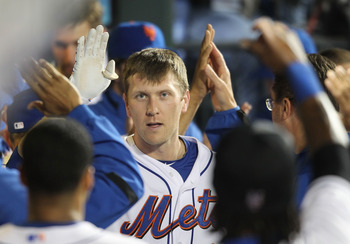 Jason Bay hasn't lived up to the lofty expectations that fans and members of the media placed on him when he came from Boston in the offseason.
His power output is at an all-time low, but he says he's continuing to make changes to improve his production.
"I wish I knew [what the problem is]. I just got off to a slow start. We're working on something every day, and to some extent, still am. I haven't got to that point where you feel comfortable and just go out everyday and you're hitting. You're always working on something and always doing something, but we've been winning so it makes it a little bit easier to go through and figure things out. Hopefully when I get hot it will correspond with some more wins. I've been taking a lot of early batting practice to try and get that feel back. If I go out there trying to hit home runs and trying to do more and trying to make it up, it's going to make it worse. It's a situation where what's done is done for me, but we're nine games over .500. I could be a lot better, no question, but hopefully I get hot and that wins ballgames for us."
Youth Meets Experience: A Win-Win Situation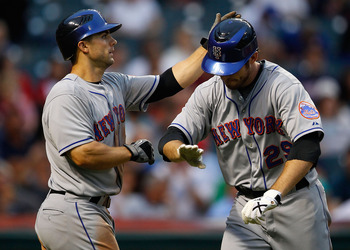 Ike Davis is one of three rookies in New York making waves at Citi Field.
Along with Ruben Tejada and Chris Carter, Davis has been instrumental in the team's early successes, filling in for the injured Daniel Murphy at first base.
Davis, who has played the most out of the three prospects, says the trio have brought a fresh, almost unpredictable, feel to the clubhouse.
"It brings an excitement factor, having the young guys. People don't know what we're going to do. We don't know everything, so we're just trying to survive right now and we've got some good veterans helping us out. It's a good little mix."
Stephen Strasburg... Meet the Mets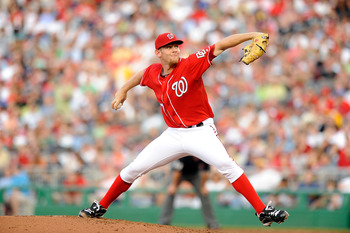 The Mets will get their first taste of uber-prospect Stephen Strasburg when they head into Washington this weekend.
Mets ace Johan Santana says the young phenom adds a lot of excitement to the sport.
"I think it's great for baseball to see that guy going against us and I think it's going to be great to watch, a great challenge. It's going to be a tough one, but at the same time so we'll be ready for it. We feel pretty good and we're playing the game the right way. There are going to be a lot of challenges out there and there's nothing wrong with that."
Adjust or Be Crushed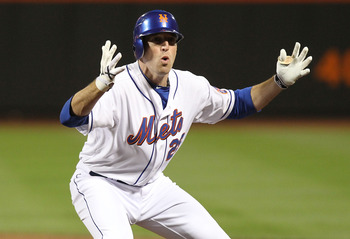 Ike Davis became the latest Met to make history on Tuesday night when he had two hits in the same inning of the 14-6 victory over Detroit.
Davis has cooled off a little since his hot start, but it's safe to say he's turning it up again. Here's what he had to say about his approach at the plate and the changes he's making.
"I've just been trying to make solid contact. Nothing really changes. You go through times when you're not swinging the bat well. I went through a two-week period where I wasn't swinging well, but I started getting some hits and hitting the ball hard and stayed with my plan. It's tough. You're playing every day and facing tough pitchers and if you're going through a tough time they will exploit it. You've got to change things quickly or else you'll be down in the dumps pretty soon."
Keep Reading

New York Mets: Like this team?