NBA Trade Rumors: 10 Draft-Day Trades That Could Happen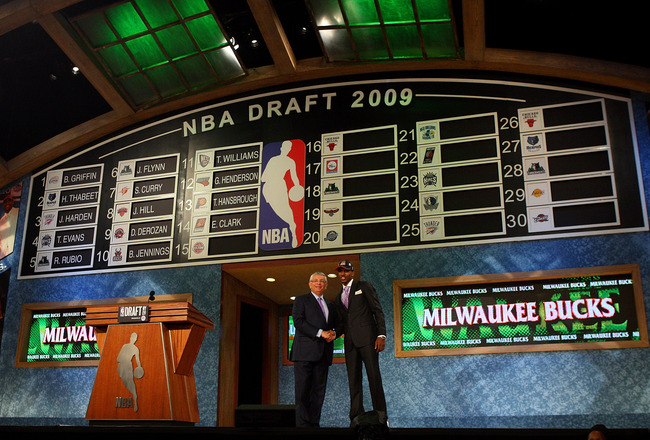 The time is growing closer and the phones are ringing louder.
The NBA draft is an opportunity for GMs to strut their stuff or look like absolute fools.
But in order to get to that final mark, certain moves must be made beyond the simple act of picking a player to be the future of your franchise.
A few trades have already occurred and more are on their way.
These players and picks could be joining the departed from the Kings, 76ers, Bucks, and Warriors.
Andre Iguodala to Cleveland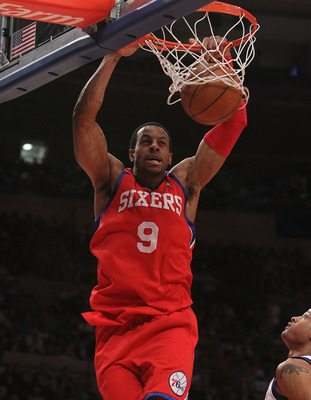 As soon as David Stern steps up to the podium and announces Evan Turner has been selected by the Philadelphia 76ers, game on.
Andre Iguodala's fate will be sealed and teams will be shooting for his services.
The one team that covets him more than anyone is the Cleveland Cavaliers.
By bringing in a player like Iguodala, the Cavs feel it would be enough to give Lebron James a legit partner on the court.
In order to get Iguodala, the Cavaliers must get creative. They have zero first round picks and their best entity is Mo Williams.
Mo Williams is as good as gone in this deal. In order to make it happen, they'll probably need a third team to jump into the fray. Look for Sacramento or Portland to oblige.
In the deal, the Cavs would eventually give up Mo Williams (to the 3rd team), Delonte West (and his expiring contract), some other expiring deals, plus a future first rounder.
They would get Iguodala and the 76ers would have some expiring contracts to prepare for in the 2011 off-season.
Darren Collison traded to Indiana Pacers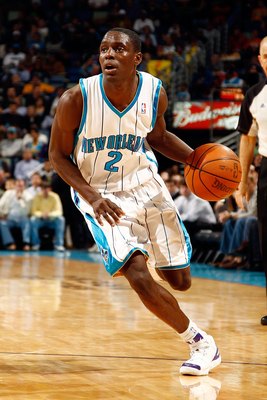 The New Orleans Hornets won't trade Chris Paul, but they won't have any qualms about trading his backup, Darren Collison.
The backup to Chris Paul showed he can play in the NBA last season, and they want to get something of value in return for him, to appease Paul.
The Pacers badly need a point guard and with the 10th pick, there will not be one there.
The Hornets hold pick #11 and could use both picks as a package to move around in the draft. They would like to improve their team as much as possible, without spending too much money.
A deal like this could go two ways; the first one is simple.
Darren Collison and pick No. 10 for pick No. 11
The other way would be a little more complicated and involve some expiring contracts.
The Indiana Pacers could trade pick No. 10, and two expiring deals—Jeff Foster, Jamaal Tinsley as options for Darren Collison and Emeka Okafor.
Memphis Grizzlies Trade Picks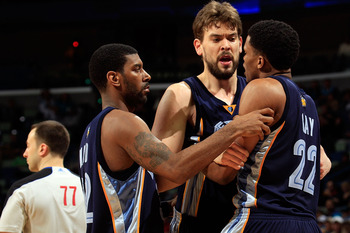 It may not be the most exciting thing, but picks will be traded and the rumors should be acknowledged.
Memphis has numerous options with two picks at the tail end of round one (No. 25 and 28) to accompany the 12th pick they have early on.
The original rumor had Memphis trading those two picks to Minnesota for pick No. 16. But suddenly, that isn't as likely.
Now, the Grizzlies are doing the smart thing, and watching who is on the board. Why trade for a pick if you don't even know who will be there?
The other option is to trade back with one of those picks.
The Portland Trailblazers are looking to trade back into the first round and their second round pick, plus some cash, may be enough to get the job done.
Whatever the case, the Grizzlies will not be making three selections in round one; it is now a question of where the two picks will take place.
Rudy Fernandez to New York Knicks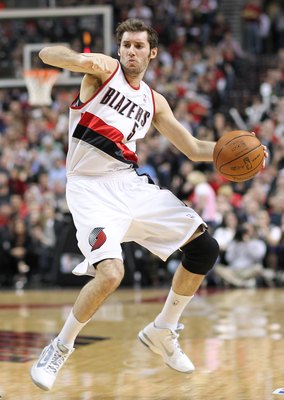 The New York Knicks want him and deep down the Portland Trailblazers do not.
The deal makes sense for both sides.
Fernandez would be able to contribute immediately for the Knicks and Portland could move on to another player.
One snag in the deal is what the Knicks can give back. With essentially the whole roster being free agents, and two second round picks as their only ammo, they have to get creative.
Whatever player falls to Portland at pick 22 will impact the trade that occurs. If they get a guard that they want at that spot, it won't be a problem to take a second rounder and perhaps Toney Douglas.
If a player that isn't as desired falls into their laps, look for the Knicks to have to find a third team to complete the deal. Either way, by night's end, Fernandez will be the latest Knickerbocker.
But is this really the first splash they make in enticing Lebron James to head to New York?
Celtics trade their first round pick (No. 19)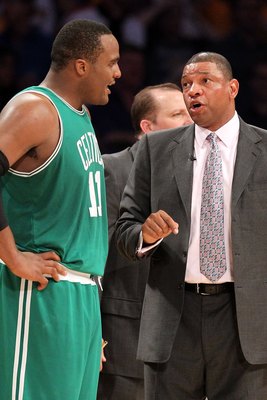 If you don't want to pick in the first round, it usually isn't hard to find a suitor.
The Boston Celtics find themselves in this situation, and plenty of teams are clamoring for a first rounder.
They know by the time they pick, their roster will be unaffected, so why not look towards the future?
The Mavericks, Cavaliers, Bobcats, and Knicks lack first round picks, and could take a chance on a deal at number 19.
Another possible suitor is the Washington Wizards. The team holds pick 30 to go along with first overall.
Don't be surprised if they try to move up to get a better partner to join John Wall. Perhaps former teammate Daniel Orton could be the addition they secretly admire.
Golden State trades some more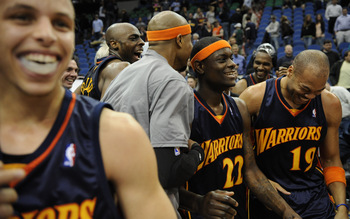 The Warriors were already able to unload Corey Maggette, but don't expect that to mean they're through.
With pick the No. 6 in the draft, the team is set up to grab another big man.
That leaves a few players expendable.
First, Andris Biedrins and his contract would be another deal the Warriors would like to unload. After a disappointing year last season, the Warriors may be ready to cut bait. There are still suitors for a solid defensive big man who rebounds well. If they make enough phone calls, he could be gone midway through draft day.
Second, Anthony Randolph has some solid value that has a lot of teams inquiring. By selecting a true big man early, it leaves Randolph as one of the possible odd men out. He has a tradeable contract that could allow them to re-enter round one or the draft as a whole or hold off for the future.
The third option is to trade back. If the Warriors feel comfortable with their big men, a trade back to the middle won't be so bad. The Houston Rockets have been rumored to want to move up.
If the Warriors moved back to No. 14 and picked up Avery Bradley, the team would be satisfied.
Monta Ellis has consistently stated his desire to leave and a move like that could allow it to happen this off-season.
Tayshaun Prince to Sacramento or Minnesota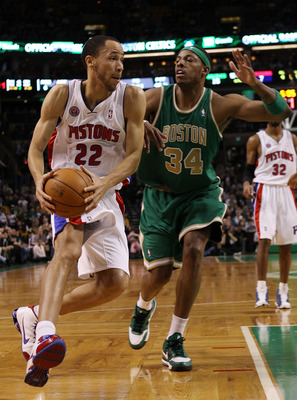 Depending on where DeMarcus Cousins falls, Joe Dumars will take the leap everyone knows he has to take.
This trade will depend on the first few picks. If the 76ers decide to get crazy and venture away from Evan Turner as the No. 2 pick, Detroit will have to move up to No. 4.
If they deal with Minnesota, this would be the most likely deal.
Tayshaun Prince and No. 7 to Minnesota for No. 4.
The Wolves have enough cap space for the move, fall back and still could pick up a decent player. This gives the Timberwolves a legitimate small forward and allows them to move on from Ryan Gomes or Corey Brewer.
It also gives them an expiring contract with Prince if they want to clear even more cap space for the future.
The other possibility for Prince is a move to the Sacramento Kings.
It would be a similar move, but Detroit would have to take some players back in return.
The move could be something like this:
Prince and No. 7 for Beno Udrih, Francisco Garcia and a No. 5 pick.
The end result would be the same, however; Detroit selects DeMarcus Cousins at No. 5 and Joe Dumars has his big man.
Hedo Turkoglu gets his wish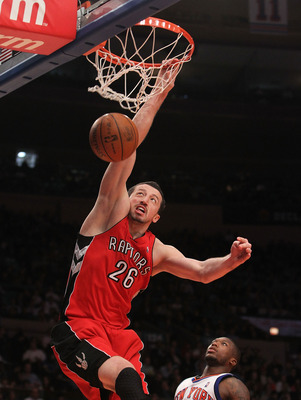 Hedo Turkoglu asked to be traded almost a month ago and nobody is sure what the Raptors will do.
But the NBA draft introduces unique opportunities to get creative and deal away some players. Chris Bosh is leaving and trading for picks or players is probably the only way Toronto can rebuild their franchise.
Look for four possible destinations.
If the Detroit Pistons feel it is unnecessary to trade up in the draft, Tayshaun Prince becomes target number one for Toronto.
A straight up Prince for Turkoglu deal works fine. It may not be the best move for the Pistons, but it mixes things up for sure.
Another option includes sending Turkoglu to Sacramento. By ridding themselves of Nocioni, the Kings have an opening for a small forward. A few contracts to match up and a future second round thank you from the Raptors and Hedo is gone.
The other options are first round picks. And one team to watch is Minnesota, with some of their later picks.
The Raptors need to show initiative now in making moves. If they show enough of an attempt to change things around, perhaps a second tier free agent will consider heading their way.
Michael Beasley gets shipped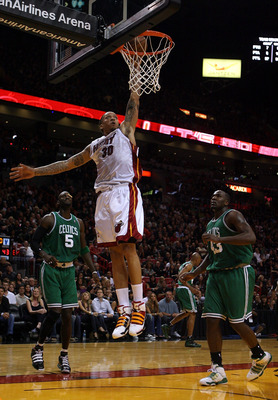 Michael Beasley needs a change of scenery and the Miami Heat could not agree more.
The NBA draft also finds Miami with four picks: 18, 41, 42, and 48.
If there is a way for them to package some picks and Beasley for another pick or contracts that will open up a bit more cap space, Pat Riley will find it.
One team likely to be involved is the Washington Wizards.
With a lot of cap space and John Wall entering the fray, Beasley may not be a terrible player to take a chance on. They can trade their late first round pick or use one of their cheaper players (Nick Young, Al Thornton) in an unbalanced deal.
One other destination is New Jersey. If for some reason they think he would be a good compliment to Devin Harris and Brook Lopez, they may consider a deal.
There were rumors that the Nets turned down an offer of Beasley for Keyon Dooling earlier this month, but that doesn't mean the two teams won't talk anymore.
Indiana Pacers trade Danny Granger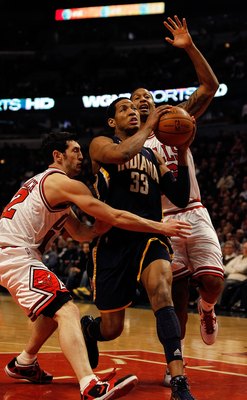 Larry Bird wants to do anything to win, and ridding the Indiana Pacers of Danny Granger will expedite the process.
It's not that Granger is a bad player, but it's time to build your roster around some other players. There has been a lot of talk over the past few weeks of him moving on elsewhere.
Granger is a fine scorer and pretty good shooter, but he doesn't fit in with what the Pacers need.
One of the loudest rumors involves the Minnesota Timberwolves. If the Pacers are unable to swing a deal for a point guard without including Danny Granger, they'll bite the bullet and go for it.
There have been two rumors connected with Minnesota. Either Danny Granger for Al Jefferson or Danny Granger for Johnny Flynn with some draft picks swapped on each side.
Granger is one of those players where he'll always score a lot of points, but the question lingers: Does he make those around him better?
If Minnesota doesn't grab him, don't be surprised to see a few other teams get involved.
One of those teams might be the San Antonio Spurs.
The Spurs could use the young blood to re-energize a still solid Spurs team. He would be a great replacement for Richard Jefferson and they would have an additional true scoring threat again.
They would have to include Tony Parker or George Hill, but the deal would be worth it. Even if they had to buy out Jefferson in the end or find another suitor, Granger could be a good fit for the squad.
Don't be surprised to hear rumblings of that final destination if Larry Bird wants to take a big chance. The Spurs may say Parker is untouchable, but for the right price, Granger may be enough to persuade them.
The Spurs may have to include an extra pick, but the deal would be worth it for both sides.
Keep Reading