FIFA World Cup 2010: Five American Players Who Need To Step It Up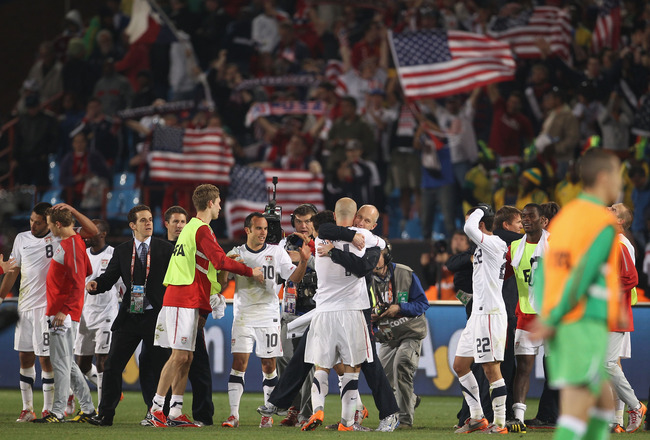 The USA Team did not "escape" preliminary pressure--they persevered.
Entering the 2010 FIFA World Cup, the USA Team was branded everything from underdogs and dark horses, to long shots and little guys.
Whether or not they truly are David's among Goliath's remains in the hands of the soccer gods.
But one thing is undeniable: the USA team refuses to back down.
Their victory against Algeria, which effectively won them Group C honors and advanced them to the Round of 16, made a roaring statement.
The USA team truly showed their temperament and backbone as they suffered through poor officiating; a win was taken from them last week against Slovenia, and had another goal disallowed Wednesday by a linesman.
But ceaseless focus, teamwork, and power of mind and body elevated the Americans to the next level of competition.
In order to be a threat, five American soccer players must dig deep, bare down, and play the best soccer of their lives to turn the American dream into a reality.
Mr. Clutch: Landon Donovan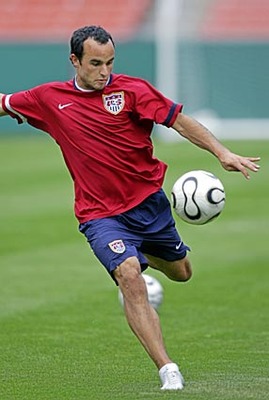 What distinguishes Landon Donovan from his peers?
Optimal field vision.
Donovan showed how dependable and effective his perception of the field was in the epic match against Algeria. He followed just behind Jozy Altidore and Clint Dempsey and sure enough, was in perfect position for the rebound to score the goal that cemented USA's victory.
Donovan needs to continue to trust his teammates, but more importantly, he needs to trust himself and be aggressive.
He is a precocious player with incredible speed and thunderous power. Donovan will be a pivotal factor in the future success of the USA team.
Stats:
- scored 44th international goal (new U.S. record)
- scored 4th goal of the tournament, which tied Bert Patenaude (1930)
Intimidation Factor: Tim Howard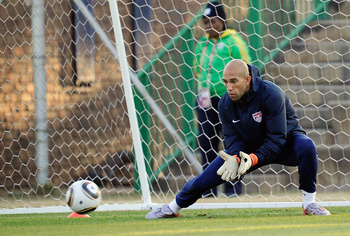 The USA's goalie, Tim Howard, has to maintain his constant alertness and field perception in order to maintain his intimidating presence in the backfield.
Howard had been a solid, consistent goalie throughout the World Cup, so far.
With 204 saves on 2009-2010 season and already seven saves in the World Cup, Howard emanates a threatening presence towards his competition.
If he can sustain his vigilant, dynamic qualities as a goalie, he will guide the USA Team to more victories.
Swift and Strong: Clint Dempsey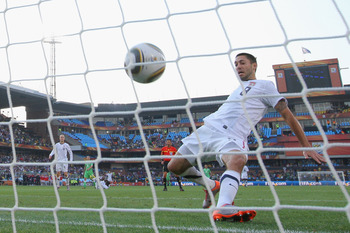 Clint Dempsey represents the ultimate powerful, ferocious soccer player who is out to win at any cost.
This kind of cut-throat, do-whatever-it-takes attitude separates Clint Dempsey from his competition.
Dempsey has two remarkable qualities on the field; first, he has unrivaled dribbling ability; second, Dempsey has incredible speed.
Blend those two together: Unstoppable.
Dempsey needs to maintain a sense of vision on the field for his teammates, while protectively, but assertively, dribbling the ball.
Captain Courageous: Carlos Bocanegra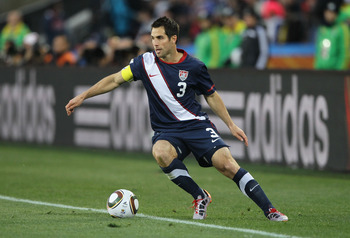 As captain of the USA team, Bocanegra carries a tangible, inspiring presence every time he walks onto the field.
Bocanegra has become well known for sacrificing his body for the American cause—a true sign of his unabating dedication.
More than anything, he needs to sustain his uncompromising, stop-at-nothing demeanor on the field.
Bocanegra has two truly impressive attributes that have proven effective.
First, Bocanegra has an amazing knack for neutralizing strikers. Second, his dominant field perception allows him to extinguish the opposition before they can even get aggressive.
For the captain, he needs to be a blueprint of consistency and someone his teammates can look to for support and inspiration.
Ferocious and Unflappable: Michael Bradley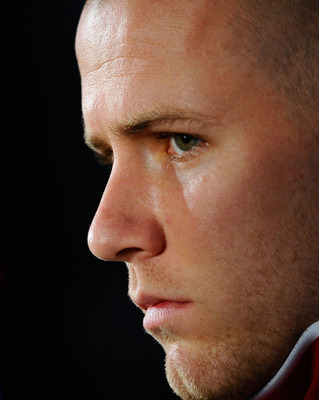 Michael Bradley is one of the most versatile players competing for the USA team.
As a midfielder, he is an excellent defender, as well as creative and fierce on offense. Though Bradley has the tendency to come off temperamental, it fuels his desire to win.
Considering he is the son of the USA team's Coach, Bob Bradley, he seems to work harder and compete in a more serious manner than most, possibly to avoid the accusation that he receives preferential treatment from the coach.
Finally, what is so intriguing about Michael Bradley is everything you can surmise from the picture above.
He's a stone-cold competitor. His desire to win reigns supreme above all else.
If he intertwines his emotional ferocity with his competitive skills, Bradley will be a decisive factor in the USA team's success.
Keep Reading