New York Mets: Johan Santana, Jason Bay, and Co. Share Expectations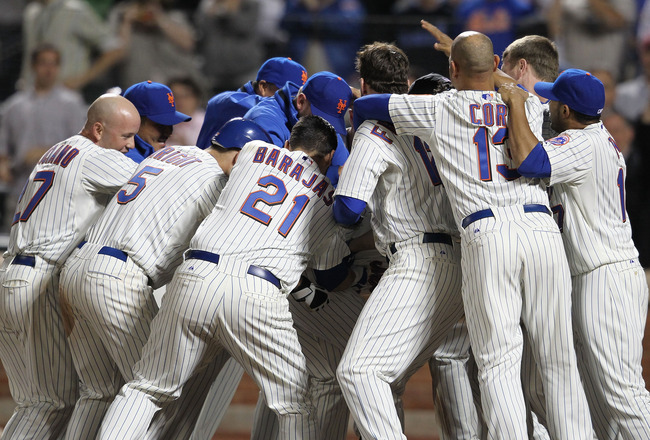 The New York Mets improved to 40-30 on Tuesday night, gaining ground on the Atlanta Braves and moving back to within 1.5 games back in the NL East.
After a successful 7-2 road trip which included back-to-back sweeps, the Mets are now on a roll and they are looking to finish the first half of the season strong.
I caught up with several Mets (David Wright, Johan Santana, Jason Bay, Jeff Francoeur, and Ike Davis) before Tuesday's victory against Detroit at Citi Field to gauge the expectations among the players about just how far this team can go in 2010.
From Santana saying the Mets have assembled a team good enough to win it all to Bay saying the team hasn't even hit its best form yet, there is certainly a vein of confidence running through the heart of the team.
This is what the players had to say about the expectations heading in to the All-Star break.
Johan Santana: I Didn't Come Here Just To Compete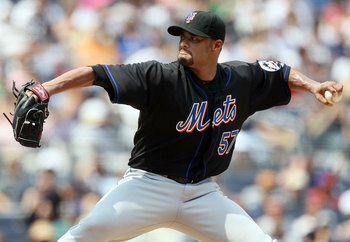 Johan Santana has been to the postseason four times in his career, but he is yet to play meaningful playoff baseball with the New York Mets.
Now in his third season in Flushing, Santana says doing simply "good" is simply not good enough.
He says he came to the Mets to win championships, not to just compete, and he believes the team can achieve big things in 2010 if they continue their form from the first half of the season after the All-Star break.
"We have to keep playing the game. We have been doing a great job putting everything together—pitching, defense, and hitting—and now we're at home we want to take advantage of this week before we go on the road.
"We definitely want to finish with a positive record, finish the first half of the season strong, and then start all over again and try to gain ground in the standings. Then we'll go from there and see where we are.
"We're a good team. We're not surprised where we are right now. We built this team to win, not to just make it through. That's the kind of mentality we have."
David Wright: When Average Can Be Good Enough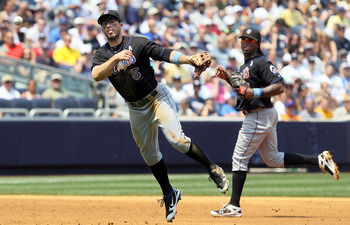 David Wright has started to find his swing, and it comes as no surprise that when Wright plays well, the Mets play well.
He is batting .291 on the season and he already has more home runs (12) than he hit in the whole of 2009. He's also hitting .375 in June alone, and it probably comes as no surprise that the Mets are 14-4 in that spell.
The third baseman believes the Mets can challenge for the National League East pennant as long as they play well at home and "average" on the road.
"We've been fortunate to play extremely well at home all year, so if we can continue to do that and really just be average or a little above average on the road we'll be right where we need to be," Wright said.
"It's really been the tale of two different teams—one that plays at home and one that goes on the road, but we've put that behind us after this last road trip.
"When the guys at the top of the lineup are on base the way that they are—Jose, Angel—it makes our job in the middle of the lineup easier. And when they're on base and creating havoc it seems like every other at-bat you're coming up with runners in scoring position.
"It's not so much that the guys in the middle of the lineup are going, but that the guys at the top of the lineup are going. It seems like that's when we're at our best."
Jason Bay: We're Not Even Playing Our Best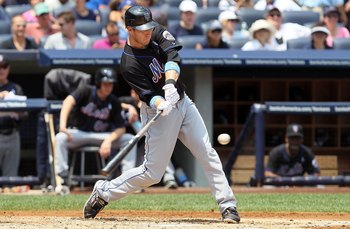 Jason Bay hasn't been at the top of his game this season, but he knows the Mets are playing well enough to cover up some of his struggles.
With just four home runs this season, Bay knows he will need to improve in the second half of the season if the Mets are serious about maintaining their charge in the NL East.
Bay knows that there is room to improve on an individual level, but he says the league also needs to be aware that the Mets will only get better, too.
Bay said: "We're a playoff team and we have been since spring training started. A lot of people didn't agree and that's fine, but I think with the players that we have and the market that we're in, anything less would be disappointing.
"I don't think we're playing by far our best. We're playing very good, don't get me wrong, but we could always be better, and I think realistically with or without a trade, we're a playoff team.
"That doesn't mean we're the best team in the league by any means, but we're definitely a team that should get to the playoffs."
Bay says he knows the Mets don't expect to sweep every team on their travels, but he believes that if they can maintain good form at home and on the road the Mets will make serious waves throughout the National League come October.
"I think we could be better," he said. "We've obviously gone on a very good run lately which has brought our road record up a little bit. It was pretty bad for a little while."
"It's not to say we're going to go 7-2 on every road trip, but if we can be at least average on the road and continue our good play at home I think we can be better than where we're at right now."
Jeff Francoeur: One Game at a Time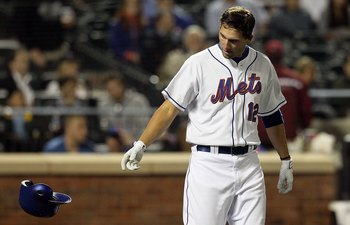 Jeff Francoeur insists the Mets have every chance to be atop the NL East by the time the All-Star game rolls into Anaheim.
The Mets entered their six-game homestand against their final inter-league opponents of 2010 nine games above .500 and Francoeur believes the Mets can put more distance between themselves and teams like Atlanta and Philadelphia. He said the last road trip where the Mets went 7-2 was nice, but that a solid run in the final 19 games before the All-Star game could really set the team up for a successful second half.
"We needed that, but at the same time we need to put that past us. We have two great teams coming in here in Detroit and Minnesota who are neck and neck in the AL Central so we know we have a big task ahead of us.
"Those upcoming games [against Atlanta, Florida, and Washington] are huge. Personally I'm not a huge fan of interleague play. I would just as soon go back to the old way where you play everybody twice home and away, but at the same time they love to do this for the fans and it's fun to see the guys from other leagues. These six games we need to play well because we finish before the All-Star break with three out of four in our division. It will be a big test in these 19 games.
"We have worked so hard to get where we are. You don't want to really give it back before the All-Star break, so we need to keep pressing.
You never want to give games away but hopefully we can get to 11 or 12 games over .500 and I think that would be a good goal. Something like 11-8 or 12-7 would be nice and that's what you want to strive for. If we take it one game at a time the way we have been playing that is very realistic."
A victory in the first game against Justin Verlander and the Tigers puts them on their way. Now let's see if they can build on that.
Ike Davis: We're Staying Loose and Making the Plays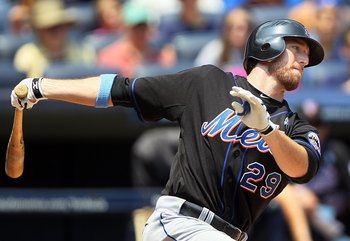 Ike Davis is among the top rookies in the league. He already has eight home runs and 14 doubles, and he has been pretty consistent on defense, making a trio of highlight reel catches over the dugout rail down the first base line.
Davis might be in only his first year with the big club, but he knows as much as anyone just how far the Mets can go.
"We're playing good ball right now and we just want to keep on winning series. We dropped the series to the Yankees when they pitched pretty good against us, but now we're just trying to play solid baseball."
"All of the teams in our division are really good this year, but he have to go out there and play solid baseball, move runners, keep teams' runs down, play solid defense. We have a great pitching staff and we're going to have some close games, we just have to come up with some big hits.
"We've got a good team and and it's all about coming up with the big hits in the right situations and making the plays. The atmosphere is fantastic. We are all pulling for each other and messing around with each other and it's a loose clubhouse so we're having fun."
Keep Reading

New York Mets: Like this team?