FIFA World Cup: Where Are They Now? - Colombia's 1994 World Cup Team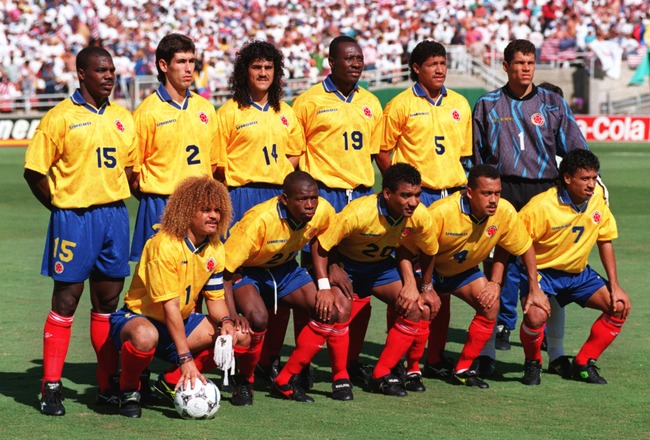 ESPN aired its weekly "30 for 30" documentary last night on the two Escobars of Colombia in the 90s. Colombia was in turmoil and its soccer team was what people looked forward to to distract them. It was a team built to win. They had all the talent and character necessary to take home the title. Pele called them his favorites to win the World Cup. In the end, they fell very short of meeting people's expectations.
We now look at where some of the players from that 1994 team have gone.
Retired Stars from the 1994 Team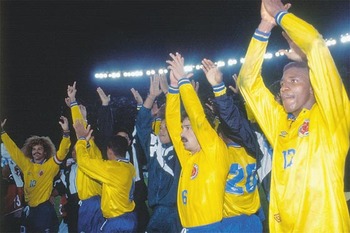 Many of the players are retired such as the names below. But many moved onto have interesting careers afterwards. This is a list of players who retired shortly after the 1994 World Cup.
Alexis Mendoza - Defender (Scored two International Goals for Colombia)
Luis Fernando Herrera - Defender (Capped Over 60 times)
Gabriel Gomez - Midfielder (Played one game in 1994 and retired due to death threats before the USA v. Colombia match)
John Harold Lozano - Midfielder (one of the most aerial of the 1994 squad)
Adolfo Valencia - Striker (Scored in the Losses against Romania and USA)
Faryd Mondragón - Goal Keeper (Served as the back-up goalie in 1994)
Nestor Ortiz - Defender (Back-Up on the 1994 Squad)
Luis Carlos Perea - Central Defender (Scored two International Goals)
Mauricio Serna - Midfielder (Played over 50 games for Colombia's squad)
Óscar Cortés - Defender (Benchwarmer for Colombia's 1994 Squad)
Wilson Pérez - Defender (Scored three International Goals for Colombia)
José María Pazo - Goalkeeper (third String Goalkeeper for Colombia)
Midfielder - Antony de Ávila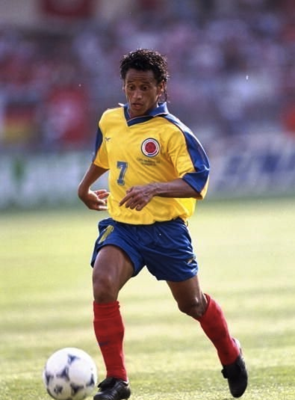 1994- Antony de Ávila served as one of the midfielders for Colombia in 1994. Though that was not his finest season, he continued to play for the international squad afterwards.
Present Day - Ávila is still playing after signing with his original soccer team in Colombia. He is 46, but will not give up on playing. He made a few stops along the way including in the MLS. He is a hero for Colombia's America de Cali as he is the All-Time Franchise Leader in Goals with 203 goals.
Forward - Iván Valenciano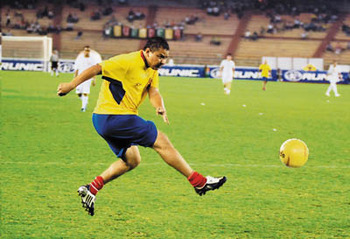 1994 — He was one of the most surprising players to make the team in 1994, because people looked at him and could not see him as a soccer player. He was overweight and was short. But in due time he won fans over and came through in the clutch as the team was qualifying for the World Cup.
Present Day — Valenciano is still active. He is playing on Colombia's Athletico Junior. He has been all over the world with his soccer travels. This included a brief stint in Italy, where he was welcomed with open arms. Then fans turned on him and saw he wasn't as great as they made him out to be. Iván Valenciano returned to Colombia afterwards.
Central Midfielder - Hernán Gaviria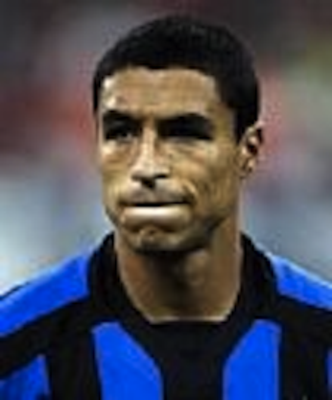 1994 — Colombia was coming off two devastating losses to Romania and USA, but that did not stop the team from winning against Switzerland. In that game, Gaviria showed his potential and scored to help the team win 2-0.
Present Day — Hernán Gaviria continued to play after the 1994 World Cup. He was practicing with Colombia's Deportivo Cali at the age of 32, when he was struck by lightning. He died in an instant. He leaves behind a family with a wife and two kids.
Goal Keeper - Oscar Córdoba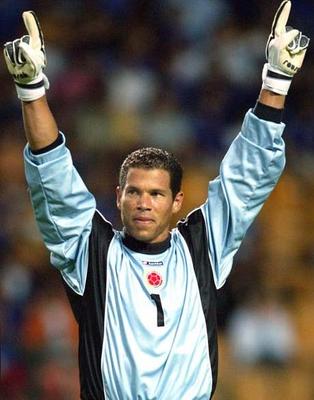 1994 — Oscar Córdoba was the stand-in goalkeeper for Colombia's national team after Rene Higuita was arrested. Córdoba earned his spot and kept a firm grip on it for years. In the 1994 World Cup, he was the goalkeeper in the net when Andres Escobar scored on his own team accidentally.
Present Day — Córdoba finished playing last year with the Colombian team, Millionarios. He has still been present on the field since 1994. He just recently retired from action. Córdoba goes down as the most capped goalkeeper in Colombian soccer history.
Forward - Víctor Aristizábal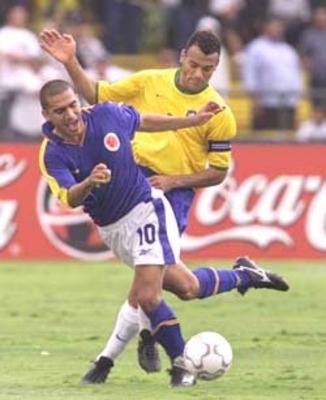 1994 — He was on that winning team of Athletico Nacional. He was one of the young and promising stars of the team. He was not used in 1994, which put his talent to rot on the bench. One of the questionable moves by Colombia in 1994.
Present Day — Víctor Aristizábal returned to Colombia after the World Cup and continued his dominance. He would go on to score 348 goals and over 200 with Athletico Nacional. This makes him the Colombia's all-time leading scorer and the franchise leader for Nacional, Colombia's finest team.
To understand the magnitude of this for Colombia, consider the following phrase: Víctor Aristizábal's accomplishments with Colombia is tantamount to Babe Ruth's accomplishments w/ the Yankees
Midfielder - Freddy Rincón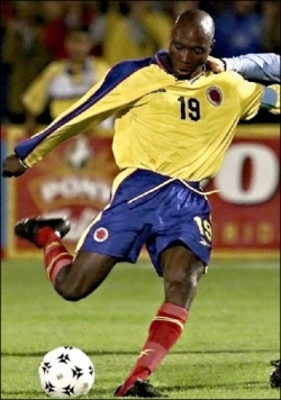 1994 — Rincón was at the heart of the dynamic duo of Freddy Rincón/Faustino Asprilla. The two were unstoppable against Argentina to qualify for the 1994 World Cup. Some of his goals from the World Cup are still highlights in Colombia, including the one where he passes Argentina's goalkeeper and easily scores.
Present Day — He has had a few stops along the way as a coach since retiring. He had a run-in with the law on suspicion of collaboration for drug lords. But he has moved on from that arrest and is now coaching in Brazil.
Here is the infamous Valdrrama to Rincon Goal!
Goal Keeper - René Higuita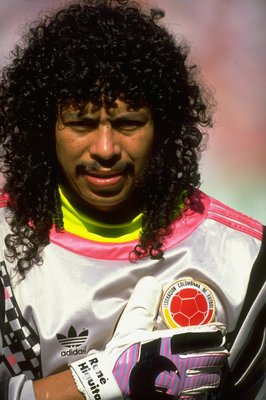 1994 — René Higuita was originally in the works to be Colombia's goalkeeper, but got into a bit of trouble while visiting drug lord Pablo Escobar in prison. The team then had to make the move for a new goalie, but Higuita would always be the best in the hearts of fans.
He was crazy and dynamic. Higuita pulled off one of the most spectacular plays in soccer history with the scorpion save in the net to save a goal. Talk about crazy! He wasn't nicknamed "El Loco" for no reason!
Present Day — René Higuita is coaching, like many of his former teammates. His son is professionally playing in Colombia. Higuita has expressed interest in coaching Colombia's National Team.
Defensive Midfielder - Leonel Álvarez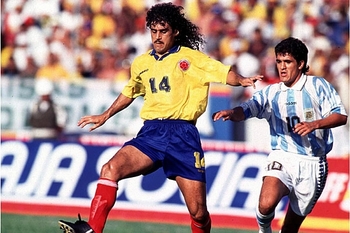 1994 — He was one of Colombia's most devoted players. He donned the yellow, blue, and red of Colombia over 100 times. In 1994, he was selected to the Colombian national team after winning the Copa Libertadores with Athletico Nacional.
Present Day — Like several of his teammates from the 1994 squad, Leonel Álvarez made the move to the MLS and other leagues around the globe.
After he retired from playing, he started to coach and landed a job as assistant coach with Santiago Escobar, brother of Andres. The two worked for a year together until the season's end when the team finished in dead last. After the season ended, Escobar was fired and Álvarez took the helm.
After his first season, Álvarez won the championship and became known around the country as one of the finest young coaches. As a result, he was named the assistant coach of Colombia's national team in May 2010.
Striker - Faustino Asprilla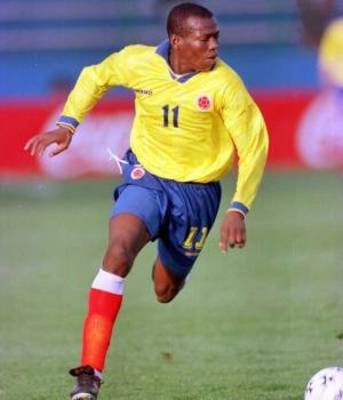 1994 — Faustino Asprilla was one of the superstars of the Colombian National Team. Many consider him to have been the best of the team due to his talent and his expression on the field. When Colombia failed to score against Romania, he was the most angered man on the field. He, much like the team, had a very bad tournament. He did not score a goal at all.
The downside to his role came when he backed out of the team and left them halfway through the tournament's group stage.
Present Day — Faustino Asprilla's whereabouts are unknown. He retired in 2001 from World Cup Soccer. He had an altercation with reporters and his coach in 2001 and that was the final straw.
He just retired less than a year ago in July of 2009. His whereabouts are unknown, but many believe he is playing overseas.
Highlights

Midfielder - Carlos Valderrama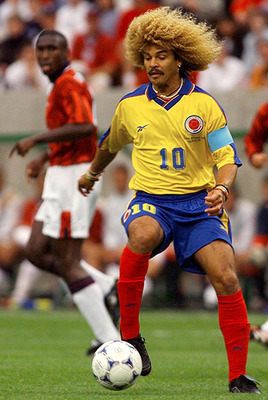 1994 — He was a fan favorite for people all over the world due to his talent and his blonde mop of hair. He was co-Captain along with Andres Escobar in 1994, but resumed his duties in 1998 and onward. He was a key player with assists and goals in 1994, but in the end the team could not win it all.
Present Day — After spending several years in the MLS, Valderrama officially retired in 2004. He is currently the assistant coach for Athletico Junior and is very popular in the Colombian media. He can be seen advertising everything from beer to homes. He is still a star.
Defender - Andres Escobar
1994 — Andrés Escobar was the captain of the Colombian soccer team in the 1994 World Cup. He was the defender and had a pretty great career ahead of him. He was offered to play in Milan and Mexico after he finished in the World Cup. Relatives and friends say that Escobar was leaning mostly to moving onto Italy.
But Escobar's prospects were cut short. In a game against USA, the Colombian captain accidentally scored on his own team as he tried to kick a ball out. Drug traffickers and lots of people had money on the game in Colombia. Colombia lost and the price for that would be Escobar's life when he returned.
The Colombian star was killed and all hopes of having him go to Italy were shattered.
Present Day — There are statues all around to remember Andrés Escobar in his home country. People remember him all the time at games, but his killer is walking like a free man. He was released for good behavior after 11 years of a 43 year sentence.
Homage to Escobar

Coach Francisco Maturana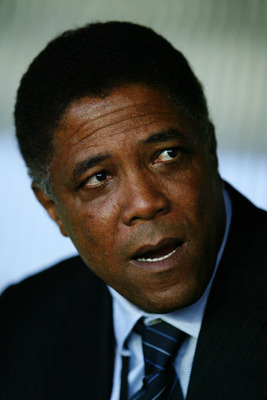 1994 — Maturana was recognized as one of the best coaches in South America. This just added to Colombia's power as a dark horse in the 1994 World Cup. He had all the right pieces but failed to make a few key moves and that was costly. Colombia was eliminated in the Group Stage of the World Cup.
Present Day — Maturana moved on and coached all over the world afterwards. His latest gig was as Trinidad and Tobago's head coach. But that was very brief and he was canned in a few months. Where he will go next is still a question. Hmmm... MLS?
Colombian Soccer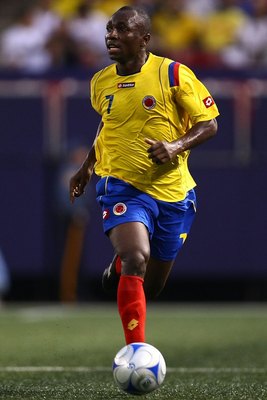 Colombia has some work to do before achieving the same amount of success that they had before. Could there be a rise?
I wish Colombia the best of luck in getting back on top!
Keep Reading