Top 10 Coaches To Replace Dan Hawkins at Colorado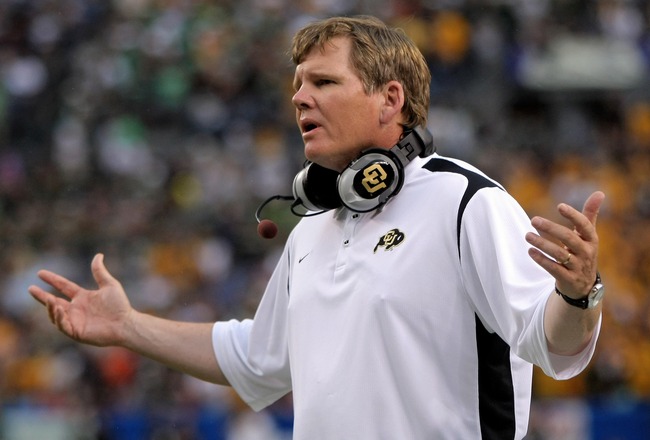 "It's Division I football! It's the Big 12!"
Just about everyone remembers those classic words said in a press conference by Colorado head football coach Dan Hawkins.
Hawkins was upset by parents sending him letters about players not having enough time to relax during the summer before having to be back in Boulder to prep for the season.
Hawkins was absolutely right on calling out those parents.
Unfortunately, he didn't realize that it wasn't only the players who needed to compete at the Division I level — so did his coaching.
Hawkins has been a bust in Boulder since arriving from Boise State in 2006. He took the Golden Buffaloes to the Independence Bowl in 2007, that trip resulted in a loss to Alabama. That has been the highlight of his time in Boulder.
Already with two seasons under his belt where CU has won three games or fewer, it's likely this will be Hawkins' last season coaching the Buffs. Most observers even agree that if the Colorado program had more money at this time, Athletic Director Mike Bohn would have already gotten rid of him.
Assuming Hawkins is on his way out, especially given the competition the Buffs will face in the Pac-10, here are my Top 10 candidates to take over the Colorado program.
10. Troy Calhoun (Air Force - Head Coach)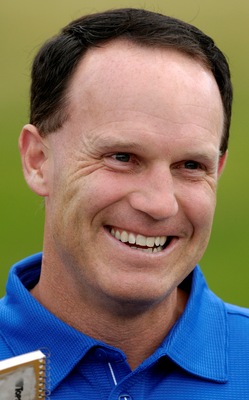 It will never happen, but I think Calhoun is a great choice.
The reason I say he's a great choice is because for the past two seasons, he's been the lead candidate to take over the Tennessee program, but both times he decided to stay put.
By far the best coach in the state of Colorado, Calhoun will likely remain at Air Force until they won't have him anymore.
I doubt that happens any time soon.
9. Mike Price (UTEP - Head Coach)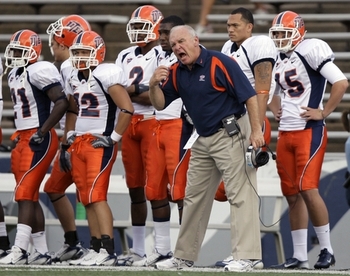 Price was once a big name in the college football coaching ranks. He did great things at Washington State and was set to take over Alabama until some strippers got in the way.
Though he has struggled the past few seasons at UTEP, history has shown that a change of scenery is a good thing for Price. Plus, do you know how hard it is to recruit players to play in El Paso, Texas?
While definitely not a top candidate without some major changes with the Miners this year, Price a name to watch out for nonetheless.
He's also a native of Denver.
8. Todd Graham (Tulsa - Head Coach)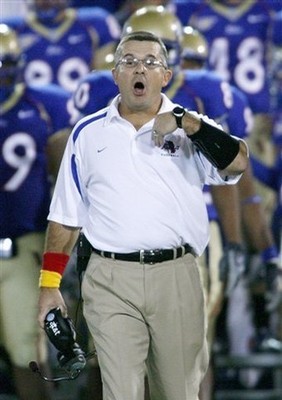 In Graham's four seasons as a head coach, only once has his team failed to reach the .500 mark. That came in 2009 when the Tulsa Golden Hurricanes went 5-7. That season included one errant pass to a wide open receiver on 4th down that would have resulted in an upset of Boise State.
Granted, the last Tulsa head coach who left for a better job ended up getting run out of town by Louisville (Steve Kragthorpe), but I'd like to think that Coach K was an exception and Graham could do great things at Colorado.
Boulder is a better place to recruit, plays in the Pac-10 (or will by the time recruits get there), and has a rich history.
Graham has done a lot with some lesser-known names at Tulsa. As a Colorado State student, thinking about what he could do at Colorado worries me.
7. Brent Venables (Oklahoma - Defensive Coordinator)
The always animated Venables is one of the top assistant coaches in college football. It's a surprise he still hasn't landed a head gig at any size college.
A former assistant under Bill Snyder at Kansas State and now under Bob Stoops at Oklahoma since 1999, Venables has had a great opportunity to learn from two of college football's best minds.
Though there has been debate on whether or not the Sooners' defense is what it is thanks to Stoops or his protege, Venables would bring a lot of emotion to Boulder and really help them rebuild to the Buffaloes dominance of a not-so-distant yesteryear.
6. Eric Kiesau (Colorado - Offensive Coordinator)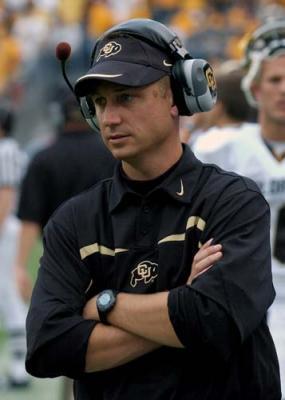 He might be young (38), but Kiesau has a very impressive resume, already serving as wide receivers coach at Cal from 2001-2005 before landing in Boulder in 2006.
Don't blame Kiesau - who also serves as passing game coordinator - for the Buffs struggles at quarterback. Instead point the finger at Hawkins for constantly putting his son, Cody Hawkins, in to play.
With a solid season from quarterback Tyler Hansen, resulting in quality production from receiver Scotty McKnight, along with a good running game, I wouldn't be surprised to see Kiesau as a leading candidate.
5. Rich Rodriguez (Michigan - Head Coach)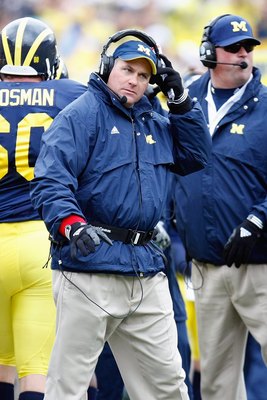 Let's face it, 2010 could be the last season Rodriguez spends in Ann Arbor. He's a big-name coach looking to head to a big-name program, so why not Colorado?
Though the Buffs haven't been great in recent years, Michigan has been down in the dumps as well. Rodriguez needs somewhere to rebuild his career and Colorado needs someone to rebuild its program.
Seems like a good fit.
4. Dave Christensen (Wyoming - Head Coach)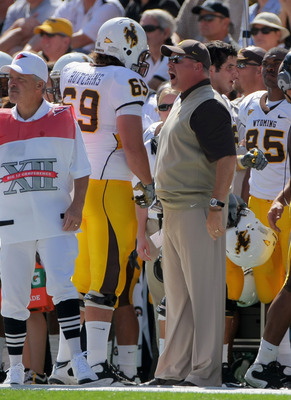 For years, Christensen was thought of as one of the best assistant coaches in college football, and on Dec. 1, 2008 he got his big break, becoming the 31st head coach in the history of the Wyoming program.
In his first season leading the Cowboys, Christensen took over a team that went 4-8 in 2008 under Joe Glenn and led Wyoming to a 7-6 season with a New Mexico Bowl victory over Fresno State.
Unless the Pokes hit a sophomore slump under Christensen, it would appear that he knows how to handle things as a head coach. Last season's Cowboys team was young and accomplished a fourth place finish in the Mountain West Conference; the 2010 team looks to be loaded and Christensen has them working hard.
An eight-win season could have him as a candidate to move down the Front Range from Laramie to Boulder in 2011.
3. Norm Chow (UCLA - Offensive Coordinator)
Your guess on why Chow has never been a college head coach is as good as any. Maybe he just doesn't want to be one, but Chow ranks right up there with Will Muschamp of Texas as one of the top college football assistant coaches.
Chow has an incredible resume, most notably his 26-year stay at BYU as offensive coordinator. He's been in the NFL with the Tennessee Titans and with both major Los Angeles college programs.
He's the kind of guy you have to assume that if he called somewhere to inquire about a head coaching position, that university's athletic director would simply hand it to him.
So what do ya say, Norm? Do you want it? Finishing your career in beautiful Colorado doesn't seem too shabby.
2. Guz Malzahn (Auburn - Offensive Coordinator)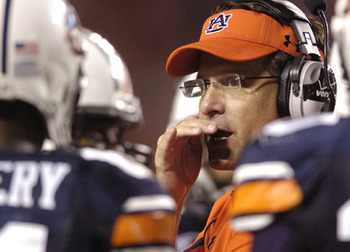 You have to think that Malzahn is just itching to get his first collegiate head coaching gig.
After his days at Springdale High School coaching the likes of Mitch Mustain, Ben Cleveland, Andrew Norman, and Damian Williams, Malzahn has made a successful transition to the college level, kicking it off by reintroducing the Wildcat offense at Arkansas in 2006.
After short stays with both the Razorbacks and the University of Tulsa, the Gus Bus is now at Auburn.
Malzahn is one of the best offensive minds in the game, he deserves his shot and I think Colorado would be the place to give it to him.
1. Chris Petersen (Boise State - Head Coach)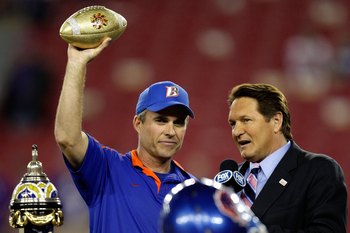 It appears quite obvious that Chris Petersen was the brains of the operation at Boise State under Hawkins, but just didn't receive the credit he deserved. It's too bad for Colorado that the Buffs hired the Broncos' head coach rather than offensive coordinator in 2006.
Like Hawkins, Peterson is a graduate of UC Davis and has a bright football mind. I'm not sure if CU wants to steal back-to-back Boise State coaches, but hiring Petersen is a pretty safe bet.
Keep Reading

Colorado Buffaloes Football: Like this team?