The Fair-Weather Fan Rankings of the Pac-12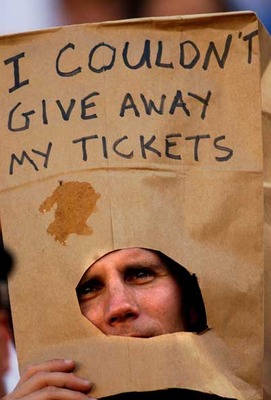 Arguably the biggest sports story of the summer was the possible disbanding of the Big 12.
After Nebraska bolted for the Big Ten, and Colorado snuck out the backdoor to the Pac-10, the Big 12 found itself on life support. And Texas was left holding the cord.
Big 12 Commisioner, Dan Beebe, launched a desperate scramble to attempt to contain the bleeding and salvage the rest of the conference. He played every card in his deck including this little gem of an email that he sent out to all the Big 12 schools on June 1:
"For those considering possible membership in the Pac-10, I hope that full consideration is given to the student-athlete and fan experience. I grew up in Pac-10 territory and although there are outstanding institutions in the conference, the facilities and fair-weather fans are a disappointment. I suggest that the fan support for their regular-season games and championships, and the accompanying image that projects, should be carefully examined."
Dan Beebe's comments left many Pac-10 fans scratching their heads and questioning their own fair-weather status. Understandably, a few feathers were ruffled, but it's easy to see where Dan Beebe is coming from.
In Texas, Nebraska, and Oklahoma football is king and die-hards are more prevalent than steakhouses and speed traps. It was those fans that Beebe was speaking to, reminding them that Pac-12 fans would rather go tanning, hug some trees, go to some frat parties, or hit the slopes than go to watch their teams lose to the might of the former Big 12.
Whether true or not, it seemed to tighten the reigns of the football stallions waiting to get out of the Big 12's stable.
So for posterity's sake, here's a rundown of the fair-weather fans rankings in the Pac-12. This one is for you, Mr. Beebe.
12. Utah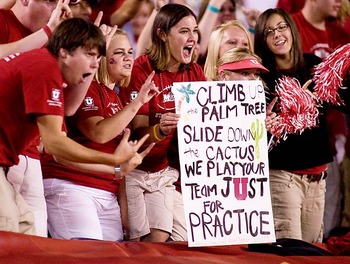 Utah wins the award for least fair-weathered fans in the Pac-12 for one main reason: They are the only school whose average attendance (45,155) was more than their stadium capacity (45,017).
Thats right folks. Standing room only for the Utes. And thats with home games against Utah St., Wyoming, and New Mexico.
With a string of good seasons under Kyle Wittingham, Utah has built a solid fanbase that was absolutely screaming for a BCS conference to give them a chance to run with the Big Dogs.
They'll have their chance once they start a Pac-12 schedule, so it should be interesting to see if they continue to pull in sell-outs regardless of their teams record.
11. Oregon
Autzen Stadium is one of the most consistently filled stadiums in the Pac-12. Hands down.
A trip to Oregon is often described as the most difficult game a player will ever have to play.
Oregon has had some issues controlling its players, but fans have never been a problem and there are plenty of them, as proven by the fact that Oregon has sold out every game since 2002.
Basically, you can count on Autzen stadium being packed and loud for years to come, no matter how many Oregon players get arrested.
10. Washington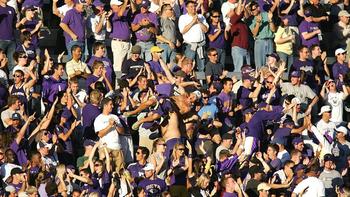 Winning a couple National Titles really helped to bolster Washington's tradition and fan base, so despite talking its lumps during the Willingham Years, Washington Huskies fans managed to stay as loyal as their mascot would suggest.
Washington averaged around 64,000 fans at home games in 2009, despite the fact that they only went 5-7. They also went 0-12 in 2008.
Sure, there might not be much else to do in Seattle other than drink coffee and complain about the weather, but Washington Huskies purple is a bigger fashion statement than grunge ever was.
9. Colorado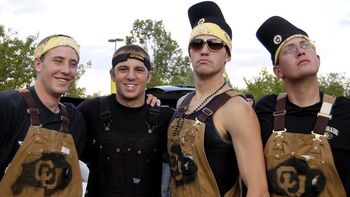 The lone school to move out of the Big 12, Colorado brings a heavy fan base with it to the Pac-12.
Colorado did manage to win a National Championship in 1990, which bread a certain amount of loyalty in the state.
Despite going 3-9 in 2009, Colorado had almost as many fans at its opener against Colorado St. (53, 168) as it did at its finale against Nebraska (52, 817).
In a year as bad as the Buffaloes had, that statistic screams loyalty.
Beebe might be thinking that the fans at Colorado would rather get high (in the mountains for skiing, of course) than watch Texas continue to crush them every year, but their fair-weathered fans will be welcomed in the Pac-12.
8. USC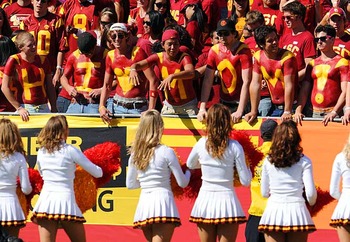 The tradition at USC has been steadfast in college football for years. And USC fans are determined to keep it that way despite NCAA sanctions and reprimands.
USC would have dropped a lot lower on this list had it not been for the outpour of support that arose from Los Angeles after the decision was handed down.
After all, USC's attendance dropped off significantly once it was clear that Pete Carrol wasn't going to pull off another Rose Bowl berth.
USC would be an easy scapegoat to pin the title of fair-weather fans on because of the sheer number of "USC fans" that have come out of the works in the last decade.
But hey, it's not their fault that kids from Compton started hiding their UCLA hats and adorning the USC gold trim.
Besides, USC travels better than any other Pac-10 team, so they get a pass.
7. Oregon State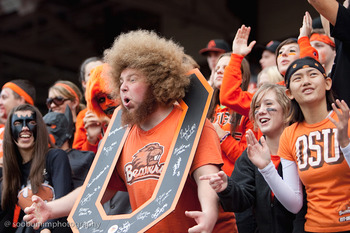 Mike Riley has managed to find a way to keep people in Corvallis interested in the Beavers. Fortunately for coach Riley, that task wasn't too difficult, seeing as their is nothing else to do in Corvallis.
Oregon St brought in 41,679 fans to watch the 2009 opener against Portland St. That is a lot of fans to watch a one-sided match-up, and Oregon State consistently sold out their home games throughout the season.
Oregon St. has a 37-19 record when playing at home under coach Riley, and the fans can take a lot of the credit for that statistic.
Unfortunately, Oregon St. also tends to leave its fans at home when it travels to play away games, so they have to get bumped down the list a little.
And the guy in this picture is awesome. They get more points just for having him.
6. Washington State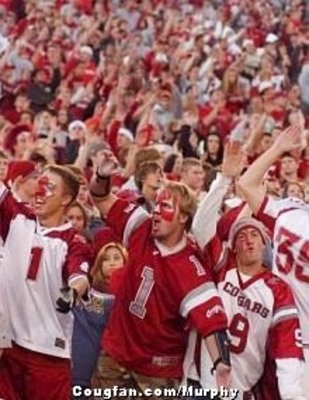 The Cougars have been the Pac-12's doormat for the last three years. They have put simply terrible teams out on to the field.
Their attendance numbers prove that fans are attempting to find something else to do on Saturdays (25,909 average in 2009), but the fact that anyone showed up to the games at all places Washington State in the middle of this list.
Coach Paul Wulff has made some significant strides and the fans are starting to come back around, but it's going to take a lot longer to raise them above fair-weathered status.
5. Stanford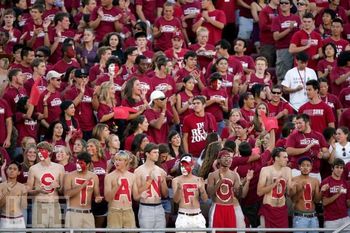 The Stanford Cardinals had a lot going for them in 2009, but attendance was not one of them.
The Cardinals brought in an average of around 40,000 fans to its home games, which is in the bottom half of the Pac-12.
Ten thousand empty seats is too many for a team that went to the Sun Bowl, its first bowl in eight years, and managed to destroy USC in the Coliseum.
The eight-year drought still stings many fans, who have switched their focus back to water polo, or chess, or whatever Stanford is really good at, but the fans will come out in droves if the team wins consistently.
Kind of the definition of fair-weather. Maybe Beebe is starting to make sense?
4. California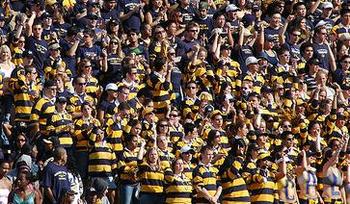 The Golden Bears have the luxury of the third largest stadium in the Pac-12 with a capacity of 71,799.
Regrettably, the Bears had trouble filling that stadium in 2009 despite five straight seasons of going to a bowl game.
Many fans might have given up after being consistently over-hyped on their teams chances of winning the Pac-10, or maybe they just got tired of losing to USC.
Beebe received his law degree from Cal, so this was the school he was using as his experience when convincing the Big 12 schools that the Pac-12 was full of fair-weathered fans.
I guess the kids at Berkeley would rather study than tailgate, so they can get a really good job one day, like commissioner of the Big 12.
3. Arizona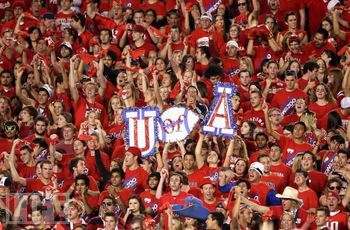 The dreaded John Mackovic era exposed the Arizona Wildcats fans. You literally could not give tickets away to watch that terrible team play.
Back-to-back bowl seasons have the fans coming back out of the wood work, but they are quick to run and hide when 100 degree August games are scheduled, or if the 'Cats fall behind by more than one touchdown.
The Wildcats boast the largest student section in the Pac-12, which means many of them will stumble their way to the stadium from the surrounding tailgates and frat houses, so long as the game is more entertaining than beer pong.
In the 2009 home opener against Central Michigan the students didn't seem to mind lightning warnings, however, despite however many times the stadium announcer warned them of the impending strikes, and the rain only caused them to cheer louder.
That display of blind stupidity masked as loyalty kept the Wildcats out of the Top 2.
2. UCLA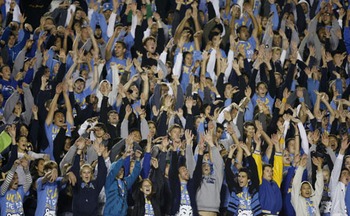 Remember when it was so cool to be a UCLA fan? Even celebrities rocked UCLA gear. Snoop Dogg was telling everyone to wear blue (that was because he was a UCLA fan, right?)
Well, times have changed with the dominance of USC over the last decade, and now even Snoop can be seen rocking the red and gold of USC.
They didn't sell out a single home game in the Rose Bowl this season, and in fact sometimes managed to leave the stadium half full; even though the Bruins managed a bowl appearance.
UCLA really didn't do anything wrong, it's just that USC did everything right and the fair-weathered fans made their choice.
At least they still have basketball.
Who managed to beat UCLA on the fair-weathered list? Its...
1. Arizona State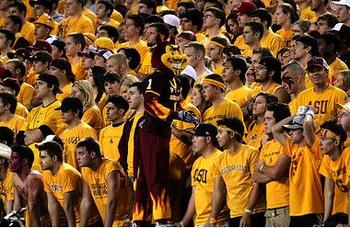 Thats right. The Arizona State Sun Devils are by far the most fair-weathered fans in the Pac-12.
The most fans Arizona State pulled in for 2009 was 55,989 against rival Arizona, and 55 percent of that crowd was cheering for the Wildcats.
Arizona State fans love to talk about how great their team is so long as the team is winning, but manage to find something else to talk about after a 4-8 season.
Only one other Pac-12 team managed to average a less attendance per school enrollment percentage than ASU. Unfortunately for ASU, that one team was the ASU basketball team.
Any school that has as many students as ASU should be able to fill up a stadium that holds 71,706 attendees. ASU is admittedly a victim of its location, as most people that live in Phoenix are not from Phoenix and raised to cheer for other teams, which tends to hinder loyalty.
But alas, it seems that the ASU students would rather hang out on Mill Ave. and invent new ways to play flip cup than watch Dennis Erickson grasp for his Miami glory days.
If ASU ever does manage to find its way to a winning program, you can count on a massive influx of people telling you how they were Sun Devil fans from the start and they never wavered.
Maybe Beebe had Arizona State in mind when he wrote that e-mail.
Keep Reading