If the New South Wales Blues are to Win, They Need to Select This Side
With a fifth straight Origin victory, Queensland have torn to shreds any resemblance of self-respect that the New South Wales Blues team have.
The players are vilified and dropped from the squad after a single game in most cases, ruining them for future encounters, and finally some of the selectors and the coach are starting to receive the blame.
Bellamy has proven that he cannot coach a team at any level other than the domestic competition, and even then, it is because his team had been cheating the salary cap.
Is he the super coach everyone claims he is? I doubt it.
But it isn't just the coach. The selectors have been selecting the wrong players to play for the Blues.
If you want to win Origin Three, and if you want to continue onto next year to win the series and stop Queensland, then this is the team you want.
Fullback: Josh Dugan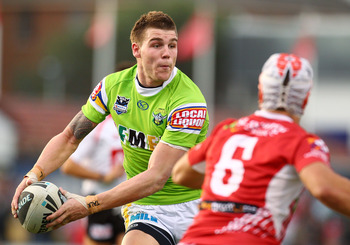 He is a player of the future, no doubt. The thing that I cannot fathom is that during Game Two, while he was in the squad and after Timana Tahu had left the team, he was not called into the starting lineup at wing.
Instead they brought in his teammate from Canberra, Joel Monaghan, who had only played two games after returning from injury—and who had played poorly in those two games.
Give the kid a run in Game Three. If not at fullback, then on the wing. His defense is strong, and he has shown that he is a bit creative in attack like any fullback should be these days.
WHO TO SELECT FOR 2011?: Brett Stewart. Unless he is injured again or facing gaol time for supposedly raping someone.
Wing: Jarryd Hayne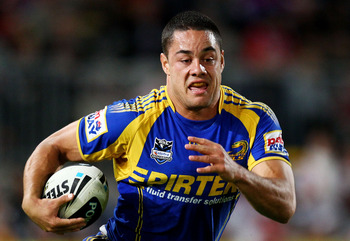 Whilst most people agree that his best position is at Fullback, I believe that he is better suited on the Wing at Origin level.
While he is best in attack, people claim he should be in the Fullback position to fully utilize his attacking ability. It didn't happen in Game Two, and he didn't really do anything in that game, even though he was at Fullback.
But why, when in attack, can he not simply just come in field to back up players and insert himself into the action when needed?
Just because he is on the wing doesn't mean he will go to waste, if the team actually realizes that he isn't limited to staying on the wing.
WHO TO SELECT FOR 2011?: Jarryd Hayne. He is the man to fill one of the wing positions for a number of years to come, and they should stick to it.
Centre: Michael Jennings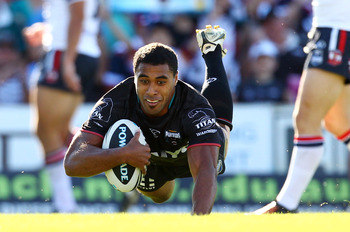 We need players that can be explosive in attack, and who can match it against the Queensland players in terms of talent, speed and all-around ability.
Jennings has all of this and more. Add to that the fact that he has played Origin previously, and he is a good pick for the position.
We've missed having someone with a lot of speed recently, and Jennings would more than make up for that.
WHO TO SELECT FOR 2011?: Michael Jennings. He is young, and seems to only be getting better.
UPDATE: Holy crap, I had no idea that Michael Jennings is 31. He seems a lot younger than his age.
Centre: Adam MacDougall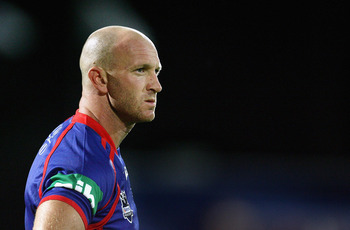 Go ahead and laugh at my selection. MacDougall?
No matter what you say, you cannot deny that in an under-performing Knights team, MacDougall is one of the most consistent players in their line-up.
His defense is always strong, his attack is good, and he can line up against some of the best centres in the game and do a good job at it.
Sure he is getting older, but I believe that if he were to receive a call up to the Blues side, he wouldn't disappoint.
WHO TO SELECT FOR 2011?: Jamie Lyon. The only reason I didn't select Lyon over MacDougall is because Lyon has re-injured himself, and will miss Origin Three.
Wing: Nathan Merritt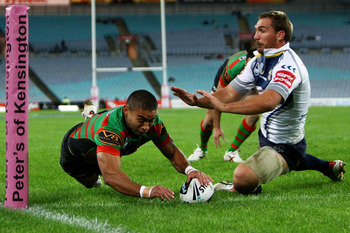 There is no denying that Merritt is a solid choice for Wing. Since 2006, no player has scored more tries that the South Sydney winger, including one year when he was the NRL's top try-scorer in a team that won the Wooden Spoon.
That is a remarkable feat to do. His form has been solid again this year, sharing a massive amount of tries scored on his right side with Beau Champion.
Some say that Merritt might be too small to play in Origin. But who cares when you can finish like he can?
Not only are his attack and his ability to back up strong, but also his defense isn't that much of an issue, and he is incredibly confident under a high ball.
WHO TO SELECT FOR 2011?: Nathan Merritt. If they stick with him, then I think he could be a long time player for the Blues.
Five-Eighth: Terry Campese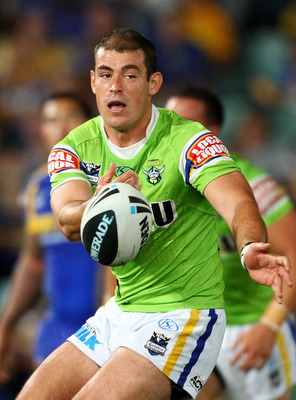 Terry Campese got screwed over in 2009. He should have remained in the team for all three Origin games, but because we lost the first game, the selectors had to take it out on someone.
That someone happened to be the halves—again.
Campese is NSW's five-eighth, and should be in the position for a few years still. He is a strong player, with a lot of attacking ability that can sometimes make something out of nothing.
If he had a strong forward pack, and a good support team in Origin, then he could possibly be one of NSW's best, year in, year out.
WHO TO SELECT FOR 2011?: Terry Campese. If they actually use him, and they keep at it with Campese, then I think that the rewards will come sooner rather than later.
Halfback: Mitchell Pearce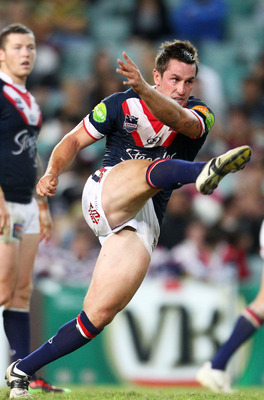 Ignore the weird way his mouth guard seems to be sitting in every photo featuring him; Pearce is the one to lead the team into the future.
He is young, and at the moment, he is the best halfback that NSW could hope for. In a combination with Campese, and behind some impressive forwards, they would dominate.
Pearce hasn't really had a chance to shine at Origin level, but if you have seen him in any of the Roosters games this year, then you can understand why they are doing as well as they are.
WHO TO SELECT FOR 2011?: Mitchell Pearce. He is only going to become a better player as he gets older.
Prop: George Rose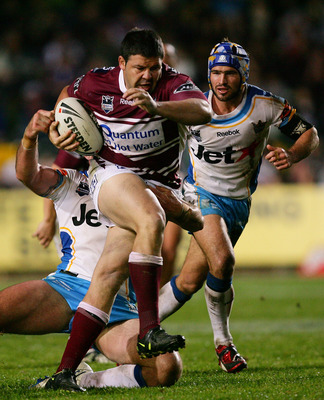 How the hell this man has not been selected to play for the Blues yet, I have no idea. One of the biggest men in the game today, who is almost unstoppable near the line, and they fail to select him.
Not only is he simply a big man, but he also has shown a number of different qualities in his game. Only this week did he do a remarkable play that set up a try for his team, showing a massive burst of speed, and some incredible agility for such a big man.
Rose is the man to lead the forwards, and you can bet that he'll lead them hard.
WHO TO SELECT FOR 2011?: George Rose. Is there any doubt that he must remain in the side if he is to be selected for Origin Three?
Hooker: Robbie Farah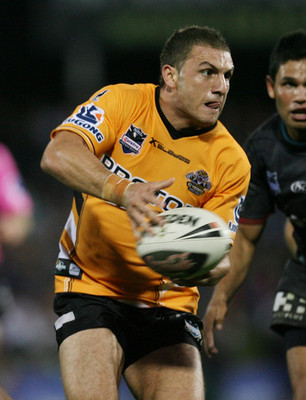 Michael Ennis is a good hard player, do not get me wrong. But the mistake that the Origin selectors have made in the last few games is selecting a team they think can shut down the opposition players, instead of selecting a team that can attack.
Instead of being on the back foot from the get go, and selecting a team notable for the defense, which kind of backfired for Game Two, they need to select players who have more attacking flair and who can inject something other than a hard hit when needed.
I'm all for hard-hitting tackles—but how are you supposed to win a game when you attack is pitiful?
That is why you need to select Farah. At least selecting him gives us more attacking options other than simply running at them hard.
WHO TO SELECT FOR 2011?: I don't know. Farah and Ennis are both good players. In a perfect world, I would say I would select Issac Luke, but since he is a Kiwi, that isn't going to happen. Unless someone else steps up and takes a hold of the hooker reigns, then it will most likely be a toss-up between these two again.
Prop: Brent Kite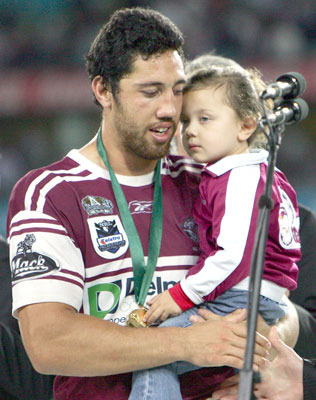 Why Kite ever got dropped from the Blues side, I will never know. He played Origin One last year, and then after that, he was dropped.
Even though he was our best forward, and our best forward who started off of the interchange bench.
Kite is a hard running prop, and would feel at home with his Manly teammate Rose in the forwards.
There is a reason why he was the Clive Churchill medal winner in the 2008 Grand Final, now let's put some faith into him and let him show what he can do.
WHO TO SELECT FOR 2011?: Brent Kite. Unless a younger, harder hitting forward comes along next year, then I see no reason why Kite should be dropped or relegated to the bench.
Second Row: Anthony Watmough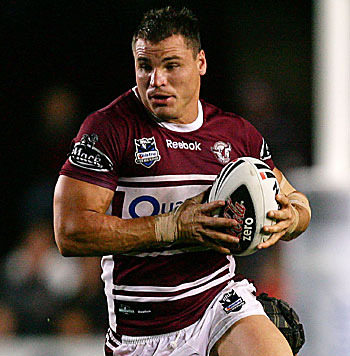 If any player was ever built for State of Origin, it was Watmough. It is the one time of year that he can really let loose his incredibly hard-hitting tackles, without fear of being sent off or suspended.
His ability to run through gaps is great, especially close to the line, and in combinations with a few players, he could become the next true NSW Origin legend.
WHO TO SELECT FOR 2011?: Anthony Watmough. Nothing more to say.
Second Row: Nathan Hindmarsh (c)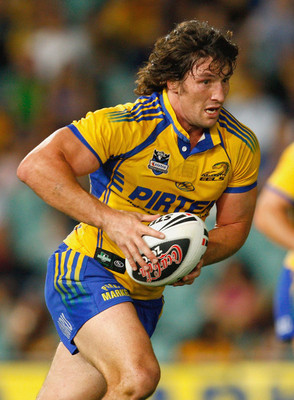 The only reason why it seems like Kurt Gidley has been selected is because players like him. The only reason why he is captain is because players seem to like him being captain.
So why not select Hindmarsh and have him as captain? Like Steve Menzies whom he shares a similar play style, Hindmarsh is one of the most respected players in the game today. He works hard all game, his defense is one of the best in the game, and a large number of players respect him immensely.
Give Hindmarsh a starting position like you did for Game Two, and leave him on. He is an 80-minute player, who never gives up, and has passion for the sky blue jersey. He doesn't disappoint unlike many players who have been selected recently.
WHO TO SELECT FOR 2011?: Nathan Hindmarsh. Keep him on the team, and leave him as captain.
Lock: Glenn Stewart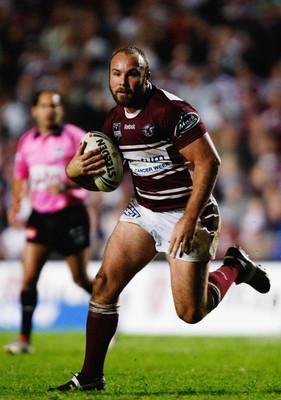 There is a reason why I chose so many manly players in the forwards, and that is probably because most of the best forwards available to play for New South Wales, come from Manly.
I think it has something to do with the way Des Hasler coaches them. They are all hard men, and they all have the ability to play Origin.
Glenn Stewart must have done something to one of the selectors to not be called up this year. He is the Australian Lock, yet he failed to be selected to play in Origin this year so far.
What is the deal? Pick him, and let him do his job. The same one he does for the Australian team.
WHO TO SELECT FOR 2011?: Glenn Stewart. He is going to be one of the best locks around for the Blues for a number of years.
Interchange Bench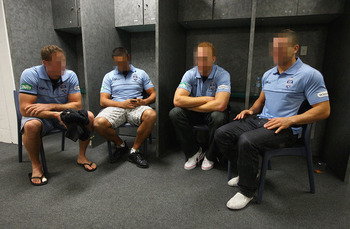 Who to have on the interchange bench is a tough one. You have a number of players that could be in the team, but the players I have mentioned above should be selected above all others.
So who to have? A normal consensus is that you must have at least three forward interchange players, and a utility player that can slot into a position like halfback, five-eighth or hooker if it is really necessary.
Craig Wing filled this role well previously, but since then, the Blues have struggled to really select a proper utility to take his role.
If I had to select anyone, then it would have to be Kurt Gidley for this position. I do not like Gidley, but no one else really comes to mind that could do it well enough to warrant selection.
For the three other forwards, I would select Luke Lewis, Paul Gallen and to do something drastic—Steve Menzies.
Lewis and Gallen have proven that they are capable enough to play Origin. And Menzies has never disappointed at Origin level. Recall him from England for the third game, and if he is still playing next year, give him a call then as well.
It might sound insane, but does anyone doubt he would probably be one of the Blues best on the night? No—didn't think so.
In Conclusion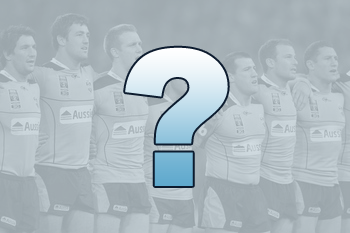 This is what I think would be the best team for the Blues for Game Three. Is there any that you might agree, or disagree with?
Let me know in the comments.
Keep Reading