Buffalo Bills Training Camp Preview: Wide Receiver Depth Chart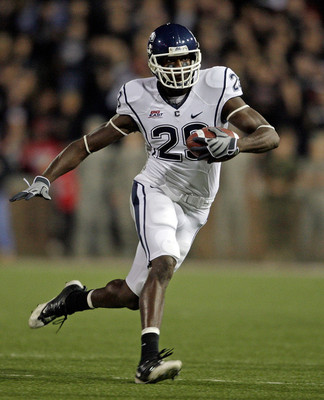 There have been plenty of questions swirling around the Buffalo Bills wide receiver position this offseason, especially with the departure of Terrell Owens and longtime Bill Josh Reed.
Who will take over the No. 2 receiver spot across from Lee Evans with Owens gone?
Where will newcomer Marcus Easley (pictured above) fit in?
Will Roscoe Parrish get a second chance after falling out of favor with the old coaching staff?
I'll offer my predictions and insight on how I see the wide receiver race breaking down when all the dust settles at the end of training camp.
Now, bear in mind that these are just predictions; I don't have a crystal ball here, I am just making educated guesses based on players' history and performances in minicamps.
*Note: This prediction assumes the Bills carry the standard six wide receivers on their roster.
The Cuts - Roosevelt, Huggins, Jones, Nelson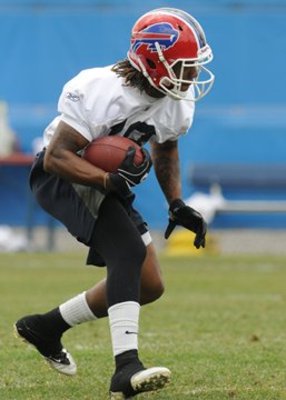 Unfortunately, if Buffalo chooses to carry the typical six wide receivers on its roster this season, that means four must be removed before the roster deadline passes.
That leaves Buffalo, NY native and University at Buffalo graduate Naaman Roosevelt (pictured above) on the outside looking in along with former practice-squadder Felton Huggins and fellow undrafted rookies Donald Jones and David Nelson.
Roosevelt will likely be added to the practice squad. The future for the others is much more up in the air.
No. 6 - Chad Jackson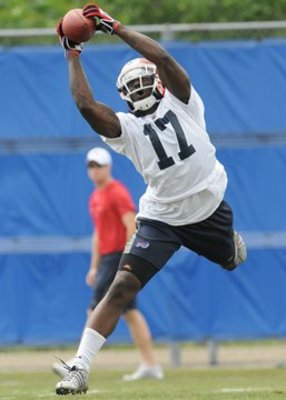 Chad Jackson is a bit of a wild card in how this depth chart shakes out.
Jackson has had a terrific showing in minicamps thus far, and has warranted consideration to be placed higher on this list.
There's just one problem: he has a history of doing this.
In his time in New England and Denver, Jackson was known for being a solid player in practice, but never being able to deliver on game days.
If he can have a strong showing in training camp, Jackson should be able to make the team due to a lack of quality depth at receiver, but how he plays in the preseason and early on will determine where he lies on the depth chart.
No. 5 - Steve Johnson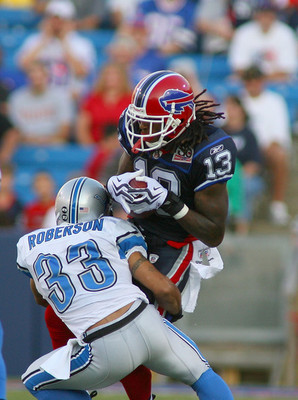 Just over a month ago, I had Steve Johnson pegged for the No. 2 receiver spot in Buffalo.
But based on superior performance from his competition, Johnson has dropped all the way down to No. 5 in my latest prediction.
Johnson has always seemed to have all the physical tools, but hasn't quite been able to push himself ahead of his competition on the depth chart. He will remain a set of reliable hands and good size (6'2", 202 lbs) for depth at the receiver position.
No. 4 - Marcus Easley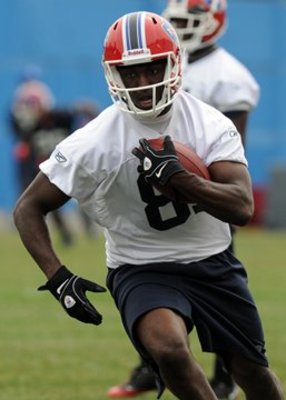 Marcus Easley, Buffalo's fourth-round pick in April's draft, is a receiver with talent who is dubbed as somewhat of a one-year wonder at Connecticut.
Easley is still raw with his route-running and will need to be eased into the system (bad pun intended), but should be able to handle situational duties as a fourth receiver in his first year without many complications.
In Gailey's wide-open offense, the No. 4 receiver sees the field more than on most teams, which should give Easley ample opportunities to showcase his talent as a rookie.
No. 3 - Roscoe Parrish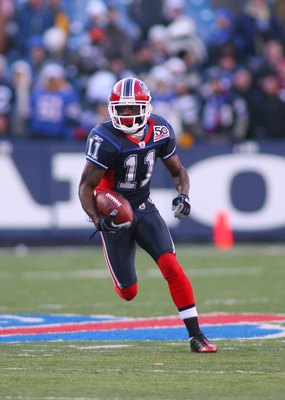 Roscoe Parrish fell out of favor with Buffalo's old coaching staff, falling behind players like Josh Reed and Steve Johnson on the depth chart and losing his punt return duties to Fred Jackson.
But new head coach Chan Gailey is an offensive-minded guy, and Parrish is nothing short of an offensive weapon. Parrish has the speed to be a slot demon, and has shown flashes of brilliance when played there over his first couple of season as a pro.
I believe his ideal tools for the slot give him the edge over players like Steve Johnson and rookie Marcus Easley for this No. 3 spot.
No. 2 - James Hardy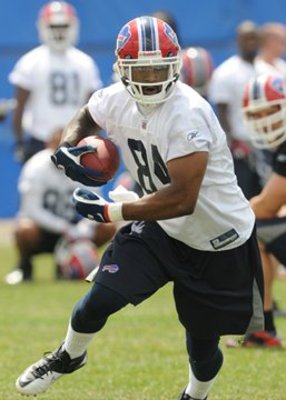 Like I said earlier, just a month-and-a-half ago, I predicted that this spot would belong to Steve Johnson at the end of training camp.
Now, I'm changing my stance.
By all accounts, Hardy has been thoroughly impressive in minicamps so far, and seems to be clicking with likely QB starter Trent Edwards.
If his ACL injury is in the past and the light has finally turned on for Hardy, the Bills may have found their No. 2 receiver of the future in this 24-year-old.
No. 1 - Lee Evans
This one is a no-brainer.
Lee Evans will without a doubt be Buffalo's top receiver this year. Whether he has a running mate who can draw double coverages away, however, remains to be seen.
Evans is a likely bet to lead the Bills in all receiving categories this season.
Keep Reading

Buffalo Bills: Like this team?