2010 NBA Mock Draft First Round Edition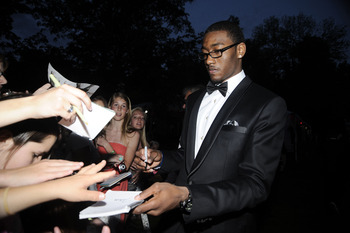 Not too long ago, the NBA Draft lottery was unveiled and the night's big winner was the Washington Wizards.
As soon as that final ball was pulled out, speculation began as to whether or not the Wizards would take advantage of the opportunity to go with Kentucky's John Wall or if they would diverge from the path that all the experts had paved for them by taking Ohio State's Evan "The Villain" Turner.
Only time will tell what they will actually do, but without further ado here's how I think things will shake out when the draft happens on June 24.
1. WSH—John Wall, PG, Kentucky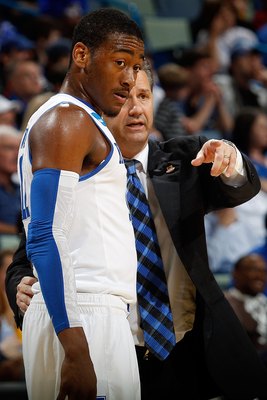 The Wizards should do the right thing here and take the former Kentucky star with the first pick.
I really think that Wall has the ability to be the next great point guard in the league and could develop into another Rajon Rondo-type player with his freakish athleticism, passing ability, quickness, and ability to get to the bucket.
Drafting him would also let the Wizards move Gilbert Arenas to the shooting guard position (ironic?), which should fit his game more than running the point like he has had to in the past.
2. PHI—Evan Turner, SG, Ohio State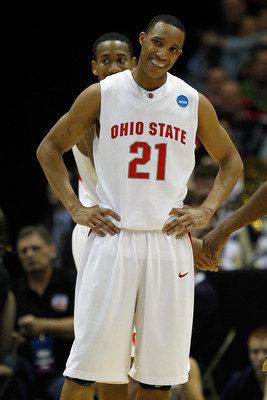 Most often compared to Portland's Brandon Roy, Philadelphia shouldn't even think about anyone else with this pick.
"The Villain" won National Player of the Year in college basketball and, with the exception of Wall, is the best prospect in this class.
Turner is a versatile shooting guard who showed that he could play just about every position on the floor this season for the Buckeyes en route to averaging an eye-popping line of 20.4 points, 9.2 rebounds, and 6 assists per game.
He definitely should be able to slide right into the starting five in Philly and be a nice compliment to Andre Iguodala and Jrue Holiday in the Sixers' backcourt.
3. NJ—Derrick Favors, PF, Georgia Tech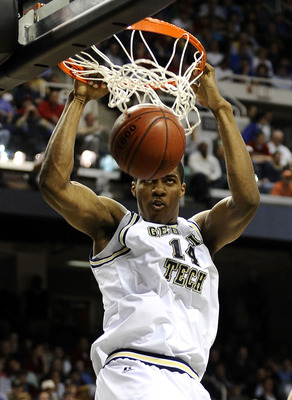 They didn't get the first pick like they had hoped, but the Nets will start off the Russian Mark Cuban (Mikhail Prokhorov) era by taking this Georgia Tech product.
Favors didn't have spectacular numbers offensively in his freshman season—partly due to only averaging just over 12 possessions per game (according to Draft Express)—but he seemed to steadily become more impressive throughout the season.
He's a lot quicker than you would expect him to be and does a great job once he gets past defenders of attacking the rim and finishing.
The biggest knock on Favors might be his offense, but whatever negatives that presents, in my opinion, are canceled out by his rebounding and shot-blocking.
4. MIN—Wesley Johnson, SF, Syracuse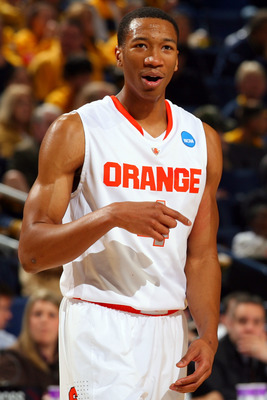 He only got to play for one season in a Syracuse uniform, but in that one year Johnson showed the stuff that made him into the Big East Player of the Year and now the number four pick in the NBA Draft.
Johnson is an athletic scorer who has a knack for taking good shots and he is an above-average rebounder.
He will probably play small forward once he gets into the league and will be able to come in and play right away over the likes of Ryan Gomes in Minnesota.
5. SAC—DeMarcus Cousins, PF/C, Kentucky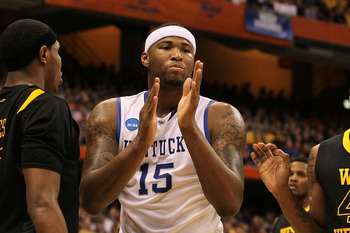 Big Cuz is the prototype when it comes to a high risk, high reward pick.
He's an unbelievable physical specimen at 6'11″, 270, has a very solid low-post game, and is one of the most physical finishers I've seen in a while.
But he has a lot of maturity issues, or as one of my family members said during Kentucky's Elite Eight against West Virginia, "He's a little crybaby b***h."
Cousins complains a lot—what 19-year old basketball star doesn't—but the thing that worries me the most about him is the fact that he gets into foul trouble so quickly.
Regardless, Cousins has so much potential to be great that you can't pass him up if you're the Kings.
6. GS—Greg Monroe, PF/C, Georgetown
I really considered putting Monroe over Cousins, believe it or not.
He might not be as much of a freak as Cousins is physically, but Monroe's versatility as a big man is what really makes him stand out as a prospect in this year's draft.
He has a pretty good perimeter game for a center and is one of the better passers of the big men that I've watched play in the college game over the past couple of years. He plays the game very smartly and is able to run the floor exceptionally well, which will be a key for the fast-paced Warriors team.
Monroe probably doesn't rebound quite as well as you would like for a center to, but he improved a good bit at it during his sophomore year at Georgetown and should continue improving at the next level.
7. DET—Ekpe Udoh, PF, Baylor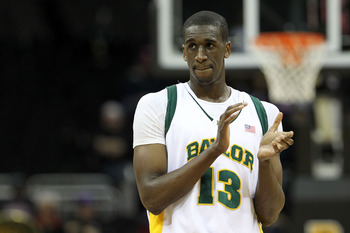 Udoh probably isn't the guy that you expected to see here, but in his first season at Baylor after sitting out a year for transferring in from Michigan he was the catalyst in the Bears' NCAA Tournament run.
Despite a lot of scouts beliefs that he doesn't have great strength, Udoh does a nice job of finishing inside and rebounding the basketball. He is an exceptional shot blocker, averaging 3.9 per game in his junior season.
On a side note, if Udoh and Wes Johnson both happen to go in the top 10 of this year's draft, would that be the first time that two players transferred to another D-1 school and still ended up being picked in the top ten?
It would be very interesting to find out if I wasn't too lazy to look.
8. LAC—Al-Farouq Aminu, SF, Wake Forest
The other team in Los Angeles has started to build a nice young foundation around players like Eric Gordon and Blake Griffin, and Aminu could be another piece to add to the equation as the Clippers try to get back onto the basketball radar.
I'm going to do my best Jay Bilas impersonation right here when I say that Al-Farouq (which means "the chief has arrived" according to the Wake Forest media guide) has great length and athleticism that should translate into success in the NBA, and he was also one of the more impressive rebounders in the country this year.
The big knocks on Aminu, however, are his shot selection, range, and his strength—or lack there of.
Still, he should be able to come in and be a bright spot for this young—and dare I say emerging (but only if they can stay healthy)—Clippers team.
9. UTA—Cole Aldrich, C, Kansas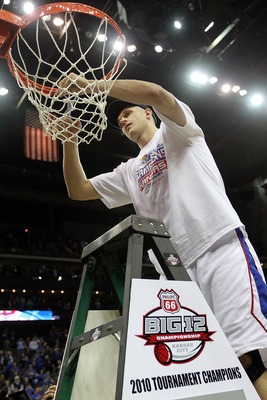 Last season, Utah coach Jerry Sloan desperately was in need of some size and the lack of it, as well as key injuries, cost them greatly in the series against the Lakers.
Enter Cole Aldrich.
Aldrich, who I think has the chance to be the next great white center in the league, will give the Jazz some extra size and should fit in as probably just a role player early on in his few couple of seasons.
He's an above average rebounder and shot blocker, and every year he has improved on the offensive end. He works hard enough that the things he needs to improve on, he will, but his lack of athleticism could be a problem.
10. IND—Patrick Patterson, PF, Kentucky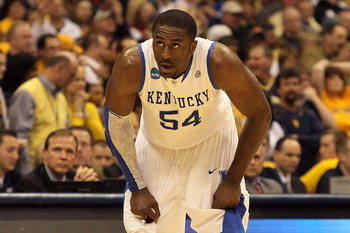 It's weird to see a Kentucky player in the first round who is not a freshman, but Patrick Patterson finds his way into the top 10 as a potential stud for the Pacers.
A big bruiser in the post, Patterson also improved greatly on his perimeter game over the past season, shooting nearly 40 percent from 3-point range in his junior season.
Patterson is a very smart and unselfish player, but he could improve as a defensive player and has a little room for improvement in the rebounding category.
Still, he should be able to come in right away and play good minutes in Indy.
11. NO—Ed Davis, PF, North Carolina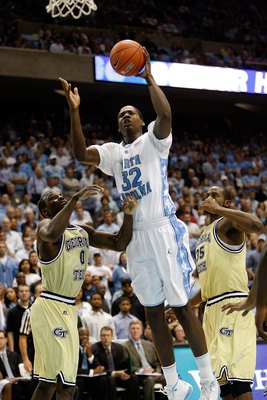 Davis had his sophomore season at UNC shortened by an injury, but he still finds himself as a lottery selection in 2010.
The Hornets need to add some depth in the frontcourt and Davis could give them just what they need.
He might still be a little raw on the offensive side of the ball, but his defensive game is definitely ready to help out in the NBA.
He doesn't play that well facing the basket and his midrange is not great, but he excels at rebounding (especially on the offensive end) and blocking shots (2.7 per game in 2009-10).
12. MEM—Avery Bradley, PG/SG, Texas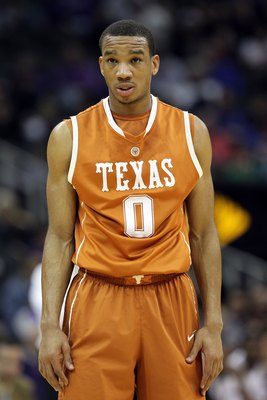 Mike Conley Jr. hasn't quite panned out the way that the Grizzlies would have liked, and Avery Bradley has the ability to run some point.
He mostly played shooting guard for Texas, but his lack of height (6'3″) will probably move him over to a Gilbert Arenas-style point guard once he gets into the league.
Bradley is an outstanding shooter, both from the catch and shoot position as well as off the dribble. But the fact that he mostly played the two in college didn't give him as many chances to make plays for others as he needed to have a successful transition from shooting guard to the point in the NBA right away.
13. TOR—Luke Babbitt, SF/PF, Nevada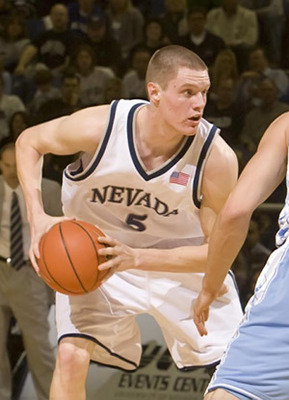 Being on the east coast, I didn't get to see a lot of Luke Babbitt and Nevada's games. But from some videos that I've seen of him, he is a very skilled player who will probably play small forward in the NBA.
His biggest problem in translating to the NBA game will be deciding which position he'll play. His size says small forward, but his athleticism puts him in with the power forwards.
14. HOU—Hassan Whiteside, C, Marshall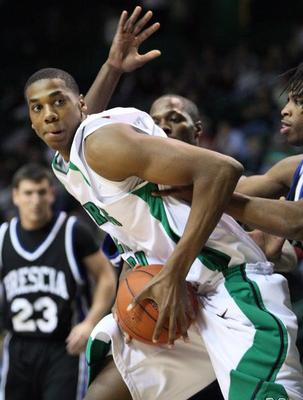 With Yao Ming's health continuing to decline as the years pass, Whiteside seems to be a logical pick for the Rockets.
Whiteside kind of flew under the radar at Marshall University in his freshman season and quietly put together a solid season on a not-so-solid team.
He averaged 13.6 points, 9.2 boards, and 5.4 blocks per game and had three triple-doubles over the course of the season in those three categories.
Now, being from such a small school, there is a chance that he could be a bust because of the level of competition. But after watching him torch my West Virginia Mountaineers for 18, 6, and 2, I think he should be able to do pretty well at this level.
He's just very raw.
Picks 15-20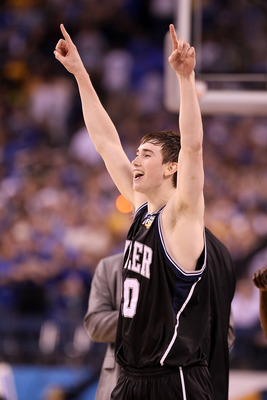 15. MIL—Xavier Henry, SF, Kansas
16. MIN—James Anderson, SG, Oklahoma State
17. CHI—Dominique Jones, SG, South Florida
18. MIA—Daniel Orton, C, Kentucky
19. BOS—Gordon Hayward, SF, Butler
20. SA—Paul George, SF, Fresno State
Picks 21-25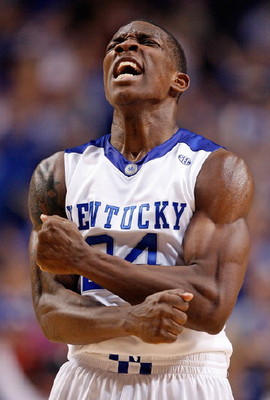 21. OKC—Solomon Alabi, C, Florida State
22. POR—Damion James, SF, Texas
23. MIN—Larry Sanders, PF, Virginia Commonwealth
24. ATL—Eric Bledsoe, PG, Kentucky
25. MEM—Elliot Williams, SG, Memphis
Picks 26-30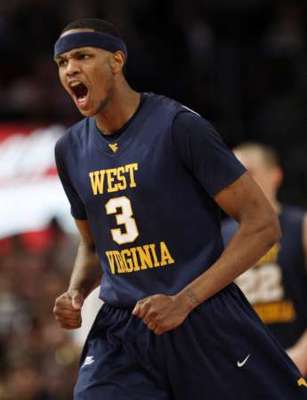 26. OKC—Willie Warren, SG, Oklahoma
27. NJ—Jordan Crawford, SG, Xavier
28. MEM—Quincy Pondexter, SF, Washington
29. ORL—Devin Ebanks, SF, West Virginia
30. WSH—Kevin Seraphin, C, France
Everyone go to www.viewfrommycouch.wordpress.com for my new blog, I won't be putting as much stuff on here as I will be there, so go to it and subscribe.
Keep Reading