Five Players the Chicago Blackhawks May Be Forced To Dump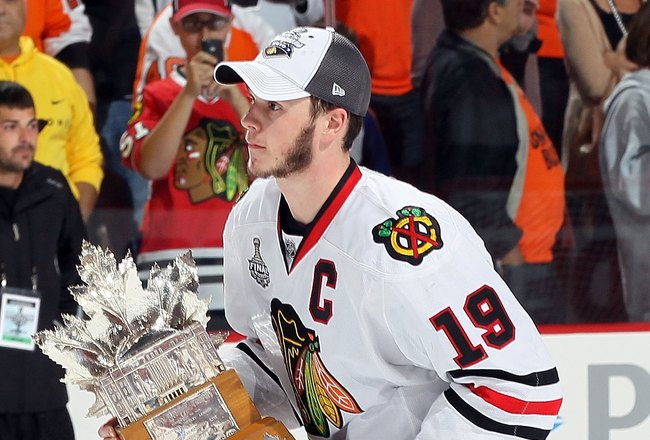 Congratulations to the Chicago Blackhawks on winning the Stanley Cup. They have shown great heart, grit and determination to get the most prized trophy in hockey. However, this will be the summer of their discontent as they are forced to trade away assets to save themselves cap space. Now part of the problem was the RFA problem when Tallon mailed (not e-mailed, mailed!) the RFA's qualifying offers and so had to act fast to re-sign them all for higher prices. However we expected this every since they locked up four players for $24 million per year. The supporting cast had to take a hit, so I now name the five people they will be shopping this summer.
Cristobal Huet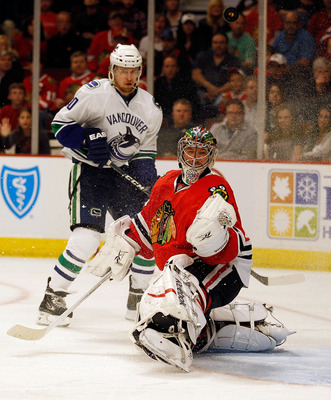 Cristobal Huet is not as bad as people think. He had a low save percentage last year at .895 but his GAA was a solid 2.50. Part of that may have had to do with the incredible defense in front of him, but he still plays the game at a higher rate than most goaltenders do. He would be a reclamation project for whoever acquires him, or maybe they will demote him to the AHL and keep him there. For this straight up salary dump they may have to give away someone like Versteeg or Byfuglien.
Brian Campbell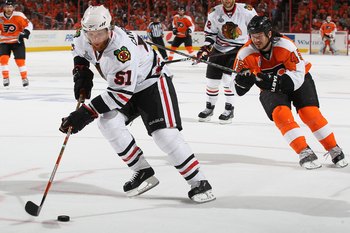 Yes Brian Campbell is overpaid, but only by about $1 million per year. His hideous contract (which looks much worse than it is because of the large cap hit over a long period of time) is what people think about, so they ignore how good he really is. Sure dealing him would be a salary dump, and I think they will try to deal the supporting cast forwards like Versteeg before they try to deal Campbell, but at the end of the day, getting rid of that large cap hit may be enough to save the team.
Dustin Byfuglien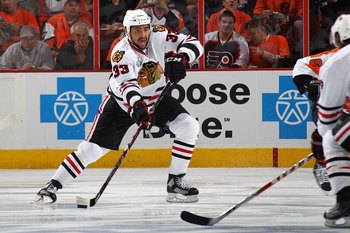 I know, I know. He's a playoff hero, he's tough, he's physical, and he can get really get under the opposition's skin. I know all of that. However, you must realize that with so little cap space they cannot afford to keep him at such a large cap hit. He is expendable because they have so many capable forwards like Kane, Toews and Hossa. He would not fetch much, maybe a top level prospect or maybe a first rounder. He might get a bit more because he is young but the Blackhawks want prospects and draft picks, preferably prospects that can start next year with the big club.
Kris Versteeg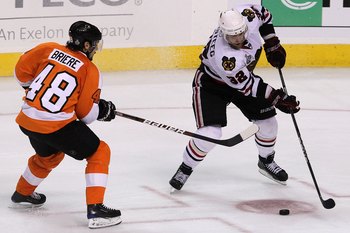 Versteeg is a solid young forward who will probably be a second line winger. Now he would garner some pretty good interest as he's only 24 and making about $3 million per year. People would be willing to pay a decent price for him as he's already shown to be a 20 goal scorer and still improving. A first round pick and maybe a prospect for him would probably get the deal done. Especially if the first round pick is in the top 20.
Patrick Sharp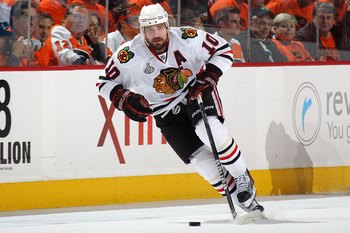 The most famous of all the trade rumours. Patrick Sharp displays all the skills you would want from your forward. He plays defense, scores goals, and gets assists. He plays a belligerent style and has two years left at a cap hit of $3.9 million. He has shown the leadership abilities needed to be a captain on almost any team in the league, unfortunately Chicago has Toews. So for him to be dealt they will most likely want someone like Filatov or Hodgson. Chicago will definitely miss him if he is dealt.
Keep Reading

Chicago Blackhawks: Like this team?