Cleveland Browns Training Camp 2010: Wide Receivers Preview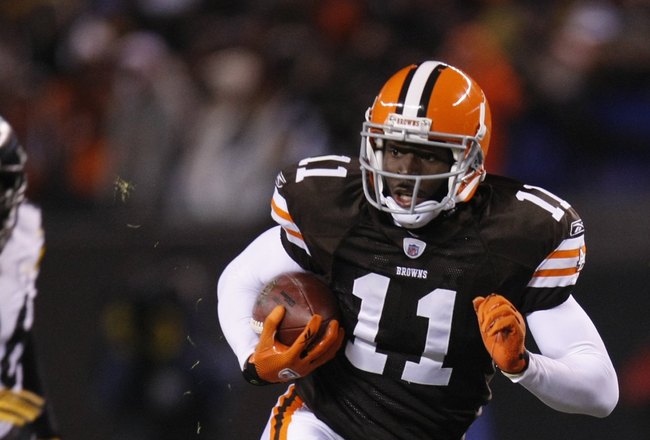 If there was one thing the Cleveland Browns wide receivers were remembered for last year, it was dropping the ball.
Both quarterbacks the Browns utilized last year had accuracy problems, and now Braylon Edwards is dropping balls for the New York Jets.
It's time to turn the page and look at what the Browns have now.
What they have is a very young corps of wide receivers, sprinkled with a few veterans, who will be out on the field with a lot to prove.
Mohamed Massaquoi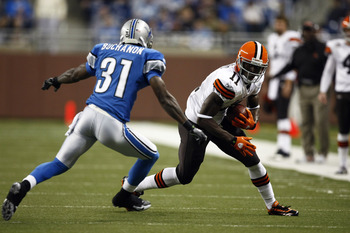 The Browns' No. 1 receiver going into camp, Mohamed Massaquoi, is entering his second year in the league.
In 2009, Massaquoi had 34 receptions for 624 yards and three touchdowns.
For a first-year receiver, that's not too bad, except Massaquoi was the No. 1 receiver by the middle of the season.
With the overhaul at quarterback, though, plus the year of experience under his belt, Massaquoi should have around 75 catches for more than 1,000 yards and nine touchdowns this season if he stays in the top position.
Brian Robiskie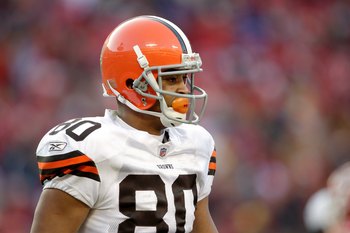 Brian Robiskie did not have a good rookie season. He only dressed for 11 games, and his impact during those games was minimal, if he saw the field at all.
He had seven receptions for 106 yards and no touchdowns last year.
Head coach Eric Mangini has praised Robiskie for his improvement during the offseason program, so projecting Robiskie's numbers out becomes slightly more difficult.
He should have better numbers than last year, though, so slotting him as the No. 2 receiver would give him approximately 60 catches for 785 yards and four touchdowns.
Joshua Cribbs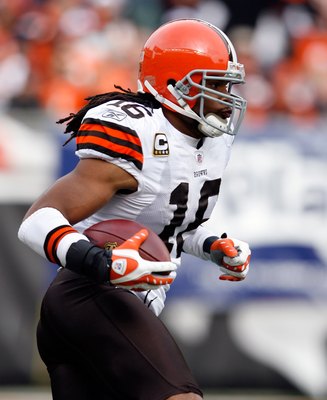 Joshua Cribbs is shaping up to factor into the Browns' offensive schemes in several ways, including wide receiver.
He had 20 catches for 135 yards and one touchdown last year.
In 2010, you can figure a more accurate offense will increase his statistics to around 30 catches for 300 yards and three touchdowns.
That projection doesn't reflect what he may accomplish through passing or rushing on a Wildcat formation.
Chansi Stuckey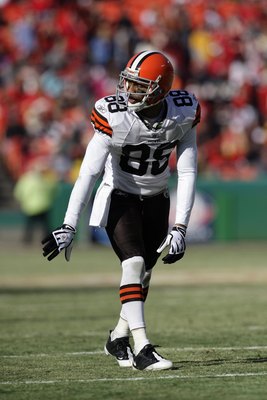 Chansi Stuckey had 30 catches for 318 yards and two touchdowns last year.
He wasn't as productive as anyone had hoped after coming over from the Jets, but that's just one of the hard luck stories of the 2009 season.
In 2010, he should bring in at least 50 catches for 700 yards and five touchdowns.
The Rest of the Roster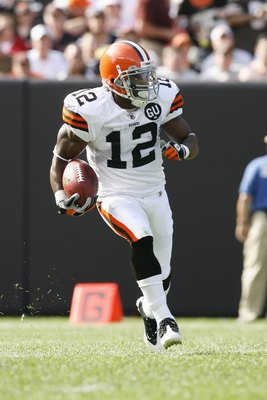 The other four receivers on the roster going into training camp include veteran Syndric Steptoe, who's 2009 season was lost because of a shoulder injury.
Then there is sixth-round draft pick Carlton Mitchell and undrafted free agents Johnathan Haggerty and Jake Allen.
Of the three rookies, one should make the roster while the other two could end up on the practice squad.
Unless Steptoe blows everyone away in the preseason, he most likely will be gone by Week One.
Keep Reading

Cleveland Browns: Like this team?