FIFA World Cup 2010: WAGs and Hot Fans of Group A
WAGs are diamonds in the rough. The lottery of being a professional athlete is only trumped by the lottery victory of the WAG that goes along with the salary. Welcome to the world sport where the perk is the partner.
Group A has certainly given us some drama this World Cup. The French hate their coach and one of the best French players is back in Paris. Meanwhile, the South African hosts are being gracious in that they are laying out the welcome mat and being walked over (let's hope they keep their girlfriends better than their goals). Meanwhile, Uruguay has more possibililities at being known since a certain rugby team ate their teammates to survive. Finally, Mexico has more to live for than a drug war—they may even have a chance at a World Cup final...
With that being said, the following is some inspiration to let you know that Group A is certainly no North Korea—they get out and get it on.
Begin Slideshow

»
Giovani Dos Santos has enough play for Belinda Cole to make his life lived in full... If he is not inspired then he should be sent home....
Money penny! This makes double "o" seven wonder why Mexico isn't the seventh wonder of the world....
The French may actually be worth the value of French Fries—they decided to embarass their country this time around (as if this is something new). Charlene Suric tells us that Gael Clichy may not be able to play out this tournament without contraversy but at least he knows how to play....
Uh, wow, please win.... Uruguay may be as south as a country can go but certainly knows where to be when it counts. Diego Forlan has a top model in Zaira Nara which could carry the heart of the team to a goal (which is what...)....
Hey Jude will never be the same because of Jude Cisse—wife of Djibril Cisse... After all, it is unlikely that the French will have anything worth watching on the field at this point so....
Mr. Suarez is making the Southern Hemisphere come of age this World Cup. Bottomline is that if the toilets flow the opposite direction in the South, this beauty—Nereida Gallardo—could make it flow our direction. Kudos to you Luis Suarez!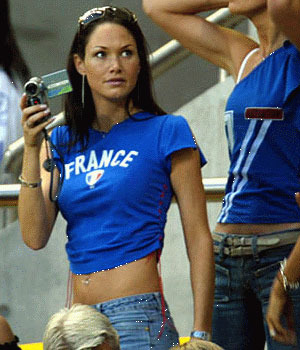 Most North Americans forgot about one of the pinnacle players of prior World Cups—Thierry Henry of France—but his main squeeze will not be soon to be forgotten. Nicole Merry will keep her little super star on top of his game with her camera... (Maybe a video on the internet will keep the future strong....)
The French have only one thing going—they know how to get attention everywhere except where the goals are scored. Luckily we do not care as Nade Gallas shows that her beau William can play off the field if he gets his last opportunity to play to a World Cup this time around....
One more for the road....
Moving on with the fans of Uruguay.... Certainly a knockout...
Zorro will certainly not be the only contribution to Mexican resistance... Stay tuned to a promising second round....