NBA Free Agency: Eight Things That Will Not Happen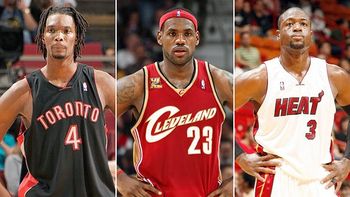 Now that the NBA Finals have finished, it's time for the real fun to begin.
Right now people seem to be complaining about how they just want the free agency period to be over, so we can all move on knowing who is playing for who.
Not me, I can't get enough of this stuff.
This is a historic time for the league. The balance of power in the NBA could be totally shifted in a matter of days.
We are on the precipice of what could be a potential doomsday for some organizations (Cavs) or a glorious renaissance for others (Knicks).
When July 1st finally arrives, it could determine how the league plays out over the next five years. A few hours could change the landscape of the NBA.
Admittedly, for the past month or so the NBA's free agent watch has been a bit dull because no one has mentioned what their intentions are - except for Dwyane Wade who must really, really love the club scene in Miami.
That's all about to change here in the next two weeks.
Throw in the NBA draft and we're looking at something more entertaining that the WWE Royal Rumble match we watched last Wednesday night between the Lakers and Celtics.
Though most players have remained somewhat silent on where they want to play, I predict the high school-like hallways of the NBA will be buzzing with enough gossip to make any reality TV show look tame.
I'm hoping this plays out like a bad high school movie with players going behind each others backs, talking bad about one another, and at least one individual conniving and manipulating everything behind the scenes - Hello there Worldwide Wes.
We've all heard about the potential destinations for LeBron, how Wade is going on a full scale recruiting mission for the city of Miami, and how the Nets owner will try to take over the world at some point.
Instead of trying to predict what's going to go down in the next month, I think it will be easier to predict what will not happen.
Here are the Eight Things that Will NOT Happen This Offseason.
8. Grizzlies Will Not Re-sign GM Chris Wallace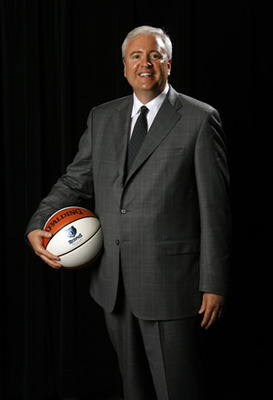 There's no way you can re-sign a GM when...
The team's record since he took over is 86-160.
He helped orchestrate one of the most lopsided deals in NBA history by sending Pau Gasol to the Lakers, helping LA to win back-to-back titles.
He rafted Hasheem Thabeet 2nd overall last season only to watch ROY and Memphis alum, Tyreke Evans go 4th to the Kings.
Wait...what? He just got re-signed you say?
Ah, well good luck Memphis. Moving on...

7. Mikhail Prokhorov Will Not Get One of The Prized Free Agents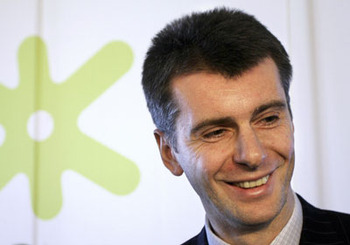 I think this is a no-brainer.
LeBron James will not be going to New Jersey anytime soon. If people think New York would be a rebuilding job, then the Nets would be a start-from-scratch job.
The other options (Chicago, New York, or staying in Cleveland) offer much more than the Nets, even if Prokhorov offers to let LeBron borrow his million dollar yacht that comes equipped with 10 Russian supermodels.
LeBron wants to go to a situation where he can win and - while the Knicks are terrible - if he got Chris Bosh to go with him, that's an instant competitor in the Eastern Conference.
The Nets really have nothing to offer other than a freewheeling owner who is willing to spend more than his country's GDP in hopes of building a contender.
I wish the Nets the best, I really do. I hope Prokhorov turns it around somewhere down the road just because I'd like to see more of him in the news.
As for Wade, he won't go there because the weather sucks, plain and simple.
Chris Bosh has made it known on his list of five teams that he will only go to a contender or wherever LeBron ends up. New Jersey does not meet either of those standards.
I think the Nets have a much better shot at the second tier of free agents (Carlos Boozer, Joe Johnson, Rudy Gay, and Amare Stoudemire) and if they snag a couple of them, I'd say that goes from god-awful to a decent, .500 squad.
Regardless, if I'm a Nets fan, I'm still super excited that my team is being run by a James Bond villain.
6. Ray Allen Will Not Be a Boston Celtic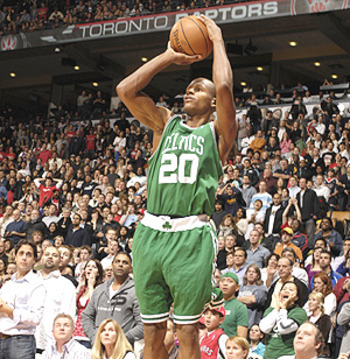 I think Allen's days as a Celtic are numbered. While he's still a great player, he is not necessarily one of the prized free agents in this class.
His NBA Finals gave us the best shooting performance in Finals history (eight threes in Game 2) and one of the worst as well (making just one three in Boston.)
Still, he is undoubtedly one of the best shooters in the game and has carved out a niche as a deep threat assassin over the course of his career.
The question now is will Boston give him enough money to make him stay.
Word is that Boston is prepared to make Allen a mid-level deal in the range of $6-8 million per year.
Given how every NBA player thinks they are worth more than they actually are, I don't think this will satisfy Allen's needs.
I believe Allen will be asking for more in neighborhood of double digits per year and despite all they've been through together, I don't think Boston will oblige him.
The Celtics are old, I mean like, real old. Ray Allen will be 35 next month and has shown that despite having bad ankles, he is still a durable player in this league.
The way I see it, the Celtics Big Three just made their last trip to the finals together.
The pieces will start to fall apart as the team looks to build around its new best player in point guard Rajon Rondo. I don't think Allen will be one of those pieces.
Don't get me wrong, I love Ray Allen, he's always been of my favorite players and in my opinion has the best jump shot of our generation.
I'm sure the Celtics think the same thing but the NBA is still a business and they won't see investing more years and money in Ray Ray as a good business decision. It's been real Jesus Shuttlesworth.
5. Dirk Will Not Leave Dallas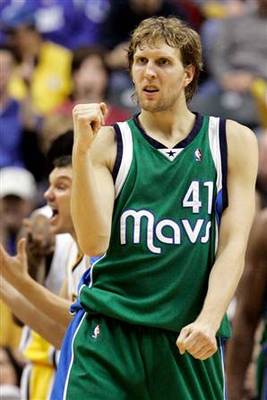 One week after the Mavs season came to an unceremonious end, Dirk seemingly stunned all the Dallas faithful by announcing he would opt out of his contract.
This caused an overnight craze in Dallas to those who believed this meant Dirk was leaving.
Actually, Dirk opting out can be a bigger benefit for the Mavs if they agree to re-sign him to a long-term deal.
Simply put, if the Mavs agree to pay Dirk $96 million over the next four years they can stagger the deal so they only have to pay him $18-19 million over the next two seasons.
This allows the Mavs more cap space in the big time free agent offseasons this year and next.
Now this all hinges on whether Dirk chooses to stay. I think he absolutely will.
He's on the record of saying it wouldn't mean nearly as much winning a title anywhere else, and the Mavs finished second in the West last year.
While they may be getting old, they still have pieces to make it work and I think you will see owner Mark Cuban do everything in his power to get in on the action this offseason.
Cuban has proven his loyalty to Dirk in every way possible over the last decade. He has stuck by his side every time Nowitzki has been criticized or called out in the media.
The billionaire owner and Nowitzki showed up in the league around the same time and want to win a title in Dallas together.
Because of that, I'd be shocked if Dirk left for greener pastures.
4. Amare Stoudemire Will Not Stay in Phoenix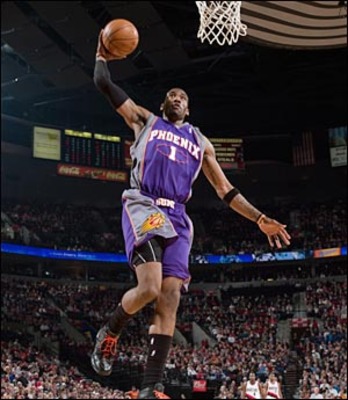 Amare Stoudemire wants big money.
Phoenix owner Robert Sarver has a history of not giving out big time money.
Stoudemire chose to opt out of his deal that would have paid him in the neighborhood of $18 million next year which means he's looking to make big boy dollars.
The big question here has to be is he worth it?
Stoudemire has only played with one point guard in his entire career, and some would argue that Steve Nash is the best facilitator in the NBA.
My brother makes the comparison of Nash and Stoudemire to Dr. Frankenstein and his monster.
I think that's totally fair and I wonder if the Suns feel the same way.
We already know Stoudemire's flaws as they were on display for all the see against the Lakers' bigs. He's just not a good rebounder and his defense is probably average at best.
While his offensive game is undoubtedly explosive, one has to wonder how much of that can be attributed to the genius of Steve Nash.
I could easily see the Suns not re-signing Stoudemire to the max money he believes he deserves this offseason.
My bet is that Stoudemire goes to the New Jersey Nets, since Mikhail Prokhorov is looking for a big name to throw mass amounts of money to.
Stoudemire fits both of those but it will still be interesting to see how good he can be without Nash.
Amare showed us all that he is capable of putting up big numbers as seen as in Western Conference Finals. The question now is has he shown the Suns enough to make them show him the money?
My answer is no and New Jersey fans will get to witness the ultimate test of Steve Nash's ability in watching Stoudemire play.
3. Wade Will Not Lure Free Agents to Miami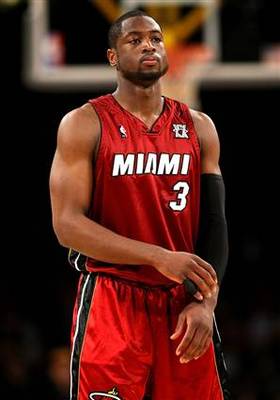 One thing that has been made known to everyone this offseason is that Dwyane Wade wants to stay in Miami for some reason.
I mean who wouldn't want to be one of the best three players in the league and play in a half-empty arena?
I get that Miami won a title in '06.
I get that it's one of the favorite cities for NBA players to live and visit.
I get that Wade appears to be a loyal guy who wants to bring another title home to the Heat.
What I don't get is why Wade is so desperate on bringing people to a team that has seen little or no success since that title in 2006.
Wade has only won four playoff games since that trip to the Finals, and bis attempt to lure players to Miami has to be hurt by the fact that nobody goes to Heat games unless they are a title contender.
It's simply not a place where one of the best players in league should play.
Wade owes it to himself to go to a contender or meet one of the free agents at a place like Chicago.
His Game 4 against the Celtics this postseason was quietly one of best playoff games in recent memory. And that was against double and triple teams.
I don't think LeBron will go to Miami (we will get there in a moment) and I don't think Chris Bosh will go to Miami to play second fiddle to Wade.
Wade's best bet will be going after that second tier of free agents. But I still say that while Wade has been outspoken about his loyalties to Miami, the chances of him leaving are not totally gone.
Just like everyone else in this free agency period, his actions will be determined by where he thinks he can win. If he's unsuccessful in getting a big name to Miami - which I think he will be - look for Wade to enter the market as well.
2. Dwyane Wade and LeBron James Will Not Play Together
NBA dynasties can only survive with one alpha-male.
Jordan was the alpha in Chicago, Shaq was the alpha in LA (and ultimately the reason Kobe ran him out of town.)
Even though LeBron James and Dwyane Wade are bffs, there is still no chance they will ever play together.
The only teams that currently have the cap space to make this happen are Wade's heat and the New York Knicks.
I think this is the most surefire prediction on this list.
Both players are too used to being the man to ever step aside and let someone else have the spotlight at all times. It just can't happen.
I know they each have said that winning is the only thing that matters, well if that was the case these two would go play together.
But because winning is only one of the things that matters, you will not see Wade and Bron-Bron in matching jerseys anytime soon.
It's about being "The Man."
You can have only one "Man" on your team as NBA history has shown us.
Lebron and Wade, no matter where they go, want to be "The Man," and it can't happen if they go to the same place.
1. LeBron Will Not Stay in Cleveland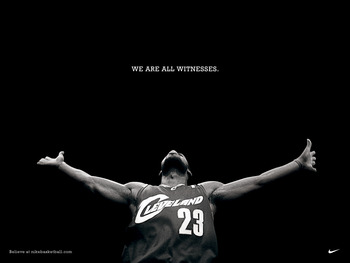 Sorry Cleveland fans. I fear the death of basketball in your city is nearing.
LeBron did show up yesterday for the "LeBron James Appreciation Day" which was a great gesture from the city of Akron.
As a sports fan, I genuinely feel terrible for what's about to happen in that city.
We are talking about one of the first ever basketball apocalypses.
LeBron is the "native son" of that franchise and has single-handedly built it into a yearly contender.
I know they just cleaned house by firing head coach Mike Brown and general manager Danny Ferry but I fear unless some drastic new development happens, LeBron will be leaving for bigger and better things.
Cleveland can simply not hold onto LeBron. They have never been able to surround him with the right amount of talent to win a title; something that has to be frustrating for King James.
Also, I don't think the city is big enough for the ego of Bron-Bron. In my opinion, he wants to be more than just a ballplayer, he wants to be a global icon
He might say it's only about winning but it's more than that. It's about being known not just in the sports world but in the entertainment industry as well.
Because of that, I think he leaves Cleveland for New York, Los Angeles, or Chi-town.
I know some pundits have been on record saying LeBron wants to stay in Cleveland because it's where he grew up and it's where his family is.
My issue with that is If King James were to leave for New York, he would just take his whole crew with him.
I see dark days on the horizon for Cavaliers fans. It'd be a basketball tragedy if LeBron left his hometown.
But given the circumstance, I believe it is a likely one.
Keep Reading