Arizona State-Arizona Rivalry: The History of the Duel in the Desert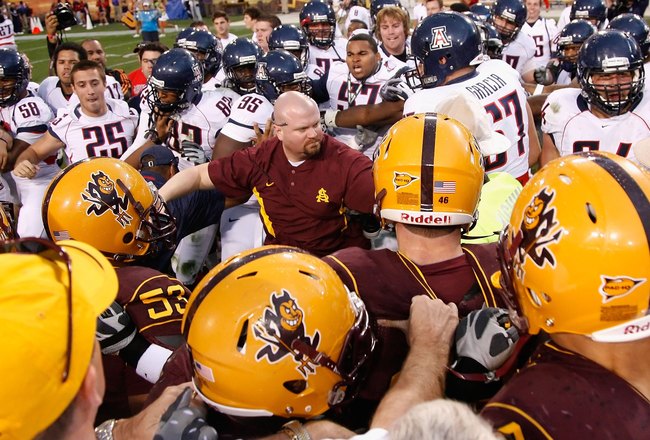 Christian Petersen/Getty Images
Every college football team has a rival; it's as though it is a rite of passage.
Heated rivalries include an intensity that is not seen in other games, with the addition of hatred for the opposing team thrown into the mix.
The rivalry between the Arizona State University and the University of Arizona Wildcats is as heated as they come, and not because of Arizona temperatures.
"The Duel in the Desert" is dated back to Thanksgiving Day of 1899, before Arizona was considered an official state.
The then, Tempe Normal School, won the first rivalry game. Old recounts of the historic day state it as one of pure and genuine sportsmanship, in which the University students entertained the Normals at an on-campus dorm and hosted a post-game Thanksgiving feast.
The winner of the yearly game is awarded the "Territorial Cup," which has been NCAA certified as the oldest trophy or award to be given for a rivalry game to date. The trophy becomes property of the winning school to showcase until they lose.
It is said that the actual rivalry was not started between the two schools, but rather stemmed from the resentment between Phoenix and Tucson when Arizona was still a U.S. territory.
One of the most controversial and argued topics in Tempe and Tucson is the overall record for the Duel in the Desert, or rather when the official record should have started.
Both schools were founded in 1885, but UofA was actually the first university in Arizona, as ASU was then the "Tempe Normal School," a teachers college.
If dating the rivalry record back to their first meeting, in which the schools were not recognized as having the same academic status, the University of Arizona would be in the lead with a record of 46-36-1.
On the other hand, if one were to only account games from which both schools were fully accredited universities (ASU became a full-fledged university in 1958), Arizona State leads the series 28-23-1.
Out of these two possibilities, one can easily point out who chooses which. There will always be controversy around what to believe valid.
Records aside, the rivalry has grown from the genuine sportsmanship between schools in 1899 to pure hatred. Football game days feature a crowd mixed of gold and red, where "intense" does not fully describe the experience.
Think of an ex-boyfriend or girlfriend whom you can not stand to look at. This is the feeling that ASU fans get when they see red shirts and UofA when they see gold shirts—good old fashioned disgust.
Now, this disgust does not only pertain to game days, but it is year-round.
Phoenix, which neighbors Tempe, is home to many UofA alumni, because let's face it, not many people stay in Tucson, Arizona after graduating.
If you are a Sun Devil shopping in a Phoenix store and happen to see someone wearing a Wildcats shirt, be prepared to see dirty looks from both sides. Wearing any opposing gear in either Tempe or Tucson is not a good idea, because when it comes to rivalries, "class" is usually the first thing to go out the door.
Another game week delight is the guarding of each respective schools' "A-Mountains." ASU's A-Mountain is located on the north side of campus, atop Hayden Butte, where Sun Devil Stadium is built into.
The gigantic concrete gold "A" has been a target for Wildcat students to creep up to at night and paint wildcat red.
UofA's A-Mountain is not located on campus grounds, making it less of a respectable target for Sun Devil students, but nonetheless, it is still a punch in the face if painted gold.
While both programs have shown bits of success in the past decade, when it comes to a rivalry game, absolutely anything can happen on the field.
Upsets are a regular commodity and the cacophony from the crowd will leave you with a ringing in your ears.
The Duel in the Desert territorial cup game is slowly gaining more national attention—as the fierce rivalry should. ESPN has picked up the game for a Thursday night showdown on December 2, 2010, letting the two teams battle it out on national television.
This article is
What is the duplicate article?
Why is this article offensive?
Where is this article plagiarized from?
Why is this article poorly edited?

Arizona State Football: Like this team?