Here Comes The Pain !: Top 20 Coolest WWE Finshers Ever
Through out the history of professional wrestling there is one move in a wrestlers move set that is the "ace in the hole", the one move that will end the match and raise your hand in victory.
That is a wrestlers finisher or his signature move.
Some finishers amaze us with the ridiculous athleticism that goes into performing them, others impress us with the simple brute strength needed to perform them, and then their are those that dazzle us with the creativity.
Here is a list of my "Top 20 Coolest WWE Finishers Ever".
Before, you click start I just want to tell you that I didn't include two finishers by one wrestler on the list. So, you wouldn't see "The Rock Bottom" and "The People's Elbow" on it. I did this so I could get 20 different stars on the list.
And, I haven't put Hulk Hogan's "Leg Drop" on it. Because, I think it is the most overrated move EVER!
Begin Slideshow

»
"The Rated R Superstar's" go to move "The Spear" has to be on this list.
Just think of all the matches Edge won with this move.
He picked up his first WWE Championship with this move and numerous other World Titles.
He gets in almost a pyschotic zone when his opponent is down and when the opponent is down and turns around BAM! a full speed SPEAR!
He can hit it anytime and anywhere.
Batista's devastating powerbomb has to be included on this list.
The Animal set this move up with the classic thumbs up and thumbs down.
He won 6 World Titles with this finisher and as Matt Striker would say "The Batista Bomb is more deadly then a regular powerbomb because Batista is drving himself down with the victim". Or something like that, lol.
When the second coming of Y2J came he brought with him back to the ring a very effective finisher "The Code Breaker".
This move is real cool and lethal, Jericho can hit it at any moment.
I remember when Rey Mysterio did a dive of the top rope and Jericho caught him with the in mid-air Code Breaker.
Some might rather have the "Walls Of Jericho" on this list but, I took this move.
To younger fans this move is probably the most popular signature move in the WWE right now.
This move is a basic "Fireman's Carry Takeover" but, with a physical monster like Cena doing it I assure you it's hurting a lot more then you think.
Cena usually follows this move up with the "STF", or just goes for the pin.
Probably, one of the most underutilized superstars in all of the WWE right John Morrison, who also happens to have one of the sickest signature moves in the WWE.
Kind of a "Corkscrew Moonsault" would be the best way to describe this move.
Very athletic move, you really need to have a good body size and athletic build to make this move successful. Which he has.
I won't lie this is the only submissions move on the entire list.
But, it dam sure is a good one. Hart really made this move popular and attractive for any submissions specialist to have in their arsenal.
The greatness of this move has been seen threw the years we saw great entertainers such as the The Rock, Shawn Michaels, Chris Benoit and even Chris Jericho use it from time to time.
Come on we need some high flyers to be on this list.
Hardy's awesome "Swanton Bomb" has go down as one of the great high flying moves ever !
Hardy's Bomb helped him capture 3 World Titles.
Boy, Carlito and John Cena are just amazed at the ridiculous athletic flight of Hardy.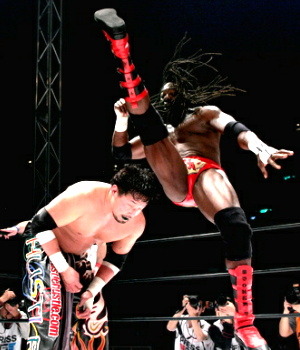 One of the best in ring performers all time Booker T.
And, being one of the greatest performers you need a kickass finisher and the "Scissors Kick" was just that a kickass finisher.
He had such form and grace when using this move.
Also, the first time I saw him doing it, it was amazing cause I had never seen any wrestler have a axe kick as great as that one.
First time I ever saw Bourne doing this move I had to see it twice to believe it, I mean he elevated his body so high up in the air and maintained form.
Not, being the biggest guy on the Raw roster you need to make a impression on Vince McMahon and a move like the "Shooting Star Press" is just the thing to make an impression.
Evan has a great career ahead of him if he can maintain his ability to hit this move.
This one of those perfect moves if Kurt Angles uses it, if any other wrestler tried to use it, it just wouldn't look right.
Kurt almost uses a little grace when using this move he has opponents in mid air for a good 3 or 4 seconds.
He can even perform this move on the top rope. Like when he hit a "Super Angle Slam" on Shawn Michaels at WrestleMania.
RVD's awesome high flying "Frog Splash" has got to be in the top 10.
A opponent can be layed out in the middle of the ring but RVD can still reach him and hit it from the top rope.
I have always been a Rob Van Dam fan and I don't know I single person who isn't.
Great move, great wrestler.
We all knew that The Game's skull crushing finisher "The Pedigree" had to be on this list sooner or later.
This move has helped Triple H to over 10 World Titles and he has used this move to win almost every title there is to win in the WWE.
Devastating move for a WWE future HOF.
Randy Orton's cool Jumping Cutter is on my top 10.
"The Viper" can hit you with the RKO anytime and can just end a match like that.
Who can forget that Summerslam evening when Randy Orton reversed Benoits attack into a RKO to win the World Heavyweight Championship.
And, since then both he and his powerful finisher haven't looked back winning 5 more WWE Titles and having intense feuds with the likes of Jeff Hardy, John Cena, Edge, The Undertaker, Triple H and many others.
"The Most Electrifying Move In All Of Sports" has got to be in the top 10.
I mean did any of you see the style and charisma of The Rock when he was hitting this move. Who can forget when he tossed the pads away and went from rope to rope.
One of the greatest champions of all time and truly the most electrifying move of all time.
Imagine Edge 3 times bigger then he is now coming at you 3 times as intense as he is now and coming at you 4 times as fast, all that will give you Bill Goldberg's Spear.
To be honest the spears we see today don't compare with what Goldberg was capable of doing.
People don't stop to see how truly gifted of an athlete Rey Mysterio is, just think how much real ability it takes to do a move as cool as the 619.
Of course no one can forget about the spring board drop after he hits the 619.
Rey can make even the worst wrestlers look good in the ring.
The Undertaker has so many finishers in his arsenal he has "The Last Ride", "The Hell's Gate Submission" and "The Chokeslam". But, none compare to the Tombstone Piledriver.
He had this move from the begining of his career and still has it toward the end of his career.
The Deadman can bring credibility to any wrestler he competes againest but, the match usually ends with the Undertaker hitting the Tombstone and getting the 1-2-3.
Lets admit it most WWE fans don't like Brock Lesnar that much, but the man was a FREAK!
He is probably one of if not the only man to be able to hit the F-5 on anyone.
People give attention to Cena and him hitting the Attitude Adjustment on Big Show well, Brock Lesnar hit the F-5 on Big Show and may I remind you it is a much more difficult move to use.
Hands down is one of the top 3 greatest WWE Superstars ever. Ifn't the greatest WWE Superstar ever.
And, how did he get to the top, pretty much by drinking beer and stunning anyone in his sight.
I remember seeing Razor Ramon going flying off after Stone Cold hit a stunner on him one match. Also, to the Rock as well in a match just went flying.
Austin didn't discriminate he stunned the boss, other superstars, security guards, divas and hell if given the chance maybe even Mike tyson.
Any suprise? This move by HBK has it all the style, the finish and most of all it gets the fan into it when Shawn is tuning up the band.
He can hit you with the superkick out of nowhere. And, he will kick his way to the WWE HOF.
No one can match his charisma and flare for the dramatic.