After Expansion: Power Ranking the Big Ten Coaches with Bo Pelini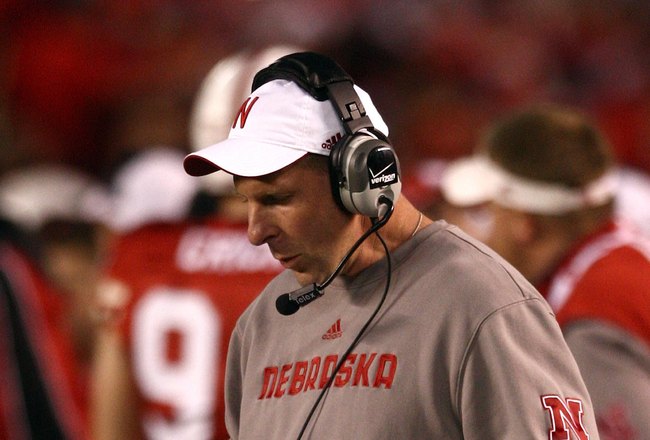 With the official addition of the University of Nebraska to the Big Ten, the conference gets not only one of the traditional powerhouses of college football, but also one of the nation's up-and-coming coaches in Bo Pelini.
Although Nebraska won't actually begin Big Ten play until 2011, it's safe to say that with Pelini at the helm, the Cornhuskers will immediately be a force within the conference.
But where does the head Cornhusker sit when comparing him with the other Big Ten coaches he'll be strategizing against?
Looking ahead past the 2010 season, here are the rankings of the Big Ten football head coaches for when Nebraska officially joins the conference after next year.
No. 12: Ron Zook, Illinois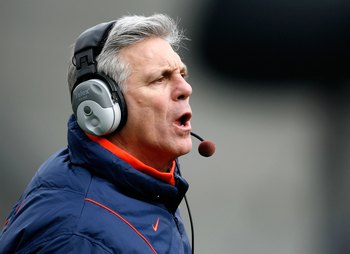 Coming to Champaign from the University of Florida, Illinois coach Ron Zook inherited a team that was absolutely terrible.
And, to be honest, other than their Rose Bowl appearance in 2008, Zook hasn't really helped to improve the Illini. He has an overall record of only 21-39 while at Illinois and his team has had a losing record in four of his five seasons, including a 3-9 campaign last year.
He may be able to recruit, signing Juice Williams and Arrelious Benn while with the lllini, but that doesn't necessarily translate into coaching a team to actual victories.
If Zook's Illini don't show some sign of improvement in 2010, he may not be around for Nebraska's Big Ten debut in 2011.
No. 11: Bill Lynch, Indiana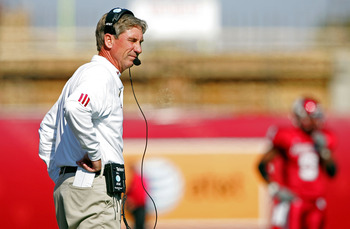 Although it would be tough for any coach to lead Indiana to gridiron success, current Hoosier coach Bill Lynch had many fans believing that he could.
In his first year in Bloomington, Lynch led Indiana to a 7-6 record and a bid to the Insight Bowl, the Hoosiers' first bowl game since 1993. He signed a contract extension that would keep him in Indiana until 2012 and seemed poised to lead Indiana out of their perpetual spot in the Big Ten cellar.
However, it's all gone downhill from there.
The last two seasons, the Hoosiers have gone 3-9 and 4-8, respectively, and don't appear headed up any time soon.
After such a promising start, Lynch will have to pull the Hoosiers out of their nosedive if he wants to stay on longer than his current contract.
No. 10: Danny Hope, Purdue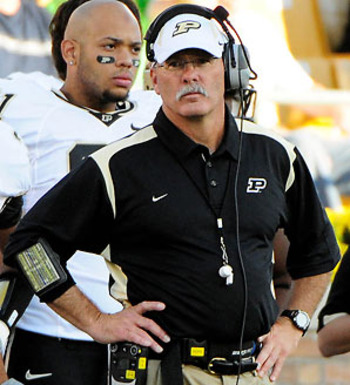 Simply because he's only spent one year in West Lafayette, it's difficult to judge Danny Hope's coaching prowess.
In his one season at Purdue, Hope led the Boilermakers to a respectable 5-7 record, including an upset win over Ohio State.
However, he will have his work cut out for him in the Big Ten. From 2003 to 2007, Hope coached FCS Eastern Kentucky and is still undoubtedly adjusting to Big Ten play.
If last year is any indication though, Hope could have a bright future ahead of him as a Boilermaker.
No. 9: Tim Brewster, Minnesota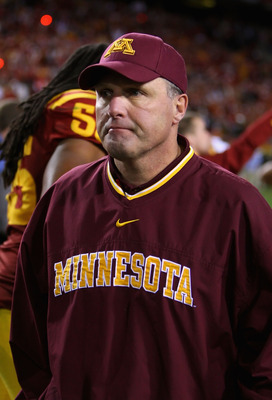 Tim Brewster's career as a head college football coach couldn't have gotten off to a worse start.
After taking over the Minnesota football program in 2007, Brewster's Gophers rewarded their new coach with a 1-11 record and a last-place finish in the Big Ten.
However, despite the rough start, Brewster and the Gophers bounced back the past two years, going 7-6 and 6-7, respectively.
Despite a bowl appearance in 2009, the season was a relative disappointment. Led by Adam Weber and Eric Decker, Minnesota was supposed to be in the running for the Big Ten title, but those expectations never came to fruition.
Brewster will likely remain in Minneapolis for a while longer, but the question of whether he can ever turn the Gophers into a championship-caliber team has yet to be answered.
No. 8: Rich Rodriguez, Michigan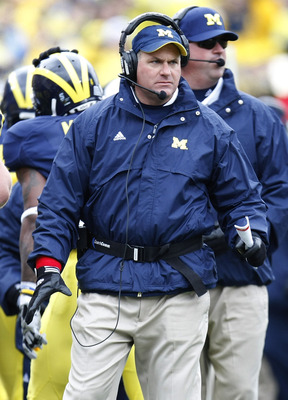 Rich Rodriguez is a good coach. There's no doubt about it.
His time at West Virginia is irrefutable evidence of that fact.
But whether he is the right fit at Michigan is another question entirely. An 8-16 record over two years in Ann Arbor just won't cut it—even for a coach people know can win.
His run-based spread offense, a system that worked to perfection in Morgantown, just hasn't operated as efficiently as it needs to if Michigan is going to compete for a Big Ten title. And at Michigan, if you're not competing for the Big Ten, then something needs to change.
If Rodriguez can lead the Wolverines to a bowl game in 2010—which would be their first with him as head coach—he should be on for another year.
But if the Wolverine defense can't stop anyone and the spread offense fails, Rich Rod may be packing his bags after only three years in Ann Arbor.
No. 7: Mark Dantonio, Michigan State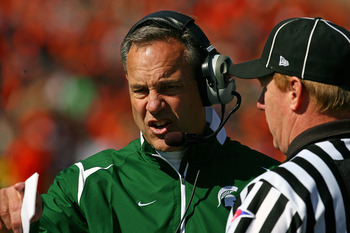 Although Michigan State hasn't been anything extraordinary in the past three years, they've compiled a 22-17 record, been to three bowl games, and always seem to keep opponents on their toes.
No, Mark Dantonio hasn't led the Spartans to the national success that they hoped he could bring. But he's kept Michigan State in the Big Ten hunt every year he's been in East Lansing and seems poised to keep that trend going in 2010.
Although he's a defensive-minded coach, Dantonio has had one of the most prolific offenses in the country and if the Spartans do finally break into the BCS next year, it will be because of their air attack.
Dantonio hasn't yet shown he can get MSU over that hump, but there is certainly a lot of potential.
No. 6: Bret Bielema, Wisconsin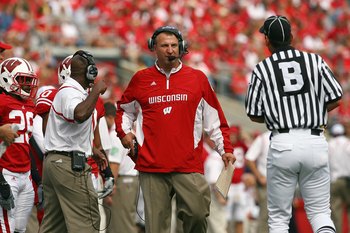 Even though Wisconsin coach Bret Bielema has had one of the quickest starts out of the gate in college football history (38-14 in his first four seasons), there are still plenty of questions surrounding his capacity to lead the Badgers.
After his 12-1 rookie season, the Badgers finished 9-4 in 2007 and then dropped to 7-6 in 2008. Many fans began to question whether he was the right man for the job.
After all, what true Badger has a tattoo of a Hawkeye on his leg?
But, with a 10-3 campaign in 2009, Bielema won back the confidence of many in Madison and if he can continue those winning ways in 2010, he will cement himself as not only one of the best coaches in the Big Ten, but as someone who is fit to lead UW.
No. 5: Pat Fitzgerald, Northwestern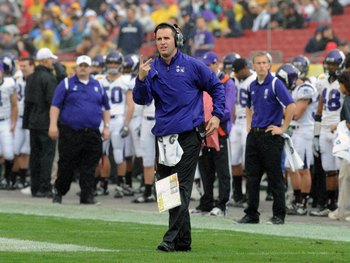 After the tragic death of Northwestern coach Randy Walker, the Wildcat football program—already not the most stable program around—appeared on the edge of the precipice.
They had no leader and appeared destined to gather dust in the Big Ten basement.
But along came Pat Fitzgerald, selected at the age of only 31 to lead the Wildcats. And Northwestern couldn't have been more fortunate to take that chance.
Although Fitzgerald's overall record with the team is modest (27-23 in four years), modesty isn't such a bad thing for the Northwestern football program. Mediocrity and below is more of the norm.
Despite their history of failure, Fitzgerald has only one losing season while with the team and took the Wildcats to bowl games the last two years.
With Fitzgerald at the helm, no longer can it be assumed that the Wildcats are a 'W' when looking at the upcoming schedule.
No. 4: Bo Pelini, Nebraska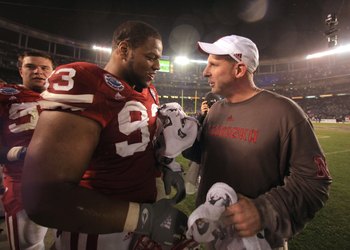 Although Nebraska coach Bo Pelini has been in Lincoln for only two years, he's done something more valuable than just win a few games. He's revitalized a proud program after the Cornhuskers hit a low with a 5-7 record in 2007.
In his short time as head coach of Nebraska, Pelini has already won 19 games and has two bowl victories under his belt, including an absolute annihilation of Arizona in the Holiday Bowl last year.
Nebraska is once again expected to compete for the Big 12 title in 2010—their last season in the conference—and Pelini would love nothing less than to take the Cornhuskers out of the league on top.
That said, Nebraska is in for some tough competition in the Big Ten.
But, luckily for the Cornhuskers, it will be just a little bit easier with Pelini leading the charge.
No. 3: Joe Paterno, Penn State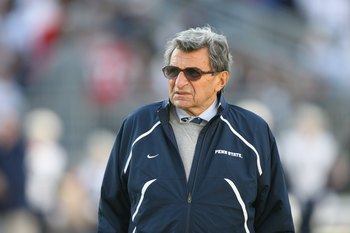 With almost 400 career victories, all of them as the head coach of Penn State, Joe Paterno will go down as the winningest coach in NCAA FBS history when he either retires or dies.
Simply put, JoePa made the Nittany Lions into what they are now, and without him, college football simply wouldn't be the same.
But as an actual tactical strategist and in-game mastermind, there is a lot of doubt surrounding what Paterno is doing currently.
At 83 years old, many doubt that Paterno actually has much to do with the game plan at all and is simply there for motivation and show.
That said, career accomplishments can't be ignored when ranking coaches, even when power rankings are typically about what is happening currently. There is a reason Paterno has been coaching at Happy Valley for over 40 years.
He's won two national championships (before PSU joined the Big Ten) and three conference titles since the Lions joined the Big Ten in 1993.
Although his input into game decisions may be much more influenced by his assistants than before, players don't come to Penn State because of his assistant coaches.
They come because they want to play for Joe Paterno.
No. 2: Kirk Ferentz, Iowa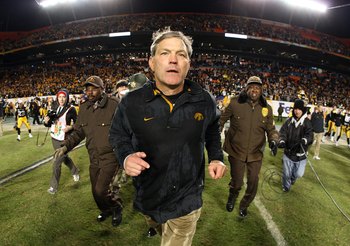 Long considered a favorite for an NFL head coaching position, Iowa's Kirk Ferentz is still in Iowa City despite numerous rumors of his departure. And every time he says no to one of those tempting offers, Hawkeyes fans breathe a sigh of relief.
Over the past ten years, Ferentz has been the face of one of the most consistent teams in the Big Ten.
A big reason for that consistency is Ferentz. He's logged over 80 wins for Iowa, snagged two Big Ten crowns and led Iowa to their first BCS bowl win, a victory over Georgia Tech in last year's Orange Bowl.
And, with his contract running through 2015, don't expect Ferentz to be going anywhere soon. But the NFL offers will still undoubtedly come.
With those kind of credentials, that's to be expected.
No. 1: Jim Tressel, Ohio State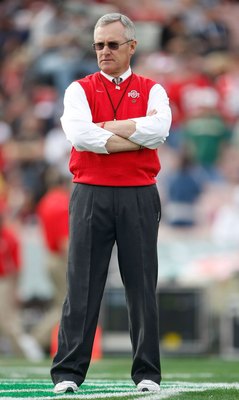 Over the past decade, there hasn't been a more successful Big Ten football program than Ohio State. And, accordingly, there hasn't been a more successful Big Ten football coach than Jim Tressel.
With 94 wins, six Big Ten championships, and a national title under his belt, Tressel has arguably been the best coach in the country since he took over the Buckeyes in 2001.
The 2000s will go down as the decade of The Ohio State in Big Ten annals thanks in large part to Tressel and the enormous talent he brought into Columbus.
And, luckily for Bucks fans, that success appears like it will continue into the 2010s. Ohio State just beat Oregon in the Rose Bowl and will likely be ranked as the No. 2 team in the country to start the 2010 season.
A Big Ten championship is expected and a national title isn't out of the question.
No surprise there.
Keep Reading