Building the Perfect QB: Ranking the Strongest Arms in the NFL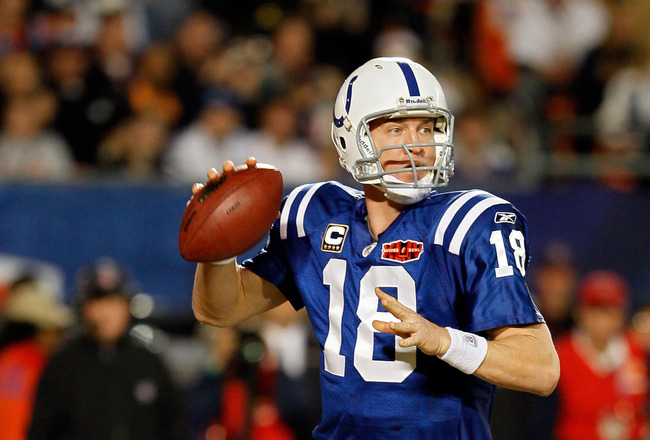 This is Dustin Brown bringing you my new series of articles entitled "Building the Perfect."
To get things started, I will first discuss the quarterback position. First off, I will discuss arm strength and its importance.
Following my QB slides, I will discuss other positions and present slides as well.
Enjoy, and thank you for any constructive criticism to help me perfect my writing. Feel free to leave any sort of feedback; it won't go unappreciated.
Arm Strength Introduction
Some readers may be wondering what does how strong a man's arm have to do with his level of play? Well, it isn't the most important aspect of a quarterback, I admit, but it spices things up and can contribute to massive success for the athlete under center.
Players like Kyle Orton and Chad Pennington were and are constantly criticized about how deep they can chuck a pigskin. Although in today's game, arm strength isn't the best way to judge a quarterback, it certainly helps your offense in many ways.
These "many ways" include the ability to rocket a ball to your receiver before that window of opportunity closes, being able to stretch the field, etc.
Overall, arm strength isn't the No. 1 attribute to a quarterback, but it can certainly help create a path towards success.
No. 3—Joe Flacco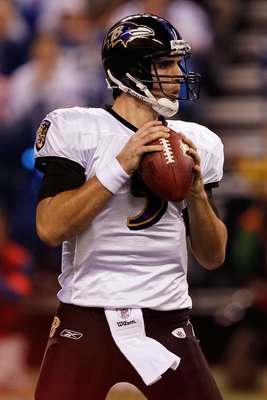 Coming in at No. 3, Joe Flacco is one of the select few of young quarterbacks playing at almost top-notch level, and is still improving.
The 25-year-old quarterback is coming off an impressive year, to say the least—posting up a passer rating of 88.9 in only his second season.
Flacco not only has a laser arm, he has the build to throw bullets. Standing at a whopping 6'6", Joe has enough leverage over the offensive line to stand in the pocket and throw darts consistently.
I expect big things from Flacco next year with Ray Rice probably improving and the acquisition of Anquan Boldin to give Flacco his first superstar target.
2009 Statistics:
63.1 Completion PCT. | 3,613 Yards Passing. | 21 TD, 12 INT. | 88.9 Passer RTG.
2010 Predictions:
63.9 Completion PCT. | 3,817 Yards Passing. | 22 TD, 12 INT. | 90.2 Passer RTG.
http://www.youtube.com/watch?v=GrAfRaFm0xU
No. 2—JaMarcus Russell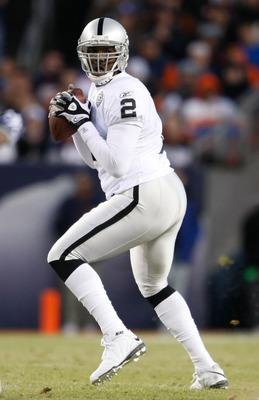 Since being drafted No. 1 overall by Oakland's Al Davis, Russell has been criticized constantly by the almighty Raider Nation and NFL analysts across the nation. His inconsistent accuracy, loose head, and alleged weak work ethic cost him all respect in the eyes of multiple fans.
Even through all this criticism and gradual decline in love for the 6'6", 260 lb. quarterback, there's no doubting JaMarcus's arm.
After being labeled the nickname "The Cannon" in college, Russell proved his arm right after draft day. In practice, Russell made spectacular deep throws in which the average quarterback, even the most prolific of players like Philip Rivers, couldn't make.
Although JaMarcus Russell has been labeled the biggest draft bust of all-time and is still, to this day, criticized—he deserves the No. 2 spot on this list.
2009 Statistics:
48.8 Completion PCT. | 1,287 Yards Passing. | 3 Touchdown Passes | 11 Interceptions Thrown.
2010 Predictions:
I doubt JaMarcus will receive a chance to start, but he'll be a backup somewhere probably. Therefore, he will have no stats in the 2010 NFL season.
http://www.youtube.com/watch?v=saLKcfFiCJ0
No. 1—Jay Cutler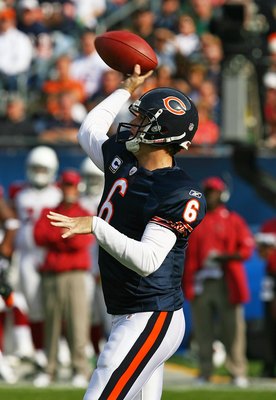 Despite your opinion on Jay Cutler, the Vanderbilt product is one of the most talented quarterbacks in the league right now and has all the potential in the world to succeed along with the elite.
There are a few things to hold him back, though.
A line, wide-outs with great chemistry and an ideal coaching staff to cater to the man under center is something elite quarterbacks have. But, it's something Jay Cutler doesn't have.
Even though things are looking up for the Chicago Bears with the addition of Coach Martz, the receivers on the positive side of things, and desperation by the Bears' staff, Cutler may not have enough to hang with the elite.
Any quarterback who doesn't have a line doesn't have a running game to relieve pressure from the QB and will have bad days. Even with a less-than-stellar team around him, Cutler is probably the most talented quarterback in the NFL and has the strongest, if not best arm.
2009 Statistics:
60.5 Completion PCT. | 3,666 Yards Passing. | 27 Touchdown Passes. | 26 Interceptions Thrown. | 76.8 Passer RTG.
2010 Predictions:
61.7 Completion PCT. | 4,127 Yards Passing. | 29 Touchdown Passes. | 16 Interceptions Thrown. | 89.2 Passer RTG.
http://www.youtube.com/watch?v=iXyzL4KwxC8&playnext_from=TL&videos=XV4LlYa9Mak
Honorable Mention—Rex Grossman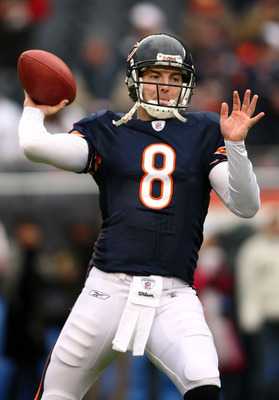 Rex Grossman is someone who I felt was never really given the best of shots. After being injured multiple times, Grossman led the Bears to a Super Bowl in 2006 in his first starting season. Throwing 23 touchdown passes, Grossman displayed he had the arm that everyone wanted.
Coming out of Florida, who used a shotgun formation, Grossman was placed under Ron Turner's usage of the singleback and I-formation. Not that I blame all of Rex's failures on coaching, but it made it harder for Rex because he was smaller compared to other quarterbacks.
After having to deal with a small line that played well at times but was aging quickly, Grossman came into 2007 playing pretty bad. He was benched but came back to toss a touchdown pass to Bernard Berrian against the Raiders after Brian Griese was injured.
Following the clutch performance by Rex Grossman, "Sexy Rexy" was given the chance to finish off the season. He played well and smart, but was injured against the New York Giants. In 2008, Kyle Orton won the starting job although many said Rex clearly outplayed Orton in camps and was never given another equal opportunity.
Rex Grossman still has one of the strongest and great accuracy on his deep passing, but will never be given another shot.
http://www.youtube.com/watch?v=s_B_yKbNSX0&playnext_from=TL&videos=oH8teDBg0NI
Keep Reading

Chicago Bears: Like this team?