The Biggest Choke Artists In Golf History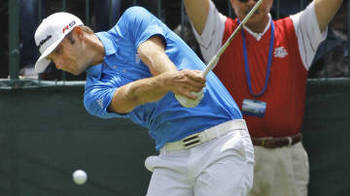 Dustin Johnson's chances of winning the U.S. Open disintegrated right before his eyes.
Johnson started the day with a three shot lead over Graeme McDowell but gave it all back at the 2010 U.S. Open (and then some) with a triple-bogey, double-bogey performance on holes two and three.
Don't think he is the biggest to blow leads in Major golf Championships...
Here are some of the best (or worst)...
10. Lorena Ochoa, 2005 U.S. Women's Open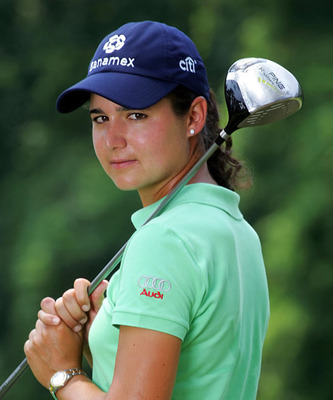 Ochoa's gaffe came on the 18th hole at the 2005 U.S. Women's Open and had rallied throughout the day from well back and was in position to win, or at least get into a playoff.
The 18th hole at Cherry Hills required the players to aim right, cutting off part of a lake and carrying the ball to the fairway and to make a long story short, Ochoa's drive never even sniffed land.
Her driver hit the ground a couple inches behind the ball— taking a divot—then bounced up into the ball. The ball shot left and dove into the water.
She quadruple-bogeyed No. 18 and finished four shots back.
9. Ed Sneed - 79' Masters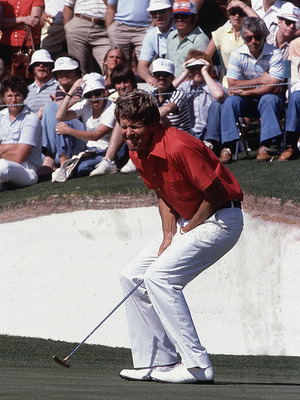 Sneed began the final round with a five-stroke lead, and kept a lead of at least several strokes through most of the day.
Then, things fell apart. With a three-shot lead and three holes to play, Sneed proceeded to bogey the 16th, 17th and 18th holes.
His par putts on 16 and 17 stopped right on the lip.
On No. 18, Sneed again came agonizingly close.
The par would have won him a Green Jacket.
But with bogey—and a 76 total for the fourth round—Sneed fell into a playoff, which he lost to Fuzzy Zoeller.
8. Phil Mickelson, 2006 U.S. Open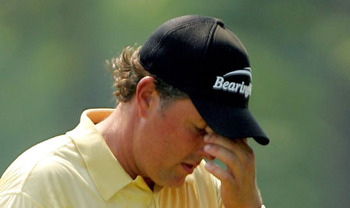 He entered the 2006 U.S. Open at Winged Foot going for his fourth career major and third in a row.
And he almost got it.
Almost...
Mickelson had a one-stroke lead as he stood on the 18th tee. Despite hitting only two fairways all day, he pulled the driver again. And again, he missed—only this time badly, his drive hitting the roof of a hospitality tent and bounding into the spectator area.
Mickelson had a decent lie, but a bad idea. Rather than advancing the ball a short distance but getting it back in the fairway—where he might make par the hard way, or, at worse, bogey to get into a playoff in which he'd be the heavy favorite—Mickelson attempted a huge slice under and around tree branches. It didn't work. The ball hit a branch and stopped 25 yards in front of him.
He hit another big slice, but this one plugged in a back bunker, and not even Mickelson's short-game magic could save him from there.
He double-bogeyed and finished one shot out of a playoff.
He is best remembered for delivering this post-Open gem: "I am such an idiot."
7. Mark Calcavecchia, 1991 Ryder Cup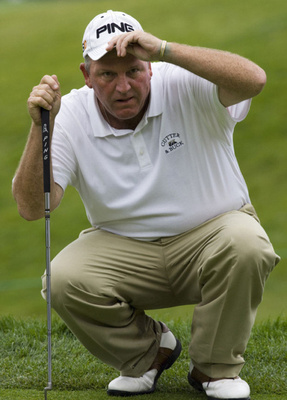 One of the more painful collapses to watch, with the Ryder Cup pressure appearing to almost suffocate Calcavecchia's game.
Known as the "War on the Shore," this Ryder Cup was intense from the start. The Americans had failed to gain the Cup in the three previous competitions, something Team USA wasn't used to (at this time, anyway) and didn't like. A lot of tough rhetoric preceded this Ryder Cup, and tension was heavy throughout.
Calcavecchia's singles match was against Colin Montgomerie, and Calc looked in great shape: he was dormie, 4-up with four to play. A win on any of the final four holes and he'd win the Cup for America.
Calc lost all four holes and halved the match.
The stretch included a tee shot on the par-3 17th at Kiawah Island that was very close to a shank, Calcavecchia's ball plopping into the water.
Thinking he had lost the Ryder Cup for Team USA, Calcavecchia walked away from the 18th green, down onto the beach, sank into the sand and cried.
But he was saved from permanent goat status when Bernhard Langer missed a 6-foot par putt on the final hole of the Cup, halving with Hale Irwin and allowing the U.S. to win back the Cup.
6. Doug Sanders, 1970 British Open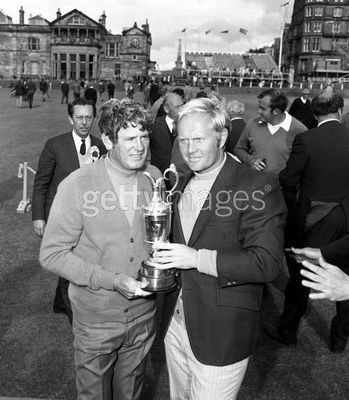 Sanders won 20 PGA events, including five times in 1961 but he never won a major.
The 1970 British Open was his best chance.
Playing at St. Andrews, in the final pairing with Jack Nicklaus, Sanders had a one-shot lead on No. 18 after a saving par on No. 17 from the Road Hole bunker.
His approach to the No. 18 green left him 30 feet above the hole. If Sanders two-putted, he'd win.
Sanders' lag putt stopped less than three feet from the cup. But it was a downhill slider, left-to-right, and Sanders was distracted at the last moment by what he thought was sand in the line.
"Without changing the position of my feet I bent down to pick it up," Sanders said later, "but it was a piece of brown grass. I didn't take the time to move away and get re-organized."
Without backing off the putt, he went back into the address position and struck the ball. It slid just over the right lip. As soon as he struck the ball, Sanders' body began moving forward, and he reached out to the ball as if to try to bring it back for a do-over.
There was no do-over, and Sanders fell into a tie.
He played well in the 18-hole playoff the next day, but Nicklaus won by a stroke.
5. Scott Hoch, 1989 Masters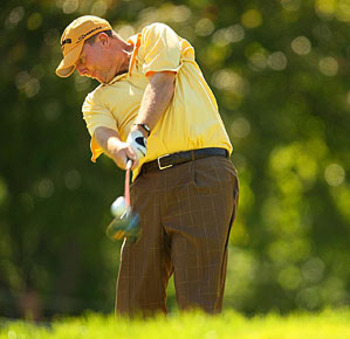 Hoch should have won the 1989 Masters, but didn't.
Hoch led Nick Faldo by one at No. 17, but missed a relatively short par putt and fell back into a tie. Hoch's and Faldo's scores matched on No. 18, so they went to a sudden-death playoff.
On the first hole of the playoff—No. 10 at Augusta—Faldo struggled to a bogey 5. Hoch was left with a birdie putt—he could two-putt and win the Masters.
Hoch three-putted. His birdie putt rolled a short distance past the cup, a distance variously reported as from 18 inches to 30 inches. The par putt Hoch had left was definitely no more than 2 1/2 feet, however.
But Hoch might have worked himself into "paralysis by analysis." For this little putt, he spent two minutes looking at it from every side, studying every possible break. When he finally stepped up to the ball, he wound up backing off, unable to decide if he should hit it firm and straight or softly to play a small amount of break.
Finally, he hit it firm—but also played the break. A bad combination. And on a 2 1/2-foot putt, he rapped the ball five feet past the hole.
Hoch made that comebacker to keep the playoff going, but he missed his chance to win the Masters.
Faldo sank a 25-footer on the next hole for the victory.
4. Sam Snead, 1947 U.S. Open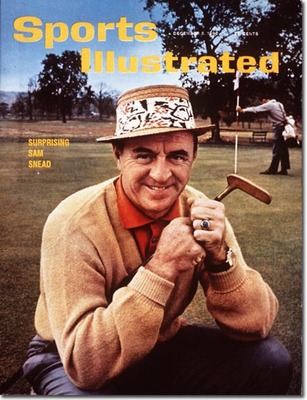 Slammin' Sam won 82 PGA events and 7 majors, but never won the U.S. Open and his his 1947 playoff loss is just one of four runner-up finishes in the event for Snead.
In 1939, Snead needed to par the final hole to win the U.S. Open, but made a triple-bogey. In 1947, Snead needed a birdie to get into a playoff, and snaked in an 18-footer to do just that.
The 18-hole playoff was with Lew Worsham, and Snead had a 2-stroke lead with three holes to play. But he gave both those strokes back and the pair approached No. 18 tied.
Both Snead and Worsham reached the No. 18 green in two and were faced with very short putts of similar lengths for birdies. Snead's putt was only 2 1/2 feet in length, and he took his address to putt first.
But as Snead was about to putt, Worsham interrupted and stopped play. He wasn't sure whether Snead was away and wanted a measurement to determine who should putt first.
Snead took his putting stance again ... and missed.
Worsham made his putt for the victory.
3. Greg Norman, 1996 Masters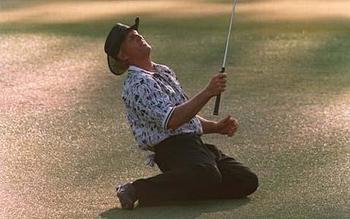 The Masters was the tournament he wanted more than any other.
Norman played great all week - he shot a course-record 63 in the first round—and entered the final round with a 6-shot lead over Nick Faldo.
But from the start, Norman's game was off, and Faldo's was on fire. Norman's lead disappeared quickly, and he never regained it. While Faldo was en route to a 67, Norman was on his way to five bogeys and two double-bogeys.
When he put his tee shot in the water on No. 12, Norman's fate seemed sealed, and the remaining holes had the feeling of a funeral procession.
When it was over, Norman had shot 78 to Faldo's 67, turning a six-shot lead into a five-stroke deficit. Norman was never again a serious contender in a major.
2. Jean Van de Velde, 1999 British Open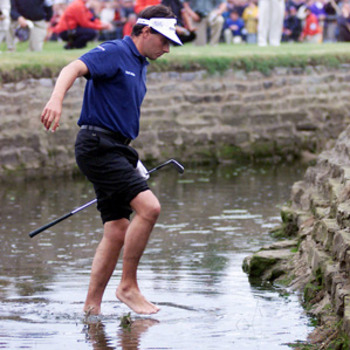 Any Tour golfer who needs only a double-bogey on the last hole to win should be able to do better than Van de Velde did on Sunday on No. 18 at Carnoustie in 1999. Period.
Trying to become the first Frenchman to win the Open Championship since 1907, Van de Velde reached the 18th tee with a 3-stroke lead.
It seemed as if the tournament was already over.
Then Van de Velde compounded bad shots with bad decisions and the rest, as they say, is history. Along the way to a triple-bogey, Van de Velde found the rough, the sand, the water and even the grandstands.
Following a mediocre drive that rolled into the rough, the smart decision would have been to lay up in front of Barry Burn, which crossed in front of the green.
Instead, Van de Velde went for the green. He found the grandstands, bouncing onto rocks along the edge of Barry Burn, and into thick rough short of the water hazard.
Van de Velde tried to hack the ball out of the rough and over the burn to the green, but the ball plopped down into the burn.
Then came the enduring image of this meltdown: Van de Velde, shoes off, climbing down into the flowing water of the burn, considering trying to hit the ball out.
He ultimately thought better of that and dropped behind the burn. This time he scooped the shot and the ball wound up short, in a greenside bunker. Van de Velde blasted out, then sank the putt for triple-bogey.
He'd blown the Open Championship, and made the meltdown complete by losing the playoff to Paul Lawrie.
Arnold Palmer, 1966 U.S. Open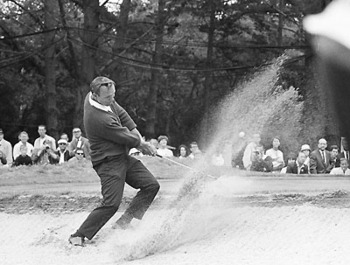 In 1966 at Olympic Club, Palmer had a 7-shot lead in the final round - and lost.
Palmer started the fourth round three shots better than Billy Casper, and when the players made the turn, Palmer had stretched his lead to seven strokes.
But then Casper went on a tear (he'd shoot 32 on the back nine) and Palmer cooled off. Arnie gave up a stroke at the 10th, then lost another at the 13th. The players halved the 14th, so to speak, which left Palmer with a 5-stroke lead with four holes to play.
And Casper completely erased that lead over the next three holes. Palmer gave two back at the 15th, then gave up another two on the 16th. When Palmer bogeyed the 17th, the entire seven-stroke lead was gone. Palmer and Casper were tied.
Palmer staggered home but managed to tie Casper on the 18th, forcing an 18-hole playoff the following day.
And once again, in the playoff, Palmer let a lead slip away. Arnie was up by two in the playoff with eight holes to go, but gave up six shots over the remaining holes. Casper won the playoff, 69 to 73, and the U.S. Open.
Palmer didn't play as poorly, overall, in the fourth round of the 1966 U.S. Open as did Greg Norman at the 1996 Masters. Norman shot 78 that day, while Palmer posted the very respectable score of 71.
Billy Casper deserves a tremendous amount of credit for winning this championship—probably more credit for winning the title than Palmer deserves blame for losing it. Casper went out and shot a 68, with a sizzling 32 on the back nine.
But Arnie? Losing a seven-shot lead over the final nine holes of a U.S. Open?
That's the biggest collapse in the history of golf...
Honorable Mention No. 1 - Jay Haas, 1995 Ryder Cup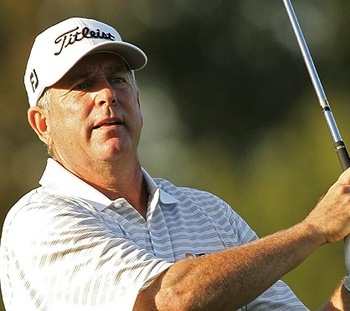 Haas' terrible drive came after a similar charge in the 1995 Ryder Cup at Oak Hill. The outcome hinged on Haas' match against Philip Walton. Haas trailed by three with three holes to play, but he holed out from a bunker to win No. 16, then won No. 17 with a par.
On the 18th tee, needing another win to give the Americans the Cup, Haas hit what Johnny Miller called "one of the strangest shots I've ever seen." It was a pop-up, yanked well left and into the woods, that traveled perhaps only 150 yards. Walton was able to two-putt for bogey to win the match for Team Europe.
"You know you're choking when your pop-ups start going crooked," Miller said on the broadcast.
Honorable Mention No. 2 - Bobby Jones - 1929 U.S. Open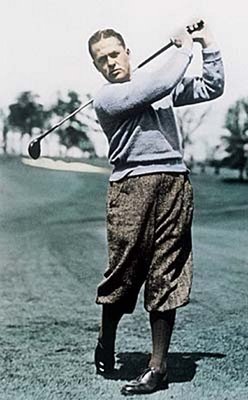 Even the great Bobby Jones tried to choke away a win. At the 1929 U.S. Open at Winged Foot, Jones blew up with a 79 in the final round that included a pair of 7s.
He had to make a curling 12-footer on he final hole just to tie Al Espinosa, forcing a playoff.
How do you turn what might be remembered as a choke into a U.S. Open victory for the ages?
Do what Jones did: in the 36-hole playoff, Jones beat Espinosa by 23 strokes.
Where Does D. Johnson Rank?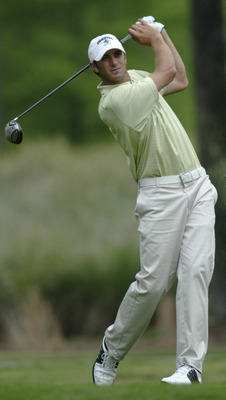 This top 10 list was originally posted on golf.com by Brent Kelly but inspired by Dustin Johnson's epic failure...
So where does Dustin Johnson rank?
Keep Reading