Thanks for the Genes, Pop: Five Greatest Father-Son Sports Combinations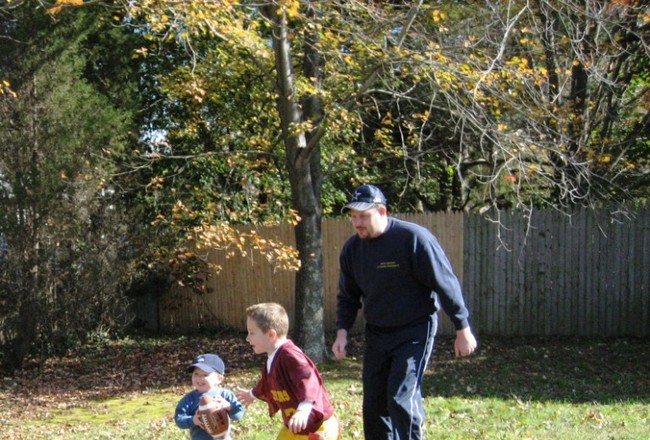 Fathers day. A day filled with memories of dad and his sons or daughters playing in the back yard.
Dad, trying to teach his kids to throw the perfect changeup, or how to throw a lazer of a pass across the middle to uncle Chuck after the barbeque.
It's a special bond, father and child, and some parents have found the key to passing on their sports genes to their offspring, in some cases, multiple times.
To all the dads out there playing pickup games of H-O-R-S-E in the driveway, to all the dads coaching the little league tee ball team, and to all the dads who just want to see their kids succeed in sports and life, Happy Fathers day, this one's for you.
1. Bobby and Brett Hull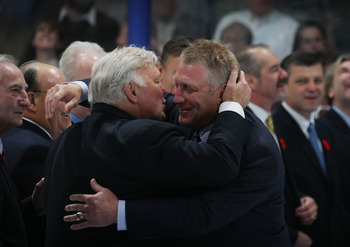 Brett and Bobby Hull were two of the greatest scorers in NHL history.
Bobby, the father, scored 610 career goals, with another 303 goals in the WHA.
Brett, a two time NHL champion (with the Detroit Red Wings and Dallas Stars) scored 741 goals, good for 3rd all-time in NHL history.
Both are members of the NHL Hall of Fame, and rightfully so.
2. The Mannings (Archie, Peyton, and Eli)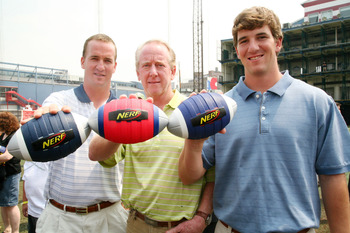 You really can't beat this dad at teaching his kids the game of football. His kids have the rings to show for it.
Peyton, highly regarded as one of the best quarterbacks of all time, and his younger brother Eli, who slayed the undefeated New England Patriots for his own ring, have shown just what a great father can do for you.
Archie Manning, played for the New Orleans Saints, and had a nice career, but it pales in comparison to his technician of a QB son in Peyton, and Eli is figuring out New York as he plays into his prime.
This is one of the few great sports families where two or more have been successful, and the success is sure to continue for the Manning family, whenever Peyton and Eli decide it's time to pass on the game they love to the next generation of Mannings.
3. Bobby and Barry Bonds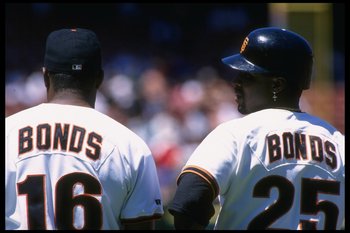 Bobby, pictured to the left, was a three-time NL all star in right field, and a five-time member of the 30-30 club of homers and stolen bases.
His son, Barry, among many other accomplishments, is one of the greatest baseball players of all time, smashing an amazing 762 career homeruns.
Even if Barry had taken steroids in his career, it should be pointed out that before his "bulk up years" he was still an MVP quality player.
This isn't about Bonds' steroid allegations, though.
The Bonds have put together quite the father-son numbers.
Total, the Bonds' career numbers amass 4,821 Hits, 1,095 Homers, and 3,010 RBI.
That's really impressive for a father-son one-two punch.
4. The Ken Griffeys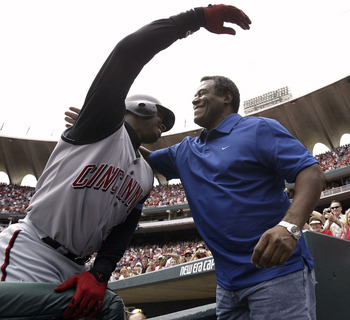 Ken Griffey Sr. and Jr. are two great baseball players, and find themselves in select company in baseball history
Griffey Sr. is a member of the 2000 hit, 200 stolen base club.
Griffey Jr. is a member of the select few who've hit 600-plus home runs, and totaled 500 or more doubles.
The Griffeys played a total of 51 games together, before Griffey Sr. decided to hang up his cleats and helmet in 1991.
5. Muhammad and Laila Ali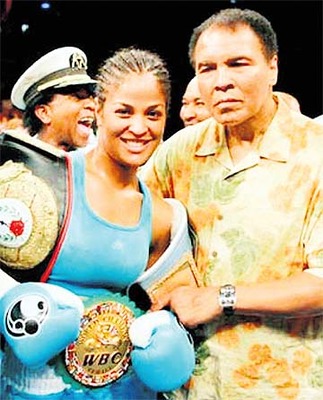 Yes, yes, I am quite aware this is a list titled "The 5 Greatest Father-Son Combinations of All-Time"
Try Telling Laila Ali she couldn't handle being with the boys.
The 24-0 professional women's boxer, Ali is the second coming of her father, Muhammad Ali. You may have heard of him, with his epic battles against Joe Frazier, and George Foreman to regain his heavyweight title a second time. Ali's career marks stood at 56 wins, 36 knockouts, to only 5 losses, none by knockout.
Laila Ali is one of the top female boxers, even though she hasn't fought since 2007, and her career has shown dominance similar to her father's legendary career.
Keep Reading