20 Top Wrestlers of the Last 20 Years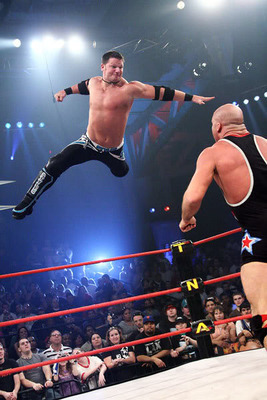 This is a list of my top 20 wrestlers of the last 20 years. These are my personal favorites and vary from charismatic, to technical, to amusing, to spot monkeys, to high flying.
These were the wrestlers who entertained me most over the last 20 years, in no particular order until the top five at the end.
If you enjoy it, please give me a thumbs up, and give me any comments!
Kazarian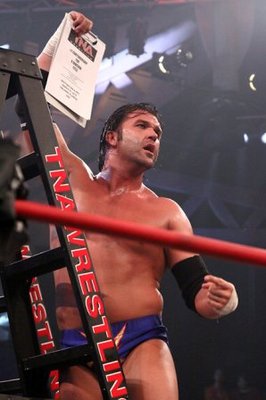 I'm sure, like many of the following wrestlers, this choice is controversial. However, every time I've seen Kaz in the ring, I've known I was going to get a great, entertaining match. He doesn't hold back, and his Diamond Cutter/Ace Crusher variation on Christopher Daniels off the scaffolding at Destination X 2008 made him one of my top 20 favorites!
Christian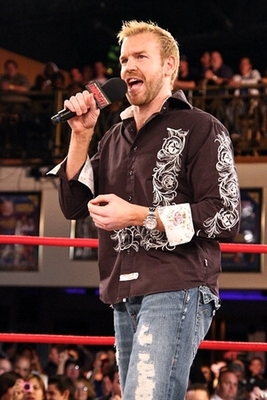 Christian is another wrestler who leaves it all in the ring every time. I never tire of watching his matches, and his years in TNA really put him over the top for me.
Gail Kim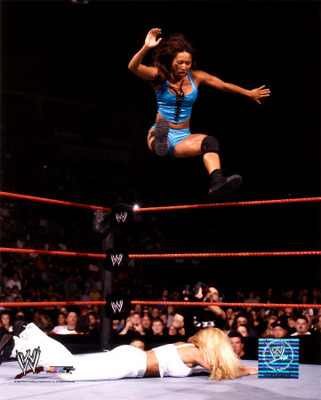 Gail Kim is the one female wrestler from both TNA and WWE that I could always count on for a solid wrestling match (not a cat fight, but good wrestling). From a technical perspective, she's my favorite female wrestler.
Sabu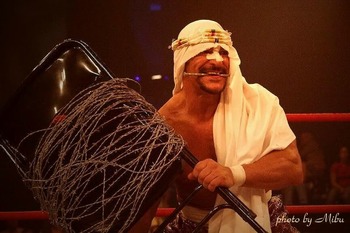 The Suicidal, Homicidal, Genocidal...SABU!!!! Talk about giving your all for the fans. No matter how beat up he was, he always entertained me with his brutal type of charisma, no matter what his technical abilities were. When he taped his torn up bicep during a barbed wire match and got back in the ring, he gained me as a fan for life.
Jerry Lynn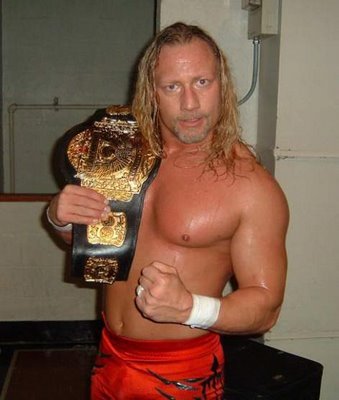 I really can't put my finger on why I picked Jerry Lynn, just that I've loved every match he was in and his attitude about putting over younger talent selflessly.
The Undertaker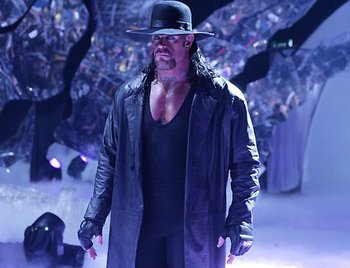 He's the freakin' Undertaker ... 'nuff said!
Stone Cold Steve Austin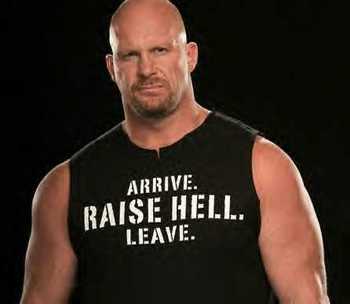 Can I get a "Hell Yeah"?!
Stone Cold was the king of charisma. One word out of his mouth would set the audience on fire. He wasn't the most technically gifted, but he always pushed himself to his limits and made sure the fans were entertained..."Now let's drink some beer!"
Chris Jericho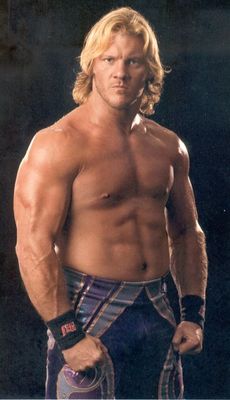 The Lionheart always aims to entertain. Arguably the best on the microphone over the last 5-10 years, Jericho keeps the fans on the edge of their seats, no matter if he's playing a heel or a face. He's not to shabby as a wrestler either!
Mr. Anderson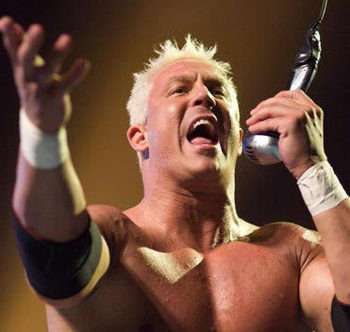 I've always loved Ken-his microphone work was incredible and no matter what, he made me laugh. I think he works well as a heel and a face, and while not the best athlete or wrestler, he puts his all into the matches, and his heart makes his decent abilities look like phenomenal abilities.
"Pro Wrestling is Real, People are Fake" ... Mr. Anderson
Petey Williams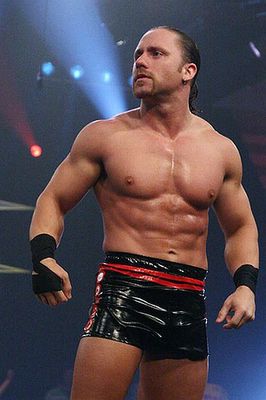 The Canadian Destroyer. Petey always entertained me and I always felt he was one of the most underrated wrestlers-I wish TNA would bring him back. His finisher is awesome (forget the haters), and he knew how to be a hated heel.
Christopher Daniels

Talk about underrated-the Fallen Angel is one of the most under appreciated wrestlers of all time, in my opinion. He always puts on incredible matches, connects with the fans, rocks the microphone, and leaves you on the edge of your seat the entire time your watching.
Mickie James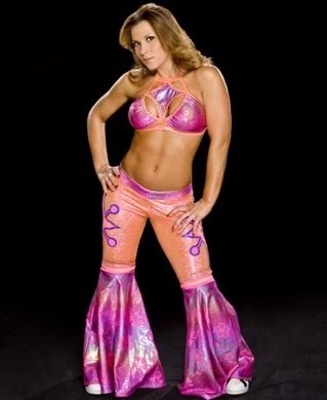 My favorite female wrestler of all time. I could never help but smile whenever she was on my television screen. She's one of the most talented in-ring women in the history of women's wrestling, she could work the microphone, and would get the crowd cheering just by her innate charisma and enigmatic smile!
Samoa Joe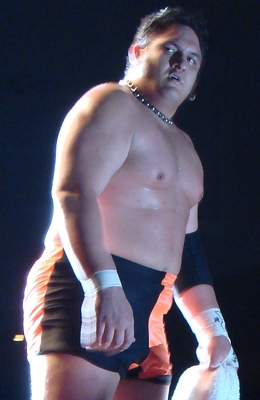 "Joe's gonna kill you!" echoes through the stands when Joe arrives on the scene. He is one of the most impressive, technical, faux brutal wrestlers and always provides entertaining, thrilling matches. While he leaves something to be desired on the microphone, he makes it work for him in the character he portrays.
Ric Flair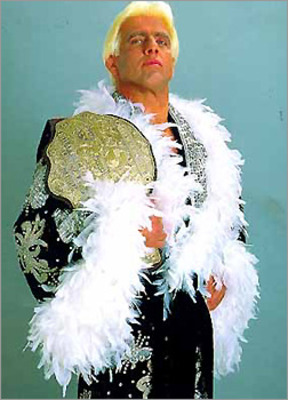 How can you not include the "Dirtiest Player" in a list like this. Always entertaining, always inspiring!
The Rock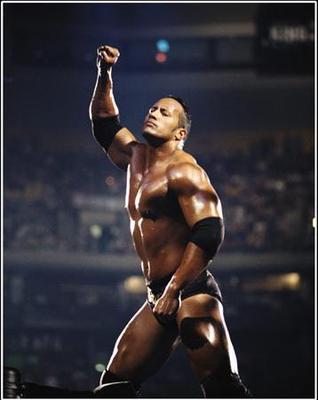 "Can you Smeeeeelllll.... what The Rock... is ... cooking!?" He might have cracked my top five if he didn't end his career so soon and become a full time actor. Arguably the best microphone worker of all time, he was great in the ring and incredible with fan interaction!
Kurt Angle - Number 5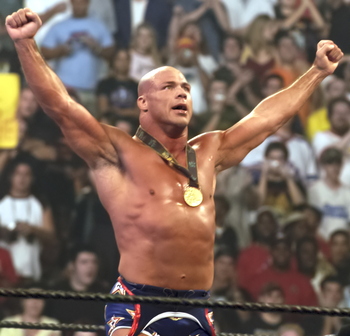 How can professional wrestling's only Olympic Gold Medalist not crack the top five? I've never seen a bad match with Kurt, and he's always willing to put over whoever he's working with. The best technical wrestler today, and probably in history.
Matt Hardy - Number 4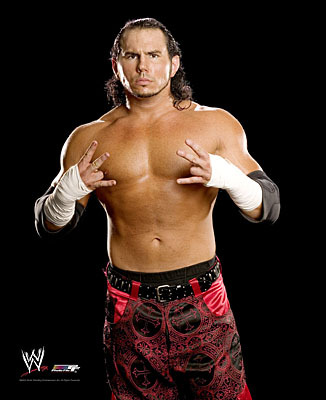 Matt is another one of the most underrated wrestlers in history. He's a far superior wrestler to his enigmatic brother, and he's better on the microphone as well. This is a controversial pick, but since I started watching, I've never been disappointed in a Matt Hardy match, and I can't help but rooting for him.
A.J. Styles - Number 3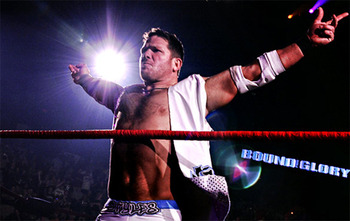 The greatest wrestler currently wrestling (at this point in his career), AJ Styles never fails to deliver. He can wrestle technically, do major spots, fly high, go hard core, and do anything else he's asked to do. He also evolves and learns constantly-his skill set is always improving.
Shawn Michaels - Number 2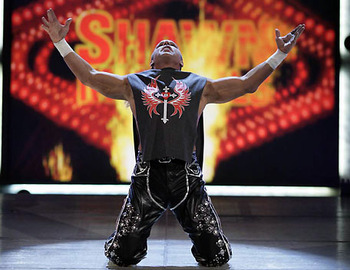 The Heartbreak Kid is my favorite wrestler in WWE history, and I think he's the best their company has ever seen. A smaller-than-average wrestler, HBK could grip you with the microphone, his in-ring performance, his gimmicks, his charisma, and so much more. He is definitively the "Show Stopper!"
Sting - Number 1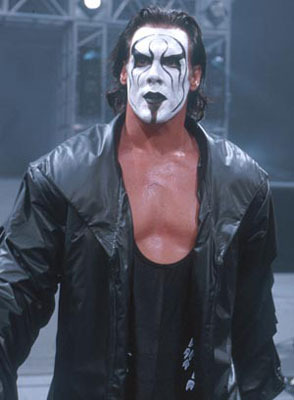 "The Icon" is my favorite wrestler of the last 20 years, and of all time. His matches with Ric Flair in the early 90s, his time as the soul of WCW, and as the mentor and star factor for TNA, are all reasons for him to be in this slot.
He's the only wrestler to be named "Wrestler of the Year" four times by Pro Wrestling Illustrated. He's also the only wrestler to have such huge name recognition without having worked for WWE. Steve Borden has always been, and will remain my favorite wrestler of the last 20 years!
Keep Reading