Boston Celtics: How To Bounce Back in the 2010-2011 Season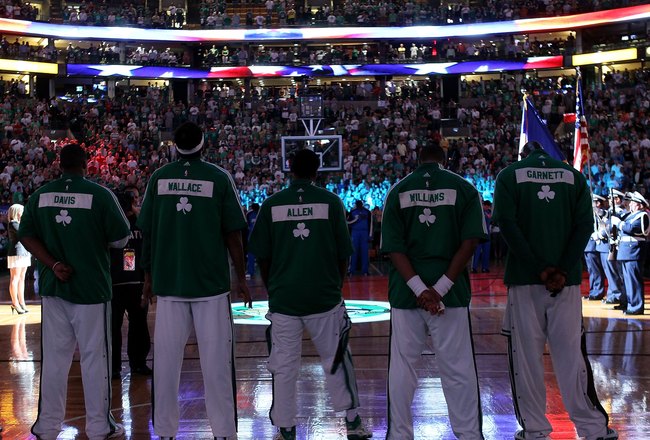 After a devastating Game 7 loss in Los Angeles, Celtics fans wonder if this year was their last shot at a championship in a while.
Due to aging in their leaders, Kevin Garnett and Paul Pierce, a starter in Ray Allen entering free agency, and the possibility of head coach Doc Rivers taking a break from coaching, fans of opposing teams are planning on counting out the Celtics as legitimate title contenders next season.
However, by making the right moves, Danny Ainge could keep the Celtics aiming for the finals for the second year in a row.
Current Payrolls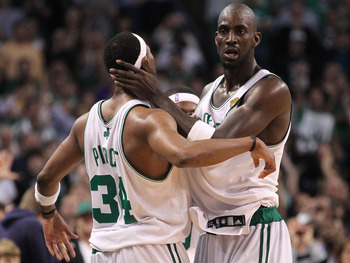 As of right now, the Celtics only have six players under control for next season (assuming Paul Pierce does not exercise his early termination option). Four of these players, Rajon Rondo, Paul Pierce, Kevin Garnett, and Kendrick Perkins will hold starting positions while the remaining two, Glen Davis and Rasheed Wallace, will play roles off the bench.
However, recent reports have announced that Rasheed Wallace is thinking about retiring. The Celtics may need to think about adding another big man whether or not Sheed stays with the team.
Let's start by looking at the players the Celtics will be looking to draft next Thursday.
James Anderson
Although many people think that the Celtics should draft a big man like Hassan Whiteside if he falls to the twentieth pick, James Anderson seems to be the perfect pick for the Celtics.
Anderson brings youth to the table as a twenty-one year old, but he is also NBA ready after three seasons at Oklahoma State University.
Anderson has a great jump shot with range from anywhere on the court. Anderson is not the pure shooter that Ray Allen is, but can knock down threes and long twos. The guard can also drive to the basket to score.
Anderson is a solid defender and should be NBA ready to produce on both sides of the court next season.
Hassan Whiteside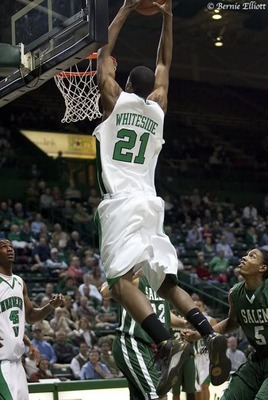 Although Anderson seems to be the best player to draft due to his potential to replace Ray Allen either now or in the near future, with an aging Kevin Garnett and Rasheed Wallace thinking about retiring, if Anderson is not available for the twentieth pick the Celtics could draft Hassan Whiteside.
Whiteside is not yet NBA ready, but his level of potential seems to be through the roof. Whiteside is a seven footer from Marshall. Whiteside has been compared to Marcus Camby due to a tremendous ability to block shots.
His height and wingspan of 7'6" and athleticism to jump makes Whiteside a dream fit for most teams but needs to improve his strength and post game. If Whiteside is available and Anderson is not, it looks like a seven-foot young stud is coming to Beantown.
Celtics Free Agency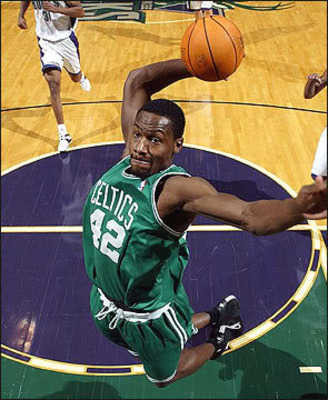 The free agency frenzy will start soon after the draft, and many Celtics are entering free agency.
Ray Allen, Tony Allen, and Nate Robinson headline the list of Celtics possibly making a uniform change.
Tony Allen brings a unique role to the team, similar to Dahntay Jones or Matt Barnes, as a defensive stopper whose defense outshines his offensive impact.
Allen defended the likes of Dwyane Wade, Lebron James, Vince Carter and Kobe Bryant in the playoffs and did a fantastic job in his play. Allen can jump out of the basketball court and occasionally surprises everyone with a monster dunk, however his real contributions come on the defensive end.
Allen wants to continue his time in Boston and should be resigned.
Nate Robinson was acquired at the trade deadline and had trouble finding his role on the team, until the playoffs at least. Robinson is a great complement to Rajon Rondo due to his great shot from anywhere on the court, and brings a spark off the bench.
When Robinson is in, he could run the point or Pierce can bring the ball up the court. Robinson had attitude problems in New York but fits in great with Boston's team and loves it in Beantown, just ask his buddy Shrek. Robinson has said he wants to stay a Celtic and should be resigned.
At the beginning of this season, Celtics fans campaigned for Allen being traded, but after the deadline he lit it up. Despite a streaky play in the playoffs, Allen had a great playoffs and a good season.
At this point in Ray Allen's career it makes sense for him to want to finish his career in Boston. In the next few slides, I will present two scenarios, one with Allen being resigned, one with Allen moving on. If Ray Ray moves on Celtics fans should thank him for his time in Boston and wish him luck on his next team. Both of these scenarios are based on the Celtics drafting James Anderson.
Boston should plan on saying bye to Marquis Daniels, Brian Scalabrine, Mike Finley, and Sheldin Williams.
Scenario One: Resign Ray Allen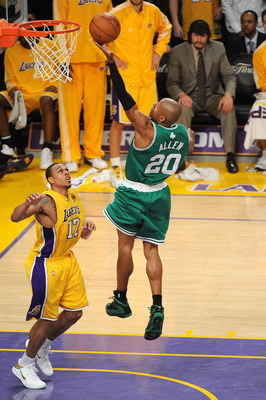 If Ray Allen is resigned, don't expect any changes in the starting lineup for the year or two of his new contract. Assuming he is resigned, Anderson is drafted, and Tony and Nate stay in Boston the rotation won't look too different.
Center: Kendrick Perkins, Rasheed Wallace
Power Forward: Kevin Garnett, Glen Davis
Small Forward: Paul Pierce
Shooting Guard: Ray Allen, James Anderson, Tony Allen
Point Guard: Rajon Rondo, Nate Robinson
This would be a four man rotation of Perk, Sheed, KG, and Big Baby. A four man rotation of Pierce, The Allens, and Anderson, and the point guard tandem in Rondo and Nate.
If Wallace does retire as reports have mentioned, his replacement could be found in the second round of the draft in Art Parakhouski or Jerome Jordan if they fall to the 52nd pick, or the Celtics can look into a short term deal with Brendan Haywood, Erick Dampier, or similar players.
Scenario One: Future Lineup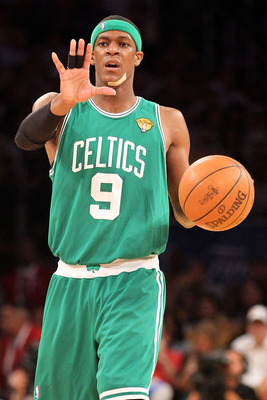 Once the Big Three retires, the Celtics could look at a team built around a core that looks something like this.
Center: Kendrick Perkins
Power Forward: Glen Davis
Small Forward: (free agent or draft acquisition)
Shooting Guard: James Anderson, Tony Allen
Point Guard: Rajon Rondo, Nate Robinson
Scenario Two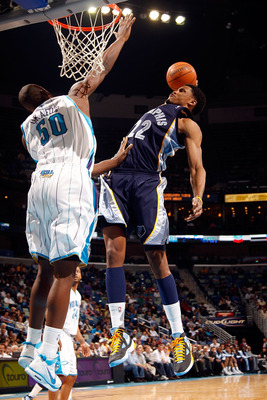 If Danny Ainge and the Celtics decide Ray Allen's time in Boston is over, the Celtics could make a big dip in the free agent pool. The Celtics could sign Rudy Gay to eventually replace Paul Pierce , while Ray Allen's replacement would be James Anderson. If this scenario happens, Gay will play small forward, Pierce will move to shooting guard, and Anderson will come off the bench.
Center: Kendrick Perkins, Rasheed Wallace
Power Forward: Kevin Garnett, Glen Davis
Small Forward: Rudy Gay
Shooting Guard: Paul Pierce, James Anderson, Tony Allen
Point Guard: Rajon Rondo, Nate Robinson
Gay is a great scorer that plays above average defense. With his acquisition, Celtics have the advantage in defensive matchups because a 6'7" Pierce and a 6'8" Gay can defend both shooting guards and small forwards and will have height advantage against smaller guards. Gay's dunking, shooting and defense makes him a great fit for the team.
Again, Wallace may need a replacement, if not this year, then soon.
Scenario Two: Future Lineup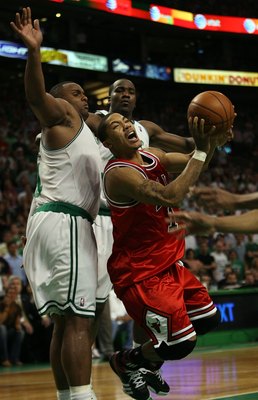 If a young Rudy Gay is signed, he will be a major part of the Celtics organization for years. Gay has yet to make the playoffs in his four year career, and if he becomes a Celtic he could see the playoffs immediately and for years to come.
Center: Kendrick Perkins
Power Forward: Glen Davis
Small Forward: Rudy Gay
Shooting Guard: James Anderson, Tony Allen
Point Guard: Rajon Rondo, Nate Robinson
This lineup has a defensive anchor in Perk that is great at blocking shots, a player that does the dirty work in rebounding, but can also score in Davis, a prolific scorer in Gay and Anderson, a defensive stopper in Allen, an elite point guard on both sides of the court in Rondo, and a spark off the bench with a great shot in Nate.
If the Celtics add a couple big men to this rotation, they will be a championship contender in the future, even after the big three departs.
Overall Outlook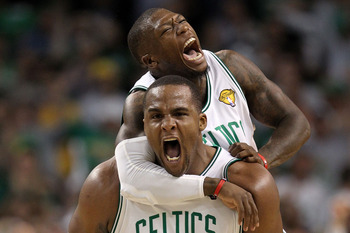 The Boston Celtics do have a big issue in the possibility that their head coach is leaving, but right now their roster looks like it has the right pieces to build a perennial contender around. With the right draft picks, resigning current players, and possibly free agents, the Celtics look to be in great shape.
After a great but disappointing Game 7 against the Lakers, the Celtics aren't done yet. Let's hope Danny Ainge can make roster changes to the team to allow the Celtics to reach the finals again next year, but hopefully with a happier ending. Question to the Celtics fans, which scenario is more appealing to you? Do you have your own plan for this offseason? Comment with your thoughts.
Keep Reading

Boston Celtics: Like this team?