Four WWE Superstars Who Deserve To Regain The World Title and WWE Title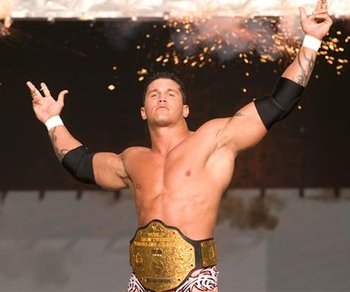 I'm back, Bleaches! "No time to waste, so let's bleach it!"
There are only a handful of wrestling veterans in the WWE today. Some of them are still getting pushed and are always kept in the main-event scene because of their popularity among the fans, and/or because they still have what it takes to put on a great match and entertain the fans in every way possible.
Others, however, are kept in the dark, while being stuck in the mid-card section or jobbing to help build the next generation of main-event superstars.
The ones who get pushed are often kept in the limelight and are always part of the high-profile matches. Some of them still get World title reigns, while others stay in the World title picture only to make the other guy look good and build up new, young, main-event superstars.
This list is comprised of current WWE veterans (some a bit old, but some fairly young) who have won both the WWE Championship and The World Heavyweight Championship; they are still being pushed to this day, but recently, always end up wining one particular Heavyweight title, but deserve to win the ones that they haven't held for quite some time now. So without further adieu:

The Four WWE Superstars Who Deserve To Regain The World Title or WWE Title
4. Randy Orton (World Heavyweight Championship)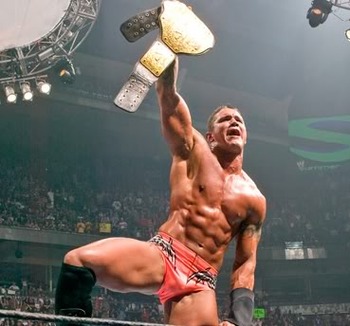 At No. 4, we have the WWE's Apex Predator, "The Viper" Randy Orton.
It's been six years since Randy won the big gold belt and I really thought that he was gonna win it from Jack Swagger somewhere down the line, but they never drafted him to Smackdown!, so there is very little chance of that happening anytime soon.
I think that Randy will end up back on the Blue brand sooner or later, so it's only a matter of time until Orton makes history and finally becomes a two-time World Heavyweight Champion.
3. Chris Jericho (WWE Championship)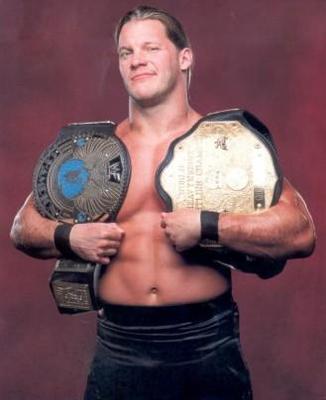 At No. 3, we have the Mental Mastermind, "The Best In The World At What He Does," Chris Jericho.
Chris Jericho seems to be getting punished by WWE management. Ever since he decided to host the ABC prime-time game show, "Downfall," he has been in hot water with a lot of people in the company.
I, for one, don't know why, because there are a lot of wrestlers that have had other occupations and were still able to perform well in the ring.
Chris has held the big gold belt multiple times since returning in 2007, but it's been about seven years since he's held the WWE's original World title. I think that WWE should just get over it and put Chris back in the main-event picture and wearing belts.
Jericho's character is still entertaining and he can still put on good match, so hopefully, they will quit condemning Chris and give him another run with the richest prize in the company again, finally letting him become a two-time WWE Champion.
2. Triple H (World Heavyweight Championship)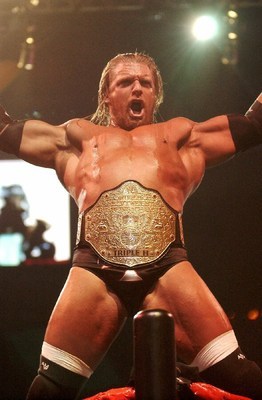 At No. 2, we have the Cerebral Assassin, "The Game" Triple H.
Triple H is out of action to film his role in the upcoming movie, "The Chaperone," but it is said that he will be returning to the ring just in time for WWE's top pay-per-view event of the summer, SummerSlam. Triple has won the WWE title three times since 2007, and I would expect to see him win it back when he returns.
I also think it's about time The Game got back the title he ruled with as the leader of Evolution.
Triple H now shares the record for winning the most versions of the big gold belt with Edge, but "The Game" should take back his number one spot by becoming a six-time World Heavyweight Champion.
1. The Undertaker (WWE Championship)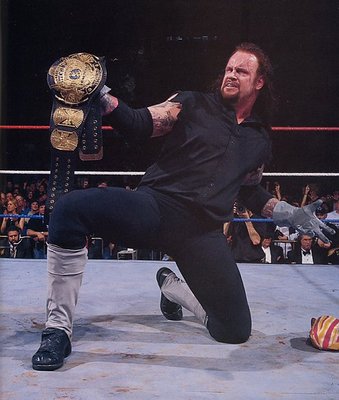 At No. 1, we have the Demon of Death Valley, "The Phenom" The Undertaker.
The Undertaker is currently out of action because he was taken out by someone who remains unknown, and is currently in a (kayfabe) vegetative state. Most of you know that Taker received a concussion from Rey Mysterio and a broken orbital bone while wrestling on Friday Night Smackdown! a few weeks ago and is expected to be out until SummerSlam.
It is obvious that Taker will be going after the big gold belt when he returns, but I think its time that The Deadman also regained the richest prize in the WWE today.
Taker hasn't been WWE Champion for seven years now, and he deserves the distinction of carrying old school title a time or two more before he retires, whenever that may be.
Closing comments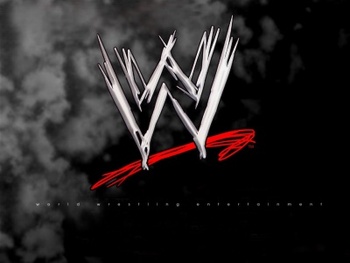 I know that having a top-five would've been better, but there isn't anyone besides these guys left in the WWE today that have held both the WWE and World Heavyweight Championship, so I had to pick the best.
Shawn Michaels would've made the perfect addition to this list since he didn't hold the original WWE World title in about 12 years before he retired this year; I would have definitely put him at No. 1 if he still wrestled for the company.
All comments and likes are welcome.
"That's it for me, Bleaches!"
Keep Reading