Bringing the Heat: A Look at the Oakland Raiders Competition at D-End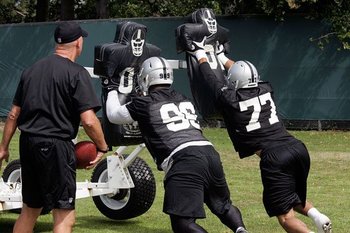 If there is a position where the Raiders are stacked at with talent, it is defensive end, and for good reason. The Raiders rarely blitz and often rely on their front four to create pressure and make plays.
Last year the Raiders ranked 13th in sacks with 37: 26 of those sacks came from defensive linemen, seven came from linebackers and four came from the defensive backfield.
The Raiders will likely only keep five defensive ends, at the most, on the roster. Here's a look at the thick competition at the position.
Matt Shaughnessy: 6'5", 270 lbs.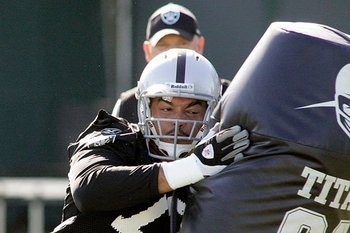 At 6'5", and 270 pounds, Matt Shaughnessy has the ideal size to play defensive end in the 4-3. Last year, he had a great rookie season, playing sparingly behind Greg Ellis for most of the season. As a rookie, he played in all 16 games, starting in two and recording 29 tackles and four sacks.
He is one of the leading candidates to start next year opposite of Richard Seymour.
Trevor Scott: 6'5", 255 lbs.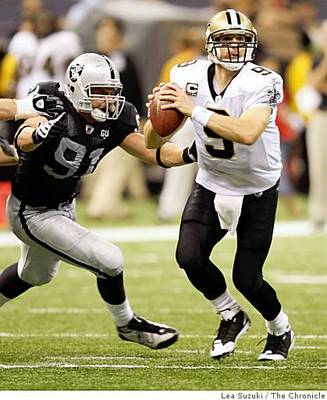 Last year, Trevor Scott was promoted to weak outside linebacker due to injury. As a linebacker, he often looked lost and out of place. He is listed at 6'5", 255 lbs., but seeing him play next to some of his teammates, that seems like a bit of an exageration.
This year, he is seeing practice reps at linebacker and word is he is struggling mightily against the pass.
Truth of the matter is he may be best suited to play as a situational pass rusher. He is too small to be a full-time defensive end and lacks the skill to play linebacker.
Last year, he recorded 43 tackles and a team-high seven sacks.
Alex Daniels: 6'3", 260 lbs.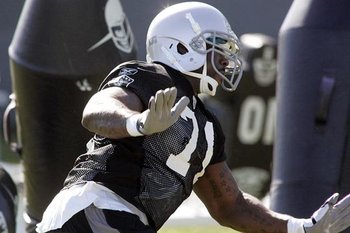 Alex Daniels is a very athletic defensive end and showed great athleticism and measurables at his pro day. Unfortunately for him, that wasn't enough to warrant a draft pick.
Daniels ran a 4.71 40-yard dash, a 37" vertical, and 31 reps on the bench press, all great numbers for a 260-pound defensive end.
In his senior year at Cincinnati, following some hard time, Daniels had a breakout year, posting 46 tackles and eight sacks.
His chances of making the roster are pretty slim, but he would be a great candidate for a team's practice squad.
Greyson Gunheim: 6'5", 265 lbs.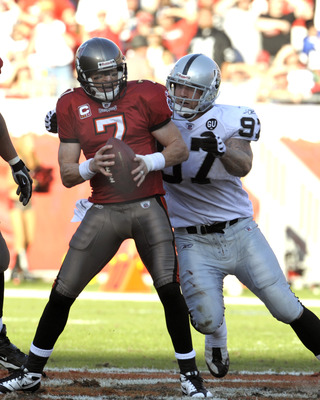 Greyson Gunheim is another athletic defensive end. Though he has been on the Raiders roster for two years, he has done very little, only recording two tackles and a sack.
This is a make or break season for him as a Raider and, in my opinion, he is the longest shot to make the roster.
Lamarr Houston: 6'3", 305 lbs.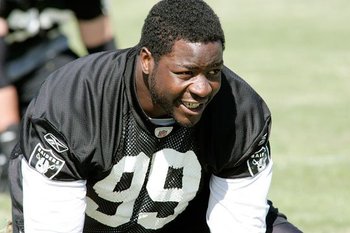 Lamarr Houston can be described as a freak of nature.
At this year's combine, he was the fastest defensive tackle and showed great measureables all-around. Including a 4.8 40-yard dash, a number almost unheard of for a 305-pounder.
During his senior year for Texas, he recorded 57 tackles and seven sacks from the DT position.
Strangely the Raiders have decided to play him at defensive end. At second look it makes a little more sense though. Lamarr Houston played DE his sophmore and junior season.
Lamarr Houston is one of the fan favorites to start opposite Richard Seymour.
Jay Richardson: 6'6", 280 lbs.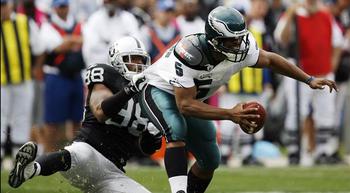 Jay Richardson is blessed with great size for a defensive end. Since being drafted in the fifth round in 2007 by the Raiders, he has played in every single game, starting in 22.
One of his biggest weaknesses is that he has been one-dimensional and only effective on running downs.
It would seem, as of late though, he has developed into a more well-rounded defender, finding some pass rushing skills.
Last year, he posted 23 tackles and three sacks.
Don't count him out as a possible starter.
Richard Seymour: 6'6", 310 lbs.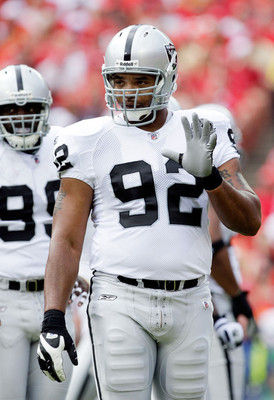 Richard Seymour is one of the most experienced defensive linemen in the game, capable of playing nearly any position among the d-line.
There is some concern, though, because Seymour hasn't signed his $13 million franchise tag, nor has he worked out a long-term deal with the Raiders, or showed up to any of the Raiders' voluntary workouts.
When/if he shows up, he is almost guaranteed a starting role.
Other Possibilities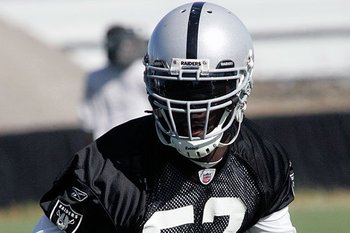 Quentin Groves: 6'3", 268 lbs.
Groves is currently receiving practice reps as an outside linebacker. But, like Trevor Scott, he may be better suited as a pass-rushing defensive end. Since being drafted by the Jacksonville Jaguars in the second round in 2008, he has recorded 43 tackles, two and a half sacks, and an interception.
Sam Williams: 6'5", 260 lbs.
He was drafted out of Fresno State in the third round of the 2003 draft by the Raiders. Since then, his contributions to the team have been minimal, yet he always finds a way to make the team. Over the last seven years, he has started in 24 games recording 118 tackles, one sack, one interception, and one fumble recovery. Could a position change boost his career?
Chris Cooper: 6'5", 285 lbs.
Chris Cooper is a bit of a tweener: not quite a DT, not quite a DE. Since being drafted by the Raiders in the sixth round in 2001, he has had an up-and-down career, playing on six separate teams, most recently in the UFL. He will likely push for a roster spot.
Keep Reading

Oakland Raiders: Like this team?