2010 College World Series: 10 Reasons Why Clemson Can Take the Title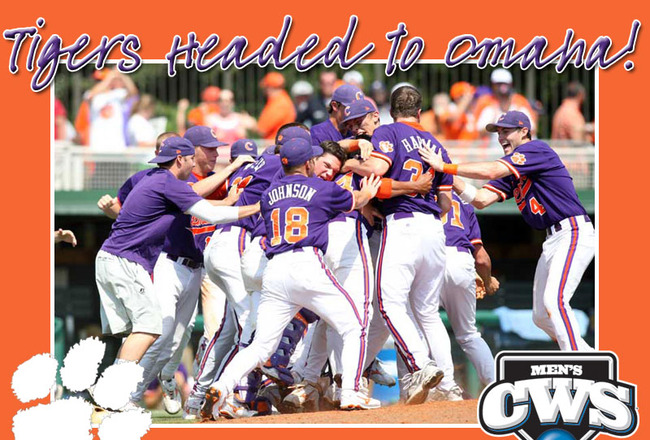 After dropping the first game of their Regional against Alabama, the resilient Tigers won consecutive games to catapult themselves into the College World Series.
Thanks to strong hitting in Game Two and all-around play the next day, Clemson earned the right to face No. One overall seed Arizona State this Sunday at 7 p.m. EST.
The team is well-equipped at the plate and solid on the mound. They are looking to pull off an upset and take home the title. Here are ten reasons why they will do so.
Kyle Parker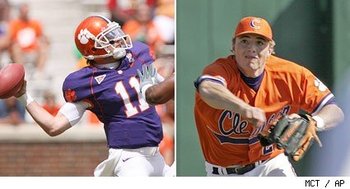 It would be ludicrous if I didn't mention the Tigers only first team All-ACC player.
Parker was the top hitter for Clemson all season long, earning himself a first round draft selection.
Also recognized by many as the Clemson football team's quarterback, Parker hit .353 with 20 homers and 64 RBI. He also slugged .672 with an .481 OBP.
Parker is, without a doubt, one of the best hitters in the tournament. His bat can end up winning crucial games for Clemson in Omaha.
Big Boppers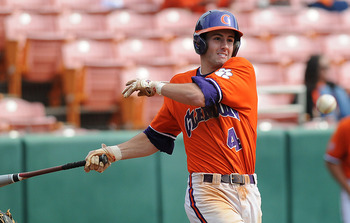 There is much more to the Tigers offense than Parker.
More specifically, the three, four, and five hitters provide much of the punch in Clemson's attack.
The trio consists of Parker, Josh Hinson, and Jeff Schaus.
All three players were named All-ACC honorees. Hinson is, "Mr. Do It All," for Clemson. Hitting .345 with 17 homers and 71 RBI, he also stole a team-high 23 bases.
Hinson is a big threat to opposing teams because of his speed and bat.
Schaus quietly blasted 15 home runs and was great with RISP, driving in 81 runs.
This trio of big boppers can hit any pitching staff and will always lead to runs for the Tigers.
Reliable and Deep Bullpen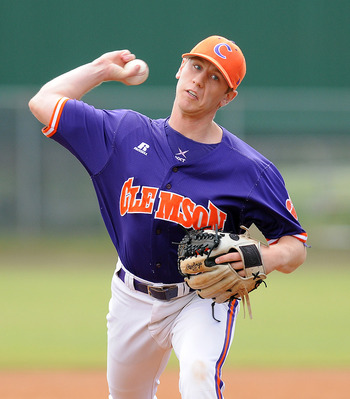 Despite not having an ace in their rotation, Clemson's bullpen makes up for any losses in the starters.
They are deep and reliable enough to push the Tigers into the CWS finals.
The regular Clemson bullpen has 12 pitchers, making up for only two starters.
If five have to pitch in order to get a win, manager Jack Leggett doesn't have to worry about running out of options for the next game.
Six players notched at least one save during the season, which goes to show that Leggett can put any of them in.
Offense Is Hot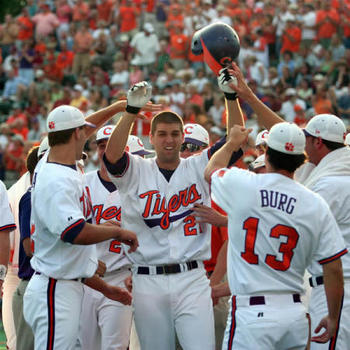 The Clemson offense is good even when it's not rolling. When it is, they are even harder to beat.
This has showed during the Regionals and Super Regionals, when they have tallied 70 runs over seven games.
Not only are they doing so against the Cal State Bakersfield's and Furman's of the NCAA, but rather against some of the top teams in college baseball.
Shortstop Brad Miller may be even hotter, riding a 17-game hit streak.
Looks like the offense got hot at the right time.
Well-Prepared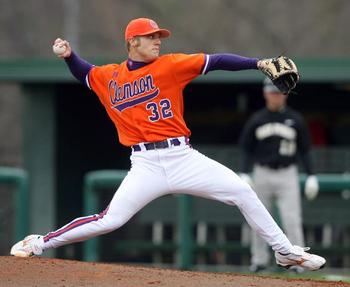 If nothing else, Clemson has the experience of playing against top teams.
They prepared themselves for the CWS during the regular season by playing good clubs.
Their record may not be the best because they chose not to take the easy route to Omaha.
34 of Clemson's 63 games this season were against teams that reached the NCAA Regionals. That's over half of their games!
Difficult to Come Back On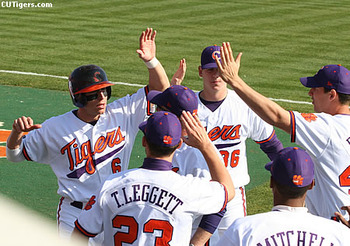 With an offense that gets up early in games, a sound bullpen that holds leads is crucial. The Tigers have just that.
When leading after just five innings, they are 36-8. After six, they only lost five games.
After eight, they only lost three. And only once did they lose a lead after leading past the eighth inning.
The pitchers can hold a lead and allow the hitters to keep pounding out insurance runs.
Skipper Jack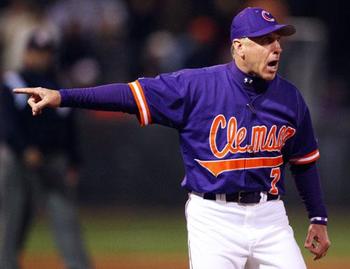 Omaha is nothing new to Clemson manager Jack Leggett.
This will be his sixth CWS trip in 17 years at the helm of the Tigers, making him one of the most successful coaches in college baseball. 27 percent of his career wins are against Top 25 teams. He can handle managing against top-tier teams
His style seems to fit Clemson perfectly. The players love him and get along with him well, but he has a fiery side to him.
Leggett can handle the pressure of managing at the College World Series and is sure to have his players more than prepared for Sunday's game against ASU.
Hit Right-handers Well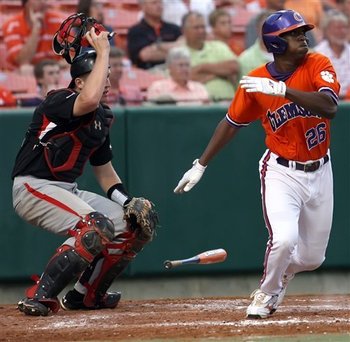 Possibly the only good news that comes from facing Arizona State in the first round is that all of the Sun Devils' starters are right-handers.
Clemson went 26-10 versus RHP compared to only 17-13 against lefty starters during the season.
The have the hitters that can produce runs and do so even better against right handed pitchers.
The Field Is Pretty Even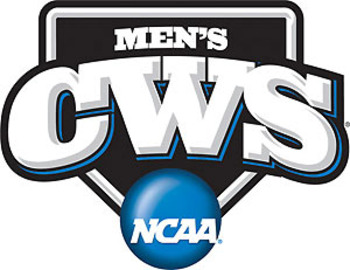 Of course, there will always be the favorites for the College World Series, but this year, the field is more level than previously.
Outside of Clemson, the lowest-ranked team in the ESPN/USA Today poll is Oklahoma (13. Clemson is last at 20 (these rankings came out before the Super Regionals; Clemson is now eighth.)
The teams that Clemson will have to face may be better on paper and in record, but they don't lead Clemson by too much in the polls. Each team in the CWS is beatable.
They Will Get Their Runs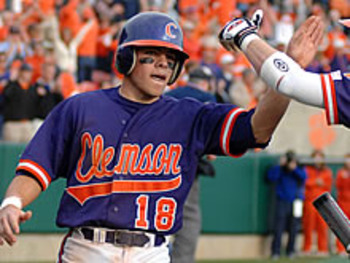 Clemson's offense is not a question heading into the CWS. It is one of the best in the tournament in terms of scoring.
The Tigers may not have the greatest average or OBP, but they will score and hit balls out of the park. They led the ACC in runs scored, averaging 8.85 per game.
27 times this season the Tigers scored at least 10 runs and were never shutout.
Their juggernaut offense can explode in any inning.
The Clemson offense may just propel the team to the College World Series title.
Keep Reading