2010 FIFA World Cup: In Grading the Squad, USA Players Show Resiliancy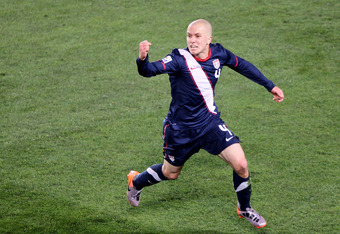 Christof Koepsel/Getty Images
It's a cliché, but the United States' match against Slovenia today was certainly a roller-coaster ride.
The Yanks played a horrific first half and went down 2-0. The players looked out of sync and quite disinterested. However, coming out of the break they came out with passion, fire, and heart, any of the qualities really that the United States has always featured despite a perceived lack of talent.
Then, of course, was the unbelievably bad call from the referee that disallowed a potential Maurice Edu game-winning goal.
So a 2-2 draw is what we're left with. Uninspired play in the first half, a courageous comeback in the second, and a "football injustice" (as ESPN analyst and Wigan Athletic manager Roberto Martinez said) leave the fan and viewer in limbo.
Do we feel worried about the troublesome beginning, excited about the fantastic finish, or disappointed over what could have/should have been?
Here are grades for each player on a scale from one to 10, one being the worst, 10 being the best.
Tim Howard: 6
Howard didn't need to be called upon like in the England game.
He couldn't be blamed for either of the goals. Frozen on the second thanks to the defense giving up too much space, he had a better shot at the second but was still burned by poor transition defense by the Americans.
He did make some nice saves to keep the U.S. in the game.
Steve Cherundolo: 6
Cherundolo has, surprisingly, been the most dependable defender for the United States this World Cup. He did a good job of defending, springing the attack forward, and then making sure he got back on the counter. Solid job.
Jay DeMerit: 5
Nondescript game for DeMerit. He wasn't particularly strong, but didn't have any costly mistakes. The partnership of DeMerit and Onyewu wasn't as good as it usually is, but DeMerit buckled down and played tough.
Oguchi Onyewu: 3
It was not the big man's day. He didn't step up to stop Birsa on the first goal and was hesitant to do so on the second goal, which kept Ljubijankic onsides. He could've made up for it had he connected with a free kick in the second half, but his slide missed.
Carlos Bocanegra: 4
Bocanegra didn't really do much at all. Birsa really floated around the right flank freely, where Bocanegra was defending yet didn't really communicate to the rest of the defense about his whereabouts. Found himself in quite a few tangles/wrestling matches.
Landon Donovan: 8
He seemed relatively absent in the first half, but his goal coming out of the half absolutely ignited the Americans. The authority with which he scored (and thank goodness he didn't pass it) really sent a message that the second half was going to be very different.
Played some great balls, including the one that set up Bradley's game-tying goal. He showed great presence, leadership, and played well.
Granted, most of his impact came in the second half and you want him to do it the whole game, but that was the performance the U.S. needed from Donovan.
Jose Torres: 4
Had a nice free kick that the Slovenian goalkeeper had to make a good save on, and did a good job tracking back on defense when he was stripped. The problem was that he was stripped too often. He was put in the starting lineup because he was supposed to provide good possession for the U.S. in the attack, but he just didn't do that at all.
Michael Bradley: 7
Started the game off slowly, like the rest of the team, but picked it up as it went along. He showed great poise on the tying goal. He gambled and lost on the tackle that set up the counter to Slovenia's second goal, but he was effective offensively.
Clint Dempsey: 6
Dempsey had some nice looks to teammates, but they didn't connect. He was in good position frequently, but nothing came of it. He got lucky he didn't get carded for an elbow in the first minute or for his takedown in the box in the second half, but at least he was aggressive. He wasn't special enough to make things happen, but he certainly wasn't a liability on the field.
Robbie Findley: 5
They tried to play a lot of long balls to Findley in the corners so he could utilize his speed, but they just didn't work out. His passing and decision making was a bit-suspect. However, he stayed active and looked better than forward-partner Jozy Altidore in the first half.
He was also the victim of a bad yellow card given from the referee and will have to sit out the Algeria match due to yellow card accumulation.
Jozy Altidore: 6
He knocked down the Landon Donovan pass with his head to Bradley, who scored the equalizer, which was a nice play. He played a good second half and did a good job of using his body and his strength.

However in the first half, he had very few touches on the ball and seemed soft. Also, on the breakaway where he brilliantly held the defender off his back and broke to goal, why did he cut the ball back? If he keeps going straight he has a clear path to the goal.
He is a frustrating player because he has the skills and shows flashes of them, but the flashes are so few and far between.
Subs:
Benny Feilhaber: 5
Coming on at the start of the second half, Feilhaber still did little to move up the midfield depth chart. He added a calm and attack minded presence, which certainly helped, but took too long to get involved and did little with the chances he got.
Maurice Edu: 6
Edu didn't have the best touch early on, but he gained confidence as the second half moved forward. He was good defensively and made a great run-on and shot on what should have been the game-winner. Had the ref not blown the call the U.S. would have won, Edu would have been there hero, and he would have another point or two tacked on to his grade here. He did, however, play his way into the starting XI against Algeria.
Herculez Gomez: 5
He provided a great diversion to the defense which allowed Bradley to get free and have enough space to net the equalizer. It would have been interesting to see what he could've done with a little more time.
Coach:
Bob Bradley: 7
Starting Torres wasn't a bad idea, in theory. He is known for his presence and touch on the ball. It just didn't work out. He didn't panic. The right adjustments were made at halftime bringing in Edu, Feilhaber, and some much needed attitude and confidence. Could've seen Gomez come in a little earlier, but overall solid job.
This article is
What is the duplicate article?
Why is this article offensive?
Where is this article plagiarized from?
Why is this article poorly edited?

United States (National Football): Like this team?