College World Series 2010: Five Reasons Why the CWS Is Better Than the Pros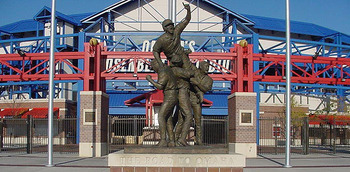 The College World Series returns to Rosenblatt Stadium (more affectionately known as "The Johnny") for the 60th and final time this year.
This landmark stadium has seen some legends of the game both good and bad from Nomar Garciaparra to Roger Clemens (before he morphed into a WWF wrestler) to Barry Bonds (ditto) to HOFer Dave Winfield.
In the world of college sports, the CWS still remains somewhat unknown compared to its big brothers of football and basketball.
However, that doesn't change the fact that, once a year, in the buzzing metropolis of Omaha, one of the greatest traditions in collegiate sports takes place.
Every year "The Johnny" brings eight aspiring college ballclubs hoping to make their mark in history on its hallowed infield.
The tradition and atmosphere is what makes this a landmark event on the sports calendar.
So much so, I'm willing to say it is indeed better than the actual World Series.
In a time where millionaire professional athletes don't show up in the offseason because they want five million instead of three or don't hustle down the first baseline after a groundout, watching baseball in Omaha is an incredible breath of fresh air.
You won't see anyone jog, ever. More on this later.
You won't see anyone show up a teammate or yell at their coach.
You won't see anyone complain about playing time or stats.
You will see every player act as if their life hangs in the balance of the outcome.
You will see them dig out every ground ball and run both on and off the field at full speed.
You will see a determination and passion that is unrivaled in sports on any level.
And with that comes an experience that is definitively better than its professional counterpart.
5. The Format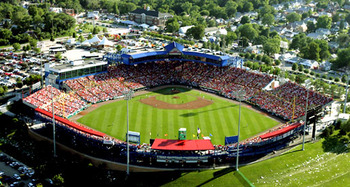 In the MLB World Series, the format is simple. Two teams play a best of seven series for the championship. They play the usual 2-2-1-1-1 home and away format.
In the College World Series, the format can be somewhat chaotic because of two words: double elimination.
The CWS format is the equivalent of what would happen if Major League Baseball decided that instead of having each pair of teams play in their own series, they just threw them all in one bracket, similar to March Madness.
Eight teams play in a double-elimination tournament that ends in a best-of-three championship.
For those that believe in second chances, the CWS is perfect.
It combines both the bracket style of March Madness (win and advance) with a series format in the championship round best-of-three.
If you need any more evidence of how crazy it it can get, just check out the bracket.
http://www.ncaa.com/brackets/2010/ncaa_bracket_DI_baseball.html
4. Aluminum Bats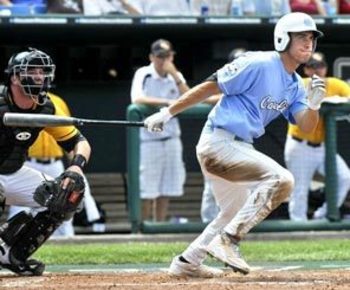 Baseball purists may want to stay away from this slide.
Now, let me first say that I realize these things can be quite unsafe.
I agree there is the potential of someone getting seriously hurt by a line drive but, to my knowledge, a severe injury has not yet occurred.
My other safety argument is that it seems pitchers in the MLB get hit by line drives on a regular basis (Lincecum got drilled this week and had to leave the game).
I realize that the force behind metal is definitely stronger, however I think that if the safety of these athletes was really in danger, college baseball would have taken the metal away by this point.
Now on to why it's better.
The biggest complaint about baseball is that is that it's too boring. The game moves too slow, the pace isn't exciting, and the games take forever.
Now I don't personally feel this way but I know many do.
In college baseball, the metal factor changes that for a few reasons:
Home runs are flying out of the park at a McGwire-Sosa steroid-esque rate, therefore keeping everyone entertained.
No team is ever out of a game because of the metal bats, so just watch when someone this week comes back from a 7-0 lead in the first inning.
You can really find the quality pitchers in this series because they're going up against the aluminum.
The bats of college baseball just make the game more entertaining.
I'm sure there's some 75-year-old baseball purist with chew in his mouth that wants to pour his spit cup on me now, but it's just a fact of the game.
3. Hustle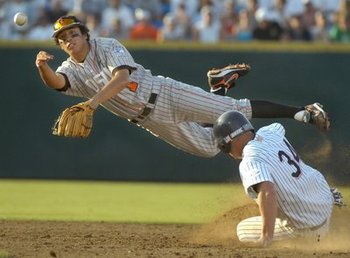 As I touched on earlier, watching professional ballplayers trot down the first baseline or be content with a double when it could have been a triple just gets old.
I respect the best hitters in baseball, but watching Manny Ramirez and Albert Pujols practically walk after they hit a ground ball to the shortstop is frustrating.
At the CWS, you won't see that. Ever.
Every ground ball is a matter of life or death.
Players run on and off the field in a Usain Bolt-like fashion.
They'll do anything for that extra base. Anything for that extra step.
After each run scored or home run hit, every player on the team will congratulate the hitter or runner as if they just hit the game-winning shot.
In the dugouts, the benches really don't serve a purpose. Everyone is on the top step, cheering with every play.
While some of these players may get drafted (actually quite a few do because of 649 rounds the MLB draft has, or whatever) at the end of the day, only a select group will go on to make millions.
This is it for a lot these athletes, their last chance to be remembered. Because of that, you will never see a play taken off or lack of hustle.
Simply put, this is the way the game was meant to be played.
2. The Tradition Outside the Field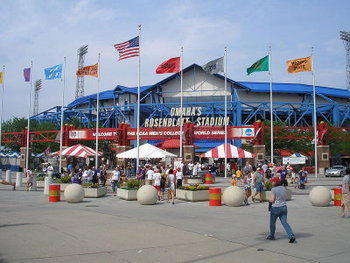 We can't talk about the CWS in Omaha without mentioning what goes on outside the stadium as well.
The tailgating scene outside The Johnny is one that belongs in the ranks of SEC football.
It's not just the baseball players that play their hardest in Omaha, the fans bring their A-games as well.
There's also an opportunity to actually interact with the players as they're getting on and off the team buses.
Other traditions include the "nationally famous" malted Shakes at Zesto as well as the Omaha Zoo (something I was a frequent patron of when I went to this as a kid).
It's not just a game you're going to, it's a full on experience, and one that trumps any big league game I've ever been to.
1. The Johnny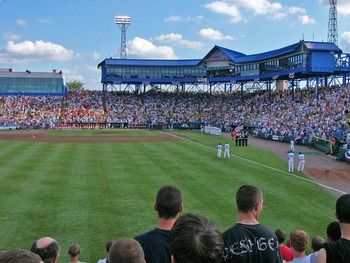 The cathedral of college baseball, the mecca of amateur sports, the one and only Rosenblatt Stadium will open its doors for one last time this year.
For six decades, the Johnny has been the site of this historic event and the most significant neutral site in college athletics.
No other sport has a single stadium decide where their championship is won and lost.
Both the Final Four and NCAA football championship sites are held at different locations every year.
But in college baseball, the Johnny is the ultimate mainstay, well, I guess up to now.
Next year, the CWS will be moved to TD Ameritrade park in downtown Omaha. As you can imagine this decision has ruffled the feathers of the more loyal patrons of this event.
Good things can't last forever, but the memories of the Johnny most certainly will.
Keep Reading