The Eight Most Intriguing Longshots of the 2011 Recruiting Class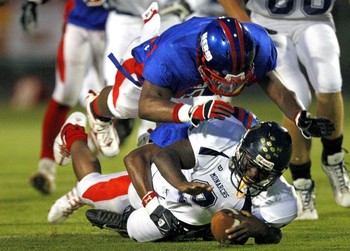 Like the game itself, college football recruiting is full of longshots, commitments (or decommitments) that are practically unthinkable.
We haven't seen too many on the 2011 recruiting trail so far, but I'm not ready to say we won't.
A longshot, by nature, is a difficult thing to define. I chose eight scenarios that would appear surprising, but, based on rumors and buzz, are somewhat within the realm of possibility. Even Dostoevsky wouldn't have been able to imagine Braxton Miller committing to Tennessee Tech.
So where are the biggest discrepancies between a player's talent and the prestige of a school that has offered? Does that school have a chance to pull the upset? And if so, how?
Take a look at eight of the most intriguing longshots I see taking shape for the class of 2011. When you really look, they don't seem like longshots so much anymore.
ATH James Wilder to Georgia Tech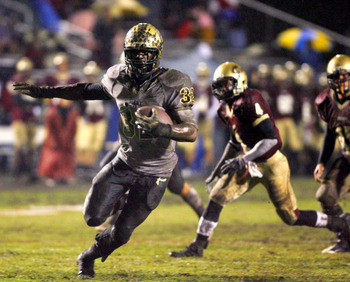 About a week ago, an email popped up in my inbox from someone asking if I'd heard anything about freak athlete James Wilder getting renewed interest in Georgia Tech.
To me, Wilder, Rivals' No. 3 player out of Tampa, FL, has always been a lock for Florida. Despite some hesitations about how the running game will operate under new QB John Brantley, how Urban Meyer's health is holding up, etc., the Gators have been in on him since he bowled over his first defensive back.
But Wilder wants to decide before fall, i.e. before he can see Florida's offense operate. And what's more, he's visiting Ga. Tech over the summer.
Suddenly, Wilder's highlight reel runs looks less like the second coming of the spread option RB and more like the next Jonathon Dwyer.
Is Georgia Tech making the headway I think they're making? We'll know more as summer wears on, but Tech's recruiting has looked . I told myself never to buy another conspiracy theory, but I'll make an exception in this case.
WR Kasen Williams to Washington State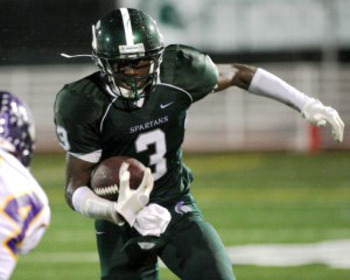 As parity becomes a foreign concept in college football, and the pendulum starts to swing away from upsets, I look for miracles from recruits like Kasen Williams more and more desperately.
No, Scout's best 2011 wide receiver should not go to Washington State. Not when better offers are on the table. Not when it could put his development as a player or his NFL money in doubt. Not when the head coach could be fired within a year, with no guarantee that his successor will be an upgrade.
But for the sake of rebuilding a once-proud program; for remaining in-state; and for giving Cougar fans something to look forward to—yes, by all means, he should commit to Wazzu.
They made his most recent cut, and I imagine his lead recruiter has every updated version of Texting for Dummies on his coffee table.
But against Notre Dame, Florida, Oklahoma, Georgia Tech and even rival Washington, they're a real long shot.
If Parity is more than a healthy snack bar Mack Brown ate between his lunch steak and his dinner steak, Williams will pledge to the Cougars.
OT Cyrus Kouandjio to Virginia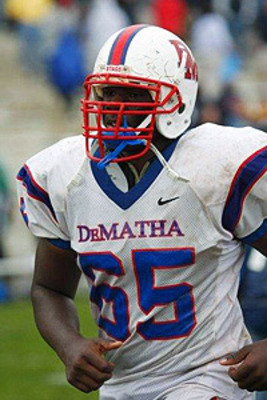 Six months ago, five one-star tackles might have thought twice about becoming Cavaliers.
But as promised, new coach Mike London has brought the art of recruiting back to Virginia...and brought with him interest from Rivals seventh-best player in the class.
The Cavaliers land two teammates of five-star tackle Cyrus Kouandjio: safety Jordan Lomax and tackle Kelby Johnson, both of DeMatha High School in Hyattsville, MD. Those connections were enough to draw Kouandjio in for a surprise visit.
That may not sound like much, but factor in how Kouandjio, a native of Cameroon, isn't indoctrinated into the history of college football, and you start to see how UVa can pull a fast one here.
Tradition, recent national championships (or even winning records), endless conference superiority debates, etc. are all pitches that fall on deaf ears.
The poor kid is praying he makes the right decision. Who's to say a school with an all-star head coach on an upward swing isn't The One?
RB Malcolm Brown to Anywhere But Texas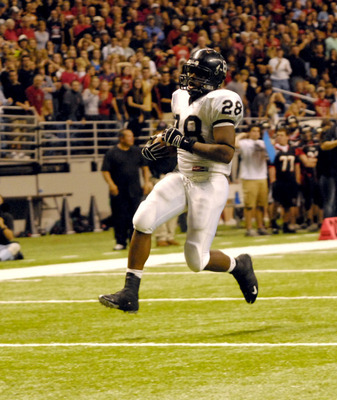 This year, the Longhorns really outdid themselves, closing the book on the top recruiting class for 2011 before us schlubs had any time to weigh, argue or speculate.
With momentum to spare, you certainly don't see the Texas fanbase worrying about whether they will land Cibolo, TX running back Malcolm Brown.
In fact, Brown's recruitment has been so quiet that, based on the predictable decisions of Braxton Miller, Mike Bellamy and others, I'd guess he's a lock for Texas. The rule for 2011 has been that Occam's Razor decides all. Go with the most predictable outcome*.
Alabama fans will say differently, arguing that the buzz has been there all along for a surprise jump to the Tide. But in big-name recruitments like his, it's usually much louder if its legitimate. Anyone, even Alabama or Oklahoma, is a major longshot.
*With the exception of James Vaughters, a linebacker from Georgia who just verballed to Stanford.
OLB Curtis Grant to Michigan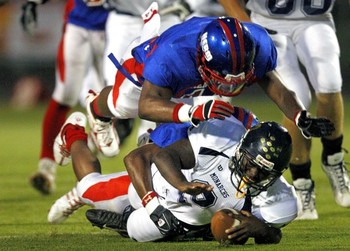 Four years ago, a five-star linebacker going to Michigan would be well within the realm of possibility. Heck, one did—All-American Brandon Graham.
But brother, this is not four years ago.
Evidence: the glee from Michigan fans (like myself) at even being included in five-star Curtis Grant's summer visit list.
The Richmond, VA linebacker and MVP of a Blacksburg Nike Camp may sound like a longshot given the state of the program, but really, is Michigan so bad a fit?
The Wolverines' linebacker depth chart is aching for an All-American performer of Grant's caliber. After the departure of on-again, off-again starter Obi Ezeh this year, there are no proven performers. Backup Kenny Demens looked great in spring ball, but Grant's recruiting pedigree would put him in the starting conversation from day one.
And Rodriguez's first two years aside, the Maize and Blue tradition hasn't evaporated. Ask Graham, or David Harris, or Lamarr Woodley how well Michigan prepared them for the NFL.
I'll concede that Grant is a longshot, but I remain cautiously optimistic that given a good year, he'll want to be a part of the turnaround.
WR DeAnthony Arnett to Iowa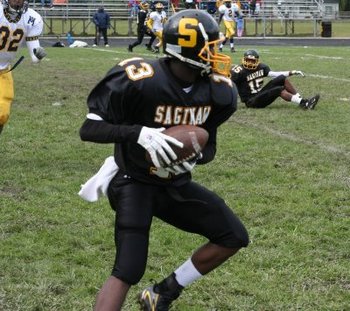 In laying out the seven finalists for his verbal, the Saginaw, MI, wide receiver called Miami the "surprise" pick. But the real surprise would come from a commitment to the Hawkeyes, whom Arnett conceded was not the "sexy pick."
Indeed.
Iowa has done well with developing linemen, linebackers, tight ends, running backs—really, every position but wide receivers—for the pros.
But these days, former Michigan (w00t) assistant Erik Campbell coaches wide receivers in Iowa City, and his CV is among the best: Desmond Howard, David Terrell, Braylon Edwards, Jason Avant, and Mario Manningham all count among his past pupils.
The improved WR coaching shone during last year's breakout performances from Derrell Johnson-Koulianos and converted QB Marvin McNutt, who were eighth and 12th in the conference in receiving, respectively.
Even with heavy hitters like Oklahoma and USC still on the menu, Arnett has kept Iowa around as a possible entree.
Whether it comes down to visits, team performance in the fall or whatever else remains to be seen, but Iowa is sure to land at least one big-timer in every class, and it very easily could be Arnett.
OT Christian Westerman Reopening His Recruitment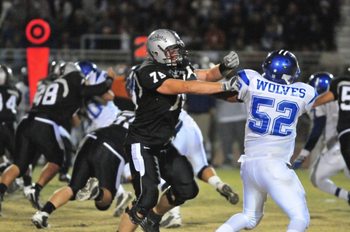 Something didn't sit well with me about the commitment of Chandler, AZ tackle Christian Westerman to Texas.
It was very early in the recruiting process, on the eve of Westerman's visits to Nebraska and Michigan for their spring games, after a visit to USC right around Easter...and it just didn't seem like Westerman gave other schools a chance.
I'm sure Texas felt like the right fit at the time for the five-star tackle and Rivals No. 8 prospect overall. I know few recruits leave a UT Junior Day not raving about the family atmosphere or the coaching staff or the city or one of the other innumerable perks in the program.
But I also know one of the conditions of a Texas verbal are to not look at other programs, and I'm not sure Westerman was ready to do that.
There's very little that is unstable about Texas's program. Even in the midst of conference realignment, you knew the Longhorns would land on their feet wherever they went. So I don't know what event would have to occur to shake his verbal loose. But that's why it's a longshot, I suppose.
DE Jadeveon Clowney to South Carolina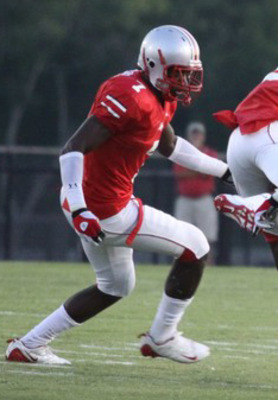 After South Carolina signed the best in-state 2010 prospect, RB Marcus Lattimore, over offers from elite programs lke Auburn, Oregon, Penn State, Alabama and Georgia, I fully expected they'd be able to do it again with top in-stater Jadeveon Clowney.
Indeed, Clowney was high on the Gamecocks for most of last year, but left UNC's spring game with the Tar Heels in the lead.
As Alabama, LSU and others make their inevitable pitch to Clowney, I find it unlikely that 2011's best player will go back to his original favorite. A mind once stretched by a new idea never retains its original shape.
On the other hand, to cite the Lattimore example, too much recruiting does trouble the stomach. Lattimore closed off media contact a week prior to his decision, evidently sick of the attention...and look who he wound up choosing.
There is comfort to be found in the in-state program, and South Carolina isn't exactly West Bum U. Clowney still maintains he has interest in SoCar, for the record.
I suppose it comes down to how that visit to Alabama went, which, these days, is business as usual in SEC country.
Keep Reading