Running Down a Dream: Four Rounds, Two Top Amateurs, Many Good Stores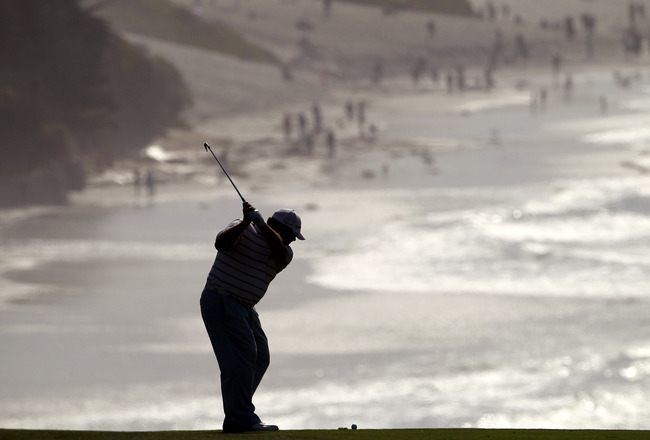 All a competitive golfer ever wants is a chance to prove he can play against the best.
The U.S. Open gives every golfer that chance.
In four days, three golfers finished in the Top-25. Two finished tied for the low-amateur total score.
But that wasn't all the drama.
A couple, Shaun Micheel and Erik Compton, thanked the golf gods for every stroke they played.
Others, Jason Gore and Ty Tryon, may have redeemed a career in dramatic fashion.
How did they get to this point?

Starting in May, anyone with a USGA Handicap under 1.4 can enter one of the 111 local qualifying tournaments.
If the golfer advances, they compete in a 36-hole sectional qualifier, played at 13 sites in the United States, on June 7-8.
A golfer must play a solid two rounds of golf here. And most of the time, it isn't against local Country Club Pros.
It's against professional golfers around the world.
That's because only 78 of the 156 players in the U.S. Open field are exempt from qualifying.
Those players, according to Steve Silverman of Golflink.com, are individuals who have either won the U.S. Open in the previous 10 years, won the Masters, British Open or PGA Tournament in previous five years.
The other automatic qualifiers either finished Top 30 on PGA money list in the previous year, finished in the Top 15 on the European Tour in the previous year, or ranked in the Top 50 of the official World Golf Rankings two weeks prior to the tournament.
Because the tournament is "open" it allows for many golfers to come out of nowhere and compete for golf's toughest title.
That's the beauty of the U.S. Open.
Not only is it the toughest challenge on the course, but guys like Lucas Glover, 2009 champion, and Rocco Mediate, 2008 runner-up, can turn a "weekend at the golf course" into the American Dream.
This year, there are a few golfers who went through the qualifying ringer and are looking to redeem a career, or start one with a bang.
Here are their stories.
Russell Henley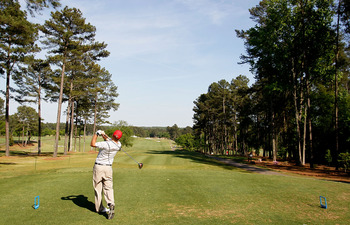 Henley shot an two-over par, 73, to cap a four days he will never forget.
Henley and Scott Langley finished with a four-day total of 292, eight-over par, to share the low-amateur total score.
Henley, who finished tied for 16th, concluded the tournament with four birdies, four bogies and double-bogey (hole seven).
On day three, Henley traded five birdies with six bogies for a one-over par, 72.
"This has been an incredible learning experience," Henley told georgiadogs.com after the third round. "I feel like I learn something new every day. Knowing I can play well at this level is real confidence booster. I am looking forward to Sunday and one more round out here."
Henley entered the tournament as the Nation's top-ranked collegiate golfer and made his first U.S. Open field in dynamic fashion.
Henley, 21, captured medalist honors at the Roswell, GA sectional qualifier by recording nine birdies in the final round. He carded a two-day total of 137, seven-under par, and won the qualifier by five shots.
The SEC Champion, from the University of Georgia, shot an opening-round 73, one-over par.
In the second round, Henley, found his putting stroke and posted an eight-under par 64.

"This is one of the biggest golf tournaments in the world, and I am so excited that Hud (his Georgia Bulldog teammate) and I made it," Henley told georgiadogs.com.
"This is what you practice hour after hour for. This is every golfer's dream."
Scott Langley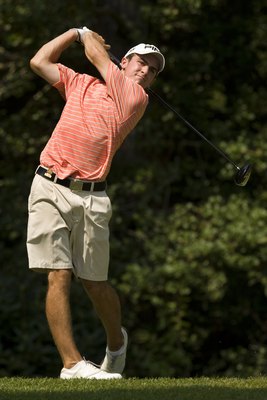 Langley's even-par, 71, in the final round of the U.S Open, helped him tie for 16th and share the low amateur total with Russell Henley, eight-over par.
Langley matched three bogies with three birdies to climb the leader board--Langley started the day tied for 30th.
Langley closed out the front-nine at two-over, but rebounded with birdies at holes 14 and 15.
Early on Saturday, Langley, looked like he'd make a run at the top of the leader board.
At two-over par through three holes, Langley, moved to one-under after a birdie at the third and an eagle at the sixth.
After six holes, Langley, was tied for eighth, one-over par, but Pebble Beach fought back.
In the next 11 holes, Langley, made bogies on seven.
Langley ended the third round with a 77, six-over par.
Langley, started Friday in 66th place, but made five birdies—four between holes 10 and 14 -- to creep within striking distance of third-round leader Graeme McDowell, three-under par.
''I like my position,'' Langley told Chicago Sun-Times writer Herb Gould after the second round. ''I don't have any expectations. I'm just going to try to keep playing smart and give myself the best shot I can.''
According to Gould, chants of ''ILL! INI!'' rang from the gallery and helped spur on the University of Illinois junior during his day-two performance.
Entering the tournament, no other amateur may have been playing as well as Langley.
The 2010 NCAA Individual National Champion, and Big Ten Player of the Year, snagged the only spot available at the St. Louis sectional.

Langley, 21, beat out 19 other golfers by shooting back-to-back 66s, for a two-day total of 132, eight-under par, at Country Club of St. Albans.
Unlike many amateurs, Langley is no newbie to high-competition at Pebble Beach.
"I've played five times there," Langley told St. Louis Post-Dispatch columnist Dan O'Neil after his qualifying performance.
"I played pretty well, I don't remember what my score was, but the course obviously will set up a little differently for the U.S. Open."
In 2006, Langley played with Champion Tour vet Dana Quigley at the Wal-Mart First Tee Open.
Langley was Quigley's 17-year-old junior partner and they won the team competition.
"My initial goal is to obviously make the cut," Langley told MercuryNews.com's Kevin Merfield about his goals at the U.S. Open.
"But I'm going to play to win."
Shaun Micheel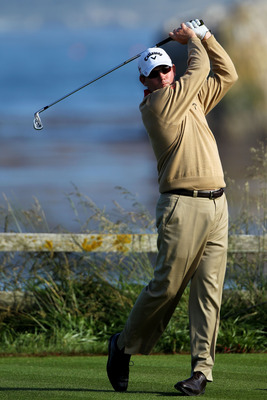 Micheel's shot a one-over par, 72, in the final round.
Micheel's double-eagle at the par-five sixth hole and two birdies were matched by three bogies and two double-bogies.
Micheel finished tied for 22nd.
Micheel, 41, was co-leader after a first-round 69, two-under par, but dropped into a tie for 25th after carding a 77, six-over par, Friday.
On Saturday, Micheel shot 75, four-over par, and was tied for 30th.
Despite the second round and third round disappointment, Micheel, will not be doing any complaining,
That's because, like many U.S. Open qualifiers, there is more to his story then just golf.
Micheel's mother, Donna, 63, is battling cancer and, according to a New York Daily News column, is not expected to make it through August.
The article, by Matt Gagne and Hank Gola, states:
"She wants me out here, and I think, that makes it easier on me," said Micheel. "Moms want what's best for their kids, and I appreciate that."
"Micheel fought back tears Thursday after he shot a two-under 69 for a share of the lead."It's nice because I'm playing for somebody else," Micheel said. "It's always been about me, me, me. What am I going to shoot? It doesn't matter to me. I love my mom. What do you say?"
Micheel qualified for the U.S. Open by shooting a 67-67 for a two-day total of 134 at the Colonial Country Club sectional in Memphis, TN.
Micheel's lone victory on the PGA Tour was the 2003 PGA Championship at Oak Hill Country Club in Rochester, NY.
Jason Gore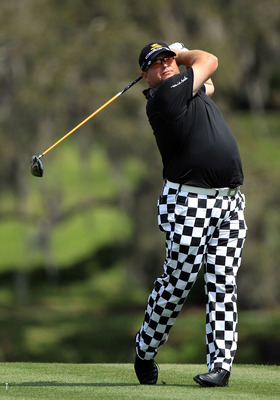 Gore finished 76-73-74-75 for a four-day total of 299, 15-over par, finishing tied for 57th.
Luckily, Gore's story isn't all sad.
On Friday, Gore added another happy chapter to his folk-hero story at the U.S. Open.
Gore started the second day at five-over par and was nine-over through 14 holes.
With the cut at seven-over par, he needed two birdies in his final four holes and got it!
Gore, who started his day on the back nine, made birdie on six and nine to shoot two-over par and sneak into the weekend.
But that's not his whole story.
Gore is best known for his 2005 U.S. Open run at Pinehurt where he qualified for the tournament and played his way into the final group, on Sunday, with Retief Goosen.
Gore had a poor performance on Sunday, but his cheek-to-cheek smile won the hearts of many golf enthusiasts.
After the Open, Gore went on a roll, winning three straight Nationwide Tour events, and capturing a battlefield promotion to the PGA Tour—the promotion given to any golfer who wins three straight events on the Nationwide Tour.
In four months, Gore went from 668th in the World Golf Rankings to 89th.
Gore, 36, used a second-round 64 at the Woodmont Country Club sectional to earn a spot in this year's U.S. Open.
Erick Justesen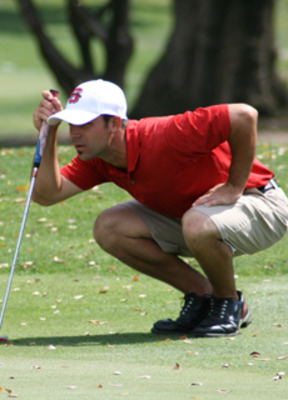 Justesen finished the U.S. Open carding 74-74-80-73 for a four day total of 301, 17-over par, and finished 69th.
The part-time caddie at Pebble Beach, Justesen, was in a tie for 48th after carding back-to-back 74s in the first-two rounds.
The 25-year-old, Canadian Tour card member faced the toughest odds (4.5 percent) at the Sacramento, CA, sectional qualifier. But that didn't stop him from claiming the top-spot on the leaderboard.
Justesen carded a 65-68 for a two-day total of 133, nine-under par, at Del Paso County Club, to advance to golf's biggest stage.
Before qualifying, Justesen had failed two straight times to advance out of his local qualifier.
"The U.S. Open is my dream," Justesen told Northern California Golf Association website on June 7th.
"Pebble is just the icing on the cake."
(photo from California Collegiate Athletic Association
Ty Tryon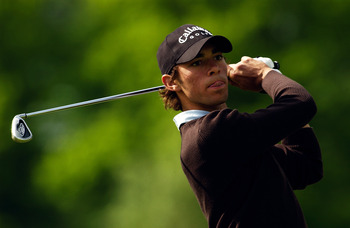 Tryon finished the U.S. Open posting 75-74-78-80 for a four-day total of 307, 23-over par.
Tryon finished in 80th.
Before Thursday, Ty Tryon, admitted that making the U.S. Open field was his biggest accomplishment as a professional golfer.
That's not the case any longer.
Tryon, tied for 59th after two rounds, grinded through a roller-coaster second day to earn his first cut in his first appearance at a major.
Starting the day on the back-nine and four-over par, Tryon, was outside the cut line, seven-over par, after a double-bogey on his 12th hole (hole three).
Tryon responded with a birdie on four and six that put him at six-over par with three to play.
A bogey on eight put him even with the cut line. However, Tryon, pared nine and made the cut.
The former golf "prodigy" qualified for the U.S. Open at the Rockville, MD sectional.
Tryon, 26 (yes, that's in the right age), shot 64-74 for a two-day total of 138, six-under par, at Woodmont Country Club.
For those who need a refresher, Tryon made it through all three stages of Q-School in 2001. At the time, Tyron was only 18 and made the controversial decision to turn pro.
However, Tryon battled injuries soon after his announcement and lost the swing that allowed him to capture multi-million dollar endorsement deals and sponsorship exceptions.
Hopefully, this week's play can propel, Tryon, to bigger and better golf.
Erik Compton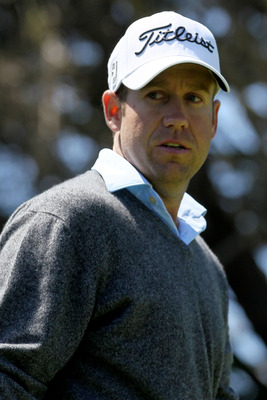 Compton, 30, shot 77-81 for a two-day total of 158, 16-over par, and missed the cut.
However, Compton's story doesn't end there.
Shooting 66-69 for a two-day total of 137, at the Springfield (OH) Country Club sectional, Compton, need to two-putt the final hole to qualify.
Instead, Compton, three-putted which forced himself into a sudden-death playoff.
Compton kept his cool and made par on the third-playoff hole to earn an invite to the U.S. Open.
A feat which many would say, "takes a lot of heart."
In Compton's case it's true. In fact, it took three.
At the age of 12, Compton, had his first of two heart transplants. The second came in May of 2008 when Compton, then 28, had a heart attack.
"I would never really change my life, because I've experienced so much," Compton told ESPN.com's Gene Wojceichowski in a June 14 article. "I've been able to drive through things. I just keep plugging away."
Compton physically struggles to get through each round. By the 18th-hole he's tired, and after walking 36 holes in two days, he is physically exhausted.
But you can be sure that Compton put his heart into every shot this week.
Alex Martin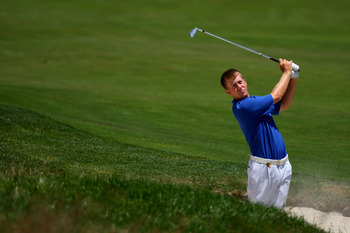 Finishing tied for 153rd, Martin, carded 79-84 for a two-day total of 163, 21-over par, and did not make the cut.
But the Indiana University golfer still can say he stood toe-to-toe with the best in the game.
Martin, 23, earned his spot by beating a bunch of PGA vets at the Columbus, Ohio sectional.
Golfers like Tom Lehman, Davis Love III, Justin Rose, Bo Van Pelt, and Ben Curtis all competed at Brookside Golf Course.
This is a popular spot for pro golfers to try and qualify for the U.S. Open as it follows Jack Nicklaus' Memorial Tournament, also held in Columbus.
Oddly enough, ex-Cinderalla and 2008 U.S. Open runner-up, Rocco Mediate helped Martin reach the U.S. Open.
After two rounds, six players, tied at seven-under par, were forced into a sudden death playoff.
Each golfer parred the first-three holes. But on the fourth, Mediate missed a 10-foot par putt, which allowed him to make it to Pebble Beach.
Keep Reading