Orioles Top Prospects: Who's Hot and Who's Not, June 17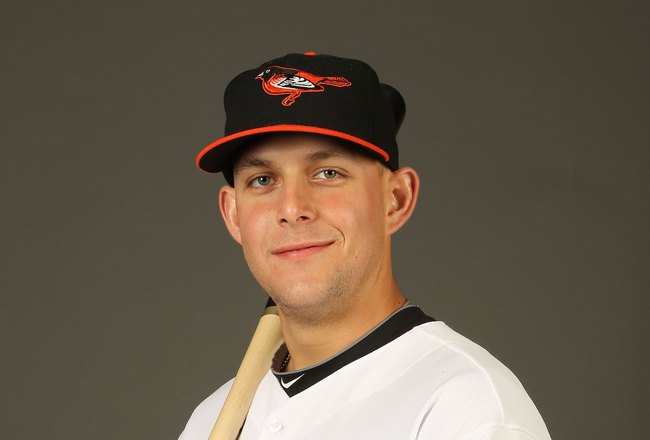 It's been an exciting time for Orioles prospects.
The past few weeks have seen the rise of Jake Arrieta to the big league club, where he has done more than just hold his own (a sub 3.00 ERA over two starts against the Yankees and Giants), and also the ascension of over-achiever Matt Angle to AAA.
On the downside, though, the O's have also lost 2009 second-round pick Mychal Givens to a thumb injury that might keep him sidelined for the rest of the 2010 season.
Without further ado, the hottest....and "nottest," Oriole prospects from the past few weeks.
HOT: Brandon Snyder, 1B, Norfolk Tides (AAA)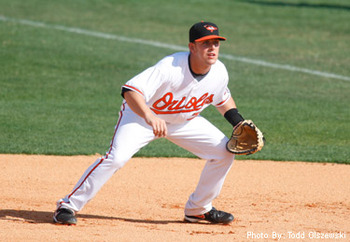 Snyder has very quietly caught fire the past few weeks.
After hitting .213 in April, and only .250 in May, Snyder is hitting over .300 in June, and over his past ten games he's raking at a .343 clip.
He's notched a hit in his last four games, and eight of his past ten. He's also showed a little pop, knocking two homers in his past ten efforts.
He had quite possibly his game of the year on June 11th, when he hit a two-run homer and stole two bases.
Even his most recent string of success can't take the attention off the fact that his average sits at a paltry .249. He only has five home runs, and his ten doubles aren't even the tip of the iceberg for Snyder, who is a regular doubles machine.
We've still got a good chunk of season left, so there's plenty of time for Snyder to stay on this roll and reestablish himself among the O's first-base elite.
NOT: Matt Angle, OF, Norfolk Tides (AAA)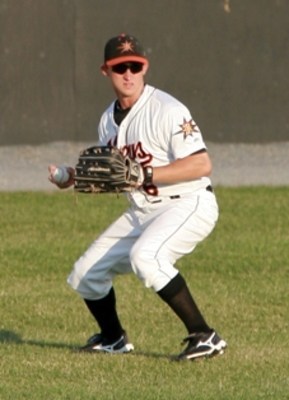 After a rip-roaring start to his first go in AAA, Angle has come back to earth.
Angle joined the team in late May, and tore the cover off the ball, showing off all of his talents: hitting for average, ability to turn singles into doubles, and doubles into triples, and excellent speed.
Since the calendar turned to June, however, Angle has been as cold as ice.
In 64 June at-bats, Angle has only hit .219, with zero extra-base hits. Over his past ten games, he has been particularly dreadful with only seven hits in 42 at-bats. He has managed to keep his strikeouts down and his walks up, but the speedster hasn't swiped a base in over a week and a half.
HOT: Chorye Spoone, RHP, Bowie Baysox (AA)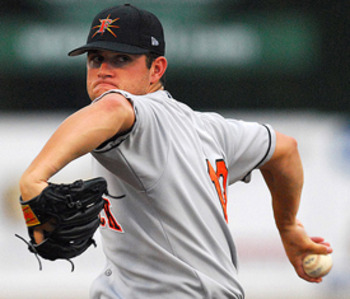 You can make the argument that since mid-May, the Orioles have had no better minor league starter than Chorye Spoone.
It's been since May 6th that the right-hander has given up more than three earned runs in a start, and he's pitched at least six innings in every start since then, including seven innings twice.
After a dreadful April in which he notched a 5.21 ERA and a 6:16 strikeout to walk ratio, Spoone has put himself in contention for pitcher of the year honors now that Jake Arrieta has graduated to the Majors.
In May, Spoone improved his strikeout numbers, cut back on his walks, and pitched to a 3.97 ERA.
And in three June starts, the 2005 eighth-round pick has gone 2-0 with a 1.89 ERA and a 15:9 strikeout to walk number.
With only five more strikeouts on the season than walks, Spoone still has some work to do, but he has certainly reestablished himself as an innings eater, something many were left to question after he had shoulder surgery a few seasons ago.
Certainly his numbers over his last seven starts signify he's headed in the right direction.
NOT: Eddie Gamboa, RHP, Bowie Baysox (AA)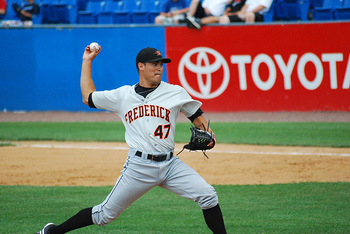 Gamboa has had a very split personality season.
The right-hander can go stretches of games without so much as giving up a hit, but then he hits a wall, much like he has over the past three games, in which he has given up six hits and five runs in only five innings.
He even had an outing in which he gave up a very uncharacteristic three walks.
He's also surrendered both of the home runs he's allowed so far this season in his last three outings.
On the season, Gamboa has an ERA that has hovered around 4.00 all year. He has a 1-4 record, after notching an 11-0 record last season. And he's issued 13 walks in 30 innings, after allowing only 17 in 83 innings last season.
HOT: Zachary Britton, LHP, Bowie Baysox (AA)
It seems like you can add Zach Britton having an ERA under 3.00 to death and taxes.
Britton continues to have one of the most underrated seasons of any pitcher in the minors, much less the O's system.
In two June starts, Britton has tossed 13.1 innings, allowed only one run and struck out 12 batters, earning a 0.68 ERA.
And it's not like Britton was a slouch in May, the month in which he went 3-1 with a 2.61 ERA.
Britton is also working up his pitch count, having pitched into the seventh inning in each of his last four starts.
In May, Britton's sinker did all the work, earning him a 4.27 groundball to fly ball ratio, but the sinker can't take credit for his June numbers, as that ratio has dipped to 2.86.
On the season, Britton is 6-3 with a 2.84 ERA and a 3.18 ground-out to fly-out ratio.
NOT: Billy Rowell, 3B, Frederick Keys (A+)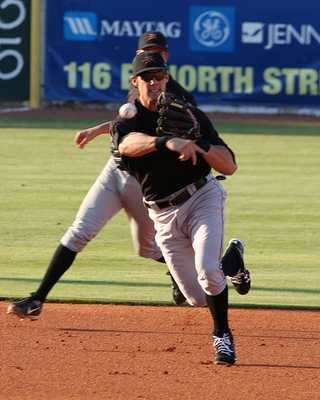 So much for Billy Rowell making a comeback.
After four and a half long, arduous seasons, it looks like Rowell's time might be up in Baltimore.
A former first-round pick, Rowell has fallen back into his old ways, striking out in 16 of his last 34 plate appearances. He's only notched seven hits in that time and only has five home runs on the season.
While Rowell has taken more walks than usual for him, he still has 71 strikeouts on the season, and is on pace to rank in the top five in Ks in the system for the fourth straight season.
On a positive note, he has set a new career high with four stolen bases.
HOT: Pat Egan, RHP, Bowie Baysox (AA)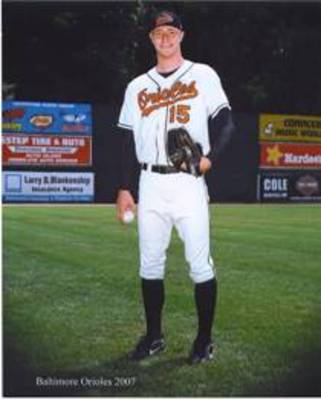 I do believe it's about time we give Pat Egan his dues.
A 36th round pick in 2006, Egan has to be on the verge of earning a big league call-up, possibly as soon as this September.
What more can you ask of the 6'8" 225-pounder?
Through 19 appearances, mostly as the Baysox middle reliever, Egan has notched a 1.62 ERA, and if you get rid of a three-inning, four earned run performance on May 10th, Egan has pitched to an ERA of 0.75 through 36 innings.
Even with the four-run explosion, Egan has been money. He has six wins on the season, five saves and has held opposing batters to a .162 average. He has also yet to give up a home run this year.
Egan should earn a chance at the big league level thanks to his low 90s fastball, and devastating-when-it's-on slider.
NOT: Mychal Givens, SS, Delmarva Shorebirds (A)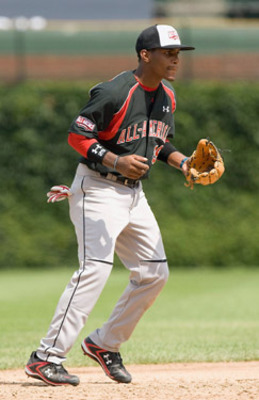 Givens hasn't had the best debut with the Orioles, especially after the Orioles just drafted their shortstop of the future in Manny Machado a few weeks ago.
It's not as if he was setting the world on fire with his .222 batting average and zero extra-base hits in 18 at-bats.
And now, Givens may miss the rest of the season with a thumb injury that for the time being, will keep him out four-to-six weeks.
Maybe it's time to try him back on the mound....
...just kidding.
HOT: Jacob Julius, OF, Frederick Keys (A+)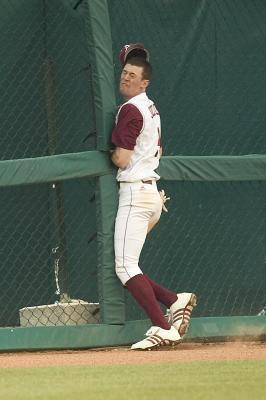 He may not come with the best pedigree, or the best photo collection for that matter, but Jacob Julius is having a stellar season at High-A Frederick.
A one-year bench player at Arkansas, the O's took the 6'5'' Julius with their 33rd round pick, and given his late-round status, I'd have to say the O's should be pleased with the return on their investment.
Julius has never been one to hit for average (.224 career) or power (13 homers in 3 seasons), but he has been a solid all-around utility player.
This season, though, Julius has cranked up his performance another notch. Playing some first-base and some outfield, Julius has notched a .311 average, which would easily set a career high by close to 80 points. He has also cranked six home runs, tying his career high set in 2008, and his 33 RBI are already a career number.
Julius is already 24, so he's a bit old for the Carolina League, but it's nice to see him finally get some much deserved attention.
And by the way, he's hitting .333 with two homers and ten RBI over his last ten contests.
NOT: Tony Butler, LHP, Delmarva Shorebirds (A)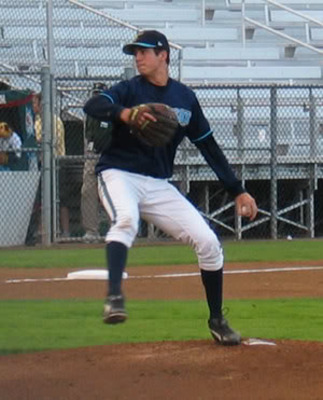 You couldn't get much worse than the numbers Butler was putting up for the Shorebirds this season.
A 7.66 ERA in 12 games.
Seven home runs surrendered.
A 35:39 walk to strikeout ratio in only 44 innings.
A 1-4 record and a 12.10 ERA in May.
Luckily, Butler's time in the O's system has ended, as the team released the big lefty who was a minor part of the Erik Bedard trade.
So long Tony!
HOT: Josh Dowdy, RHP, Delmarva Shorebirds (A)
In case you haven't noticed, and let's be honest, who pays attention to relief pitchers on a low-A ball-club, Delmarva closer Josh Dowdy has yet to cool off in 2010.
Few closers have been as hot as the 23-year old.
In 18 games, Dowdy has notched ten saves. His ERA sits at 1.23, batters are hitting under .200 against him, and he has 29 strikeouts in only 22 innings.
Primarily a starter in college, Dowdy has solely been a reliever as a pro, and has a career ERA under 2.50. He has never been one to be prone to walks, so he could be a fast mover in the system.
Keep Reading

Baltimore Orioles: Like this team?