2010 Wimbledon Power Rankings: 25 Hottest Players in the Women's Draw
As Wimbledon approaches let's take a "look" or "looks" at some of the hottest players in the woman's draw.
Begin Slideshow

»
This unknown Swiss player hasn't shown much yet. But Timea, now the top-ranked Swiss player, has climbed into the Top 40. Let's hope she keeps climbing the ranks because we would love to see her a little more.
This hot Hungarian made a splash by receiving the Newcomer of The Year Award in 2007 and cracked the Top 15 in 2008.
After a QF run at Wimbledon last year Sabine found herself inside the Top 25. Let's hope she can get back to that form this year with Wimbledon approaching.
Being a Top 75 player in singles is good enough for some, but King is also a doubles specialist. She is currently a Top 25 doubles player and has had four finals appearances this year. With that kind of play this 21 year old may have a career year.
After being a Top 15 player from 2005-2007, Nicole has had many issues with her wrist that have caused her to fall outside of the Top 400. I sure hope that she can get back to the top. Don't you?
Vesnina got to a career-high ranking of 22 last year, but bad performances as of late have caused a drop in her rank. But she can still be all smiles, as she is currently ranked in the Top 50 in both doubles and singles and has won three career tournaments (all doubles).
One half of the Bondarenko sisters, Alona has begun to outshine her sister in singles with a career-best run to the fourth round at the Australian Open and her second tour title at Hobart. But let's not cut out her sister, as the two won an Australian Open doubles title in 2008.
It's hard to believe that Daniela has pinned herself in the Top 30 for almost 10 years. Currently ranked No. 25 Daniela reached the final in Monterrey this year.
Most forget that she is also a great doubles player. She has reached three grand slam finals and won four slams in mixed doubles. But whether she is playing singles or doubles she is a player to watch.
Melanie won the Newcomer of the Year award last year after her stellar performances at Wimbledon (fourth round) and the US Open (QF). She has struggled this year at the grand slams but had strong showings for the US in Fed Cup.
Let's hope Melanie can become the next great American.
Peer, who is now a career-high No. 14 in the world, will look to build on her fourth round showing at the French Open last month. She has made it to the QF or better in six tournaments this year and became the highest ranked Israeli player ever on tour. She has played in the Fed Cup for eight years ('02-'09) and was a finalist in doubles at the Australian Open in '08.
What is there to say about Serena, 12-time grand slam singles champ, 12-time grand slam doubles champ, two-time Olympic gold medalist with her sister Venus, 108 weeks at No. 1, huge serve, huge forehand, huge backhand, huge...never mind.
One of the greatest women players ever!
Highly-ranked but not well known, Radwanska has made three grand slam QF and looks to build on her QF losses at Wimbledon over the last two years. She has been in the Top 10 the last two years and reached a career high No. 8 earlier this year.
Venus Williams, seven-time grand slam singles champ, 12-time grand slam doubles champ. Also the first person in the modern era to win gold in singles and doubles at the Olympics in 2000.
She is an entrepreneur, starting her own clothing line called EleVen by Venus Williams. She also worked alongside Billie Jean King to get equal prize money for women at the grand slams and was the first to benefit from it by winning Wimbledon that year.
Flavia became the first Italian ever to reach Top 10. Building off her win at Marbella and fourth round run at the French Open, she will look to continue her hot streak with a strong run at Wimbledon. Flavia also was ranked in the Top 10 in both doubles and singles this year. So if she loses early in singles at least we can rely on seeing her play doubles.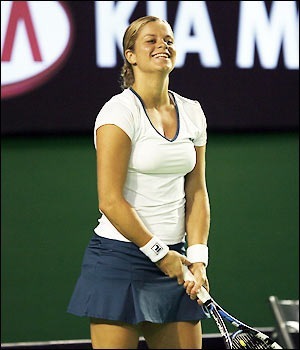 Aussie Kim, as she is called in Australia, is making the most out of her second career. Since coming out of retirement she has won the US Open in '09 and two titles this year (Brisbane and Miami). She has climbed back into the Top Ten (currently No. 9) and won the Comeback Player of the Year and Karen Krantzcke Sportsmanship Awards.
But Kim is known mainly for two things: her tenacity and her bright smile.
This fiery-tempered Belorussian reached a career-high No. 6 in the world last year by winning three titles and making the QF at Wimbledon. She has since slipped to No. 15, but we hope to see more of her in the future.
As you would agree.
Mirza, a relative underachiever in her career, reached a career high of No. 27 in 2007. In 2008 she won her only mixed doubles title (with Bhupathi) at the Australian Open. Since then she has battled with a wrist injury that is still bothering her.
Hope she gets better, because she is something to see.
Maria turned pro almost 10 years ago at the age of 14. She had her best performance at a grand slam this year with a QF run at the Australian Open and climbed back into the the Top 30 in ranking. She also reached a career high of No. 13 in doubles earlier this year by reaching five QF and SF at the Australian Open.
With looks like this, it's no wonder she is a rising star.
JJ, this picture is worth a thousand words.
It shows why she is so well liked. But it also shows why she is one of the most athletic players on tour.
She can cover the court as well as anyone and isn't afraid to get down and dirty to do it. She reached the SF of the French Open last month, showing she is back to form after capturing her 12th career title at Indian Wells in March.
Lets hope JJ can make a run at a Wimbledon title. What do you think?
This bubbly Belgian made a breakout run to the SF of the US Open last year. After that dream run she was suspended because she didn't tell the anti-doping tribunal of her whereabouts. She was suspended for two months before the ban was lifted.
Why would anyone want to ban her from anything?
She recovered to reach the fourth round in Australia and reached a career high No. 15 in ranking.
Let's hope we see a lot more of this young star.
She looks great on the court and off the court, and she can sell anything she is asked to.
Maria started off the boom of Russian players on tour. She won Wimbledon at the age of 17. She is reported to be the world's highest-paid female athlete.
Although she has gone through some injury problems with her shoulder recently, she has made her way back on tour with two titles this year a return to the Top 20.
One thing is for sure about Maria: On or off court, she always looks good.
This dashing Danish beauty made her splash by reaching the finals of the US Open in '09. She then rose to No. 2 in the world earlier this year after a finals run at Indian Wells.
She is now the face of Stella McCartney's Adidas sportswear. With her long blond hair and beautiful face this is understandable.
Good choice Stella!
This dark-haired Romanian has shown she has what it takes to be a champion.
She had her best run last year, reaching the QF at the French Open and then the SF at Los Angeles. This propelled her to a career- high ranking of No. 23 in the world. She has been struggling lately, falling to No. 57, but had a SF run at Estoril.
Let's hope she can regain her tennis form so that it matches her body form.
This cat-eyed beauty has been a staple in the Top 50 since 2002. But she just last year made her first grand slam SF at Australia. This put her at a career high No. 5. She has fought with an ankle injury since but has managed to win a title this year at Pattaya City.
As much as tennis fans love seeing her play, we also don't mind seeing her off that injured ankle, as we do here.
This sexy Serbia womann was once No. 1, do you think she could be No. 1 again? Anyway, she is No. 1 on this list.
Despite her drop in ranking it is not surprising that she hasn't lost her fanbase. Ana is known for her beauty and charm on and off the court.
She recieved the WTA Tour Diamond ACES Award in '08 and the WTA Tour Humanitarian Award in '09 for her work off the court.
Although she is far from the showing the form she had when she won the French Open in 2008 and got her No. 1 ranking, Ana will always be No. 1 in our eyes and on this list.