Ranking Fedor Emelianenko's Eight Career KOs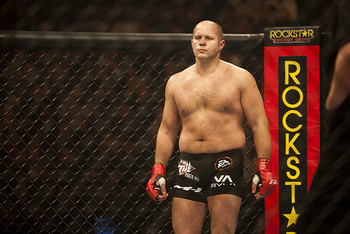 The name of Fedor Emelianeneko is synonymous with MMA. While he may not be as familiar to casual fans, due to him having fought for the majority of his career in Asia and Europe, to hardcore fans the name Fedor will suffice.
Throughout his career, Fedor "The Last Emperor" Emelianenko has amassed an incredible record of 31-1, with one no contest. That's one hell of a record. While the majority of his wins have been by submission, Fedor posesses eight wins via KO or TKO.
They all vary in their greatness (or awesomeness). If you are unfamiliar with Fedor, or you don't know much about him, I totally and completely suggest reading this slideshow. If you are familiar with Fedor's legendary career, then read this anyways.
8. Chris Haseman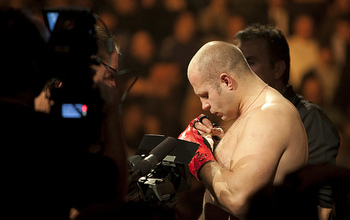 While it wasn't his most impressive win, Fedor's quick stoppage of Chris Haseman early in his career added more mystique and wonder to the already rising star of 25-year-old Fedor Emelianenko, who wasn't the global phenom he is today.
The official time of this fight is 2:50 of the first round. With this win, Fedor won the Rings: Absolute Class tournament.
7. Heath Herring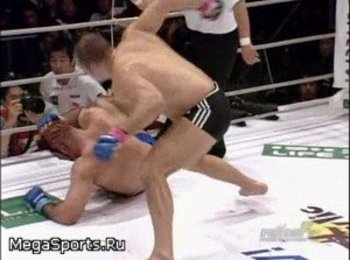 Fedor's fight with Heath Herring may have only lasted 10 minutes, but the domination Fedor packed into it was enough to last Heath Herring for a lifetime.
While it wasn't a perfectly thrown haymaker or a crisp right hook (it was actually by doctor stoppage at the end of the first round), it really showed that Fedor could stack up to the top of the food chain and hold his own.
Previously, his biggest test had been a fight with Ricardo Arona. This fight's official stopping time was at 10:00 of the first round. This fight would propel him into his first fight with Antonio Nogueira.
6. Tsuyoshi Koshaka
The first fight between these two ended in a TKO victory for Koshaka after 17 seconds. No, it wasn't by traditional means. Koshaka actually landed an illegal elbow and split open one of Fedor's old scars. Not exactly the most impressive win, but as it was a tournament, someone had to advance.
Fast forward four and a half years. Fedor Emelianenko has cemented his claim as the greatest heavyweight in the young history of MMA. Koshaka's only legitimate claim to fame is his lucky win over Fedor.
Fedor showed who the better fighter was in this fight. Again, he dominated his opponent for 10 minutes, leading the doctor to stop it in between rounds one and two.
5. Yuji Nagata
Fedor's win over Yuji Nagata was one of the more impressive KO's of his career. It was fast, efficient, and vicious. What more can you ask for? Well, it only took Fedor 62 seconds to finish Nagata, who, in his previous fight was finished by Mirko Filipovic in 63 seconds.
But it was a win. A win is a win is a win, and on that night, it certainly was.
4. Gary Goodridge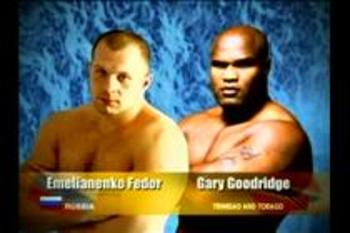 Fedor's KO win over Gary Goodridge was both fast and efficient, and exceptionally brutal. Sure, it was legal, but soccer kicks and knees are two of the most dangerous strikes any fighter can use in a fight.
Watching a fighter get repeatedly soccer kicked in the face is painful. However, it was a very big win for Fedor, who KO'd the KO artist himself. Goodridge is responsible for the highlight reel KO's of Paul Herrera and Don Frye.
The fight was stopped at 69 seconds of the first round, making it a total of just over two minutes spent in the ring for Fedor in two fights.
3. Hiroya Takada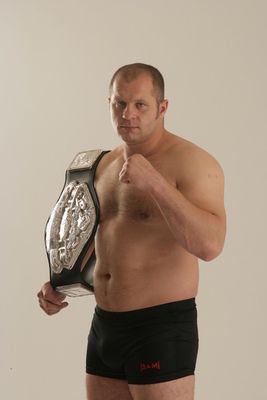 This fight ended in 12 seconds. What more is there to say? Well, it was the first KO win in Fedor's career. It propelled him into a fight with Ricardo Arona, who was Fedor's biggest test at the time.
A 12 second KO is impressive whenever it happens. I don't care who you are. This fight shows the speed in Fedor's hands, not to mention the hard hitting ability he has.
2. Brett Rogers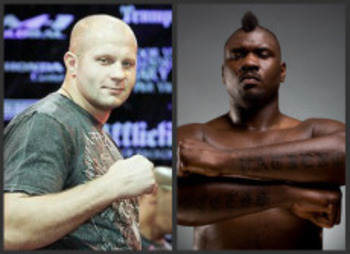 After enduring what was a tough first round, Fedor entered round two with a broken nose, and a messed up face. That didn't dissuade him. After all, his name is Fedor Emelianenko.
At the time of this fight, Fedor was 30-1. Critics were questioning his drive and ability, especially after a tough fight against Andrei Arlovski.
Fedor answered them with one huge overhand right. It connected squarely with Rogers' chin, dropping him to the canvas, where Fedor finished him with strikes. The critics may not have been proven wrong just yet, but no one can deny that Fedor (and Mike Russow, perhaps) is the best fighter at coming from behind.
1. Andrei Arlovski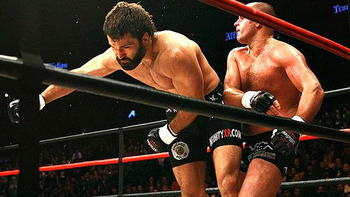 Not only was this Fedor's greatest KO of his career. It was the sherdog.com KO of the Year, and it came so quickly, everyone watching was in shock (sound like another fight we recently watched?).
Andrei Arlovski, while not overly dominant, has a great skill set. But, amid all of his skills, is the one greatest weakness any fighter can have. No, not the lack of the ground game. Lack of the chin.
Arlovski's chin is no Rolex. If we're going to compare it to a watch, then his chin is the watch you get in a McDonald's Happy Meal. Weak and unreliable.
To put it simply, Arlovski was controlling the fight with Fedor. He was landing the punches when he needed to, and he was keeping Fedor at bay. All until he got a little over-aggressive.
After a right straight kick sent Fedor back into the corner of the ring, Arlovski darted forward and attempted a flying knee. Fedor, seeing trouble, threw a right hook.
The punch landed.
And at the end of the day, it is Fedor's greatest KO.
Keep Reading