San Francisco 49ers: 22 Potential Picks to Target In 2011 NFL Draft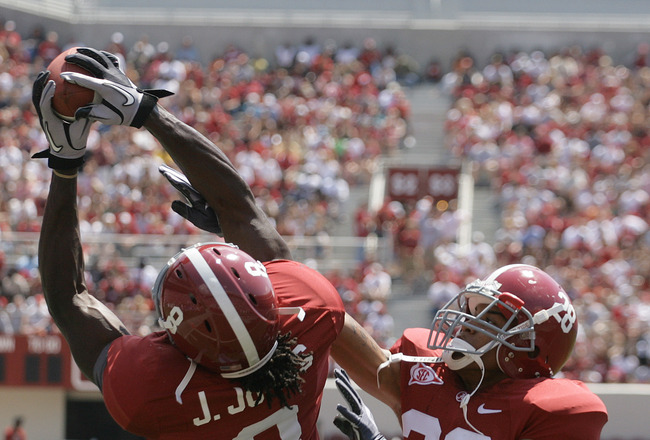 Beef... It's what's for dinner. If you're a 49er Faithful, it's what's for draft!
In the 2010 NFL Draft we added a semi-developed linebacker, a raw talent corner, a short blazing receiver and punt returner, a center field pain dispenser, and a whole lotta beef!
We are still another season and draft away from being viable Super Bowl contenders, and while the free agent market is hard to speculate, the 2011 NFL Draft offers these players in what I feel will be our positions of need when the season is over.
Doing research has made me feel much better about why we made the picks we did in 2010, as there is MUCH more skill at our positions of need in 2011.
Just a heads up, right now of these 22 players, we'd be lucky to get 3-4 of them. I expect a few will play themselves out of reach... but you never know what will happen till draft day. Just when you think you have your board set for a round, the Jaguars take Alualu, the Raiders take Heyward-Bey... and thus begins the shakedown.
Round 1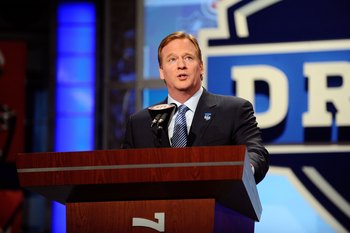 Assuming we are picking around No. 18-23, here are some players in positions of need, and some best players available who may slip to us.
Allen Bailey—DT—Miami—6'4" 288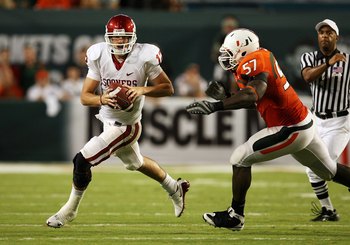 Allen Bailey could be a viable first round selection for the 49ers addressing pass rush. He possesses athletic ability and size comparable to Bryant Young. If you look at him in the picture, he has room for more weight, if needs be.
He is an athletic freak, as the 288-pound Bailey runs a 4.8 second 40-yard dash. This guy would be an OUTSTANDING option to give Isaac Sopoaga a breather on passing downs. As a DT last year for the Hurricanes, he posted 11 TFL and seven sacks.
Von Miller—OLB—Texas A&M—6'3" 240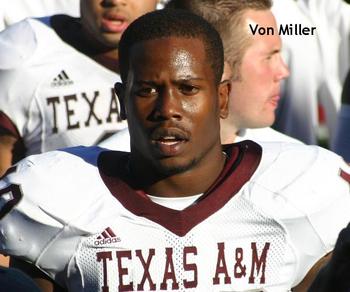 Von Miller is probably the best disruptive force in the backfield in the class of 2011 when it comes to OLBs. He has a frame capable of carrying more weight if need be. Scouts compare this guy to Elvis Dumervil, which leaves me little to complain about.
His Junior year stats were 48 tackles, 21.5 tackles for loss, 16.5 sacks, and four forced fumbles. This IS what our team is missing! If I had to pick one guy off this list for our first round selection, it would be him.
Patrick Peterson—CB—LSU—6'1" 211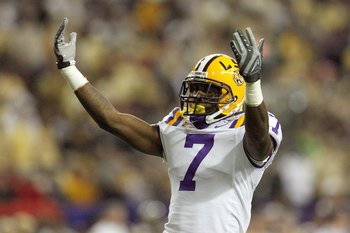 Peterson is touted right now as the best cover corner in the 2011 draft class, and, unlike Joe Haden, he is not all hype. He is very intelligent, instinctive, and a solid tackler. He improves any NFL pass defense he sets foot on the field with.
Prince Amukamara—CB—Nebraska—6'1" 180
Prince Amukamara is a fast, standout cornerback who has the height that we need to cover Larry Fitzgerald. He posted 64 Tackles, three TFL, 11 breakups, and five interceptions in 2009. Most expect those numbers to improve in 2010.
Julio Jones—WR—Alabama—6'4" 210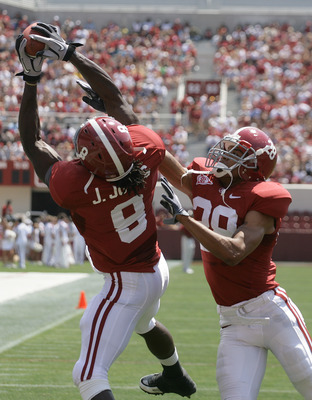 Julio Jones would be a perfect fit split outside of Crabtree and would be a great fit in SF for many reasons. Jones is a very gifted WR and is extremely tough to bring down in the open field.
Right now, our tallest receiver who has a realistic shot at making the team is Michael Crabtree. And he, like, Brandon Jones is only 6'1".
Hill and Morgan are 6' even, Kyle Williams is 5'10", and Ted Ginn Jr. is 5'11". Jones, at 6'4", would give us a jump ball deep threat. His speed and size force the free safety deep for help every time he goes beyond 15 yards.
Perhaps the biggest reason I say Jones over others is because he is in a run-first offense and that is OK with him. He is not selfish, and other WRs on Alabama benefit tremendously from the amount of attention he commands from the defense. This principle when applied to Crabtree and Vernon Davis is downright scary.
If the scouts are doing their homework, Jones will probably be gone by the time we pick, but then again, the same was true of Crabtree. I have seen some mock drafts that don't even have Julio Jones in the first round. Don't kill the messenger.
Jared Crick—DT—Nebraska—6'6" 285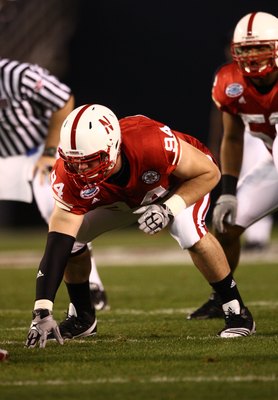 Another quick disruptive force in opposing backfields, although he will have a lot to prove in 2010. In 2009, he posted 12.5 TFL and nine and a half sacks, however, that was with the opposing offense busy trying to keep Ndamukong Suh out of the backfield as well.
Crick projects in the top 25 as it sits, but I could see him potentially elevating to a top 15 or descending to a top 50 based on what he demonstrates on his ability to be the dominant interior lineman on the team.
Round 2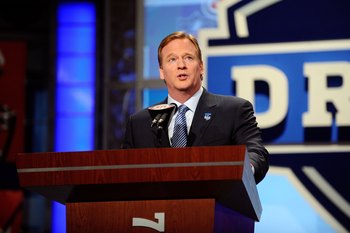 By the same standard as before of having the 18-23rd pick, this puts us at 50-55 in the second round. On to the potential candidates!
Ras-I Dowling—CB—Virginia—6'2" 200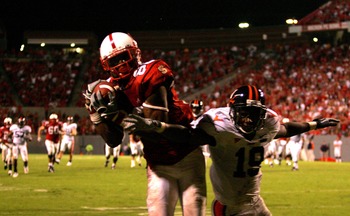 Dowling has it all—size, speed, ball skills, and natural talent. Many project him in the first, but I believe he will be in the second due to a 4.5 second projected 40 time, and lack of INTs in 2009. He could secure his spot in the first round by improving his stats in 2010.
Curtis Brown—CB—Texas—6'1" 185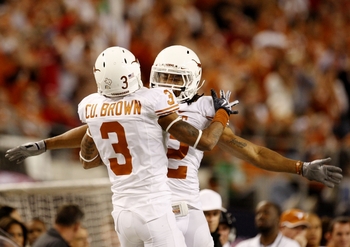 Brown has good footwork, size, speed, and quickness. The only receiver I've ever seen embarrass him was Michael Crabtree in 2008... yes, he was the guy who couldn't get him tackled or out of bounds.
Many project him to be a late first round pick, but to me the problem is that too many people have seen that highlight reel of Crabtree beating him, and in turn the Longhorns, in a do or die game. I think this coupled with the abundance of good CBs in this draft class drop him further.
DeMarco Murray—RB—Oklahoma—6'0 205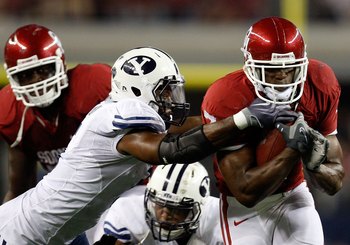 We will have to see how the new offensive line rookies and Anthony Dixon fare for our third down conversion percentage. If the team doesn't buy into Glenn Coffee next season, DeMarco Murray would make an EXCELLENT third down back and was a very reliable checkdown for Sam Bradford and Landry "Mustache" Jones.
There is a good chance he is available to us in the second round. Although my personal opinion is that we should take a CB and a pass rush specialist with our first two picks, you know Singletary loves running backs. If Neither Coffee nor Dixon pan out in 2010, I really like this pick. He reminds me of Ricky Watters.
Marvin Austin—DT—North Carolina—6'3" 305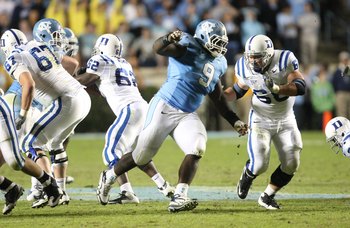 This is a guy whose upside is Ndamukong Suh, however, his production has been lacking. If he steps it up, he could put himself extremely out of reach of the 49ers in 2011.
If he doesn't, this guy could be the second year in a row the 49ers take a gamble on a rare physical specimen in the second round.
Derek Wolfe—DT—Cincinatti—6'5" 305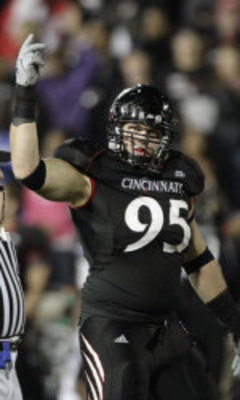 A very athletic guy capable of playing in the 3-4 as a end or nose tackle, has 4.9 speed and racked up five sacks from the DT Position. If we address cornerback in the first round, this could be a viable option to give Isaac Sopoaga a breather on passing downs while adding some speed to our pass rush.
Adrian Robinson—OLB—Temple—6'2" 248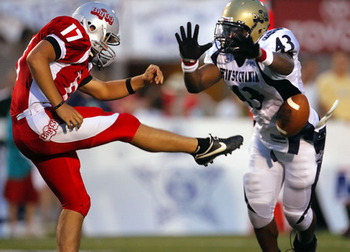 As just a sophomore, he notched 14 TFL and 12 sacks. He may be our second round poor man's edition of Von Miller should we chose to address another position of need in the first round, If he really lights it up his junior year, he may be our first round selection, but that is a stretch.
Rashad Carmichael—CB—Virginia Tech—5'11" 186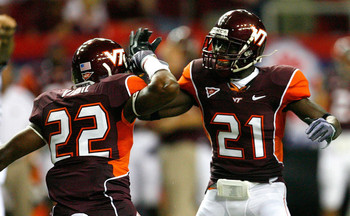 His height keeps him out of the first round. He posted 55 Tackles, four TFL, and six INT in 2009. With a 4.45 second 40 time, he has the speed that our secondary is lacking.
Bruce Miller—OLB—Central Florida—6'2" 253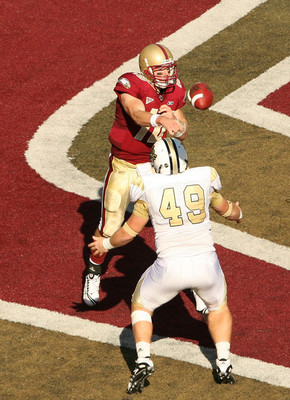 A terrorizing pass rusher with 4.70 speed, Bruce Miller makes it happen in opposing backfields. He collected 17 TFL and 12 sacks in 2009. A faster 40 time would put him in the top 20.
Round 3
Same deal, putting us at 82-87.
Terrance Toliver—WR—LSU—6'5" 206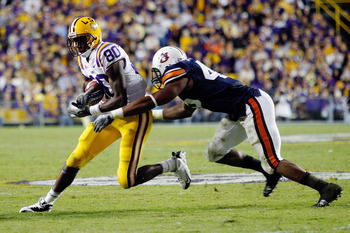 Some project him as a second round guy. I'm not buying it unless he posts some more impressive stats. At 6'5" and 206, he is a little on the lanky side... but so was Randy Moss.
Jonathan Freeny - OLB - Rutgers 6'3" 250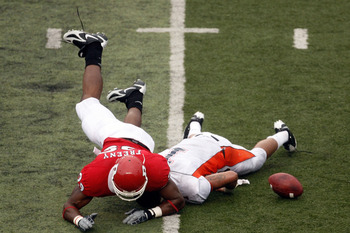 Jonathan Freeny collected 12.5 TFL and nine and a half sacks as a junior. If he levels out at these levels as a senior with his 4.73 second projected 40-yd time, he could be a viable third round pick.
Jarvis Jenkins—DT—Clemson—6'4" 310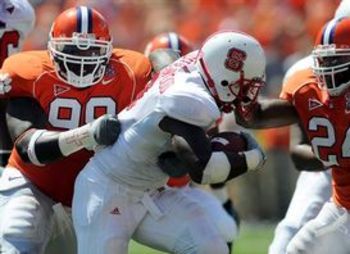 A projected 4.9 second 40-yard dash for a guy of this size is impressive. He only notched six TFL and one sack in 2009, If he underachieves in 2010, he may be an option in the third round as a quicker man in Sopoaga's spot, who is big enough to back up Franklin as well.
Ricky Elmore—OLB—Arizona—6'5" 250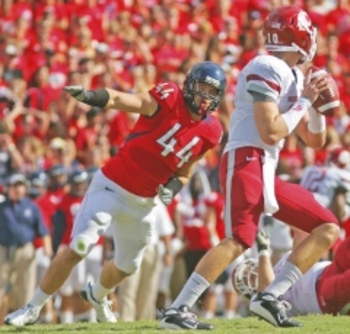 As a junior, Elmore posted 11.5 TFL and 10.5 sacks. With a projected 4.66 40 time, he may be a third or fourth round selection.
Round 4 and Beyond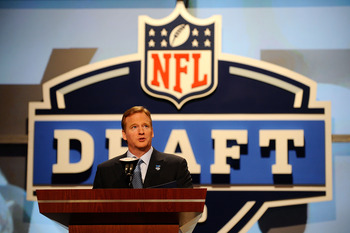 I combined this phase because here we ideally aren't looking for players in positions of need but rather depth. However, there are a few here that I think have potential to surprise.
Deandre Brown—WR—Southern Miss—6'6" 228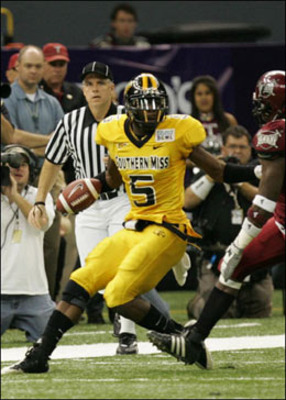 Brown is a true deep threat field stretcher that projects as a fourth or fifth rounder, which is realistically where I could expect the 49ers to take a WR. His 4.48 speed at that size won't hurt him either. On just 47 catches as a sophomore coming off a broken leg, he posed 785 yards and nine TDs.
As a freshman, he posted 67 catches for 1,117 yards and 12 TDs
If he has recovering left to do from the broken leg and can improve on his freshman numbers next year, he may push himself into the third round.
Armon Binns—WR—Cincinatti—6'4" 200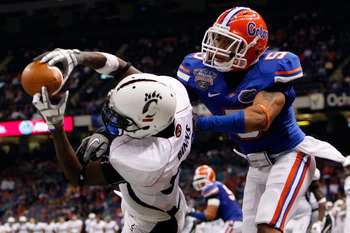 Binns had 61 receptions for 888 yards and 11 TDs in 2009. His 40 time projection of 4.58 seconds drops him to fourth or fifth round, but he is a great red zone jump ball contender.
Mark Herzlich—OLB—Boston College—6-4 235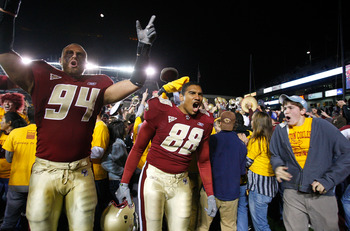 Mark Herzlich was one of the best OLBs in college football, but was derailed by a rare form of cancer, which he has since beat. He is now working to get back on the field.
If he can restore his physical form, he may put himself back as high as the second round. Singletary loves linebackers, we need OLBs, and this guy's setback could make him a late round steal.
Tyrod Taylor—QB—Virginia Tech—6'1" 215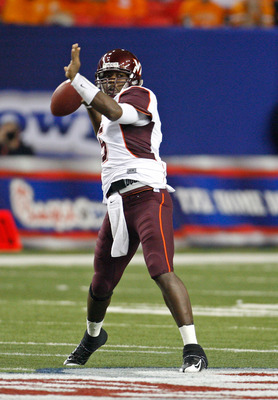 One can assume safely that either Jarret Brown or Nate Davis will not be on the 53-man roster. I have seen the 49ers express some concern about Nate Davis's speed of learning the playbook.
If he doesn't pan out, Tyrod Taylor may be a viable fourth or fifth round option. His scrambling ability makes up for his lack of height, and he also provides an opportunity for a Pat White-style wildcat QB.
Keep Reading

San Francisco 49ers: Like this team?