Facing Fear: 10 NFL Players The Green Bay Packers Must Overcome in 2010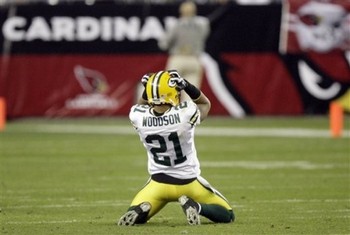 As NFL fans, it is our job to make predictions. Whether we show our true bias or not, ultimately every one of us enjoys gathering around the water cooler, and debating just who will be contenders heading into the regular season.
For the most part, several fans have listed Green Bay as Super Bowl favorites. The Packers' impressive 2009 play leaves most people expecting bigger and better things this year, and realistically if Green Bay fails to live up to the hype, many people will be disappointed.
However, before we go ahead and write Green Bay deep into the postseason, there are several factors that they need to overcome.
No, I'm not talking about the offensive line woes, or even the Minnesota Vikings. I'm talking about opposing players.
Recently, the Packers have struggled with a few select names, and on more than one occasion, Green Bay has been a little embarrassed.
So whom do the Packers have to overcome in 2010 in order to have another impressive season? Hopefully, this list clears things up a little.
10. Ndamukong Suh - Detroit Lions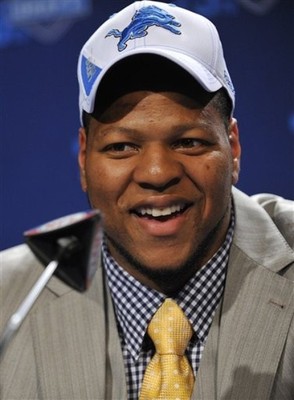 In case you were somehow unaware, Ndamukong Suh is one of the most forceful and explosive players to come out of the 2010 NFL Draft.
As we all know, Suh is a big man but also has a tremendous amount of speed, considering his 307-pound frame.
His ability to rush from the line and toward a quarterback is uncanny, and will certainly strike some fear into a handful of quarterbacks this season.
So what does this mean for the Green Bay Packers?
Well, quite a lot.
Considering Green Bay's offensive line woes recently, on the double occasion that the Packers do play the Detroit Lions, Ndamukong Suh acts as a serious threat.
Aaron Rodgers was sacked a league-high 50 times last season, and although Aaron isn't the type of guy to be easily rattled by a defender, surely it will cross his mind that Ndamukong Suh may hit him extremely hard.
Of course, Green Bay may be able to answer Ndamukong Suh's forcefulness. After acquiring Bryan Bulaga in the draft, the Packers have seemingly closed up any gaps in the offensive line.
Aside from the players though, I can assure you that Mike McCarthy and the entire Packer coaching staff have been working hard to eradicate this problem.
Ndamukong Suh does pose an immense threat when Green Bay meet Detroit both in October and December, however the Packers may have Suh solved before he can even think about touching Aaron Rodgers.
9. DeSean Jackson - Philadelphia Eagles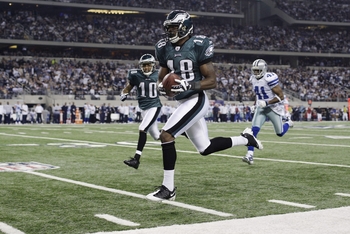 It isn't every season that we get to see the Packers take on the Philadelphia Eagles, so from a fan perspective, we should all savor this moment.
But before we can go ahead and write this game off as a win, the Eagles are to be taken extremely seriously.
Recently, the Eagles have been accustomed to a little bit of doubt around the NFL. Kevin Kolb steps in as the new starter, and no one knows for sure if the Eagle defense can withstand some of the most potent passing attacks.
However, one of the factors that the Eagles do have going for them is DeSean Jackson.
In 2009 he racked up a total of 1,156 yards and 9 touchdowns. Is this a threat to be taken seriously for the Packers? You can bet your life it is.
For you see, although Green Bay do have one of the top defensive structures in all of football, there is some concern that a receiver of DeSean Jackson's caliber may be too much to handle for the Packers secondary.
With Al Harris still potentially missing, Charles Woodson and the rest of the Packers defense may have a tough time containing No. 10.
If history is noteworthy, though, Green Bay should be able to contain the speedy wide receiver if the defense is healthy and sound come Week 1 of the regular season.
8. Brandon Marshall - Miami Dolphins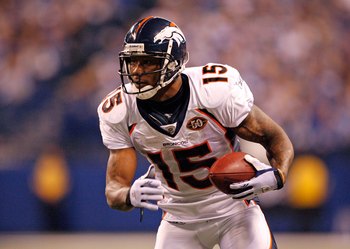 From one wide receiver to another, we focus on Brandon Marshall.
Unfortunately for NFL fans, no one knows what to expect from Brandon just yet. He is with a new team, and although he has had successful hip surgery, it is an injury that may pop up at an untimely occasion.
As for the Packers, Brandon Marshall is a threat. If he does quickly adapt to Miami's wildcat formation, containing Brandon Marshall may become a hard task for the Packer defense.
Like DeSean Jackson, Brandon Marshall is a speedy wide receiver. He loves to create separation, and when he manages to break away from a defender, he will catch the ball nine times out of ten.
Last season, Brandon accumulated 1,120 yards and 10 touchdowns.
This season? Expect a lot more, considering that Chad Henne is striving toward another great year.
The Packers have more than enough options to contain Brandon Marshall and quite possibly keep him well off the board.
However, if Green Bay do shut out Brandon Marshall, the job won't be done, considering that the Dolphins have a range of options to choose from.
7. Tom Brady - New England Patriots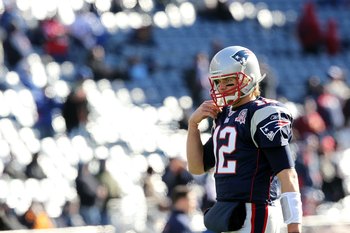 One of the most intriguing match ups of the Packers 2010 schedule is the Week 15 clash against the New England Patriots.
As much as some fans disagree, this match may mean the difference between the Packers reaching the postseason, or failing to do so.
Aside from playoff football though, one of the best passers in the game faces the Green Bay defense.
Funnily enough this offseason, we haven't heard much about Tom Brady. Perhaps this is due to Drew Brees' new Super Bowl ring, or Peyton Manning's continuing brilliance, but the Brady bandwagon isn't quite as lively as it has been in past years.
With this said, Brady won't be taken lightly. He still has the ability to punish any team that plays poorly, and when at home, is extremely dangerous.
So where does the concern lie for the Packers?
Well it's simple. When Green Bay face top quarterbacks, they don't always do that well. Take, for example, Kurt Warner or, of course, Ben Roethlisberger.
Did Green Bay limit these men to absolutely nothing? No, not at all. Therefore, playing against Tom Brady is not a fear for the Packers, but maybe just a slight concern.
But much of this will depend on how the Packers have played in previous games.
6. Adrian Peterson - Minnesota Vikings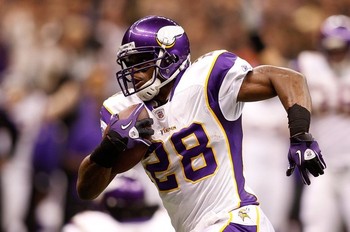 You knew he was coming sooner or later.
Ah, Adrian Peterson, the Packers' ultimate foe. He wears purple and white, and constantly keeps the Packers defense on their toes.
For the most part, I've been happy with how the Packers have handled Adrian Peterson. While they haven't limited him totally, they have managed to keep him quiet, and haven't let him play a factor in the Vikings' arsenal of weapons.
While this is a telling factor, each and every time the Packers are scheduled to play Minnesota, ol' No. 28 must be taken seriously.
His fumbling ways may seem like a godsend for Packers fans right now, but Adrian is amongst the breed of rare players that can turn his disadvantage around.
Therefore, if the Packers are to beat Minnesota, they will have to continue to keep Adrian Peterson out of the game.
Let's be realistic, All Day Peterson will have a few yards at the end of the day, but perhaps if Green Bay can keep him off of the score sheet, they will have a great chance at downing Minnesota.
5. Tony Romo - Dallas Cowboys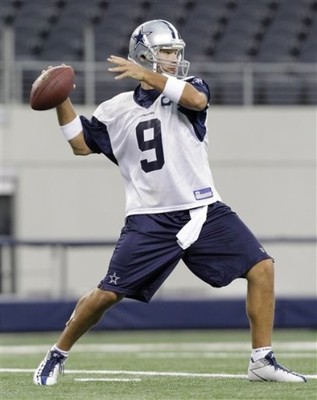 I never thought I'd be featuring Tony Romo on this list, but given his extremely impressive OTA display, he deserves a spot.
Last season saw Green Bay handle the Dallas Cowboys quite well. The annual Lambeau Field occasion of Dallas vs. Green Bay is always a sight to behold, and seeing as though Tony is a Wisconsin native, it only adds a little more spice to this under-the-radar rivalry.
However, Tony Romo is a different man now. He's focused, his head is in the game, and he has finally tasted playoff success.
For the Packers, this is bad news. In Week 9, the Cowboys once again travel to Green Bay, and you can bet that Tony Romo will be on his game.
In past years, Tony hasn't been the most consistent passer, but that was partially due to offseason dramas and an overall lack of confidence.
Now, he has endless options of talent to choose from. Whether it's Jason Witten, Patrick Crayton, Miles Austin, or rookie Dez Bryant, Tony could just have a field day all over the Packers defense.
For those statistical buffs out there, most would feel that the Packers are pretty safe against Romo. However, let's not take him lightly, he is still a highly skilled guy.
4. Darrelle Revis - New York Jets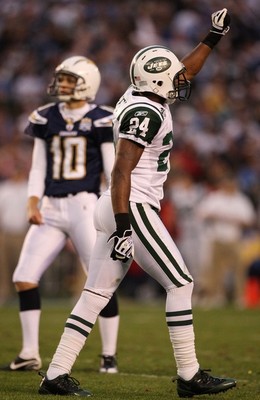 For Packer fans, Darrelle Revis' latest contract issues may be quite amusing.
However, what is not so amusing is the Packers Week 8 date with the New York Jets, which is shaping up to be an all-out blockbuster.
In 2009, both of these teams were the leagues' top defensive units. Now though, both are as even as each other, and this may only further provoke the Packers to really outdo the Jets this season.
As for Darrelle Revis, well we all know he is a threat. It seems when he appears he can't make a play, he acts out an amazing interception off the shoelaces of his boot, that has Philip Rivers awestruck.
Therefore, Aaron Rodgers needs to be on his game. Not that Aaron is an interception-prone quarterback, but perhaps the deep lob option to Greg Jennings isn't the safest option when taking on Darrelle Revis.
All in all, this should be an all-out defensive war that will be about as explosive as the 2009 Super Bowl.
It may be low scoring, but expect to see some of the brightest defensive talent on the field.
Who will win? My guess is as good as yours, but for Green Bay to pull of a win, they will need to avoid Darrelle Revis at every cost.
3. Julius Peppers - Chicago Bears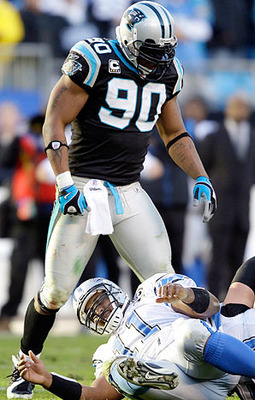 Since Julius Peppers signed with the Chicago Bears as a free agent, he seems to have been forgotten about a little.
Sure, we all know that Julius Peppers will stabilize the Bears defense, but what can we expect from him in terms of performance?
Well in 2009 Julius Peppers had an outstanding year. 10.5 sacks, 5 forced fumbles and a total of 2 interceptions and 42 tackles left Julius extremely happy at the end of December.
Now though, he is with a new team, and a new bunch of guys both on and off the field that he must adapt to.
But aside from Julius himself, the Packers need to be aware of his presence. In past years, the Packers have seemingly cut through the Bears defense like a hot knife slicing through butter.
Sure there has been some penetration from Chicago on Aaron Rodgers, but for the most part Green Bay have had no trouble scoring.
However, this time around things are different, solely due to Julius Peppers.
Julius has the ability to rush the quarterback, as you most likely no. Like Ndamukong Suh, he is big but also strong, and doesn't hesitate to land a heavy hit on a quarterback.
Should Aaron Rodgers be scared? Not at all. But he should be wary of Julius Peppers, especially when passing, as he just so happens to have fantastic hands as well.
If Green Bay do shut out Julius Peppers, the job won't be over. Chicago are a new and improved team, and will give just about everyone a run for their money this season.
However, if Julius isn't a factor, the Packers offense should be able to post points a lot more easily.
2. Brett Favre - Minnesota Vikings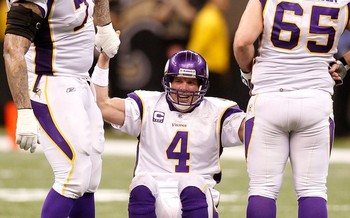 Let's face it, it wouldn't be a list without Brett Favre.
Last season, Brett Favre didn't exactly destroy the Packers defense, but I think you'll agree he had all the time in the world when standing in the pocket.
This season, things must change for the Packers. Green Bay must apply pressure, and they must also stay firmly glued to Percy Harvin, Bernard Berrian and Sidney Rice.
Right now no one knows if Brett Favre is returning. However if the pendulum swings toward another season in the NFL, the Packers will certainly be ready to take not only Minnesota down, but Brett Favre as well.
Last year the Packers were embarrassed by the Vikings. Sure Green Bay scored some points, but realistically it didn't come close to achieving Green Bay's ultimate winning goal.
It's simple, if the Packers keep Favre under control, they'll win. We've all seen how Minnesota performs without a quarterback, and if the Packers limit Favre, they'll more than likely pick up a well-deserved win.
1. Randy Moss - New England Patriots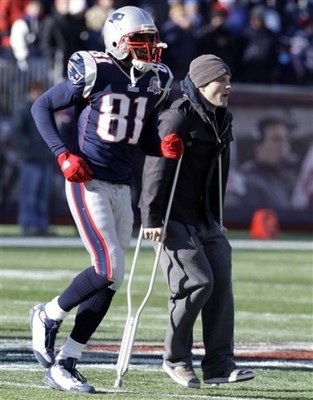 I know it's an unlikely pick, and I know some will disagree, but like I said earlier, the Packers rarely get to face the New England Patriots.
Therefore, it is vital for Green Bay to get a little pay back against Randy Moss for the infamous mooning incident several years ago.
For the most part, Packer fans have moved on from this incident, but expect a small chorus of boos to be heard from the small group of Packer fans that travel to Gillette Stadium when Moss touches the ball.
Aside from Moss' mooning incident, he does pose a threat. He is Tom Brady's go-to guy, and when he gets going, he can really rack up some serious numbers.
Of course, the Packers do have the star power to contain Moss, and we have seen him have quiet games when playing against top flight cornerbacks.
If Charles Woodson, Nick Collins, and Atari Bigby rough up Randy a little, not only will payback be sweet, it may also limit the Patriots' offense.
Keep Reading

Green Bay Packers: Like this team?