WEC 49 - 50: Six Fights You Don't Want to Miss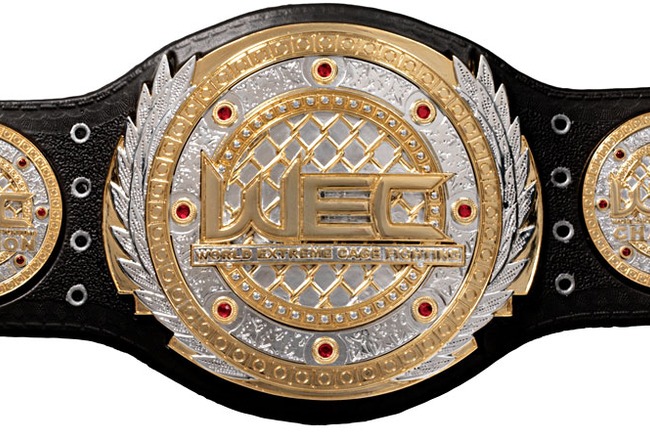 The WEC features some of the most exciting fighters in mixed martial arts. Displaying the top fighters in the world at Bantamweight, Featherweight and a strong Lightweight division.
Reed Harris and the WEC have produced an organization that is a surefire bet to produce fireworks at every event.
Up next: Rexall Place in Edmonton, Alberta, Canada will play host to WEC 49: Varner vs. Shalorus live on Versus.
The first ever event in Canada will be soon followed by bantamweight champion, Dominick Cruz defending his title against Joseph Benavidez and the bantamweight debut of Urijah Faber at WEC 50.
The organization has put together two very good cards and have provided fight fans with five fights that you will not want to miss.
Mark Hominick vs. Yves Jabouin
Hominick (17-8) and Jabouin (14-5) have been waiting some eight years to step inside the cage together.
The two featherweight rivals finally get the opportunity to do just that this Sunday at WEC 49.
Not only do the two strikers get to stand in front of one another to find out just who is the better fighter, they get to do so in their home country of Canada.
However, do not think for one second that if you are not Canadian that this fight is not for you because combined both fighters have a combined eighteen (T)KO's.
Urijah Faber vs. Takeya Mizugaki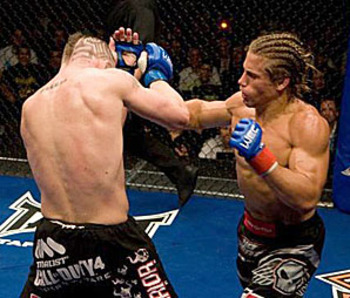 After a humbling to defeat to the ultra dangerous Jose Aldo, former featherweight champion, Urijah Faber has decided to make the drop to bantamweight.
His welcoming party will be in the form of Japanese bantamweight, Takeya Mizugaki (13-4-2).
Both fighters last competed at WEC 48 with Mizugaki defeating submission wizard Rani Yahya via decision and Faber losing to the aforementioned Aldo.
Faber looks to a new weight class in hopes of making a run at the title which is currently held by a man he has previously defeated, Dominick Cruz.
The two met three plus years ago at WEC 26 at a higher weight class and it was Cruz's organizational debut.
If Faber can claim victory at WEC 50 he may very well get the opportunity at another championship fight.
Shane Roller vs. Anthony Pettis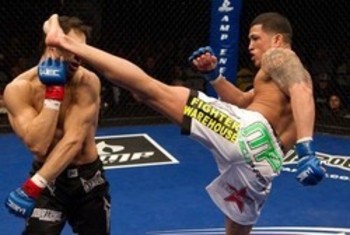 Also in action at WEC 50, will be two explosive lightweights in Shane Roller (8-2) and Anthony Pettis.
Roller last defeated talented striker Anthony Njokuani via first round submission. Someone else worth noting is that Roller defeated UFC lightweight Takanori Gomi at Grapplers Quest that was held during the UFC Fan Expo.
Pettis comes into the fight on a two fight win streak that includes a devastating head kick knockout of Danny Castillo (WEC 47) and second round submission of Alex Karalexis (WEC 48).
The winner of this matchup will move themselves one step closer to title contention as they are likely ranked in the top five in the organizations 155lb. division.
Josh Grispi vs. L.C. Davis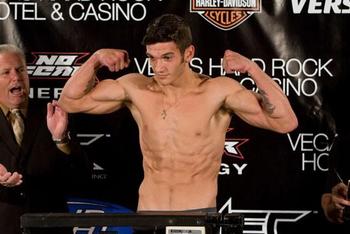 Xtreme Couture featherweight, L.C. Davis (16-2), last defeated Deividas Taurosevicius via majority decision at WEC 47 in March.
Josh Grispi (13-1) is on a nine fight win streak that includes victories over Jens Pulver, Micah Miller, and Mark Hominick.
Grispi has been sidelined since WEC 41 last June and will be looking to pick up right where he left off.
Both gentlemen possess well rounded skills and have combined for twenty three total stoppages. Look for this fight to be explosive and extremely fast paced as Davis and Grispi both will be looking for impressive finishes.
Jamie Varner vs. Kamal Shalorus
Former lightweight champion, Jamie Varner (16-3) steps back into action for the first time since losing the championship to Ben Henderson at WEC 46.
Varner came into that title fight having been on a twenty month layoff because of an injury and performed very well up until getting caught in the fight ending guillotine.
Now, fully focused and more determined than ever he looks to get back on track this Sunday at WEC 49. If Varner is successful then he will most likely be granted the rematch he so highly covets.
Kamal Shalorus (6-0-1) will be the man standing in Varner's way to the championship.
Kamal is a very heavy handed fighter having sixty-six percent of his victories ending via TKO.
Shalorus and Varner both are explosive fighters with Varner having the edge in experience but either way this is a can't miss fight for the organizations main event.
Dominick Cruz vs. Joseph Benavidez II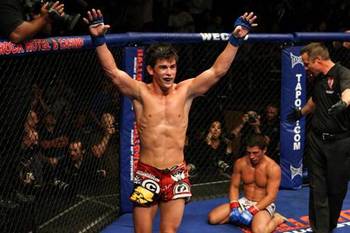 Bantamweight champion, Dominick Cruz (15-1) has looked unstoppable since dropping down to the 135 division.
Cruz, who trains out of Alliance MMA and is coached by Eric Del Fierro displayed some of the best footwork in the business in defeating former champion, Brian Bowles at WEC 47.
Bowles could not continue after the second round via TKO (Doctor Stoppage) and Cruz was crowned the divisions top fighter.
Team Alpha Male's, Joseph Benavidez (12-1) will be the first challenger to Cruz's championship and it will not be the first time the two fighters have stepped into the cage together.
At WEC 42, Cruz was one-step ahead of Benavidez and earned the hard fought Unanimous Decision victory.
Since the first fight, Benavidez has looked phenomenal in back to back wins by defeating Rani Yahya via TKO and dominating Miguel Torres (Submission).
In the main event at WEC 50, Cruz and Benavidez will once again meet to prove who is exactly the best the 135 lb. fighter in the world.
Keep Reading