The 10 Dumbest Sports Injuries Ever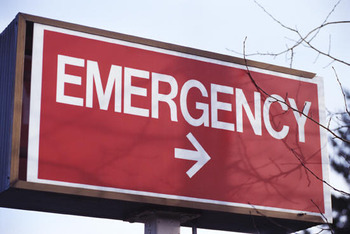 Getting injured for professional athletes isn't a laughing matter. They can lose millions due to injuries. Sometimes they can't reach certain goals in their contracts because they aren't able to play.
For us fans injuries can mean the end of a season or any hopes of a title for our teams.
But on certain occasions, the fans are fully allowed to point and laugh at the overpaid bozos who manage to injure themselves in the most unexpected ways.
No. 10 Chris Hanson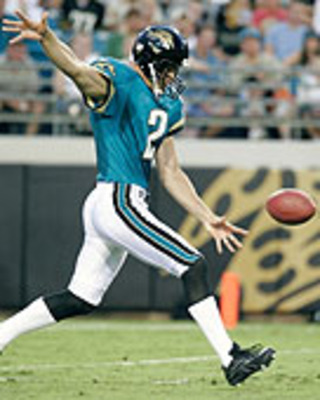 During the 2003 season Chris Hanson was the punter for the Jacksonville Jaguars and his claim to fame, for me at least, was made public after he was placed on injured reserve in October, half-way through the NFL season.
At one point Jacksonville head coach Jack Del Rio placed a wooden stump along with a (real) axe inside the Jags locker room as a way to have his players always remember to "keep choppin' wood" which was Del Rio's motto for the team.
After watching teammates takes chops at the stump Hanson stepped up to the plate and took his turn. Too bad his athletic abilities are limited to his feet, Hanson missed and struck his non kicking foot, cutting a gash deep enough that warranted a rush to the ER for surgery and a stint on the IR.
No. 9 Orlando Brown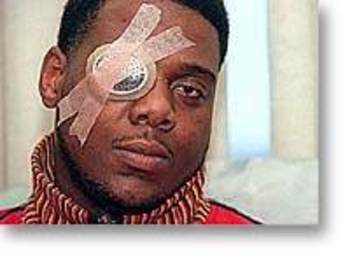 Cleveland Browns offensive lineman Orlando Brown is a big man.
At 6'7 360+ pounds it would take a lot to bring this man down, especially for the count.
Jeff Triplette is an NFL ref and not a big man.
In what turned out to be one of the weirdest ways to be injured, Brown was struck in the eye buy a penalty flag thrown from Tripplette's belt. After getting up and shoving the ref to the floor, Brown was ejected and was further suspended by the NFL.
Due to the freak injury, Brown sued the NFL and settled for $50 million dollars because of his inability to play for three seasons due to his eye. He made a brief return to the NFL as a Baltimore Raven but later retired in 2005.
No. 8 Sammy Sosa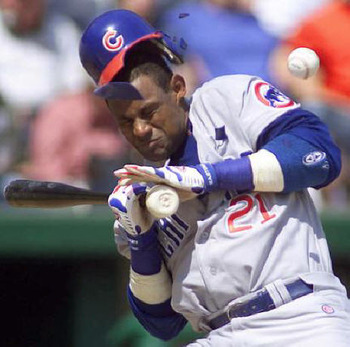 Sammy Sosa was the victim of one of the weirdest injuries I have ever heard of. In May 2004 while talking to reporters at his locker in San Diego, Sammy sneezed.
Violently.
Very violently apparently, enough to cause back spasms and land him a spot on the injured list. His stint on the DL is greatly credited when it comes to regards with his horrible slump that season. Later in the year Sosa asked to have the last game of the season off, not even staying at the park to watch. Of course, that became the last time Sosa put on a Cubs uniform.
No. 7 John Smoltz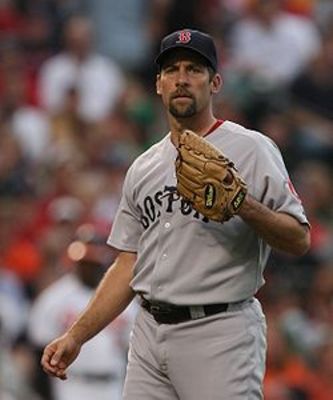 John Smoltz is a hall of famer and former World Series Champion. It's been reported that early on in his career however for some unknown reason John Smoltz decided to iron his shirt during the 1990 season.
While wearing it.
Yes that's right, John Smoltz was burned because somehow he thought "I'll save some time, I'll iron this shirt while I'm wearing it!"
I must say however that John Smoltz has denied this allegation.
No. 6 Joel Zumaya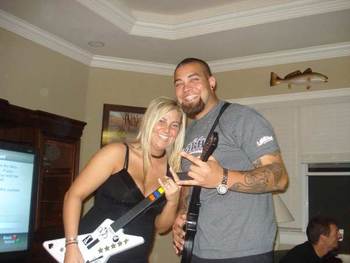 Imagine the type of injury required for a player to miss multiple games of the ALCS (or NLCS). No matter how many you come up with, it's not what happened to Tigers pitcher Joel Zumaya.
An avid fan of Guitar Hero, Zumaya came to Tigers trainers complaining of that his arm was in too much pain from throwing.
When trainers examined him further however they realized his injury was more consistent of a guitar player and not a pitcher.
In Zumaya's case it was more consistent with fake guitar playing, due to his love of Guitar Hero.
Told to stop, he did and was able to pitch pain free, and title free, during the World Series.
No. 5 Plaxico Burress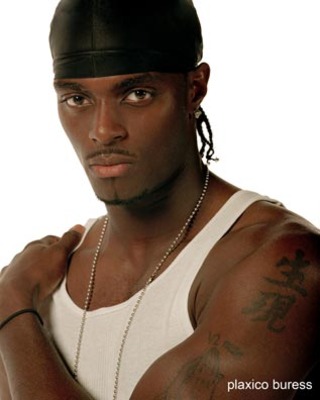 Everyone knows this story by now, but I can't stress enough how stupid it was.
For whatever reason, Plaxico decided to take a gun to a NY night club in the waist of his pants. Reports said he had sweat pants or jeans on, but regardless it was stupid.
While walking up the steps the gun dislodged and in an attempt to stop it from hitting the floor through the bottom of his pants, Plaxico grabbed it and managed to shoot himself in the leg.
Plaxico accepted a deal that gave him two years in prison and two years probation post release. Either way his career is most likely over.
No. 4 Marty Cordova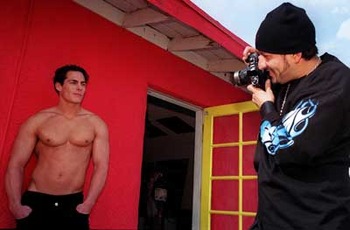 Marty started his career off in a great way, being named the 1995 AL rookie of the year.
Not too much other than several long stints on the DL followed and he soon retired in 2003 as an Oriole.
Before he left however Cordova graced us with one of the greatest reasons a player has ever been on the DL: sunburn.
Channeling his inner Jersey Shore, Marty took himself to a California tanning salon to look his best. Too bad he fell asleep in the tanning bed and was ordered by Orioles doctors to sit the game out.
No. 3 Bill Gramatica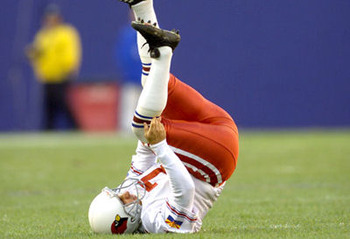 Bill Gramatica doesn't look as if he belongs on a football field. Actually, not many kickers do look like they fit, so when it comes to injuries we can't assume they would have the same injuries.
During his rookie season as a Cardinal, in a game versus the Giants, Bill punched through a 42 yard field goal during the first half and jumped up in celebration.
Too bad he landed awkwardly, resulting in a torn ACL.
His career soon also fell awkwardly as he only played for two more seasons before calling it quits.
No. 2 Kendry Morales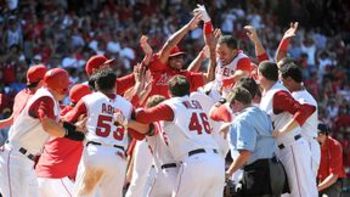 The most recent addition to this list is Angels first baseman Kendry Morales.
A few weeks ago on, May 29, 2010, Morales managed to hit a walk off grand slam against the Mariners at home.
The excitement of his first ever grand slam—in addition to the fact it was a walk off grand slam— caused Kendry to jump up as he crossed home plate. He landed awkwardly on home plate, breaking his left leg.
He was placed on the DL right away. Since the injury is so severe he will require surgery and will likely miss the rest of the 2010 season.
No. 1 Gus Frerotte
Yes, I know both previous slides could have taken first place over Gus Frerotte's injury, but there is one factor I weigh most when it comes to injuries and how stupid things cause them.
In celebration of his TD run versus the Giants back in 1997, Gus Frerotte ran towards a stadium wall and spiked the ball into it stopping just a few feet away.
After hesitating for a second Gus put his head down and ran towards the wall. Why? No one knows.
The result of his self inflicted head butt into a stadium wall made of concrete and the resulting sprained neck injury are what landed the former signal caller on the top of this list.
Keep Reading