2010 U.S. Open Golf: Five Features of Pebble Beach and Who Will Excel
Triumph. Humiliation. Trouble. Pressure. Risk-reward.
These are the words that come to mind when I think about the enormous challenge of Pebble Beach.
Why?
Imagine standing at the edge of a cliff. The sound of waves crashing alerts your eyes to the left, where the pure blue of the ocean extends to the vast horizon. Suddenly, a howling wind from the left threatens to blow your hat off, signaling the lustrous forest of trees to your right like something out of the movie Jumanji.
Straight ahead is the only option where 30 yards of narrow, plush green grass emerges.
However, sprinkled along the fresh, perfectly-trimmed green grass are deeply entrenched pits of despair, also known as sand traps. If that weren't enough, the entire field for which you're aiming is on a massive slope from right to left.
Task: Use a three-foot metal stick and a ball the size of a macaroon to avoid the ocean, forest, and sand, and land it in the green area, but make sure it doesn't topple down the slope.
And they say golf isn't a sport?
Welcome to Pebble Beach, where no shot is easy and every shot requires strategy, will, and nerves.
What are the exact features that generate such anxiety and difficulty for players?
Whose game will conquer these back-breaking aspects of the course and elevate them to US Open Champion come Sunday?
Narrow Fairways: Hunter Mahan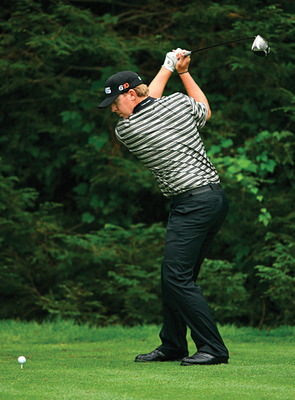 Feature:
-To say that fairways are not wide at Pebble Beach would be an understatement. In fact, most fairways don't span more than 30 yards in width.
-The fairway itself is accompanied by the despair and horror that awaits those with wayward drives;sand-traps, thick rough, tall trees with hanging branches, and out of bounds (meaning penalties).
Player:
-Hunter Mahan possesses a sense of control off the tee that will be the pivotal, distinguishing factor between him and the rest of the field.
-No. 25 in Driving Accuracy, Mahan should be able to place the ball where he sees fit.
-Mahan has a knack for getting out of trouble swiftly and without making big numbers, which will be crucial to avoid.
Substantial Slope: Jim Furyk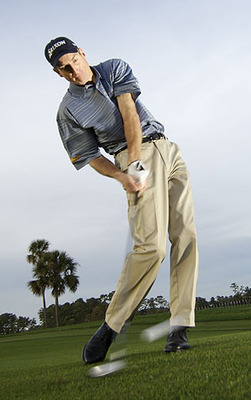 Feature:
-Slope on a course like Pebble doesn't just mean that players need to simply be able to adjust their feet, weight, and swing in order to generate solid contact with the golf ball. In addition, it means that players need to be aware of the slope, which comes into play on almost every hole, and consequently let the slope play a role in their placement of the ball off the tee.
Player:
-Jim Furyk has the experience, meaning he has made the mistakes, that will benefit him when dealing with pressure-filled shots on a downhill or uphill slope.
-He's a player that enjoys "working the ball," meaning turning it from right to left. Furyk will be able to maneuver the ball in his favor and work with, instead of against, whatever lie he is presented.
-Finally, he is a major winner (US Open 2003), providing him with the knowledge of what 'major' pressure is like.
Tiny and Lightning Fast Greens: Tim Clark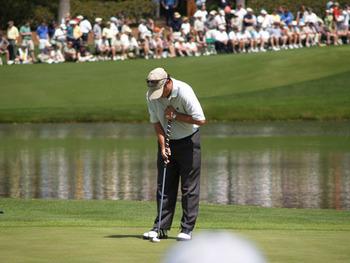 Feature:
- The greens at Pebble Beach are ridiculously fast. If you thought Jack made Memorial's greens quick, make sure to tune in to the slick, undulating greens of Pebble, where players earn every putt.
-But understand, it's not just that these greens are like putting on a table top. It's also that they are difficult to attack aggressively because they are so small.
-If players do successfully reach the green, then they will deal with not just the speed of the greens, but the overwhelming task of reading the slant and undulation infused within the design of Pebble's greens.
Player:
-Tim Clark likes the greens at Pebble, which was obvious after his T10 at this year's Pebble Beach Pro-Am. Not only that, but Clark is an excellent putter in general. He is observant and can learn about the greens of a course quickly.
-No. 3 in Putting Average*
-His win at the Players Championship elevated Clark to a new status on Tour and has made him a viable threat each time he walks on the course, and especially the greens.
Palpable Pressure: Tiger Woods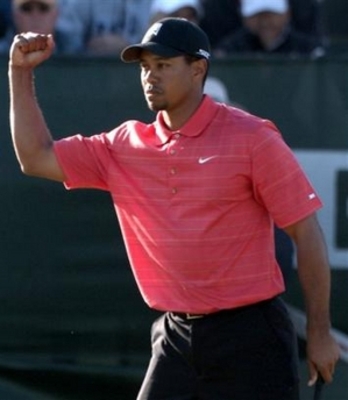 Feature:
-This is not just any golf tournament. It's the most important, historical, and hyped event of the entire golf season, maybe contending with the Masters.
-The US Open is the event these professionals have wanted to win since they became serious about competing. Winning the Open proves their value on Tour. It designates their caliber and engraves their name next to the greatest of all time: Jones, Sneed, Hogan, Nicklaus...
-But with all that excitement comes a constant, unending, tangible, mind, and body consuming pressure.
Player:
-Tiger Woods is my go to guy under pressure...period.
-His struggle since his return is real, there's no doubt about that. We have not seen him perform like he used to.
-However, he has revealed his confidence under pressure in the past (such as the putt to force a playoff on the 18th at the 2008 US Open) countless times.
-He owns three US Opens already and has the winning experience under pressure during 14 majors.
-He absolutely destroyed Pebble in 2000, both at the Pro-Am with a masterful comeback against Matt Gogel, and then at the US Open where he won by a record 15-strokes.
Four Days of Physical and Mental Consistency: Phil Mickelson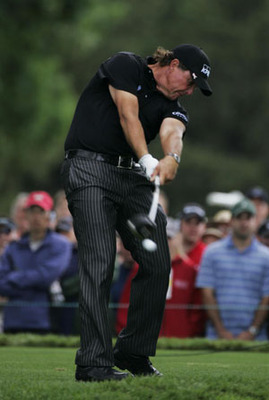 Feature:
-Now you know that the burden of this course is not just the physical barriers, but the mental ones as well.
-But the game is not just 18 holes, it's 72 holes and four days of all out, gut-wrenching, competitive golf.
-A player can shoot four-under par and be leading after the first day: but then what? How will the hours between their final putt of one round and opening tee shot of their next round affect their play?
-Kobe Bryant plays four quarters and Derek Jeter plays nine innings, then the game is up. In golf, one day's end is but the countdown to the next three demanding days of battle on the golf course.
-The physical demand is enormous. But golf is a thinking game. You think your way around the course and then produce the shots as a result of strategy and execution.
Player:
-Phil Mickelson is the favorite for a reason. Not only is he having an amazing season, but he has been a blueprint of consistency (he is in the top 10 in more than 15 different statistics).
-Eight top 25s
-Four top 10s
-Phil understands what winning major championships requires and trusts his instincts: reference his second shot at the 13th hole at this years' Masters.
-He has made mistakes in the past that have led to tragic collapses (Winged Foot). He is still an aggressive player, but he is much different than the Lefty we once knew.
-Mickelson is a smart player and, with the help of Bones (his caddy), he should be able to put together four solid rounds at this year's US Open at Pebble Beach golf course.
Keep Reading